Updated 09/3/2016 With Chart: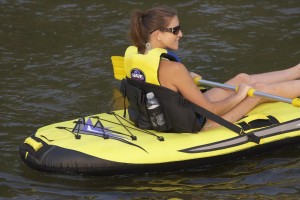 It sure looks pretty in this picture, now, doesn't it?  Well, pretty doesn't answer a lot of your questions so let's get to it: Is the Rave Sea Rebel the bees knees? How does it fare compared to other rafts?
To start with, the Rave Sea Rebel inflatable kayak is a basic, one seater kayak that beginners and advanced kayakers both can enjoy.  Most people find it easy as heck to assemble and pumping it/inflating it takes around 10 minutes.  If you are under 6 feet tall, you will find the kayak to have enough room for you and your items.

Basic Measurements
The Sea Rebel kayak is pretty lightweight with 3 fins attached to the bottom which helps it trek straight in the water.  Once inflated, it comes out to be 8'7" x 35" x 8"; deflated, the kayak measures to be 8'10"x38".  The maximum weight capacity is 200 pounds and the kayak is constructed with durable 420D nylon cover.  The kayak weighs 22 pounds.  Inflating it takes about 10 minutes on average (for first timers, it may take a bit longer).

Possible Issues With the BackRest
Most people find the backrest to work fine or have found a workaround to make it more comfortable while a couple reviews on Amazon mention how that the backrest is almost "useless".  These kayaks are made like 'one size fits all' product meaning that a good number of us also have bad backs.  This means that with a budgeted inflatable kayak, you're going to have to tweak the backrest/seat a bit to make it more comfortable to your needs.

Maneuverability
For an inflatable kayak, it steers well.  Going in a straight line is a bit of a task but once you learn how to work with it, it's pretty smooth riding.  Having been tested in calm lakes and extremely light waves, the Sea Rebel performs well and even young children will enjoy using this kayak.

Aesthetics
The kayak comes in a sporty frame in a yellow colour and can be transported easily.  It's one of the easier kayaks that can be deflated and put back in the bag (this can be a daunting task with some of the other inflatable kayaks).  One other pro is that the Sea Rebel is light enough to carry to your destination easily.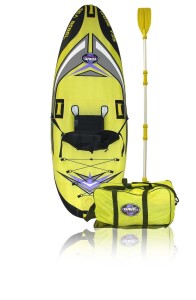 The only 'con' is the room designated for your items.  This is located behind the seat (please view the image).  This isn't as much of a con as it is a bit of an annoyance: to grab something, you kind of have to twist in place or reach around with your arm.

Excellent Reviews
The Rave Sea Rebel 2011 is not only priced really well but also, it has received great scores on Amazon (no 1 or 2 star reviews!)  All reviewers are extremely happy with the purchase of their Sea Rebel and the price makes it a worth purchase.
Verdict
The Rave Sea Rebel Inflatable Kayak is priced around $160-$200 and most folks on Amazon who have bought it think of it as not just a good kayak but a 'great kayak'. If you are on a budget and want a solid buy, this inflatable kayak will NOT disappoint.

Rave Sea Rebel Features
| | |
| --- | --- |
| Inflatable | Yes |
| Inflation Time | 10 minutes |
| NMMA Certified | No |
| # of Seats | 1 |
| Maximum Weight Capacity | 200 lbs |
| Inflated Size | 8'7" x 35" x 8" |