The Sun Dolphin Bali SS 10 foot sit-on-top kayak is quickly becoming one of the most preferred kayaks by adventurous beginners wanting to navigate lakes and rivers. Just like other sit-on-tops, the Sun Dolphin Bali kayak is designed to move slowly for easy control and is easy to get out of in case of an emergency.
This feature makes sit-on-top kayaks a great choice for beginners. However, this particular model has additional features that set it apart from the rest of its competitors.
How Is The Build Of The Sun Dolphin Bali Kayak?
The Sun Dolphin Bali 10 SS features a hull design, which is known for stability. The exterior of the Sun Dolphin Bali Kayak is made of Fortiflex high-density polyethylene, which is extremely durable and resistant to the effects of both fresh and salt waters.
The material is UV stabilized so that it doesn't lose its color from exposure to the sun. In some ways, the polyethylene construction promotes the paddling and tracking ability of the kayak to enable you to cruise the lake or river with ease and stability.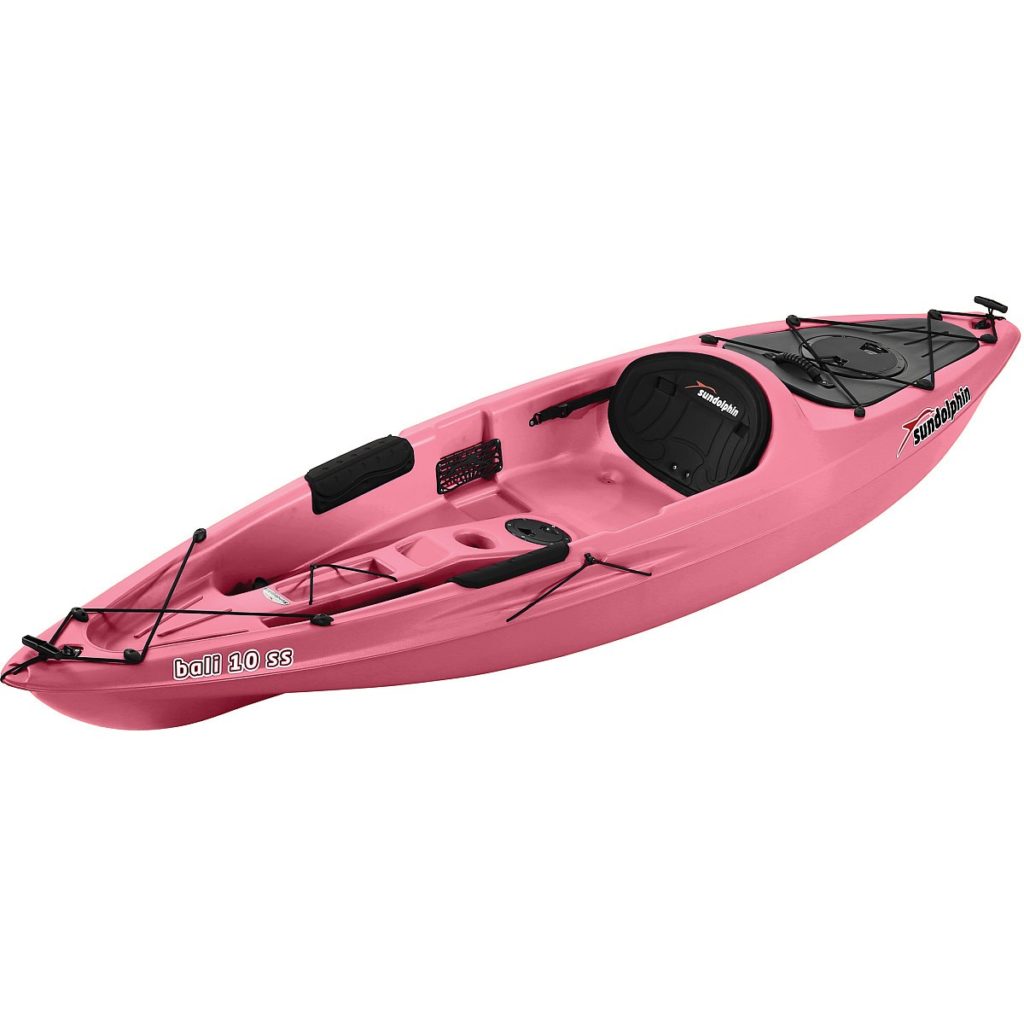 To meet the taste and preferences of customers, the Sun Dolphin Bali Kayak comes in many different color shades including blue, green, orange, and pink, as well as others. This means you will have a better chance at getting your favorite color. The Sun Dolphin Bali 10 SS kayak measures 10 feet in length, 30 inches in width, and weighs 40 pounds. It is lighter than other kayaks featuring a polyethylene frame material.
The frame also has a shock cord deck rigging and paddle leashes. Many people have a tendency to drag their kayaks on the ground towards the water. Since polyethylene easily scratches, the bottom will get damaged with time, resulting in the need for replacement. So you need to formulate a method to tow the kayak to the water without having to drag it on the ground.
Features Of The Sun Dolphin Bali Kayak!
The Sun Dolphin Bali 10 SS is a single person sit-on-top kayak. It is lightweight and features an easy to carry design with an open cockpit for a quick entry and exit. It has a large, comfortable seating area fitted with protective thigh pads, paddle holder, and adjustable foot braces. This means the Sun Dolphin Bali 10 SS can accommodate people of all heights. These design features make it easy for you to paddle for extended periods without fatigue or back pain.
The Sun Dolphin Bali 10 SS kayak's maximum weight capacity is 250 pounds.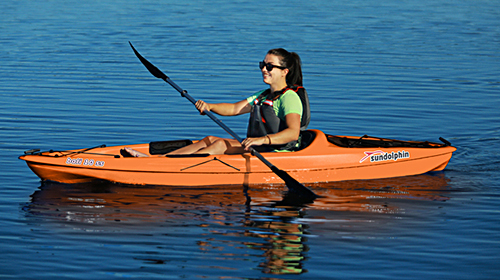 While the Sun Dolphin Bali Kayak is meant for solo use, it is sizable enough to carry along a small child or a pet, as long as the maximum carrying weight is not surpassed. This Sun Dolphin kayak comes with shock cord deck rigging, allowing you to use it for fishing. You will have to buy some rod holders and other gear needed to furnish the kayak for fishing.
The Sun Dolphin Bali SS kayak is 10 feet long, but if you need a bigger one, you can get others with the same features and specifications, with only a difference in size. You can opt for either the smaller 8 foot version or the larger 12 foot, depending on your needs. The guiding factor should be the maximum weight limit, in which case the 12 foot Sun Dolphin Bali 10 SS can carry up to 395 pounds.
Can You Pack A Lot In The Sun Dolphin Bali 10 SS?
Going out to kayak is an adventure that needs preparation in terms of supplies. Not only will these supplies make your adventure successful and comfortable, but some of them will also provide for your safety. Examples of things you may need to include are clothes, bottles of water, enough food and snacks, and a cell phone. A good kayak must provide enough storage for these supplies.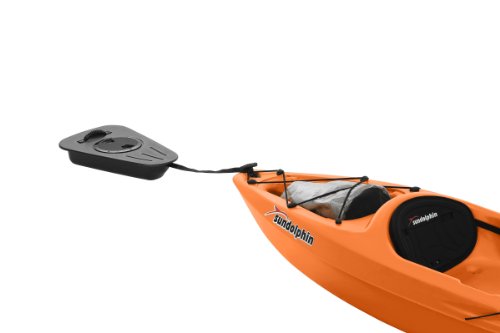 Thankfully, the Sun Dolphin Bali SS 10 foot sit-on-top is designed to provide enough room for the storage of your valuables and safety essentials. It also has a dry storage compartment that allows you to store all the supplies you don't want to get wet.
Along with that, the Sun Dolphin Bali 10 SS kayak comes with the Portable Accessory Carrier (P.A.C), which acts more like a backpack or tow behind where you can store any extra supplies.
If you want to include fishing in your adventure, then you can take advantage of the shock deck rigging to secure your fishing accessories. While the kayak offers enough storage space, just ensure that you don't overload it. In other words, the combined carrying weight (your weight plus that of your gear) should not surpass the set weight limit.
Compared to other sit-on-top kayak brands of the same size, the Sun Dolphin Bali 10 SS is among the best when it comes to storage.
Pros And Cons Of Owning A Sun Dolphin Bali Kayak
Pros
Comes in various attractive colors to suit your preferences
Highly affordable and gives you value for your money
Ideal for beginners because of safety features
Very smooth and easy to paddle
Stable and tracks extremely well
Lightweight and therefore portable
Very comfortable and optimized for long adventures
Cons
The polyethylene frame of the Sun Dolphin Bali 10 SS is strong but also susceptible to flexing and scratching
The hull design makes the watercraft stable but extremely slow
No bottom cushion on the seat and the footrests are a bit uncomfortable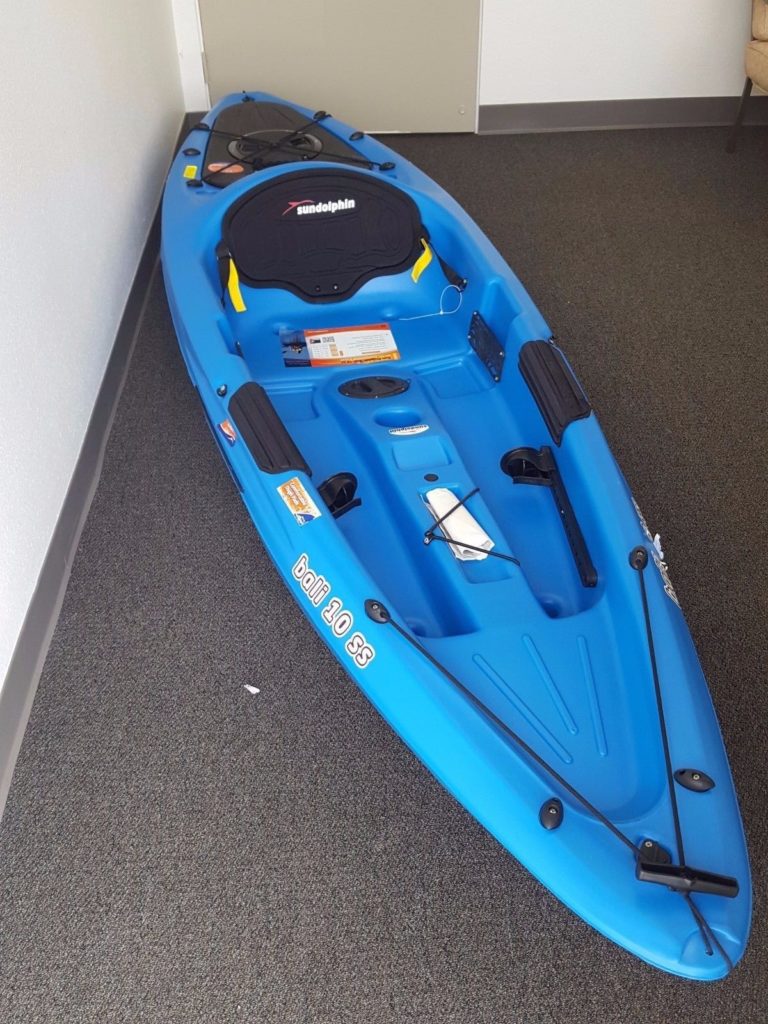 Sun Dolphin Bali Kayak Verdict!
The Sun Dolphin Bali SS 10 foot sit-on-top kayak is a great watercraft for anyone of any age that wants to venture into kayaking. Its 30 inch width offers a high level of stability and the hull design makes it slow and therefore perfect for beginners. It is highly affordable and can be durable if you take good care of it.
The Sun Dolphin Bali Kayak is ideal for small lakes and rivers, but not the sea or large water bodies. Generally, this kayak is a great value for your money.