Acquiring a reliable kayak is every water lover's dream. As such, experienced kayakers will always run for functionality rather than brand. And that is where the Dagger Axis 12.0 kayak comes in. Its manufacturer, Confluence Outdoors, has specialized in the production of polyethylene kayak models.
Like most other handy kayaks, the Axis has very little to offer in the way of aesthetics. Yet beyond aesthetics, it carries a punch and is able to handle various weight types quite well. This is what makes it a kayak worth taking a look at, which we will do in this Dagger Axis 12 review.
For other options, check out our Sun Dolphin Bali 10 SS review here.
How Strong is the Frame of the Dagger Axis 12?
The Dagger Axis 12 is made of rotomolded polyethylene, which makes it very light to carry and easy to maneuver in calm waters. In rough waters, it requires a steady pair of hands. The sit-in kayak measures 12 feet in length and has a width of 27.5 inches, which compliments its length to provide the vessel with more stability. The round hard-shelled hull is sturdily built and interspersed with the cockpit's coaming, hatches and handle joints.
The kayak's formulation is meant to provide it with water cutting abilities. It has a prominent front overhang, and the bow area is more raised than the stern area. On flat ground, the Axis 12 might seem more horizontally shaped, but once in the water, the sheer lines become more raised on the bow.
Fully rigged, the kayak weighs only 55 pounds, and this solo vessel can carry up to 350 pounds, which is way above the weight of the average kayaker, plus some essential gear.
The Dagger Axis 12 has a considerably wider cockpit than other kayaks, which allows for ease of entry and relaxed maneuverability. The cockpit area alone makes it a kayak worth considering for new, as well as experienced paddlers.
The inner cockpit area is also quite roomy, with a length of 38 inches, catering for most kayakers with their legs fully outstretched. If you are one who doesn't experience the joy of getting sprayed with water, the coaming on the Dagger Axis 12 is capable of accommodating spray skirts quite well.
Dagger Axis 12 Kayak Features
In the way of comfort, you will get a ConTour CFS-R Seating System, which will supplement your paddling needs quite well. The system is composed of a foam padded base seat and backrest. The adjustable backrest allows for optimal spinal support and comfortable seating positions.
Additionally, the seat comes with a leg lifter to ensure maximum support to the legs, whether slightly arched or fully stretched. Needless to say, the seating is specially formulated for both recreational and sporting activities.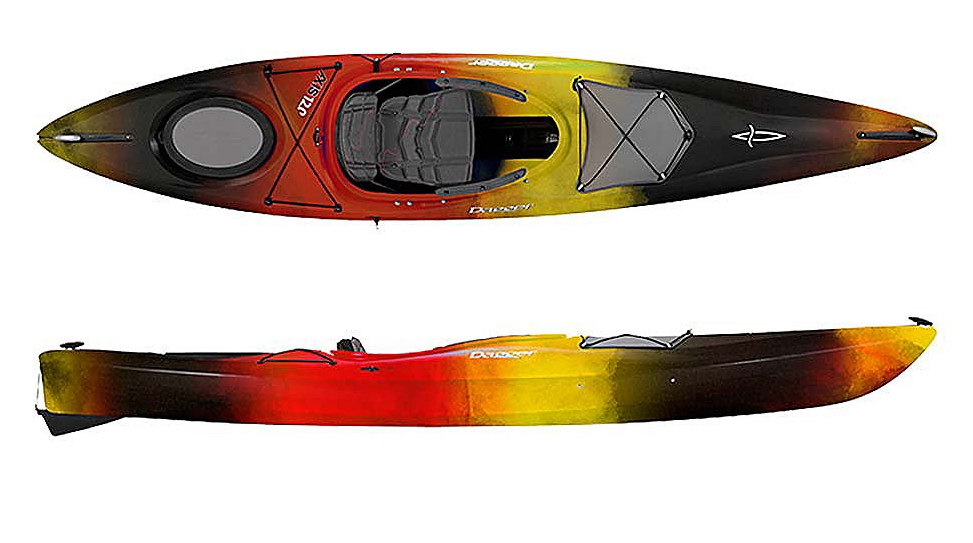 While we're still taking about comfort, the Dagger Axis 12 comes equipped with ConTour knee pads in place to protect your knees from injury during rough water maneuvers. The knee pads can be readjusted to work as thigh pads too. Should you need more, you can also get an additional pair of thigh braces to create more stability during paddling.
Carrying your kayak to and from the water is easy. There are two soft touch handles that are easy to grasp, and they are located on both ends of the boat. With its low weight and the easy to grip handles, you will not feel the Dagger Axis 12 drag as you carry it.
The TruTrak Adjustable Skeg System is on hand to aid in the way of stability and tracking. The retractable skeg can be pulled up whenever one does not wish to use it. To control it, you would use the adjustable slide lock XL foot braces that are provided on the kayak.
Storage Space!
If you fear water leaks, you needn't worry about any water getting into the Dagger Axis kayak cockpit. Separating the hull and the cockpit from the stern hatch is a stern bulkhead. The stern bulkhead ensures that water does not seep into the cockpit area via the hatch or the molded-in storage area.
The Dagger Axis 12.0 kayak has only one hatch, and that is the stern hatch. It is conveniently located close to the paddler's seat. This enhances easy retrieval and storage of items placed inside the hatch. Close to the stern deck is a molded-in storage area. The area can hold small items that you might need right away, and it is secured by bungee cords.
The bow section also has another molded-in storage portion. The mesh deck covered storage point is a vantage storage area for things that one might not require immediately. Here you can store supplies and emergency equipment, and it too is secured by bungee stretch cords.
An extra paddle would help, should you lose your primary paddle in rough waters. For that reason, the Dagger Axis 12 has a paddle park where you can place an extra set of paddles. You should always be prepared for the fact that you might lose your grip on the paddle you are using, especially in rapids.
Pros
Easy to use for all users, from inexperienced to experienced kayakers
A spacious cockpit
Comes with a skeg that enhances tracking abilities
Versatile enough to use on various bodies of water
Light enough to carry and transport
Comfortable, adjustable foam seating makes it good for long expeditions
Cons
The Dagger Axis 12 has little to offer in the way of storage space
Like most other PVC vessels, it requires lots of storage care
Might not be as robust, as its manufacturers claim, due to the material
The inability to accommodate motors slackens its speed
Lack of fishing rod holders makes it more of a recreational kayak
Dagger Axis Kayak Review Conclusion
At the core, kayaking is about fun, but serious kayakers require more functional kayaks, like the Dagger Mamba Creeker. The Dagger Axis 12.0 is not the most functional vessel one would expect to find on the market. Nonetheless, at its price, it is still a good bargain.
Check out the Dagger Axis 12 kayak on Amazon!
If you are searching for a serious kayaking experience, this is a kayak you might want to pass over. If you are going for a more recreational kayak with a touch of functionality, and maybe using it for family trips, then the Dagger Axis 12 will definitely serve the purpose.
All in all, it is a reliable kayak with minor shortcomings that can be overlooked, especially if you are just starting out.