Welcome to the Killer Kayak's Best Kayaks 2019 Buyer's Guide!  We are super excited to present you with a comprehensive yet versatile report to help you navigate these rough waters with a kayak that will get you to shore (HA! GET IT?! Pun definitely intended). Feel free to check out any of our in-depth kayak reviews or, heck, the Killer Kayaks Guide: Best Inflatable Kayaks 2019!
Below, you will find the Best Kayaks 2019 Buyer's Guide short & simple guide.  Want more detailed information?  No problem!  Click on the kayak name and you will jump to a more detailed write-up for that kayak. Simple, right?  Let's get started with our collection of best kayaks 2019!
[table id=best-kayaks-2017 /]
Comprehensive List of Best Kayaks 2019!
1. Sea Eagle SE370 Inflatable Kayak
Type: Inflatable Kayak
# of Seats: 2
Weight Capacity: 650 Pounds
The Sea Eagle SE370 Inflatable Kayak is our first best kayaks 2019 choice! Why? Because the SE370 is an affordable inflatable Kayak that is almost identical to the Sea Eagle 330. The only difference between these two kayaks is that the SE 370 is larger and weighs 6 pounds more than the SE330 model. Designed to be an entry level for beginners and novice paddlers, the SE 370 is fitted with a self-bailing valve that makes it easy to drain excess water, when the need arises.
Despite its entry level status, this Sea Eagle kayak is sturdy and does not get punctured easily thanks to its hull material, which is sun and salt water resistant. Additionally, this kayak can accommodate loads of up to 650 pounds.
One of the kayak's main selling features is its price. This kayak is relatively cheaper than other kayaks in the Sea Eagle sport line of kayaks. However, the SE370 included in the SE370 kayak package are two paddles, inflatable seats, a pump and a carry bag. The carry bag is made from a heavy duty material and features shoulder straps for easy carriage of the kayak. Being an inflatable kayak, the SE370 is foldable for ease of carriage.
Furthermore, this kayak weighs 32 pounds, making it easy to carry around. The removable inflatable seats add to its versatility as it can be used as a one person kayak as well as a two person and a three person kayak.
The SE370 kayak is crafted from K80 PVC, which is a tough material that is capable of withstanding wear and tear. Thus, apart from being lightweight and versatile, this kayak is also tough and durable. Also, the heavy duty PVC construction of this kayak gives it exceptional stability and solidity on water.
For added convenience, the kayak inflates within 8 minutes. Moreover, the kayak is equipped with a one-way valve that prevents escape of air.
Pros:
Exceptionally lightweight and portable
Comes with a three-year warranty
Affordable
Durable constructions
Cons:
Lack of sufficient storage space
Does not have an inflation gauge for the floor
2. Sevylor Quikpak K5 Kayak
Type: Inflatable
Number of seats: 1
Weight capacity: 250 pounds
The Sevylor Quickpack K5 1-person kayak  is a lightweight one person kayak. Considered to be one of the best single person kayak on the market, this Coleman kayak's seat folds into a backpack for easy carrying. This unique backpack has padded shoulder making it easy to carry the kayak from one point to another. It takes approximately five to ten minutes for the kayak to set up the kayak from the backpack.
For storage, this kayak boasts of a rear zippered storage compartment that is large enough to accommodate a wide assortment of items. Additionally, the front of the kayak offers additional space for the storage of essential kayaking equipment. D-rings make it easy to mount additional equipment to the front of the kayak:
Measuring 10 feet in length and 3 feet in width, the Coleman K5 offers plenty sufficient leg room for kayakers of all heights. Constructed from 900D polyester this kayak has a tough and durable top. As for the bottom, the manufacturer opted for a 24 gauge PVC. Electronically welded seams add to the kayak's durability and performance. The 24 gauge PVC used to make the kayak's bottom is extremely tough and is, therefore, hard to puncture.
Included in the K5 package are an aluminum paddle and a pump. This kayak is airtight, courtesy of two double lock valves. The latter valves are backed by a three chamber system that guarantees safety in case the kayak is punctured. The kayak's lift handles make it an ideal kayaking option for hiking and navigating through remote waterways.
When folded, the kayak measures 20 by 8.5 by 33.5 inches. Thus, it is compact enough to be stored in the boot of a car. Overall, the Sevylo Quickpack k5 1-person kayak is a well-constructed kayak capable of withstanding wear and tear.
Pros:
Is lightweight and portable
Features a unique seat that folds into a backpack
Features carrying handles
Does not puncture easily
Large enough to accommodate persons of varying heights
Cons:
The aluminum paddle isn't the best of quality
3. Chinook XP Tandem XL Inflatable Kayak
Type: Inflatable
Number of seats: 3
Weight capacity: 550 pounds
As its name suggests, the Chinook XP Tandem XL Inflatable Kayak is a large and spacious kayak designed for families. Weighing 38 pounds and measuring 391 cm long and 91.54 cm wide, this large kayak can accommodate two adults and a child. This premium kayak is constructed from 600 D polyester and offers exceptional value and stability on water. The floor of the kayak is constructed using a proprietary x-beam PVC technology. The 600 D polyester used in the making of the kayak's hull is blended with a unique duratex material that increases durability and protection from UV rays.
For easy access to the kayak, it is fitted with molded handles. Apart from the molded handles, the kayak also features accessory straps that allow for easy storage of gear on the kayak. Additional storage space is provided by a mesh storage compartment.
While it offers plenty of storage room, this Chinook Kayak's best-selling feature is its integrated fishing rod holders. The latter holders make it a versatile kayak that can be used for kayaking as well as recreational fishing. Thus, this kayak is an all-around recreational kayak.
The kayak's seats are also very well made and boast of a comfortable backrest. These seats are comfy and are equipped with storage compartments.
Overall, with a capacity of 550 pounds, the Chinook XP Tandem XL Inflatable kayak is the best option for families looking for a recreational kayak.  Is it any wonder that this made our best kayaks 2019 selection at #3? Go ahead and read our pros and cons for the Chinook XP tandem kayak.
Pros:
Is large enough to accommodate two adults and a child
Offers plenty of space to store kayaking equipment and other items
Is made from a tough and durable material
Is easy to set-up
Features comfortable seats with backrests
Is a versatile kayak and can be used for fishing
Cons:
4. Advanced Elements Advancedframe Convertible Kayak
Type: Inflatable
Number of seats: 2
Weight capacity: 550 pounds
Best Kayaks 2019 – #4: The AdvancedFrame Kayak measures 15 feet long and 32 inches wide. Weighing 56 pounds, it is a little heavier than the three aforementioned kayaks. It has a Tracking Fin system. The seats are removable with adjustable back supports. Its durable polyester material offers incredible resistance to abrasions or punctures, whilst the aluminium frame reinforced stern adds to the tracking performance.
Its rigid bow helps you glide through the waters; the superb experience will keep you in the best of spirits and can be fairly matched to regular hard-shelled kayaks. There is plenty of storage space: bungee deck lacing and D-ring tie downs allow you to stash your gear away. Moulded rubber handles make carrying the AdvancedFrame a lot easier.
You can quickly put the paddles away using the paddle holders, and the canoe also comes with its own repair kit and a backpack.  Easily one of our best kayaks 2019 picks!
Pros:
Easily portable
Great for less storage space
Fast paddling
Straight tracking
Cons:
5. BIC Yakkair Fishing 2Hp Inflatable Kayak
Type: Inflatable
Number of seats: 2
Weight capacity: 550 pounds
At a record 42 pounds when most inflatable kayaks weigh around 100 pounds each, the BIC Yakkair Kayak is a lot more than just a lightweight, easily portable boat. It's incredibly durable as well – special care was put into its high pressure floor.
At a length of 13'5'', and a width of 37'8'', it also possesses an integrated keel system, which means it can be maneuvered with ease. Tracking capacity is also augmented. The kayak has room for two adults. Features include two fishing backrests with rod holders, paddle attachment, a carry bag with a pump and repair kit, safety grab lines, bow protector, and a mesh storage in the rear and the front. It comes with a complete system that encompasses the hull and pump, as well as a backrest.
The Yakkair is transported in a backpack with wheels – truly convenient and comfortable! What's more, it takes minutes to set up so you can carry it to the most tortuous fishing locations without a lot of trouble. The lightweight coupled with the keel system integrates the benefits of a traditional hard-shelled canoe with the modern inflatable boat. The sturdy material of the Yakkair will prevent it from getting damaged by fishing hooks or other snagging objects.
If you're still worried about destroying your precious BIC, you can use a protective cover made of canvas. It's better to be safe than sorry. The lone kayaker will be happy to note that the Yakkair can be used for solo kayaking by putting in one seat and filling the rest of the canoe with other equipment.
Powerful and sturdy, lightweight and comfortable.
Pros:
Lightweight
Complete, integrated system
Room for one or two, as preferred
Cons:
6. Aquaglide Blackfoot HB Inflatable Kayak
Type: Inflatable
Number of seats: 2
Weight capacity: 600 pounds
Also quite lightweight, the Aquaglide Blackfoot Kayak weighs a measly 38 pounds only. It comes with a backpack travel bag, repair kit, integrated fishing rod holders, an inflatable seat booster, and a 1-year warranty. The tapered bow and long waterline allow it to glide through the water, giving the kayaker a delightful experience. It is 12'11'' by 9 inches, and is made of Duratex polyester (heavy duty, and UV-resistant).
The seats are padded and foamed, with one of the seats at a higher elevation on a removable platform. They're pretty comfortable too, with high backrests, mesh storage pockets, and an infinite adjustment system. Keeping the paddlers dry is the job of the forward splashguard, which is yet another feature of this wonder-boat. The integrated cockpit has drains that can be closed.
The drop stitch floor of the boat is hard as rock to promote stability and durability. Stowing away your bags and other gear couldn't be any easier: the bow deck rigging and abundant tie-downs bolster storage efforts. It also has seven mount plates to add your Scotty fishing accessories (unfortunately, these don't come with the kayak). But you do get a kayak cooler. The moulded carry handles assist in helping you get on or off the canoe, and help with carrying it around too.
Aquaglide is popular for more daring kayakers who enjoy choppy waters. It takes very little time to inflate (though you have to purchase the pump separately), and if the user happens to be a daredevil, can support stand-up paddling. It's also a great choice for fishing, according to a customer who used the boat for fly fishing.
The biggest problem seems to be the relatively large size of the Blackfoot; it can be difficult for one person to carry around. There have been complaints about the seat as well, which some claim is not very supportive.  A good reason why it's a little bit further down our list of best kayaks 2019 🙂
Pros:
Lightweight
Hard cockpit floor
Cons:
7. Innova Helios II EX Inflatable Kayak
Type: Inflatable
Number of seats: 2
Weight capacity: 396 pounds
The Innova Helios II kayak is made of nitrylon rubber and measures 12'6'' by 30 inches. With a weight of only 33 pounds, it breaks the records of both the BIC Yakkair and the Aquaglider Blackfoot. It is most suited for flatwater kayaking.
Being foldable, the Innova Helios II is an easily portable canoe, which is great news for those without a lot of storage space. If you happen to have extra gear, the elastic net rigging on the bow and centre decks and the bungee rigging on the stern deck should hold all the equipment.
The seats are very supportive with backrests, so if you have a long trip planned, you don't need to fret about back-aches from sitting too long. The carry handles help in carrying the kayak. Inflation time is quite commendable as well: it can be fully inflated within 6 minutes.
The 3 main air chambers keep the kayak afloat and the rigid floor encourages appropriate tracking. Also included in the kayak are deck netting and gear bungees. The footrests are adjustable.
The Helios can be easily adjusted for a single kayaker. You can set it up quickly. The material is resistant to possible abrasions or punctures: that's a lot of stress off the mind concerning damage to your precious canoe. The hull of the Helios balances stability and speed, and doesn't let you down on traction either. Worried about where the canoe ranks? It has a Class 1 river rating – that is quite an achievement.
Of course, there are cheaper boats out there, but if you're willing to splurge a bit for guaranteed quality, do so for the Helios. It's a well-rounded, reliable boat that cannot disappoint the most critical of kayakers.
Pros:
Highly resistant material
Speed, stability and traction
Class 1 river rating
Easily portable
Cons:
8. Driftsun Transparent Crystal Clear Bottom Kayak
Type: Hard-shelled
Number of seats: 1-2
Weight capacity: 425 lbs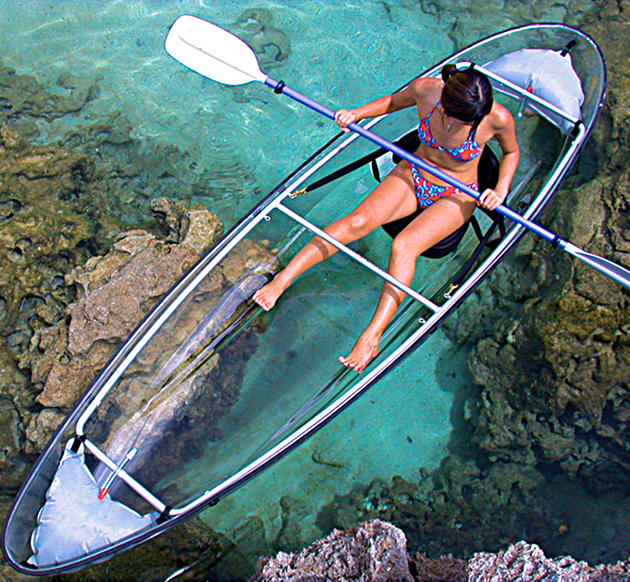 The Driftsun Transparent Crystal Clear kayak by The Driftsun Crystal Kayak Company is a crystal clear kayak that gives you the chance to observe the seawater below since it is transparent. It includes seats and paddles for two people. However, one seat can be easily removed for solo paddling.
The Driftsun Transparent Kayak is the favorite kayak for the people who would like to snorkel without getting wet. It has clear transparent shells allowing one to observe the water beneath them from a unique point of view.
The Driftsun Kayak Company has created this kayak to be durable and lightweight. It features an anodized aluminum frame, inflatable chambers, and comfortable EVA adjustable seats. However, all these seats are easily removable for easy stacking and storage. Additionally, the polymer hull is corrosion and UV resistant. This prevents the hull from yellowing.
Driftsun Transparent Crystal Clear kayak has two seats that can be used by either children or adults. One seat can be removed easily for solo navigation. Additionally, all purchases made directly from the Driftsun Company have one year Warranty.
This baby needs to be highlighted as one of our coolest best kayaks pick!
Pros:
It offers an option for one or two people so can use it as needed
Allows you to see sea creatures such as jellyfish clearly without fear of getting stung or bitten
Has a lot of storage space allowing you to store your camera, phone, bottle of water, flask of coffee or even something heavier
It is relatively affordable compared to its competitors in the market
Cons:
Although the kayak is made of strong materials, you have to limit its use to avoid getting scratches that reduces transparency
Here is the Driftsun kayak in action:
9. Vibe Sea Ghost 130 Angler Kayak
Type: Hard-shelled
Number of seats: 1
Weight capacity: 550 lbs
Best kayaks of Seletion #9 is an amazing fishing kayak: the Vibe Sea Ghost! Fishing enthusiasts and outdoorsmen are adventurers at heart. A little bit of rough weather and wind will do little to deter them from hauling in that big catch. Their equipment, however, has to pass muster and keep up – it just won't do to have your boat or other fishing gear fail on you in that crucial moment.
There is a kayak that meets these demanding performance requirements. A boat that is tough and versatile enough to handle all waters, and all conditions. The Vibe Sea Ghost 130 Angler Kayak is a rotomolded single piece polyethylene single-seater kayak that boasts a wide hull able to tackle every water condition from raging rivers to choppy surf. Its construction and design offers an extremely stable ride, perfect for fishing or recreation.
Let us examine this kayak in greater detail. It weighs in at 74 pounds, and features the Vibe Hero seat for comfort, built-in cupholder, as well as a toe-controlled rudder system that provides that aforementioned stability in the water. There is a variety of attachments that allow you to stow cargo and gear, including a sealed centre console and integrated tracks for paddles and fishing rods. After all, a boat is no good if you cannot fit all the necessary gear into it.
For those anglers and outdoorsmen who are looking for a stable, versatile kayak that can withstand tough water conditions, the Vibe Sea Ghost 130 Angler Kayak is indeed worth a closer look.
Pros:
Stability features such as rudders and frame seats
Great storage options
Value for money
Cons:
Rudders have a bit of slack
Side walls flex a little
10. Sun Dolphin Bali SS 10-Foot Sit-on-Top Kayak
Type: Hard-shelled
Number of seats: 1
Weight capacity: 250 lbs
Sometimes, boating enthusiasts want a middle ground between the ease-of-use of an inflatable kayak and the stability of a hard-shelled kayak. Something that is easy to transport and move in and out of the water, but also something that does not sacrifice too much of the durability and feel on the water that only a hard-shelled boat can provide. The Sun Dolphin Bali SS kayak may be just the thing meet that middle ground.
Weighing in at 44 pounds, this single-seater kayak constructed with UV-stabilized Fortiflex high density polyethylene is tough yet light in weight. What does this mean? It means that the material used to build this kayak will never break down even if it is stored wet, and will never fade with sun exposure. This material also allows a greater degree of tracking and paddling, giving you stability whether you are boating down a river or in a lake.
Comfort and storage are also important considerations, and the Sun Dolphin Bali SS provides ample options. The open seating makes ingress and egress a breeze, while the paddle holder and adjustable foot rests make extended boat rides a joy. A dry storage compartment keeps all your essential boating gear safe, and for more storage, a Portable Accessory Carrier (P.A.C) is also available. Many additional accessories are available, but all the essentials, including a paddle, are included.
At this price point, few other kayaks can compare with the Sun Dolphin Bali SS' design, construction, and versatility. It is meant for paddlers of all skill levels, and perfect for family outings. Its design emphasizes stability and ease of paddling, allowing even children to paddle with confidence. However, the absence of rigging means that those who want to use if for fishing have to rig it themselves.
Those looking for a recreational boat that is stable and provides great tracking would do well to take a closer look at the Sun Dolphin Bali SS. For a leisurely day out paddling on the lake – this lightweight, sturdy, and comfortable kayak is the perfect companion. Additionally, you can find this best kayak option reviewed right here on Killer Kayaks: Sun Dolphin Bali 10 SS.
Pros:
Cons:
Seat is not cushioned
Extremely slow
11. Point 65 N Tequila! GTX Tandem Angler Modular Kayak
Type: Hard-shelled & Modular
# of Seats: 1-2
Weight Capacity: 530 lbs
Tequila! GTX Tandem kayak is a highly stable, fun, versatile, and high-performance kayak from Point 65. Tequila! was designed and made in Sweden by the award winning engineer Magnus de Brito using the new Point 65 Snap-TAP technology under Europe and US patents. The Tequila! GTX tandem is among the fasted sit-on-top kayaks that can be easily changed from solo to tandem.
The GTX Tandem is perfect for use in rivers, ponds, and lakes for both beginners and expert kayakers. Apart from leisure surfing, the Tequila! GTX kayak is suitable for fishing. It has small, normal and large paddlers making it suitable for use by both children and adults.
The Tequila! GTX tandem kayak is fitted with a new tracking keel that helps in keeping it straight while in water. Additionally, its modular structure makes it easy to carry, store, and haul. Tequila! GTX has a snap-tap modular system making it easily convertible from tandem to solo and vise versa by easily removing or adding the extra mid-section seat. It has super comfortable AIR seats with pneumatically adjustable backrest.
Tequila! GTX as a modeled in bottle and cup holders as well as a built in paddlepak slot. These features makes the Tequila! more comfortable since you don't need to worry about where to keep your water bottles and cups if you carry some drinks with you. This feature makes the Tequila! to be one of the most comfortable kayaks.
Pros:
Easy to transport, store and carry
Stable, strong, and safe sit-on-top kayak
The AIR seats have adjustable seating position
Has built-in bottle and cup holders
Cons:
Tequila! Is not recommended for a weekend touring expedition
12. Oru Kayak Bay Kayak
Type: Hard-shelled
Number of seats: 1
Weight capacity: 300 lbs
The Oru bay kayak has an innovative folding hull mad using the Origami-inspired design, deep research, and high-quality materials. It is made of double-layered polypropylene material that is resistant to damages that may result from constant folding and unfolding. The 12' kayak has smooth contours making it sporty for beginners while it is stable enough for beginners.
The Oru kayak is 26 lbs. in weight and is easy to unfold and make the fixed, rigid form as it takes a few minutes, thus ensuring you don't take too much of your leisure time fixing it.
It has a comfortable foam seat with a fully adjustable backrest to provide even more comfort.  Not just our best kayaks picks but also a very unique and cool origami kayak!
Pros:
Cons:
Tabs and buckles wear out after a while
13. Hobie Pro Angler 14
Type: Hard-shelled
Number of seats: 1
Weight capacity: 600 lbs
An updated version to the Hobie Pro Angler 12 (which also made our best kayaks of 2019 list below!), this fishing kayak is a thing of beauty! From the Hobie H-Rail mountain system to the tackle management system to the cup holders (yep!), everything seems to have been designed with your comfort and fishing needs in mind.
With the MirageDrive system, paddling is easy as pie.  Also, there is ample storage compartments without anything ever getting in the way.  There is a huge bow hatch for storing bulky items and an 8 inch round hatch located in the stern tank well; it's perfect for carrying a cooler or a live bait.
As if these features aren't pretty solid, the Hobie Pro Angler 14 comes with a vantage seat with lumbar support… which can be adjusted.  Chuck your office chair and replace it with this.
Pros:
Two hidden flip-up, built-in tackle boxes
Rudder steering can be done by hand!
Cons:
Large size; make sure it will fit in your carriage space
14. Seaward Passat G3 Kevlar
Type: Hard-shelled
Number of seats: 2
Weight capacity: 500+ lbs
If you have been frustrated with options for a sleek tandem kayak, then we are pretty sure that you will love what you see here: the Seawrd Passat G3 Kevlar is a sleek beauty designed with tandem kayakers in mind.  This kayak can be used in somewhat rough waters and should be used in long distance kayaking.  It has also gained reputation as a "light" and high-performing kayak.
With its Kevlar construction, it is based on the original Passat hull which has been acclaimed by adventure racers worldwide.  As far as seating goes, you can use the screwknob behind the seats to adjust them high and low.  Using the straps, you can even adjust the angles of the seat.  It edges smoothly and tours at 5+ knots.
If you want to read about its build, check out our Seward Passat G3 Kevlar review.  Being such a great kayak, no wonder this kayak made it on our best kayaks list.
Pros:
Tracks amazingly
348 liters of dry storage in total
Excellent storage space
Cons:
The only problem is with the cabling for the rudder placement in and out of the water, requiring manual work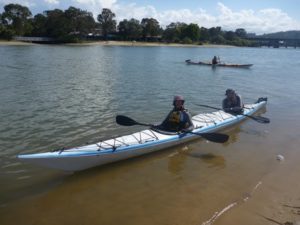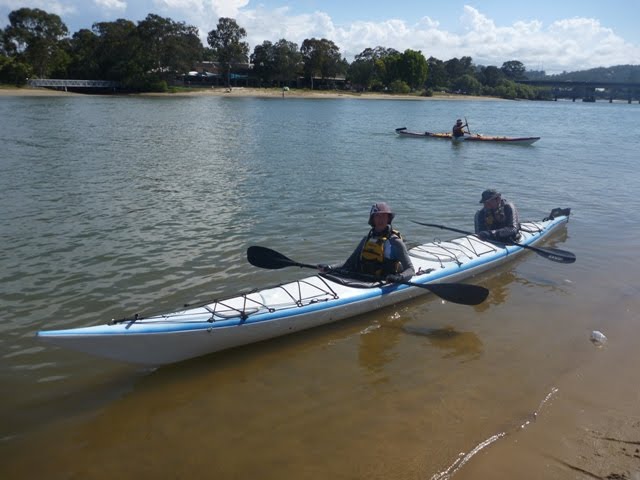 15. Old Town Vapor 10 Angler
Type: Hard-shelled
Number of seats: 1
Weight capacity: 250 lbs
While officially an angler kayak, the Old Town Vapor 10 Angler is a recreational kayak with versatility.  It contains solid storage space with a large cockpit and offers a stable ride.  Whether you're a novice or a skilled kayaker, thanks to the shape of the hull, you will find that the Vapor 10 Angler responds and tracks rather smoothly to your paddling.
The Vapor 10 provides more than ample room for your gear, including a dry hatch with a lockable top, a cooler, dufflebag, and nice room for more stuff. Also, there is nice room behind the seat for a sleeping bag and of course, more gear, between your feet.
If you want a recreational angler that is made of good, quality materials for a good price, then the Old Town Vapor 10 Angler is a rather good choice.
Pros:
Maximum load range of 275 – 325 pounds
Adjustable ComfortFlex padded seat
Very stable with great tracking
Cons:
The drain plug location isn't at a good spot for actually finding the perfect position to get the water out
16.  Hobie Pro Angler 12
Type: Hard-shelled
Number of seats: 1
Weight capacity: 500 lbs
Alright, so where are we on the Best Kayaks List? #16!  Let's keep chugging along…
The Hobie Pro Angler is one of the best fishing kayaks produced by the Hobie Cat Company.  This is a hard shelled kayak with the capacity to hold upto 500 pounds. The really cool thing about the Hobie 12 fishing kayak is that it navigates really well whether you use it in choppy waters or a nice, calm lake!
The most unique thing about this fishing kayak is that it is powered by the MirageDrive 180 technology.  Instead of tiring out your arms, the Angler 12 has a leg paddling system that is easy and efficient to use and perfect for those hard fishing days.  Not only that, but it also comes with a seat with lumbar support and can be raised upto 5 inches.
There are plenty more awesome features to be admired about the Hobie Angler 12 kayak: for instance, it has a dual steering system which is awesome, allowing for primary and secondary steering.  Also, you can store up to six fishing rods horizontally, leaving you with more than ample storage space.  Another common sense choice to add as a best kayaks 2019 contender.
The LiveWell live-bait tank is another thing of beauty with a nice 8 gallon tank!
Pros:
Comfort was a main feature when Hobie Cat Company created the Hobie Pro Angler 12!
Rust resistancy proved with testing in salt waters
6 horizontal fishing rod holders!
Cons:
If $$ isn't an issue, then none
Best Kayaks 2019 Buyer's Guide Conclusion
These are the best of the best kayaks 2019 has to offer!  However, we understand that this site is mostly (99%) dedicated to inflatable kayaks.  This list is a mix of inflatable, hard-shelled, and everything in between.  We understand that you may be looking for only inflatable kayak reviews.
Happy kayaking, everyone!
PS. Did we somehow miss a great kayak on our Best Kayaks 201 list?  Contact us and let us know asap!