For many reasons, the Sevylor QuickPak is one of the best rated inflatable kayaks on the market.  While it has a couple of cons (which we will go into detail down below), it has plenty of pros and the pros really shine.  I'll be going into details about the price, seat issues, cargo details, comfort level, inflation time and much more.  The purpose of this review is to help you make up your mind so if you have any questions after reading the review, feel free to get in touch here.  Check out our Sevylor Inflatable Kayak Review!

Basic Kayak Design
Let's start with the basics: what I found great about this kayak is that it a is "sit-on-top" kayak (take a look at the images).  So, instead of sinking down into the kayak, you sit on top of it.  For a lot of people, this is a lot more comfortable for their backs.  Also, the backrest is adjustable and this is a very important feature as kayaking, if not properly prepared for, can be painful.  (I have a bad back so I take such things into consideration).  The Sevylor QuickPak Coverless Sit-On-Top Inflatable Kayak has comfortable seating; comfortable enough to take small waves.
For those who are iffy about inflatable kayaks, read about the Sun Dolphin kayak and the origami Oru kayak options here.
Sevylor QuickPak Coverless Sit-On-Top Maximum Capacity & Size
In the very front, you will notice a small cargo area where you can store a few small items.
Obviously, much needed and handy.  The Sevylor QuickPak Coverless Sit-On-Top inflatable kayak has a maximum weight handling capacity of 400 pounds and is a comfortable fit.  Once inflated, the kayak comes in around 8'8"x2'4".
One of the main questions with inflatable kayaks is whether they are "safe" enough to endure certain environments or, rather, if they will deflate due to an easy tear.  For this Sevylor Quickpak Coverless Sit-On-Top Inflatable Kayak, Sevylor has implemented their own exclusive AirTight system which pretty much guarantees no leaks.
With that said, it's perfect for lakes or extremely light waves but shouldn't be used in the ocean or rapids.  (And really, inflatable kayaks are not meant to be enjoyed in harsh environments).  I have heard of people grazing the kayaks on rocks lightly without any damage to them.  (Important Note: Inflatable kayaks aren't meant to be used in tough conditions so please consider your safety before taking any questionable actions).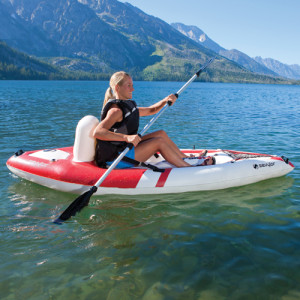 Sevylor QuickPak Maneuverability
With that said, the Sevylor Quicktop Sit-on-Top Kayak treks nicely in the water and I was able to navigate with it fairly well right off the bat.  An Amazon reviewer even mentioned that he would be comfortable enough to use this inflatable kayak for fly fishing.  A couple of reviewers on Amazon have complained that the kayak isn't as sturdy or maneuverable as a regular kayak; they are missing the point.  If you're looking for flexibility, ease of handle and a cheap price, then this kayak will defintely not disappoint you.  If you're looking for something that can handle the rapids or if speed is a huge concern, then an inflatable kayak may not be your best buy.
Another thing to note is that the base of the kayak comes to be at the water level but this is how it has been designed and works really well.
There are plenty of pros for owning this little baby and a couple of cons so let's dig a bit deeper.
One of the coolest things about this kayak is that once it is deflated, it can turn into an (integrated) backpack.  Imagine if you're a bike ride away from a nice lake; grab your kayak (folded into a backpack) and head on over.  In that sense, the Sevylor QuickPak kayak holds true to its name.
Another great thing: on average, it takes about 5 minutes for it to inflate so if you're looking for a lightweight kayak, then this will fit the bill nicely.
The QuickPak is also easy to inflate as it comes with a dual action hand pump with various sized nozzles.  If you've ever purchased an inflatable kayak before, you know that sometimes this part can be an annoyance but this part worked just fine for me.  A couple of other folks had a little bit of trouble with fitting the pump to the nozzles; for a quick fix, you can hold the hose around the nozzle with your hand or tape it.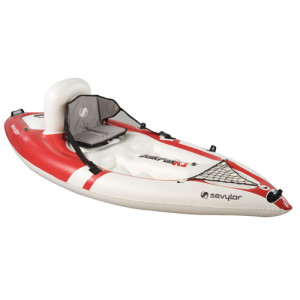 Fun Features
A couple of fun features are a cup holder and a build in oar holder (some of the more expensive kayaks don't have these in-built features).  These features aren't perfect but are at least included in this budget raft.
One of the bigger complaints on the Amazon reviews has been that this kayak won't paddle straight.  Well, if you've ever owned an inflatable kayak, this can be a concern.  Due to the "light" nature of the inflatable kayaks, even with skegs, it can be hard to steer them straight.  To fix the problem, easily, you can put something with a bit of weight (like a water jug or a weight dumbbell) in the front (where the cargo compartment is).
A couple people who have left unsatisfied reviews on Amazon probably came in with the wrong expectations.  For instance, you cannot expect a lightweight, inflatable kayak to do what a weighty kayak costing $500+ can do.
Sevylor Quick Sit-On-Top Kayak Verdict
If you're looking for a get-up-and-go kayaking that's compact, this kayak solution by Sevylor is one of the best ones on the market with a low budget.
Check out the Sevylor K1 QuickPak on Amazon by clicking here!
[table id=sqc /]