The Riot Kayaks Polarity 16.5 Tandem Kayak is a medium length watercraft that comes with some distinctive features. It's a strong, quality vessel for people who like to go kayaking with a companion.
This particular model is yellow and it is one of the few on the market that is designed to offer great performance and convenience for the money. The careful balance of features and functionality is evidently the standout aspect of the watercraft and any buyer will need to analyze them carefully.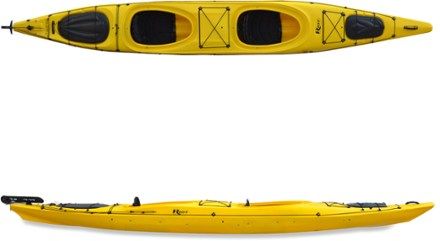 The unique design of the Polarity clearly establishes the boat as a product from Riot Kayaks, a well-established company. The design of the Riot Kayaks Polarity 16.5 is not the only thing that stands out with this watercraft, however. There are other features, like storage and the frame, that gives it a unique identity.
A key issue that any buyer seeks to find out is whether a product will perform as expected and give them value for their money. By looking at the various aspects of this tandem kayak, we will be able to establish the real value of the boat in this Riot Kayaks Polarity 16.5 review.
Check out the Riot Kayaks Polarity 16.5 Tandem Kayak on Amazon!
Frame
The entire frame of the Riot Kayaks Polarity 16.5 is made of strong polyethylene, with only the seats and peripheral parts being made of other materials. As the frame is the most vital part of any boat, it is great to see such a strong material being used for its construction. Most durable and lightweight kayaks are made from polyethylene and as such, durability and portability can be expected with this product as well.
Check out our Top 14 Fishing Kayaks article!
Looking at the bare specifications, the Riot Kayaks Polarity 16.5 weighs almost 90 pounds and the maximum weight that it can support is well over 500 pounds. That could hold two average sized adults and a considerable amount of gear.
In terms of size, the watercraft's length measures about 16.6 feet, despite its description, and it is 25.6 inches wide. With such dimensions, most kayaks would not have enough space left for much else. This is not the case with the Polarity 16.5 Tandem, however, as the frame is designed optimally in such a way that no space will go to waste.
Check out our Best Kayaks 2018 – Comprehensive Buyer's Guide!
The hull of the Riot Kayaks Polarity is constructed in the unique catamaran design to improve stability and speed. Great performance is expected with this kayak, as it is compact in all aspects. The exterior of the Riot Kayaks Polarity 16.5 is also streamlined in an almost perfect symmetry where each side of the boat is a mirror of the other. Seats, storage compartments, foot braces and all other important aspects blend in quite well with the frame design.
The overall construction of the frame is commendable, especially since it contributes to its enhanced performance.
Riot Kayaks Polarity 16.5 Features
The Riot Kayaks Polarity 16.5 does not fall short of features. One particular feature that gives this boat an edge is the Contour-Fit seating system. This system is great for allowing quick adjustments on the seats and deck for both users.
Such adjustments allow people of different statures to use the kayak comfortably. The quick-lock foot braces are also adjustable and offer maximum support for efficient paddling, and there is a pilot rudder system included to ensure easy steering. In terms of handling, rubber handles are included at both the front and rear ends of the boat for easy transportation.

The cockpit space is also quite sufficient for allowing users to enjoy uninhibited movement when paddling, measuring 32″ x 19″, which provides plenty of space for average adults. Another important feature is the tunnel hull, which makes for easier tracking, stability and speed.
With an elevated mid-section, much of the weight is distributed evenly and users of any level will not find it hard to use this boat. Overall, the features that the Riot Kayaks Polarity 16.5 comes with works well for both experienced users and beginners.
Riot Kayaks Polarity 16.5 Storage Space: Is There Enough?
There are many storage options that come with the Riot Kayaks Polarity 16.5. To start with, there are compartments at both the front and rear ends of the kayak. These compartments are covered with Thermolite hatch covers for maximum protection.
The compartments are able to hold a huge amount of gear and the shock cord storage included is also great for securing any extra gear that might be needed in an excursion. The straps between the cockpits are also great for keeping any items that do not need protection from water.
Overall, there are ample storage options with the Riot Kayaks Polarity 16.5. Considering that the design is optimized for performance, there is no cause for concern even when all the compartments and storage units are fully loaded. This kayak is fast and agile, good for long trips and that's what most people will use it for, so storage will most likely be full.
Check out our Best Inflatable Kayaks 2018!
The Riot Kayaks Polarity 16.5 might be compact, as we've discussed in this Riot Kayaks Polarity 16.5 review, but it is still a long kayak, so finding a place to store it when it is not being used might pose a problem. Also, transporting it requires extra equipment and/or a truck, so if you have a small car, you might be better off looking at a smaller kayak.
Riot Kayaks Polarity 16.5 Pros
The pilot rudder system is great for tracking
The Riot Kayaks Polarity 16.5 has a great design that allows for great performance
The hull design is great for stability and speed in the water
Storage compartments are able to handle a lot of gear
Features a minimalist, but effective design
Riot Kayaks Polarity 16.5 Cons
The Riot Kayaks Polarity 16.5's weight can be bothersome when transporting it over long distances
The seats might be too close for people of a bigger stature
Riot Kayaks Polarity 16.5 Review Conclusion
The Riot Kayaks Polarity 16.5 Tandem is a great watercraft for those who are looking for a quality tandem kayak. It is made by a reputable company that has produced remarkable products in the past. With a great design and various comfort and performance features, the Riot Kayaks Polarity 16.5 holds its own on the market.
There are many things to consider when purchasing a good tandem kayak, but the most important of all is value. The performance, durability and functionality aspects of the Riot Kayaks Polarity 16.5 are the standout features, which make it a formidable option.
It is best for day or overnight trips, but not a good candidate in the way of convenience, when a short trip is planned, like fishing. If you're an angler, be sure to also check out our Riot Escape 12 review.
Check out our Origami Kayaks article!