Are you wondering if inflatable kayaks are good for fishing? I own two of these for fishing purposes (bought my first one 8 years ago!) and absolutely love the convenience of owning them.
There are so many advantages to using an inflatable kayak when it comes to fishing and I'll be breaking it all down in this article. From their lightweight nature to increased portability – as well as ease of setup and transportation – I think it's safe to say that these vessels can truly revolutionize your angling experience.
Keep reading to learn more about why choosing an inflatable kayak could be a great choice for your next lasting expedition out on the water.
Benefits of Using an Inflatable Fishing Kayak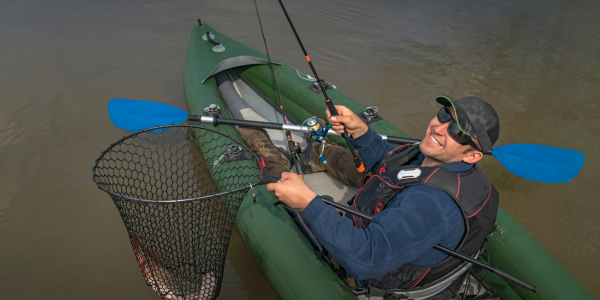 When it comes to fishing, it's all about the experience. And what better way to enhance that experience than with an inflatable fishing kayak?
As mentioned earlier, these kayaks offer a multitude of benefits including portability and ease of setup. Whether you're heading out for a day trip or a weekend adventure, you can easily transport your inflatable fishing kayak to any destination – no need for a roof rack or special equipment. Also, they're lightweight and compact, making them ideal for solo trips.
Another major advantage is their stability, even in rough waters.
With built-in features like rod holders and ample storage space, you'll have everything you need for a successful day on the water.
No need for a bulky, expensive traditional kayak.
How to Choose the Right Inflatable Kayak for Fishing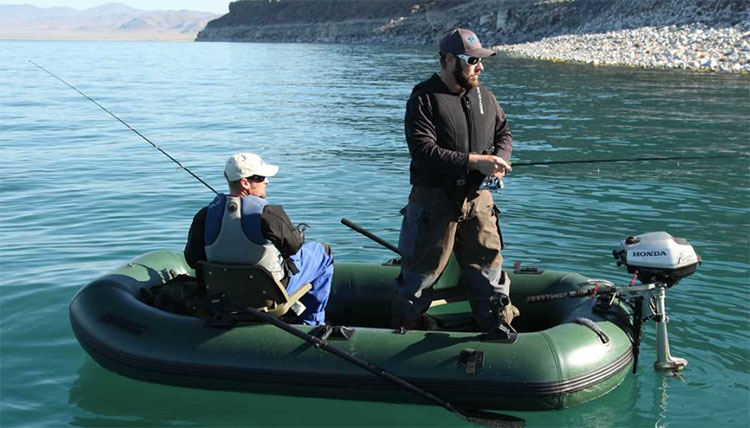 When it comes to fishing, having the right equipment is essential. But with so many different types of inflatable kayaks available, how do you choose the right one for your fishing needs?
First, consider the size and weight capacity of the kayak. You'll want to make sure it can hold all of your gear and still remain stable on the water.
Next, think about the type of water you'll be fishing in and choose a kayak that is designed for those conditions.
Finally, pay attention to the features of the kayak, such as the number of seats and storage compartments, to ensure it meets your specific needs. With these tips in mind, you'll be able to choose an inflatable kayak that is perfect for your next fishing adventure.
Will A Fishing Hook Pop An Inflatable Kayak?
No, fishing hooks will not pop a quality inflatable kayak designed specifically for fishing and handling fishing gear and hooks. Inflatable kayaks are made from durable, puncture-resistant material that is designed to hold up against even the sharpest of hooks.
Make sure to buy a quality inflatable kayak for fishing from a brand that has been around for a long time and is known for creating great kayaks.
But if you are truly worried, then you can use a barbless hook or wrap a piece of electrical tape around the barb to ensure your inflatable kayak stays safe.
Is It Safe To Use An Inflatable Fishing Kayak In The Open Ocean?
Kayaking in the open ocean with bait isn't recommended in any type of kayak. The bait can easily lure sharks (or gators).
Keep one thing in mind: an inflatable fishing kayak will not hold up against a curious shark bite or the force of large waves. It's best to avoid any risky situations and stick to calmer waters that are considered safe from large predators with your inflatable fishing kayak.
Are Inflatable Kayaks For Fishing Hard to Blow Up?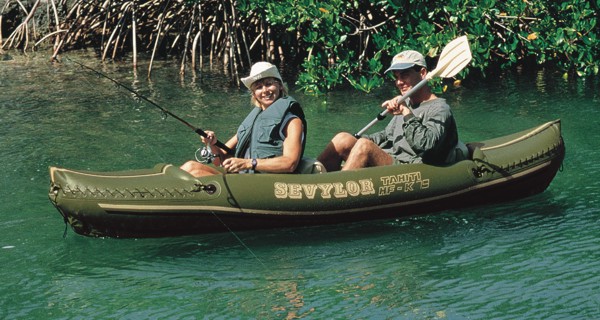 Inflatable kayaks are incredibly convenient but many people worry that they'll be difficult to blow up. In fact, that was one of the major concerns I had regarding purchasing my first inflatable kayak 8 years ago.
Luckily, these days they come with electric pumps so all you have to do is plug it in and let it run. These pumps are pretty easy to use and will have your inflatable kayak ready for the water in no time.
Are Inflatable Kayaks Easy to Tear?
Inflatable kayaks are incredibly durable and resistant to tearing and punctures. However, like any type of equipment, they must be properly cared for in order to maintain their longevity.
Always inspect your kayak before use and make sure it is free from cuts or tears. If there are any holes or signs of wear, repair them immediately with a patch kit (or contact the manufacturer). Also, take care when transporting your inflatable kayak since sharp objects can easily cause damage.
With proper maintenance and care, an inflatable fishing kayak can provide you with years of fishing adventures on the water. I've only experienced one tear in my 8 year old inflatable fishing kayak which I was able to patch. I'm still using it today.
What Gear Should You Have on Hand When Fishing In An Inflatable Kayak?
Fishing in an inflatable kayak is a fun and exciting way to catch fish but you need to make sure you have the right gear on hand. When you're out on the water, you never know what you'll catch or what situations you might encounter. That's why it's important to be prepared.
A good rod and reel are a must-have but you'll also need a tackle box stocked with plenty of hooks, floats, lures, and line.
A good anchor will keep you in place and prevent you from drifting away from your fishing spot. You should also have a life jacket, sunscreen, and a hat to protect you from the sun.
With the right gear on hand, you'll be ready for any fishing adventure in your inflatable kayak.
Popular Types of Bait to Use When Fishing From An Inflatable Kayak
To increase your chances of success, it's important to use the right bait. Some of the most popular types of bait include live bait, such as worms or minnows, as well as artificial lures like spinnerbaits and jigs.
Each type of bait has its own advantages, and it's worth experimenting with different options to see what works best for you.
Whatever you choose, make sure to match the bait to the type of fish you're targeting and the conditions of the water you're fishing in.
Conclusion
Overall, inflatable kayaks offer a unique and exciting fishing experience. Not only are they lightweight, portable and often cheaper than traditional kayaks but they also provide additional benefits such as quick setup times, accessibility to wide-open waters and the added option of using electric trolling motors.
When it comes to choosing the right inflatable kayak for your needs, be sure to consider the type of water you will be paddling on, storage capacity requirements, and an appropriate budget for what you'll need. A lot of times, you can find an inflatable fishing kayak for a decent budget.