BIC YAKKAir HP2 Fishing Overview
Type: Inflatable
# of Seats: 2
Weight Capacity: 550 lbs
About BIC YAKKAir HP2 Fishing Inflatable Kayak
Good fishing holes are hard to find – often, you find yourself having to travel to several to find the haul you want. Fishing kayaks that are light, mobile, and easy to inflate/deflate are crucial to making sure you do not come home empty handed.
The BIC YAKKAir HP2 fishing inflatable kayak is made for this purpose – an ultra-light, easy to transport vessel that does not sacrifice functionality, durability, and strength. Developed in France, the entire boat kit (boat, footrests, backrest, pump, and bag) weighs in at just 44 pounds, and fits neatly in the included wheeled backpack. Transporting it no longer requires a roof rack or unwieldy trailer – the car trunk will do just fine.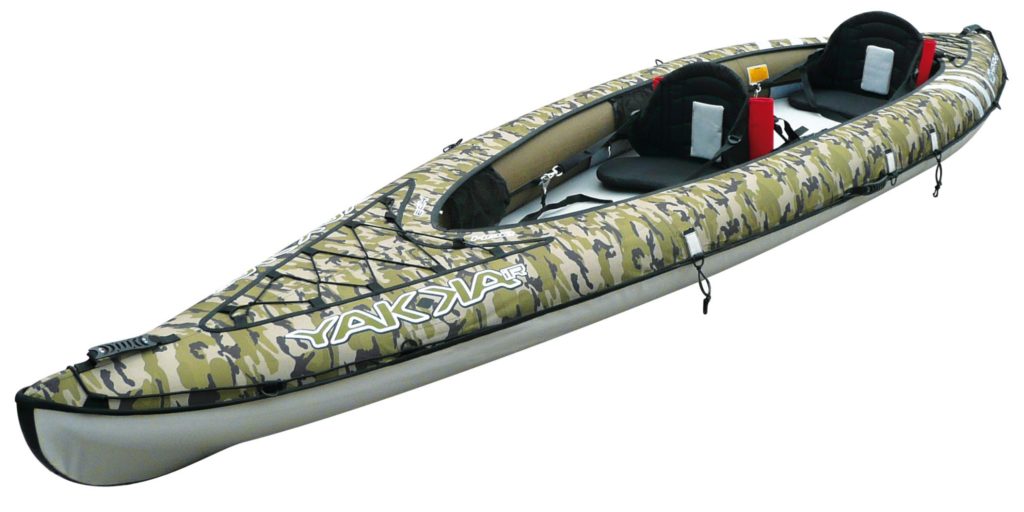 How Does the BIC YAKKAir HP2 Fishing Perform?
But how does it perform? Just as reliably as a hard-shelled kayak, in fact – its PVC skin, high pressure keel, and solid PVC floor form a V-shaped hull that provides enough room for 2 adults, as well as a variety of accessories such as rod holders, safety grab lines, paddle attachments, and footrests. Paddles, however, are not included in the boat kit.
Kayak fishing is a sport that is growing in popularity, due to its convenience and ease, particularly attractive to beginner and novice fishing enthusiasts. The BIC YAKKAir HP2 Fishing Kayak makes it easy to not only transport and set up for a day of fishing, but also cleanup and maintenance.
From its sturdy material to its light weight, all it requires is a quick rinse and dry to make it ready for the next fishing trip. This is also an incredibly versatile boat that allows it to not only be perfect for fishing, but also perfect to travel with as well. Road trips to national parks will never be the same again – you can now actually boat in that pristine lake or river, instead of just admire it from the banks.
Should You Buy the BIC YAKKAir Fishing Kayak?!
Have a look at our quick points and make up your mind if you would like to be a proud owner of the BIC YAKKAir Fishing Kayak. 🙂
Pros:
Light-weight and compact
Sturdy construction
Nice design
Cons:
Not self-bailing
Best only for flat water or recreational use
Looking for other inflatable kayak options?  Check out our kayaks guide!
Is this your first inflatable kayak purchase and you feel intimidated?  Well, we constructed a nice guide to help you understand what you should be looking out for: Inflatable Kayak Guide.