In case you haven't noticed, the Advanced Elements AdvancedFrame Convertible kayak is one of the more expensive inflatable kayaks we've taken the time out to review. After all, coming in around $550, why should one invest in one of these inflatable kayaks rather than shell out money for a hard-shelled kayak?
That's one of the bigger questions we will be answering in this review but first, let's start with the basics and move our way through this sexy option (I'm not biased, I promise!)
The Basics
The AdvancedFrame Convertible kayak is a two seater kayak and comes in around 15 feet long (much longer than the standard inflatable kayaks that I've checked out). Its frame is built with aluminum ribs that shape the bow and stern. Due to the 'weightiness', this kayak also treks straight and well (which can be a little bit of a problem with light inflatable kayaks). While the trekking is not as well as a hardshell kayak but it comes very close to it. That says a lot about an inflatable kayak!
The Advanced Elements AdvancedFrame Convertible inflatable kayak is also constructed of three layers for safety reasons: if one layer gets punctured, you're still safe due to the other two layers being puncture resistant.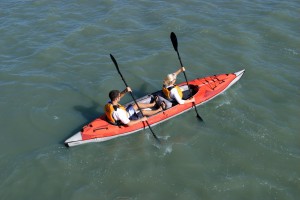 Even though this baby is designed for tandem (or two people) kayaking, you can take the extra seat out (or use it as added back comfort) and take it out solo. [Note: For a hardshell option, check out the Sun Dolphin Bali kayak right here. We also have our inflatable kayak guide].
Whether you're a beginner, intermediate or an expert kayaker, setup is a breeze. The first time, it may take you a good 20 minutes to accomplish this but it gets easier each time. You simple take it out of the package, unfold it, pump it with air and set it up. Viola!
Just in case, here's a demonstration video:

Storage Compartment
Unlike other kayaks, this one has a nice storage department for some serious gear. Here, take a look at the image: There is surprisingly a fair amount of storage and the deck lacing is just… super sexy. Go ahead and sprinkle your jelly beans everywhere! (Joking… keep it clean!)
Bonus Points for Puncture Resistant Build
When you're out and about in one of these inflatable kayaks, the last thing you want to do is be worried if it can take a little bit of a hit (let's face it: sometimes I don't plan on rough surfaces but that doesn't mean my kayaks don't end up getting scratched!) As mentioned earlier, the Advanced Elements AdvancedFrame Convertible inflatable kayak kayak is built of three layers of puncture resistant material.
The kayak is so well-built that even through rough surfaces, it will, on average, last you 5-10 years (please keep in mind this depends on the usage). If you are using the Advanced Elements inflatable kayak in pretty rough waters, you should know that while it does well in heavier conditions, still, this isn't a hard kayak! (Always remain cautious and go with a buddy to test how well a new kayak responds in an environment). If roughing it is a huge issue for you, then you will find the Advanced Elements AdvancedFrame Convertible inflatable kayak one tough inflatable sob!
Is The Advanced Elements Inflatable Kayak Heavy As Heck!?
One of the main complains on Amazon is regarding the weight of this kayak. If you examine this a bit, this is a good thing! The kayak comes in around 55 pounds which means it's a bit heavy to carry. However, this kind of weight is good especially if you want to trek well and straight in the water. And that, my friends, the Advanced Elements inflatable kayak does really well. If you've shopped around for lighter inflatable kayaks, you'll see that getting them to move straight can take a bit of getting used to.
Now, if you're not very strong, then carrying this a fair distance could become a problem. If you know you'll be in good company or are a strong person and don't mind carry it, then you know this kayak is right for you. Additionally, you could purchase a dolly to help you carry this. I don't want to blow this out of proportion; just know that the size could be an issue if you're a very light person and need to carry this thing a mile to the lake or a river.
Is Cleaning Advanced Elements AdvancedFrame Convertible Inflatable Kayak A Drag?
Okay, so inflating this baby takes around a good 5-10 minutes (for first timers, it can be longer). That's not a problem. However, after you've used it, you'll notice water collect at the bottom. Well, if you've invested in a $500 kayak, you also have to take good care of it which includes drying it off and folding it properly.
This means you have to empty out the kayak, let it dry off then unfold it. Frankly, this is the nature of most kayaks so if this bothers you, perhaps you should invest in a hardshell kayak.

Why is The Advanced Elements Advanced Frame Convertible Kayak a Great Investment?
If you're like me and live in a cramped apartment, own a small car or hate carrying a hardshell kayak, then this is a solid investment. It's not like a super lightweight inflatable kayak. It doesn't come with the problem of a superlight inflatable kayak either. It has a bit of weight to it (55-60 lbs) but this also helps it move straight and speedier than most inflatable kayaks. If you have believe in quality products and want something more reliable than a $150 inflatable kayak (those have their own advantages), then you will definitely love investing in the AdvancedFrame inflatable kayak.
Still Torn About The Advanced Elements AdvancedFrame Convertible Inflatable Kayak …?
Still torn? Welp, seein' IS believin', they say. And if this doesn't help, then check out our other reviews on the site 🙂

Verdict
The Advanced Elements Advanced Frame Convertible kayak is one of the more expensive inflatable kayaks on the market but is one of the best and sturdiest options available as well. Its pricing fluctuates around $500 so it's a serious investment. For anyone looking for a sturdy inflatable kayak, this is a must buy.
[table id=advancedframe /]