There's nothing in the world like kayak: the peace and tranquility of paddling through the water connects you with nature first hand. However, to fully enjoy this sport, you need a kayak that meets your needs and expectations.
Perhaps Pelican kayaks caught your eye and you're wondering if they're any good. My dad owned a Pelican when I was growing up so I have had some of the best times of my life in that kayak and some awesome memories with my dad.
Because I've spent hours in Pelican kayaks and owned a couple as well, I will answer the question if Pelican kayaks are any good, who they are designed for, and what you should expect from them. Let's jump into the water 😀
Are Pelican Kayaks Any Good?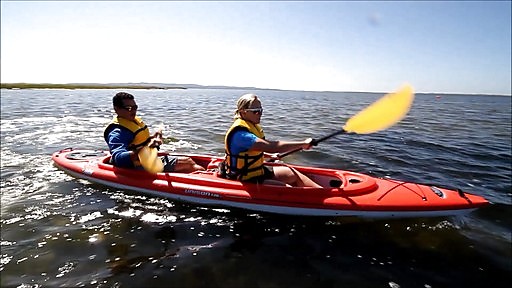 Yes, Pelican kayaks are not only good but they are great recreational kayaks designed for beginner and intermediate kayakers who want a budget-friendly option that'll last time years!
With their focus on user safety and comfort, compared to other brands in the same price range, Pelican kayaks outshine them. Additionally, with a lifetime warranty on all kayak hulls, Pelican ensures that you'll always be taken care of.
But to really understand why these kayaks are considered good, I'll shed some light into who they are as a brand and how they make their kayaks.
How Durable Are Pelican Kayaks?
One of the most significant advantages of purchasing a Pelican kayak is the durability of the product.
Pelican uses a technology called Ram-X™ which is a multi-layer polyethylene material that is highly resistant to impact and abrasion. This makes it ideal for handling all sorts of rough terrain, from sharp rocks to rough waves.
With this technology, Pelican offers a lifetime warranty on all their kayak hulls. How cool is that?
What Type of Kayaks Does Pelican Produce?
Editor's Pick!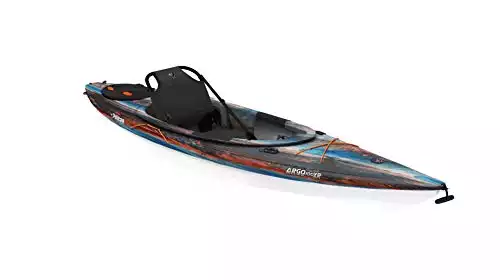 In terms of design, Pelican kayaks come in a range of styles to suit every kayaker's needs. They have everything from recreational to touring kayaks designed for long-distance paddling.
Some of their most popular kayaks include sit-on-top models and fishing kayaks, which are adequately equipped with built-in rod holders, storage, and other features to enhance your angling experience.
I've been fishing on a Pelican with my dad and they are comfortable for fishing up to 3-4 hours for me. Good experience and enough room to stretch and enjoy yourself.
Pelicans Aren't Build for Speed
One thing to keep in mind is that Pelican kayaks are not built for speed or racing. They are designed for recreational paddling and if you're looking for a fast kayak, Pelican may not be the brand for you.
But if you're looking for a kayak that's great for leisurely paddling with family or friends, Pelican kayaks will not only meet but exceed your expectations.
History of Pelican Kayaks
First things first, let's understand the brand and its history. Pelican has been in the watercraft manufacturing industry for over 50 years.
Along with kayaks, they produce paddleboards, canoes, pedal boats, and fishing boats. Pelican is widely recognized for its affordability, making it a great option for beginners to intermediate kayakers.
What Are the 3 Best Pelican Kayaks?
Here are my top 3 Pelican Kayak recommendations:
#1. Pelican Argo 100X Angler
This is a 10ft fishing kayak that provides excellent stability and tracking. A great choice for anglers on a budget!
#2. Pelican Maxim
The Maxim is a recreational kayak designed for beginner and intermediate paddlers. It comes with an adjustable padded backrest, cup holder, storage hatch, and more.
#3. Pelican Sentinel
Second Place Pick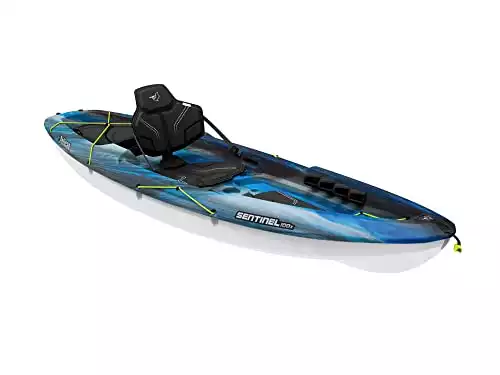 This is the perfect kayak for those looking for a budget-friendly option. It comes with adjustable footrests, ergonomic handles, and an adjustable padded backrest.
Are Pelican Kayaks Good for the River?
Yes, Pelican kayaks are absolutely good for the river. I use them in calm rivers but if I was to go in rough waters, I would make sure I'd have a Pelican kayak that's suited for the water conditions.
Pelican has a great range of whitewater and touring kayaks that are perfect for the river, with features like watertight hatches, loads of storage space, footrests, and more. I'd definitely recommend these if you want to take your kayaking experience to the next level!
Where Are Pelican Kayaks Made?
Pelican kayaks are proudly made in Canada and are sold worldwide. Pelican is well-known for its commitment to quality, and they have an unbeatable lifetime warranty on all kayak hulls.
Summary
So, are Pelican kayaks good? Yes, they are!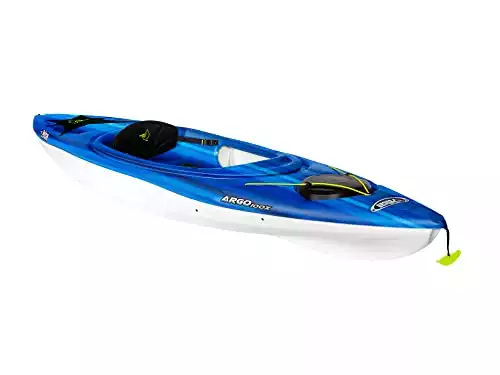 If affordability, durability, and reliable brands are on top of your list of priorities, then Pelican kayaks are the right choice for you. From recreational kayaking to angling, Pelican kayaks are versatile and designed to meet the needs of kayakers of all skill levels.
I give them my seal of approval!