When it comes to kayaking, having the right one can make all the difference. I've had good kayaks that have given me fun experiences and great times with loved ones and I've had a couple kayaks that ruined my experience.
Well, I love Pelican kayaks because growing up, my father had one and I've had some great experiences with it. With that said, the Pelican brand has long been a favorite among kayakers for its durability, stability, and ease of use.
But with so many models to choose from, it can be tough to decide which one is the best fit for you. In this article, I'll be taking a closer look at two of the most popular offerings from Pelican: the Argo and the Magna. I'll be examining the key features and benefits and help you decide which one of these babies belongs in your hands. Off we go!
The Pelican Argo vs the Pelican Magna: What Are the Differences?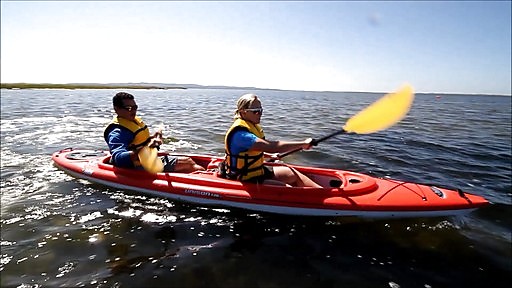 First up is the Pelican Argo. This 10-foot kayak boasts a maximum capacity of 275 pounds and is designed for sit-in kayaking.
One of the standout features of the Argo is its multi-chine flat bottom hull, which provides exceptional stability and tracking in calm (or slightly choppy) waters. The kayak also has an adjustable padded backrest as well as adjustable footrests for added comfort. Another bonus is the rear storage hatch, which is perfect for keeping your gear dry while out on the water.
Now let's take a look at the Magna. At 12 feet in length, it's a bit longer than the Argo and has a maximum capacity of 375 pounds. It's definitely the heavier kayak to carry.
It's also a sit-in kayak but has a larger cockpit opening than the Argo, which can be more comfortable for taller or broader individuals. The Magna also features a twin-arched multi-chine hull design, which allows for faster acceleration and improved stability in choppy water conditions.
It also has adjustable footrests, a comfortable padded seat, and a front storage hatch for easy access to your gear.
Why the Pelican Argo Is a Better Choice than the Pelican Magna
Editor's Pick!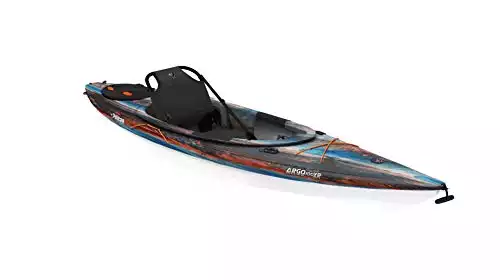 When comparing these two Pelican models, it's clear that they each have their own unique strengths.
However, there are a few reasons why I believe the Argo is the better choice for most kayakers.
First and foremost, the multi-chine flat bottom hull design of the Argo provides superior stability, allowing you to feel confident and grounded while on the water.
The tracking is a little better in my opinion and it's also lighter in weight than the Magna, which can be advantageous if you need to transport it to different waterways.
Lastly, the Argo's rear storage hatch is more convenient and easier to reach and is better protected from water intrusion than the Magna's front hatch.
What is the Weight Capacity of the Argo vs the Magna?
The maximum weight capacity of the Argo is 275 pounds, while the Magna has a higher capacity of 375 pounds. This can be important to consider if you're a larger or taller individual looking for a kayak that can support your size and weight. The Magna is roomier as well.
Which Kayak Tracks Better?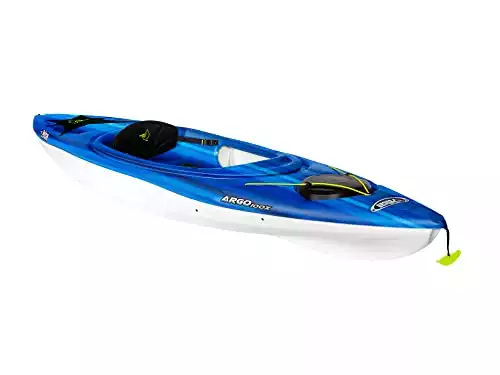 Overall, the Argo tracks better than the Magna due to its multi-chine flat bottom hull design. The Magna's twin-arched multi-chine hull allows for faster acceleration in choppy waters, but may not provide as much stability as the Argo.
Which One of These Two Models Is Better for a Complete Beginner?
If you're a complete beginner, I would recommend the Argo. Its design provides superior stability and tracking, making it easier for beginners to stay in control and handle the kayak more efficiently. The adjustable seat also allows you to customize your position for added comfort and control.
Which Kayak Wins: the Pelican Argo or the Magna?
Overall, both the Pelican Argo and Magna are excellent kayaks and choosing between them is a personal choice.
However, if you're looking for a solid all-around kayak that's perfect for beginners and intermediate paddlers alike, the Argo is my favorite and I've used it for years.
Editor's Pick!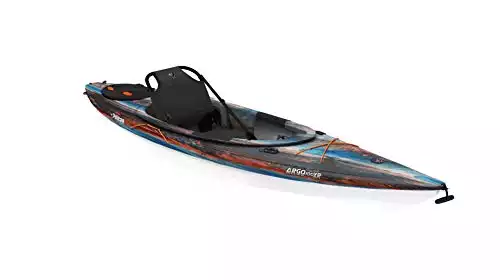 Its quality construction, enhanced stability, and rear storage hatch make it a dependable and enjoyable kayak for any type of kayaking adventure.