As a beginner, you may be wondering if there are kayaks that can accommodate three people at a time. The answer is, hell yes, there are 3 person kayaks! So pack up your sandwiches and gear because you and the hubby and your dog can all now take a fun trip on a kayak, all together, all at once!
In this article, I break down what exactly are 3 person kayaks, my most highly tested and recommended 3 person kayaks, the benefits of using them, and so much more. Let's explore this badass option for your family.
What are 3 Person Kayaks?
As the name suggests, 3 person kayaks, are kayaks designed to seat three individuals. These kayaks are much larger in size and are best suited for families and groups of friends who want to kayak together.
3 person kayaks come in two types: sit-on-top and sit-in kayaks. Sit-on-top kayaks are designed to have an open top and allow kayakers to easily climb on and off.
On the other hand, sit-in kayaks, allow people to sit inside the kayak and offer greater speed and stability but can feel a bit tricky to get into for beginners.
Benefits of Using 3 Person Kayaks
One of the biggest advantages of using a 3 person kayak is the ability to share the experience with others. This is particularly true for families with children or groups of friends who want to have a fun day hanging out and kayaking together.
The good news is that 3 person kayaks are more stable than smaller kayaks and can handle rough waters with ease. They are also slower making them ideal for leisurely paddling and sightseeing.
Highly Recommended 3 Person Kayaks on the Market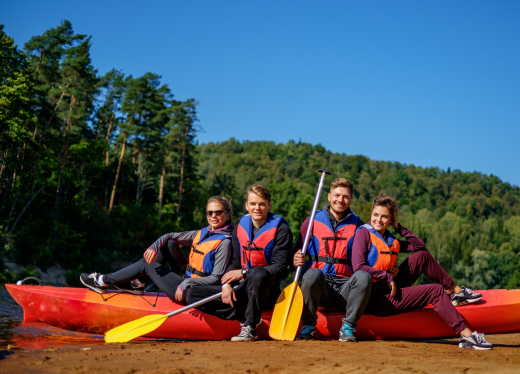 There are several 3 person kayaks available on the market and choosing the right one can be quite challenging.
There aren't as many 3 person kayaks available as there are tandem options, but the 5 I am recommending below are because they were comfortable to ride in and that's #1 in my book. Second, they were easy to navigate the water in and had decent storage space.
Here is the top 5 list of the best 3 person kayaks available:
1. Ocean Kayak Malibu
This kayak is designed for family fun and features adjustable seats that can be moved around as well as comfortable footrests.
2. Intex Explorer K2
This kayak is perfect for explorations on flatwater and features an inflatable design that makes it easy to transport and store.
3. Sevylor Big Basin
This kayak is designed with heavy-duty PVC for added durability and comes with a double-lock valve for easy inflation.
3. Lifetime 10 Foot Tandem
This kayak is designed to accommodate two adults and one child and features three adjustable backrests for comfortable paddling.
4. BKC UH-TK181
This kayak is designed with two adjustable seats and can accommodate up to three people. It also comes with a storage hatch for additional gear.
5. Perception Pescador Pro 12T Angler
This kayak is designed for fishing and features two adjustable seats and a large rear tank well for storing your catch.
How Much Weight Can these Big Kayaks Hold?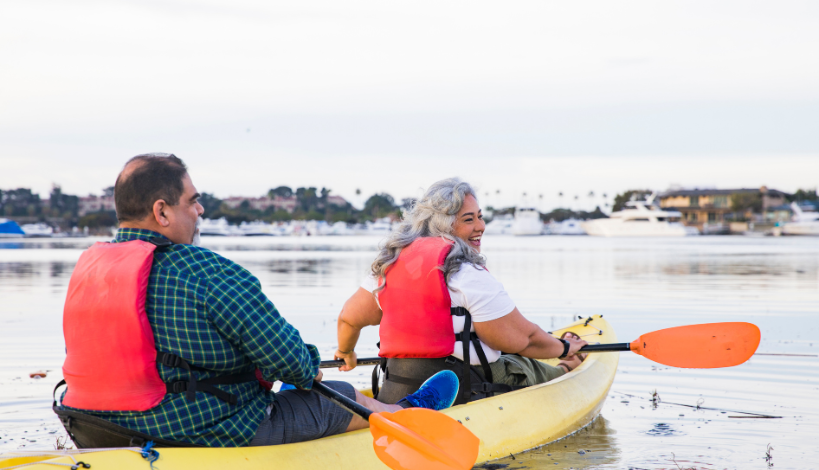 Most 3 people kayaks can hold up to 700 pounds.
However, it is important to check the weight capacity of the specific kayak you are considering buying. You should also factor in your own body weight and the weight of any gear or supplies you plan on bringing along for your adventure.
Can You Put 4 People in a 3 Person Kayak?
No, I do not recommended to put more than three people in a 3 person kayak or canoe. Doing so would exceed the weight capacity of the vessel and can be unsafe.
It is also important to remember that larger vessels are harder to maneuver because of their size and weight. If you need a vessel that can accommodate four people, a larger canoe or kayak should be considered.
Where Should the Heaviest Person Sit in a 3 Person Kayak?
The heaviest person should typically sit in the middle of the kayak to balance the center of gravity and to keep the boat stable in the water.
Also, while it is important to have even weight distribution, if one person is significantly heavier than the others, they should be seated in the center for safety reasons.
Can You Use a 3 Person Kayak Alone?
Yes, it is possible to use a 3 person kayak alone. However, you should be aware that the kayak will not be as stable and may be more difficult to maneuver since it was designed for multiple people.
When using a 3 person kayak alone, I recommend you to wear a life jacket at all times and be aware of the weather.
Conclusion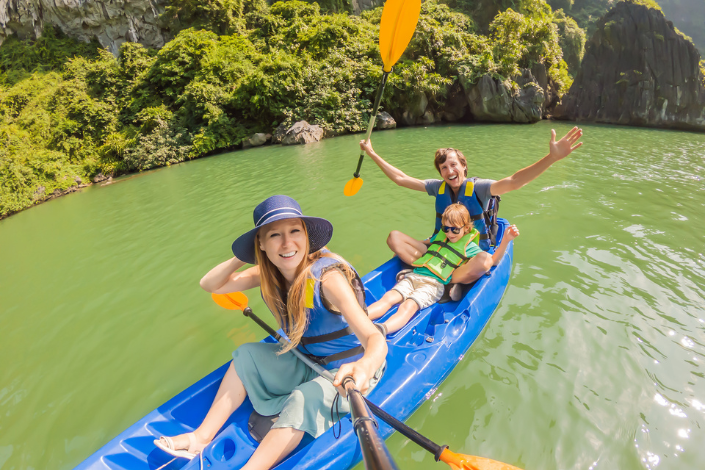 While kayaking can be a solo activity, it can also be a fun and exciting way to bond with family and friends. 3 person kayaks offer a unique opportunity for group kayaking and allow for experiences that cannot be duplicated in a solo kayak.
With careful consideration and research, finding the perfect 3 person kayak is simple. Always remember to put safety first, and have fun on your kayaking adventure.