Kayaks come in so many freakin' shapes, sizes, and weights that it can be confusing to know which one you want or things to consider if you're a beginner.
An important part of purchasing a kayak is knowing how much it will weigh so that you can think about how you will transport it and what weight will be good for the type of water activity you'll be engaged in the most.
Also, what your kayak is made of and how big it is will determine how much it weighs. Let's have a looksie.
How Much Do Kayaks Weigh?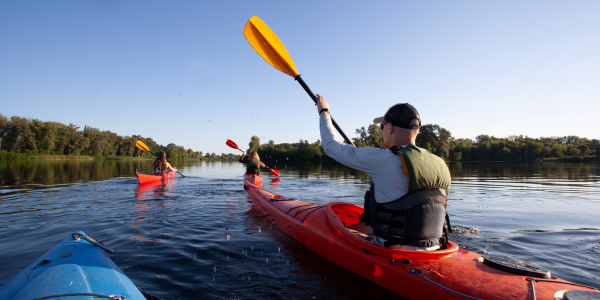 Generally, the more features and material a kayak has, the heavier it will be. I own an inflatable kayak, a 3 person kayak, and a fishing kayak, each one suiting whatever plans I have!
Inflatable kayaks are usually lightest but also the least stable and require frequent maintenance. Recreational plastic kayaks weigh somewhere around 45-60 pounds (20-27 kg), while ultra-lightweight plastic models can come in at under 30 pounds (13.6 kg).
Sit-on-top kayaks can weigh anywhere from 40 to 70 pounds (18–32 kg).
Fiberglass and composite kayaks are designed for speed, agility, and stability but also come with a higher price tag. Generally, they weigh between 50–100 pounds (22–45 kg), depending on the construction and style.
Touring kayaks are designed for longer trips but also more stability in choppy waters. Typically, they weigh between 50–90 pounds (22–41 kg).
It's important to keep in mind that these weight estimates are rough guidelines only. Different models can vary significantly according to size, construction, and features so to understand how these factors can affect the weight of a kayak, let's learn through some details.
3 Main Factors that Affect the Weight of a Kayak
When it comes to how heavy or light a kayak is, it boils down to three main factors:
Factor #1: Materials
Kayaks are made with different materials that can be either hard or soft.
For instance, inflatables will weigh the least, under 20 pounds, and will be the easiest to transport. In comparison, rotomolded or polyethylene kayaks are the heaviest, made with the toughest materials and can weigh up to over 100 pounds, making them the hardest to transport.
In between would be the fiberglass (composite), kevlar (composite), carbon fiber (composite), thermoform (a plastic that is between polyethylene and composite), wood, polycarbonate (clear kayaks), and folding kayaks (polyurethane, pvc, or nitrylon). Hopefully, now you get the idea about how many types of materials a kayak can be made with and how much those can affect the weight.
Folding and inflatable kayaks are made of lightweight materials, so although they would be extremely easy to transport and store, they would also be more prone to damage in the water. These types of kayaks would be better suited for days on the lake or pond.
Factor #2: Size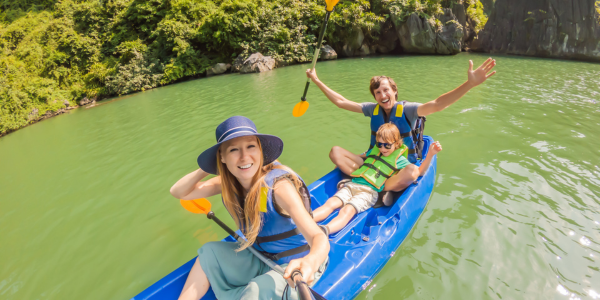 *Coughcough* So, in this case, size truly does matter!
This is another factor that will determine the weight of the kayak. Longer kayaks usually weigh more than shorter ones but are definitely better for cruising and have more room for storage.
However, it all depends on the depth of the cockpit, the number of seats, how much weight it can hold, and the accessories that may come with the kayak.
Factor #3: Purpose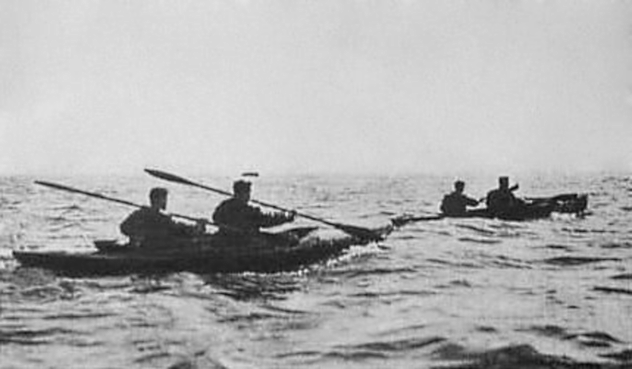 Lastly, you should consider the purpose of your kayak.
If it's just for fun during vacation, sit-on-tops are often used and are lighter than touring or racing kayaks since they don't have as many features or need for a lot of storage. They usually weigh 10-40 pounds, depending on the size.
Touring or tandem kayaks, designed for longer stays on the water, can weigh up to 75 or more pounds and be equipped with rudders or skegs. Mid-range racing kayaks are small but heavy, weighing between 25-75 pounds or more; it's best to have a more sturdy kayak for rapids in case you hit any rocks or other debris.
Things to Consider
The weight of a kayak does matter, especially when it comes to portability and maneuverability. Generally speaking, lighter kayaks are faster and easier to paddle and therefore are more popular for recreational use. However, heavier kayaks tend to be more durable and stable than their lighter counterparts, making them the ideal choice for ocean touring or whitewater kayaking.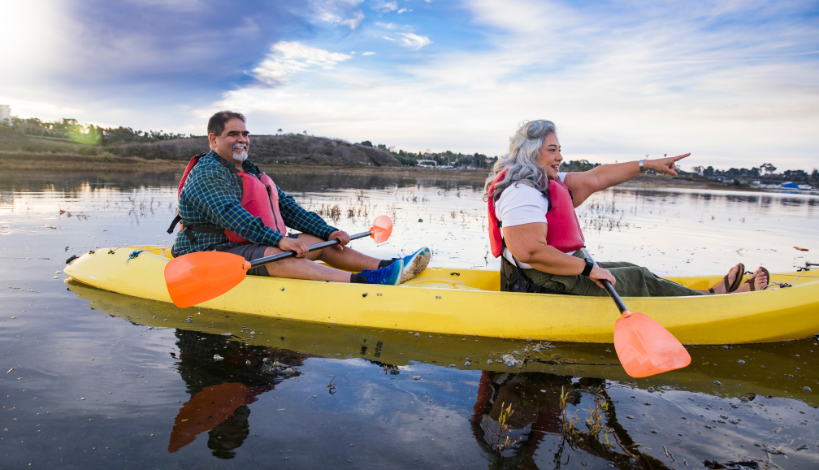 A lightweight kayak is typically better suited for shorter distances in calmer water environments such as lakes and slow-moving rivers. This is because a light kayak will be easier to handle and transport. On the other hand, a heavier kayak is better suited for longer journeys on open oceans or fighting against strong currents which can cause instability in a lighter craft.
While many modern day kayaks are constructed with advanced materials that make weight less of an issue, there are still some advantages that come from having a heavier boat such as increased directional stability or greater capacity for cargo storage.
Ultimately when choosing a kayak based on its weight, consider your intended use first before making a purchase decision or investing in modifications.
How Much does a 10 foot kayak weigh?
A 10 foot kayak can weigh anywhere from 20 pounds to 80 pounds, depending on the type of material it is made out of and whether it is a single or tandem kayak.
How Much Does a Two Person Kayak Weight?
A two person kayak can weigh anywhere from 40 pounds to 120 pounds, depending on the material it is made out of and the accessories it comes with. An inflatable two person kayak will weigh much lighter than a 2 person rotomolded kayak.
How Much Do Fishing Kayaks Weigh?
Fishing kayaks are typically lightweight and easy to maneuver, making them perfect for exploring tight waterways and narrow inlets where certain fish may hide out. On average, these kayaks can weigh anywhere from 25 to 80 pounds, depending on the style and size of the vessel.
Angler kayaks made from composite materials such as fiberglass can be even heavier, weighing up to 100 pounds when fully loaded with gear. However, most anglers will opt for lighter models made from rotomolded polyethylene because they are easier to transport and handle.
Lighter fishing kayaks also provide better agility and tracking in the water, making them awesome for anglers who want maximum performance on the water.
Are Lighter Kayaks Better Than Heavier Ones?
Lightweight kayaks can provide a variety of advantages for paddlers depending on their specific needs. For instance, if portability and ease of transporting are your top priorities, then lightweight kayaks will be the better choice.
Additionally, the lighter kayaks make them more manageable for solo paddlers who may find it difficult or strenuous to maneuver heavier kayaks. This goes for people with disabilities, seniors or children.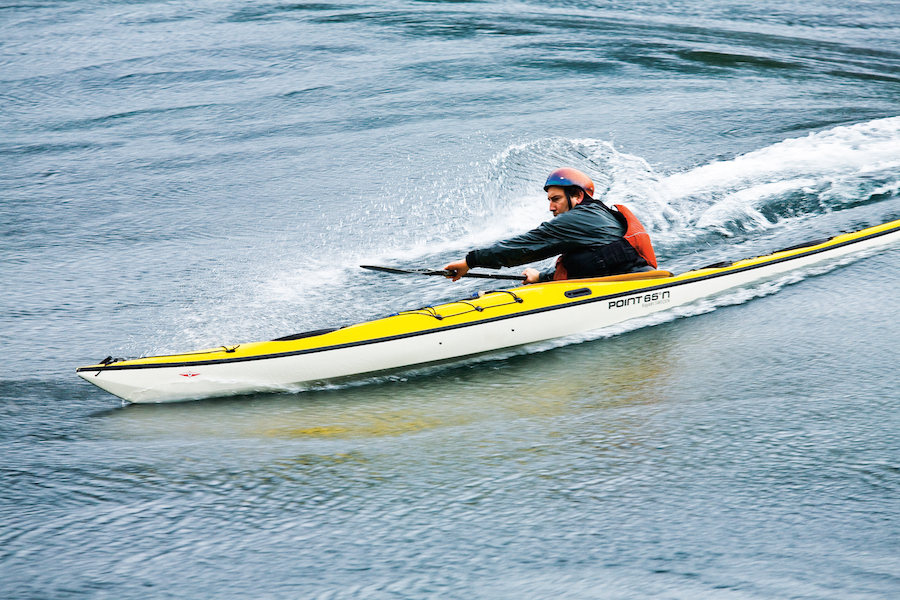 Now, this is something to really consider depending on your experience and skill level: lighter kayaks tend to be more responsive and agile in the water. This is due to their reduced weight and size, allowing them to move through the water with greater speed and precision.
On the other hand, heavier models often offer greater stability which can be beneficial for those just starting out in this sport, as well as those navigating rougher bodies of water where the additional buoyancy can make a difference in safety and comfort levels.
When it comes to choosing between a lightweight or heavier model of kayak, there is no definitive answer since each individual's preferences and needs are unique. However, it's important to consider all of your requirements before opting for either of these types of kayaks in order to ensure you have an enjoyable experience on the water.
Conclusion
The weight of a kayak will be determined by the material it's made of, the type of kayak it is (tandem, touring, fishing, racing, etc.), and its size. For those who want to carry a very light boat and only spend time on a lake or pond, then an inflatable would probably be best.
Larger, heavier models are designed to hold more people, equipment, or storage like fishing, tandem or touring types. Mid-sized but heavier would be great for rapids or the ocean.
I have kayaks of different kinds, hence, various weights, depending on the occasion. Hopefully this knowledge will help you determine how heavy your kayak should be for your next water adventure.