The Riot Escape 12 Angler sit on top kayak is best designed for determined fishermen and experienced anglers. This kayak is known for its craftsmanship and excellent features. Since it's made especially for fishers, it's a perfect blend of stability and performance, with lots of storage space to store your fishing equipment, bait and fish.
The design implementation of this kayak lets you relax and takes care of everything for you, so you can easily enjoy your time on the water, stress free. Let's take a look at all the features in this Riot Escape 12 Angler review.
Check out the Riot Escape 12 Fishing Kayak on Amazon!
Frame of the Riot Escape 12 Angler
The sleek polyethylene interior and exterior allows the Riot Escape 12 Angler to maneuver effortlessly in any kind of water. Weighing a little over 68 pounds, the kayak's weight is equally balanced throughout the body, which means it can withstand sudden movements and not topple over.
Check out our Top 14 Fishing Kayaks article!
The length measures up to approximately 12 feet and the width measures is 30.7 inches or 2.55 feet. It has a weight capacity of 300 pounds, which is very sturdy for a kayak.
Although it's sturdy and can accept a nice amount of weight, the Riot Escape 12 Angler is not made for standing. There's a good chance that you might be going for a swim if you were to try it. If you want to stand while you fish, a good choice would be the Fissot kayak or the Hobie Pro Angler 17.
Also, the seat is comfortable for a little while, but if you are going on a day trip, we advise that you get a better seat or more padding. The Riot Escape 12 Angler does not come with a paddle, so that needs to be purchased separately as well.
The Riot Escape 12 Anger is, in our opinions, a decent fishing kayak with the basics, but not the best one in its category. There are some things to be added to it, so it is far from perfect. But for a short, flatwater fishing trip, it will certainly do the job and you will be more than happy. Let's take a look at some of the features below.
Riot Escape 12 Angler Features
The Riot Escape 12 Angler kayak features a vast set of functions and equipment. To start off, it has a safe sit on top feature with 4 attached points and adjustable straps that allow the rider to adjust them according to his or her needs, providing the utmost comfort.
The seat stays in the exact same position in which it's adjusted in and does not budge in the slightest of ways, not even in rough waters, promising you excellent security. The seat has a higher back for support, but those who have back issues will want to add more padding, both on the bottom and in the back.

Check out the Riot Escape 12 Angler on Amazon!
One of the most important features of the Riot Escape 12 Angler is the pilot rudder system. Because you want a safe and smooth ride, it's essential that the maneuvering is done right, otherwise it would not bode well. The pilot rudder is constructed out of plastic, reinforced with glass, which makes it strong, yet lightweight, allowing you to easily operate it.
The Riot Escape 12 Angler also includes a low windage open work design, which reduces a considerable amount of friction caused by the wind. Also, the rubberized V block absorbs vibrations, which enables the kayak to sail more smoothly and is greatly appreciated by customers.
There are 5 rod holders, with 4 rod holders being stationary and one is a swivel, movable according to the rider's preference. The mounted adjustable rod holder is another feature of the Riot Escape 12 Angler, which was retained and allows the user to rotate a full 360 degree turn.
You can adjust it vertically or horizontally, with easy and accurate placement. The rod holder also has an attached rear saddle, which can accept any kind of rod combinations. A large swivel locking ring prevents rod loss and the vertical swivel movement allows for easy rod placement.
Riot Escape 12 Angler Storage
As mentioned above, the Riot Escape 12 Angler can carry up to 300 pounds, which is pretty decent for any kayak. Most of the storage is present in the rear deck, with strong straps overlapping it so that any equipment or storage material doesn't move or fall off. You could hold down a cooler in the back for either drinks or fish.
The front hatch mostly takes care of smaller equipment, and there is a cup holder right in the middle of the cockpit, as well as a covered storage area. The Riot Escape 12 Angler's design and shape allows the weight to be equally distributed throughout, which makes it exceptionally stable, even when all the equipment is loaded.
Pros
Equipped with great features and easily accessible storage
Exceptionally stable due to the length and width ratio
5 rod holders, one of which is adjustable
Anglers love the sit on top design
Nice storage capacity, at both the front and rear
Comes with a pilot rudder, installed anchoring system, drain plug and scupper plugs
Cons
Does not track very well, according to some buyers, so the rudder should be down at all times
Although the kayak is stable, the bottom part of it is quite uneven, which might make paddling more challenging
The seat is not designed for long trips, can cause soreness and/or back pain
Storage compartments are not completely waterproof
Riot Escape 12 Angler Review Conclusion
Even with its flaws, the Riot Escape 12 Angler is a popular kayak and is highly rated and recommended, as the advantages outweigh the disadvantages. It consists of more features than an average kayak with the same amount of money, making it budget friendly.
Overall, the kayak is easy to use, with lots of storage space and the most important thing is that it does not compromise on safety and quality. Because of its installed features, it promises a fun and smooth ride.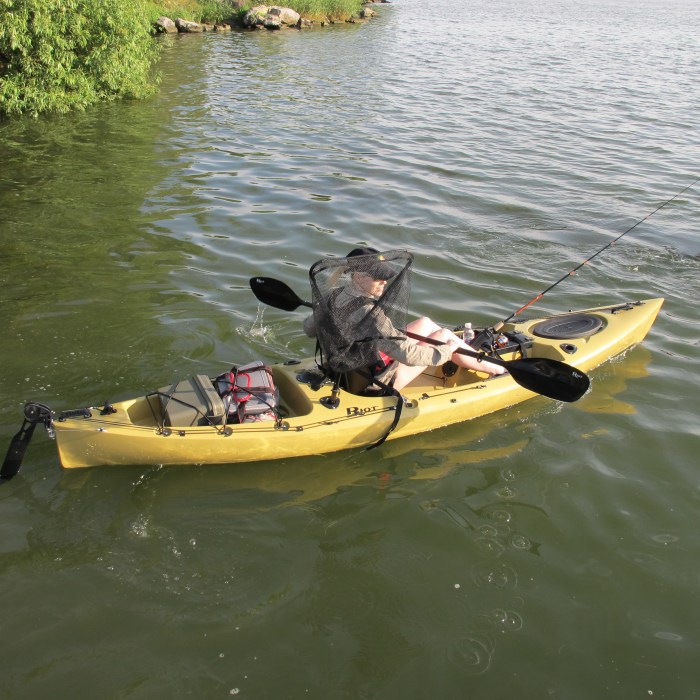 This kayak is mostly designed for flatwater use, like on a lake. That is most likely due to its lack of tracking and speed, and that it doesn't have a motor to make up for it. However, there are some people who have modified this kayak to add a trolling motor, lights, cameras, and more.
Check out the Riot Escape 12 Angler Kayak on Amazon!
If you do decide to modify it, it has to be carefully done and you need to know exactly how to do it. But without any modifications, if you're looking for a stress free day out on the lake all by yourself, then the Riot Escape 12 Angler is definitely for you.
You won't be facing any kind of trouble throughout the whole trip. Happy fishing!