From a company that has specialized in the manufacture of small lightweight water vessels, the Sun Dolphin Journey 12 is a masterpiece worth reviewing. It is not majorly superior to others, and to an untrained eye, it is as casual as almost any other common fishing kayak.
To the trained eye, however, there is a little bit more to it than what is seen at first glance. For that reason, whether you are a fully skilled or trainee kayaker, you need to read through this Sun Dolphin Journey 12 review.
Check out our list of top 5 Sun Dolphin Bali Kayaks!
Framing Construction of the Sun Dolphin Journey 12 SS
The Sun Dolphin Journey 12 is a 12-foot long, rigid, high-density polyethylene kayak specially formulated for this brand. The Fortiflex material gives the boat high UV resistant qualities. It also gifts the deck of the boat with anti-scratch and anti-crack qualities, which are crucial, especially when kayaking in rough waters.
Check out the Sun Dolphin Journey 12 on Amazon!
The Sun Dolphin Journey 12's length, combined with its 29.5-inch width, augments its spear-like shape, enhancing the ability of the boat to cut through the water with very little challenge. This sit-on-top kayak's height comes to about 14 inches, which will serve the user quite well in rough waters while avoiding unnecessary water splashes into the boat's cockpit.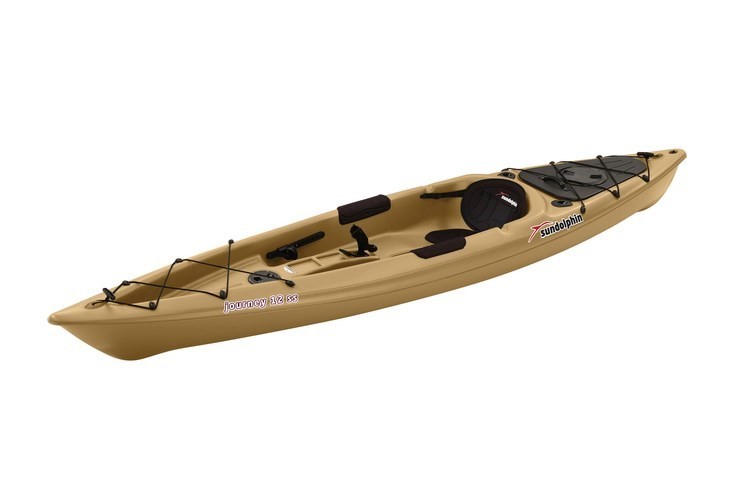 This fishing-tailored kayak is also considerably light due to its material and minimalistic rigging. At just 48 pounds, the Sun Dolphin Journey 12 is quite an easy fit for all levels of kayakers to contemplate using. For color diversity, you will get the kayak in two colors, olive and sand. This makes it especially easy for the user to blend in if they're fishing in murky water.
For its overall build outlook, the Sun Dolphin Journey 12 maintains a simple deck streamline. It has an almost horizontal lining all through it from the aft to the stern. The aft and stern overhangs are also not overly done, which creates stability, even for an inexperienced pair of hands.
Check out our information analysis on the Sun Dolphin Bali 10 SS kayak here.
The deck curves into a well-planned cockpit area. Regrettably, the cockpit area does not embrace an extra lining of cushion, which can become a little uncomfortable, especially after a long period under the sun.
Features of the Sun Dolphin Journey 12 Kayak
The Sun Dolphin Journey 12 SS has a nice pair of tough thread nylon handles, fitted with a cushy rubber grip to prevent injury during tows and carrying. The pair of handles, contained on top of the fore and stern deck areas, are retractable.
Check out the Sun Dolphin Journey 12 on Amazon!
This solo vessel is capable of accommodating up to 395 pounds, which is a very good standard for almost all sizes of kayakers. This also makes it suitable for long fishing expeditions. To top up the wide range usability feature, the Sun Dolphin Journey 12 has simple, but comfy form seats.
The standard seat fits well within the wide cockpit to allow for easy maneuvering. However, there are a few people that may find the standard seats to be a little uncomfortable. Unfortunately, you'd have to buy seat pads at an extra cost, if you're going on day trips.
Check out the Sun Dolphin Bali 13.5 Tandem Kayak here.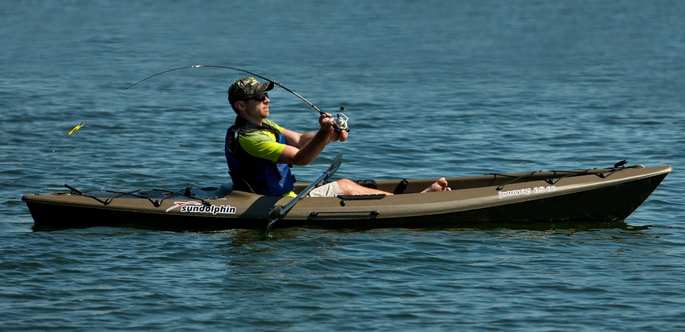 Check out the Sun Dolphin Journey 12 on Amazon!
Apart from the comfort offered by the open cockpit, the Sun Dolphin Journey 12 also comes with thigh pads. These pads are a plus, especially for people who tend to suffer from muscle pulls due to having their legs in such a prone position for long periods.
Adjustable foot braces will keep your legs in place for whichever water conditions you want to experience. The braces have a significantly long tweak, making them capable of accommodating various ranges of leg lengths.
Storage
True lovers of fishing kayaks start with the storage space, then aim for the aesthetics. The Sun Dolphin Journey 12 is not at the top when it comes to storage space, but it has enough for an ordinary catch. There are two storage areas, the first being a dry storage compartment. Located on the fore deck of the Sun Dolphin Journey 12, it offers space to carry a few essential items for a good ride. A molded-in front bungee compartment works as an alternative spot for the storage of 'easy-access' items such as nets and bags.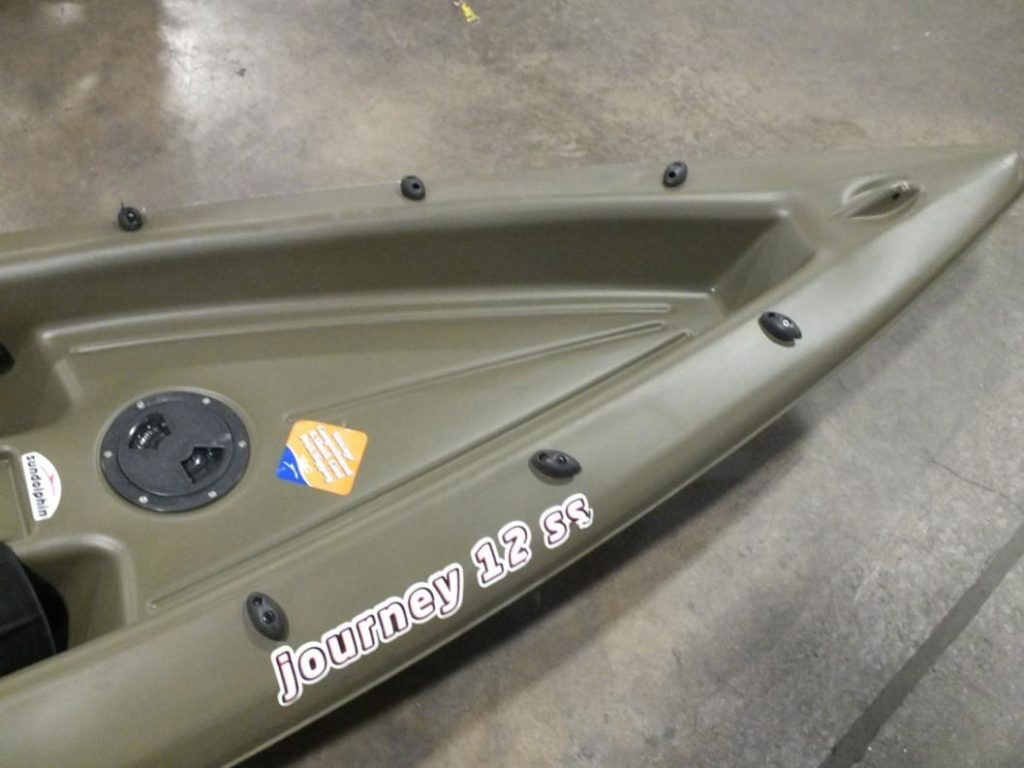 The stern of the Sun Dolphin Journey 12 SS, on the other hand, contains a portable accessory carrier, which can be used as an extra storage container. In order to ensure that you do not lose your items, both the aft and stern deck regions are retrofitted with tough elastic shock cords. These cords are stretchy enough to allow for the pulling of bags in the bungee sections and the removal of the PAC too.
As a fishing kayak, the Sun Dolphin Journey 12 has two flush-mounted fishing rod holders. These rod holders are strategically placed just behind the kayaker's seat. This makes it convenient for the kayaker to adjust the fishing reels.
The center cockpit area features a nifty swivel fishing rod holder, which goes a long way in making the fishing experience more pleasurable. The positioning of the swivel rod holder is the single most innovative thing the Sun Dolphin Journey 12 carries.
Pros
The Sun Dolphin Journey 12 is light enough for one person to carry
Cheaper than most kayaks offering the same functionality
Easily stabilizes in rough weather
Ideal for beginners, as we've alread learned in this Sun Dolphin Journey 12 review
Addition of a P.A.C creates extra storage space
Cons
Blatant lack of hatches takes away from its 'fishing capable' feature
Material can be brittle, so no dragging it on the ground during storage and transportation
Seating is not suitable for all users, so extra pads might need to be purchased
Sun Dolphin Journey 12 Review Conclusion
There is on thing about Sun Dolphin models that never sits well with most buyers, and that is the material. Lightweight as they come, they always seem to suffer the problem of brittleness. However, that is a problem that is also reflected in a good number of polyethylene kayaks.
Check out the Sun Dolphin Journey 12 on Amazon!
The Sun Dolphin Journey 12 SS is still a good vessel to fish in, and one that a newbie can learn to kayak in. If you are graduating from total inexperience in kayaking to a beginner's level, this boat is one that you should consider looking at.