Fishing by means of a kayak has become increasingly popular, and the Elkton Outdoors brand seeks to address the needs and wants of both veteran and novice kayakers for sturdy, versatile and functional inflatable kayaks.
The Elkton Outdoors tandem kayak is specifically designed for fishing on rivers, lakes, and the ocean. It has a lightweight and robust structure, with a well-defined design and easy-to-handle assembly for easy paddling. The manufacturers made sure to keep anglers in mind when designing this tandem kayak by optimizing it for fishing. Keep reading to find out more in this Elkton Outdoors Tandem Review.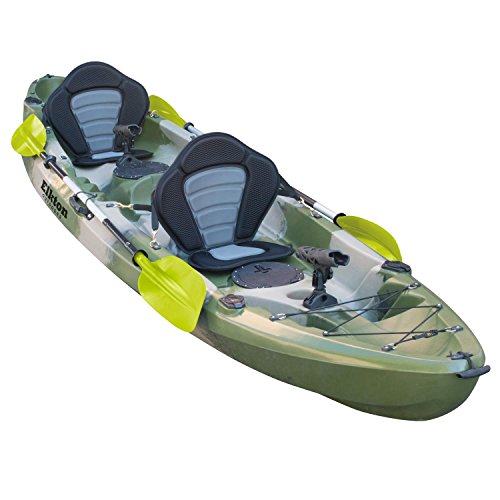 [Note: Check out our list of best kayaks!]
Elkton Outdoors Tandem Sit On Top Kayak Frame
Built with 1000 Denier PVC and tarpaulin, the Elkton Outdoors tandem kayak can take on any rugged terrain and get you wherever you need to be to enjoy fishing in various areas. This is a durable boat that is suitable for rugged use in open seas and flat water, but not the best choice for whitewater rapids. The 18-gauge PVC is highly resistant to rips, punctures, and abrasions. That means the Elkton Outdoors tandem kayak has a greatly reduced risk of a leak springing while on the water.
Even thick fishing hooks can't rip through the Elkton Outdoors tandem kayak's thick material easily, although it's recommended to avoid jagged rocks. So, you don't need to be wary of this tandem kayak because of its construction, since it's built tough and extremely long-lasting. With proper care, the Elkton Outdoors tandem kayak can be used for many years. After use, be sure that you hose down the deflated boat with tap water and then let it air dry.
Included in the Elkton Outdoors tandem kayak package are 2 adjustable Velcro seats, 2 adjustable rod holders (one trolling and one vertical), and double sided oars as well as a foot pump, repair kit, and carry bag. The adjustable seats were designed by engineers for added comfort. With the mounted adjustable rod holders, fisherman can set up their rods in various positions for the ultimate catch. This allows for a versatile fishing experience, suitable for any weather or water conditions.
The Elkton Outdoors tandem kayak comes with 3 removable air chambers which allow quick, easy, and convenient inflation and deflation (adjustment of air pressure) and leak repair. The air pressure in every chamber utilizes a pressure gauge that can be modified, depending on your needs. However, it is also important that you maintain the proper balance between all 3 air chambers. In the event of any damage, repairs and other adjustments are fixed more quickly without difficulty. The leak can be easily repaired, as well, using the patch repair kit. Thanks to the separate air chambers, the Elkton Outdoors Tandem sit-on-top kayak should still stay afloat until one reaches the shore, even with a leak.
Features of the Elkton Outdoors Tandem Kayak
The Elkton Outdoors tandem sit on top kayak is built to last. With its ultra-durable roto-molded construction will ensure that it will never puncture or crack and will last for years. There's also plenty of storage, like dry compartments for keys, wallets, and phones. Two gear storage areas are situated at each end of this kayak.
Included with the Elkton Outdoors tandem kayak are 2 double sided paddles, 2 adjustable premium kayak seats, bungee cords, and 2 adjustable rod holders. The center platform is perfect for coolers or gear. Two carry handles allow for expedient transportation, and the boat easily fits in the bed of a trailer or truck. The Elkton Outdoors tandem kayak is 12′ long and 3′ wide, allowing plenty of room for 2 people and their required gear. The weight capacity is 600 pounds.
Storage
The Elkton Outdoors tandem kayak has 4 built-in mesh gear pockets that are meant for storing fishing gear and supplies. The air-tight internal storage compartments make sure that your valuables aren't damaged while on the water. Carry handles are also featured at the fore, aft, and on the sides. There are also D-rings to help securely attach other kayaking equipment, like an anchor and spray shields. One can also drag some gear behind the boat with the assurance that the Elkton Outdoors tandem kayak can carry it without ripping.
We all know that, while fishing, leisure is a big part of the whole experience. Because of that, the Elkton Outdoors tandem kayak has two premium kayak seats and cup-holders. You can therefore kick back and revel in your day of fishing! You won't have to clutter your kayak when you bring all your fishing gear with you! There is a platform in the center of the boat that stores extra equipment and supplies, or a cooler to keep your fish on ice.
Pros
Strong, durable construction, from the sturdy PVC to the welded seams
Worrying about tears in a inflatable kayak will be a thing of the past
The Elkton Outdoors tandem kayak retains air better than other inflatable kayaks
Includes solid, yet lightweight oars
Rod holders for easy storage of fishing rods
Inflatable boats are easier to transport and are stored in a smaller space
Package has everything you need to get started, as already mentioned earlier in this Elkton Outdoors Tandem Review
 Cons
The Elkton Outdoors tandem kayak is tear resistant, but not tear-proof, so it is not suitable for use in rough water conditions
Poor instructions, can be a challenge to know where to start
Elkton Outdoors Tandem Review Conclusion
The Elkton Outdoors tandem kayak offers great value for the money, for its ample storage options, durable materials, and effective control. This kayak is among the best and is designed to sustain better performance as well as much greater endurance. You may use it for fishing on a lake, touring a stretch of a slow-moving river, or enjoying the company of a friend on a nice day.
One can choose to go on a solo trip or bring along a friend. In both cases, you can be assured that it'll pass the tests of a quality kayak. Indeed, if you are on the lookout for a large tandem kayak with plenty of expedient features, then you must earnestly consider this Elkton Outdoors tandem kayak. It offers the perfect combination of value and price, packed into one remarkable fishing kayak, made for both professional and beginner anglers.