Everyone is going to need a life vest when they go kayaking, especially if they want to be safe. Not only are they great for keeping you afloat in emergency situations, but they can hold your most valuable items where you can easily reach them. You wouldn't even have to store them in a hatch on the boat because they would be in a pocket right on your chest.
Let's take a look at some of the best kayak life vest options that will serve your individual needs.
1. ONYX MoveVent Dynamic Kayak Life Vest
This life vest is Coast Guard approved and has a SOLAS grade material that is reflective so that rescuers or other boaters can see you more easily. There is a mesh material in the back to keep you cooler on hot days, as well as in the front to drain any water out of the zippered pockets. The shoulder straps can be adjusted and are made with neoprene pads. A strong fabric made of 200 denier nylon makes up most of the vest's composition, along with a light foam for buoyancy.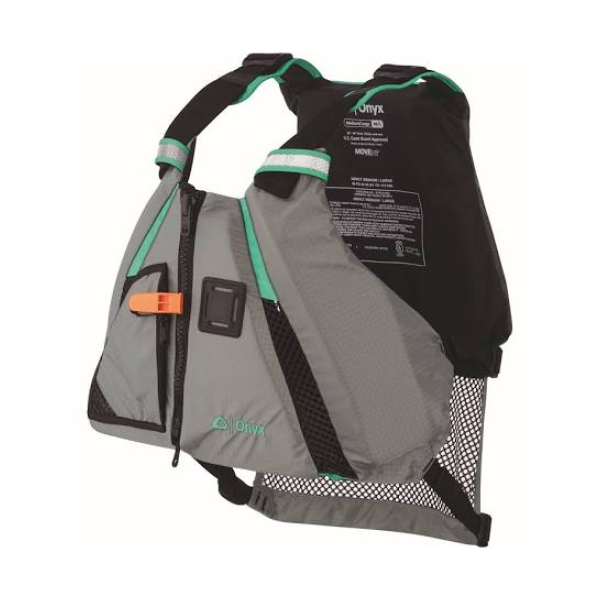 The first best life vest on our list is the ONYX MoveVent! The design of the ONYX MoveVent Dynamic Life Vest allows for ease of arm movement, which is great for those who need to paddle. Side belts are easily adjustable to tighten or loosen the vest, and there is one pocket in the front that includes a whistle if you needed it during an emergency.
The only drawback is that the pocket is too small, so storage is not the best on this particular vest, but you can at least hold your keys in there. There is also a hard clip on the front to attach a knife for fishing or anything else that can be attached.
Chest:
X-Small/Small – 28"-36"
Medium/Large – 36"-44"
X-Large/XX-Large – 44"-56"
Check out the ONYX MoveVent Kayak Life Vest on Amazon!
2. ONYX Kayak Fishing Life Jacket
Another life vest by ONYX, this is mainly used for kayak fishing, but that doesn't mean you can't still use it if you are someone who likes to carry extra items with you. This jacket is also Coast Guard approved, with a mesh material on the back to let the wind in and stay cool, as well as keeping it less bulky. This kayak life vest is made to accommodate larger people as well. It's made with 400 denier nylon and has 3 pockets, one small and two big ones.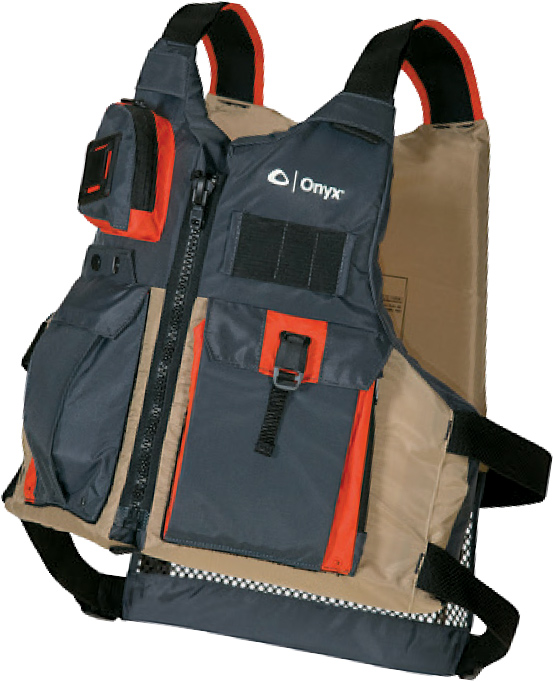 Normally, the bigger pockets would be used for a small tackle box, scissors, pliers, knives, and other things a fisherman would need. For someone who wants extra space, they could put their cell phones, sunscreen, and other things. There are clips on the front for your sunglasses, as well as a whistle and whatever else you need to attach. The vest has 6 adjustable straps for a comfortable, secure fit and there are neoprene shoulder pads.
Chest:
Universal – 30"-52"
Oversize – 40"-60"
Check out the ONYX Kayak Life Vest on Amazon!
3. Stohlquist Edge Life Jacket
This Stohlquist life vest has a very large arm opening so you can paddle unobstructed with no chafing. It is Coast Guard approved, and is also approved by Transport Canada, with highly visible reflective markings. The vest is made with 200 denier oxford liner with a Mini-ripstop outer shell made of nylon, which means it's reinforced so it won't rip.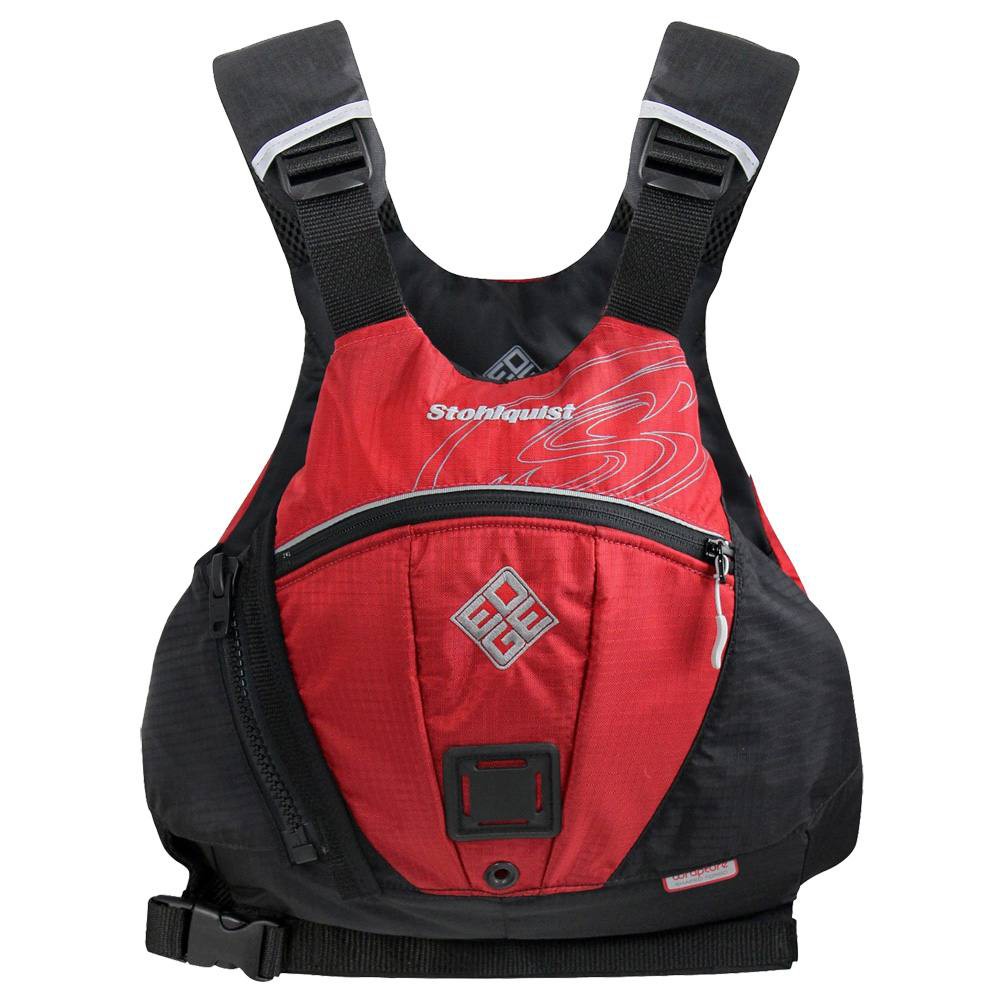 The sides of this life jacket are made with mesh for more ventilation and the padded shoulder straps are adjustable. There is a decent sized front pocket and a side pocket as well, both zippered. You can just unzip it and drop things in for easy access later. The foam for buoyancy is very soft, making it perfect for both men AND women, with a WRAPTURE shaped torso.
Chest:
Small/Medium – 33"-39"
Large/X-Large – 40"-46"
XX-Large – 48"-54"
Check out the Stohlquist Edge Kayaking Life Jacket on Amazon!
4. Stohlquist Women's Betsea Personal Flotation Device
The Betsea life vest is built with the female body in mind, with contoured inner cups built-in for upper body support. It is approved by the Coast Guard and Transport Canada with a 3M reflective trim in the front and back. The outer shell is made of 500 denier nylon, the liner is 200 denier oxford, and the arms are extra wide to paddle or swim freely. The cross-chest cinch harness prevents the jacket from riding up.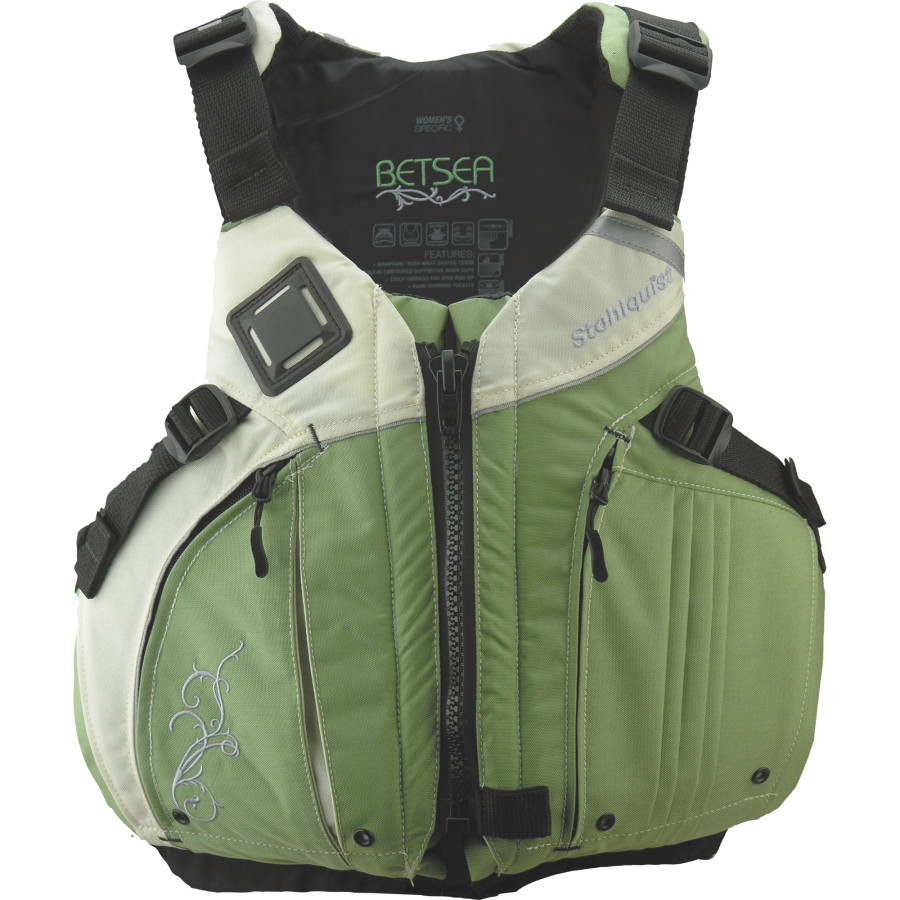 There are two zippered pockets on the front of the Betsea kayak life vest so you can store your phone, keys, and whatever else you need to, as well as two 4-way lash tabs to clip extra items onto your jacket. Lumbar pads are also included for back support, along with pockets to warm your hands in case the weather changes while you're out on the water.
Chest/Bust:
Small/Medium – 28"-34"
Large/X-Large – 35"-40"
Plus – 40"-46"
5. Stohlquist Youth Escape PFD Kayak Life Jacket
We've included a youth life jacket so that everyone is included, especially when you're taking your family out for some fun water activities. This jacket has extra soft foam inserts in both the front and back for added comfort and is Coast Guard approved. It's best for kids that weigh 50-90 pounds and has straps to fully adjust the jacket to fit them very snugly.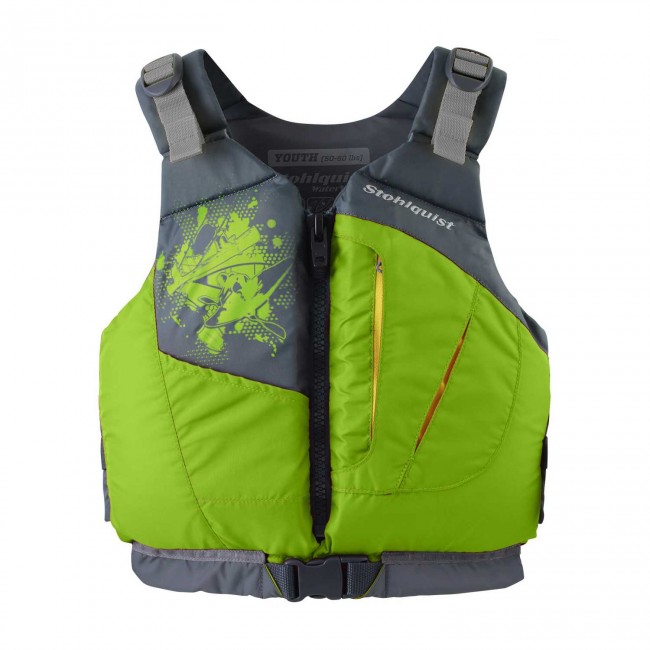 The shoulders of this kayak life vest are padded and there are reflective accents all throughout. It is made with 200 denier nylon for the outer shell and the liner is 200 denier oxford. The arms are extra wide to make swimming easier and to move around unrestricted. The zippered pocket is a great place to store your kid's snacks and a small tube of sunscreen or whatever else they may need.
Check out the Stohlquist Youth Escape PFD Kayak Life Vest on Amazon!
Best Kayak Life Vest Options Conclusion!
There are many kinds of kayak life vests, and some are made for special activities, like fishing. Some are very basic (cheap, but will still save you in an emergency), some are moderately priced, but won't have the extras, and some are more expensive, but they will have everything you need in a kayak life vest.
It all depends on the activity and/or sport you're participating in. If you're fishing, it would be nice to have the basics right in your jacket, like a knife, some hooks, weights, scissors, gloves, etc. No matter what storage needs you have, kayak life vests are a necessity for safety purposes, first and foremost, so choose wisely.
These are some of the best kayak life vest options you will find around!