It's easy to see why kayak fishing is a fast growing sport. It's the perfect way to unwind and spend a lazy Sunday on the water with friends and family. It's also exciting because you get to cruise around in your own little boat and there's always the chance you'll get to wrestle with a monster catch. If you are having a hard time selecting a fishing kayak, we have great news for you…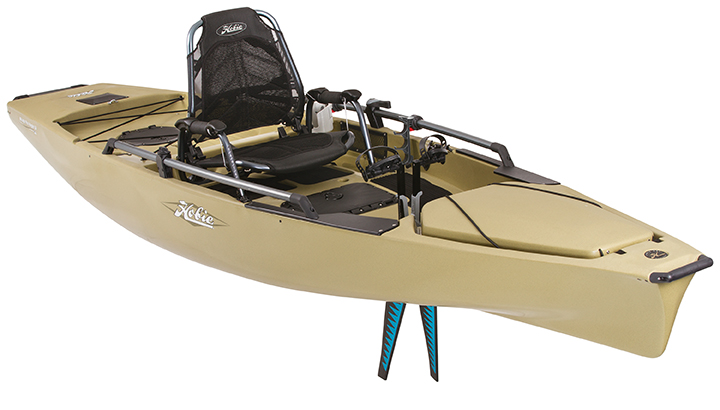 In this article, our Hobie Pro Angler 14 review, goes in-depth to see if it is the best fishing kayak on the market and for all the reasons we discuss below! (PS to check out this particular kayak on Amazon, you may click the ad below for more details, plus pricing):
Hobie Pro Angler 14 Overview
The new Hobie Pro Angler 14 is the lightest, most efficient, feature-filled boat on the market today. It's a revolutionary design breakthrough with extraordinary stability. It has everything you need to maximize your angling experience without sacrificing comfort, functionality or storage capabilities.
Whether you are drift casting, dry flying, or just exploring new salt water haunts, the boat's super stable, standing-friendly, rotomolded polyethylene hull encourages all styles of fishing. The new Vantage seating system with Boa Lumbar support is the most comfortable seating platform on any kayak. And with fully adjustable back, bottom, height and lumbar support, you'll find the perfect position in the Hobie Pro Angler 14 kayak.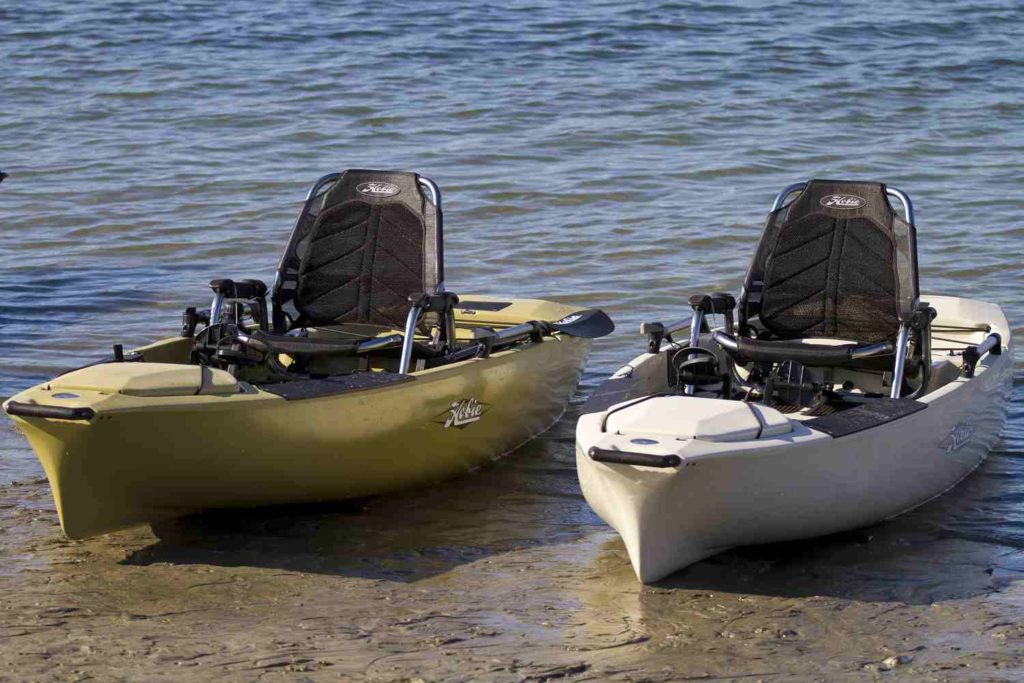 Its huge bow and stern lockers and on deck storage provide an impressive 272 kg payload. The Hobie Pro Angler 14 fishing kayak comes with the H-Rail cup holder and a horizontal rod rack. Other features include a tracing keel, a retractable skeg that improves tracking over long distances, XL padeyes, and the Lowrance-ready transducer mount.
Construction Of The Hobie Pro Angler 14 Fishing Kayak
Clearly the design and implementation came from people actually using fishing kayaks and adjusting the Hobie Pro Angler 14 kayak accordingly. Everything is where it should be: every option makes sense, from the multiple lash points for tools, to the side soft pockets, and the tackle tray storage in the center hatch.
Measuring 14 feet in length, the beefy Hobie Pro Angler 14 kayak will be ready to haul big fish. Given its huge size, you will confidently drag big fish to the deck without sacrificing stability.
You should not have to drill any holes in the Hobie Pro Angler 14 kayak. But just in case you need to, there are "boards" on each side where you can drill to insert any piece of gear. If the day comes when you don't like your setup, just order new boards. It even is set up for a sail kit and livewell tank. There are waterproof connectors for your fish finder and a drop down transducer mount too.
What Makes The Hobie Pro Angler 14 Special & Better?
Stability
For most fishermen, stability over speed is a sacrifice they're willing to make. Considering that much of the time spent in a fishing kayak is spent fishing rather than racing around, stability is often one of the most important features to consider.
The Hobie Pro Angler 14 offers a level of stability and utility that surpasses everything else on the market, featuring a seat design closer to what one would expect to see on a boat. The wide hull of the Hobie Pro Angler 14 provides a stable platform for standing, which allows for great sight fishing.
Designed For The Fisherman
The Hobie Pro Angler 14 is designed with the fisherman in mind. It's already equipped with numerous features to help fishermen out, such as the rod holder and storage spot for their paddle and other things.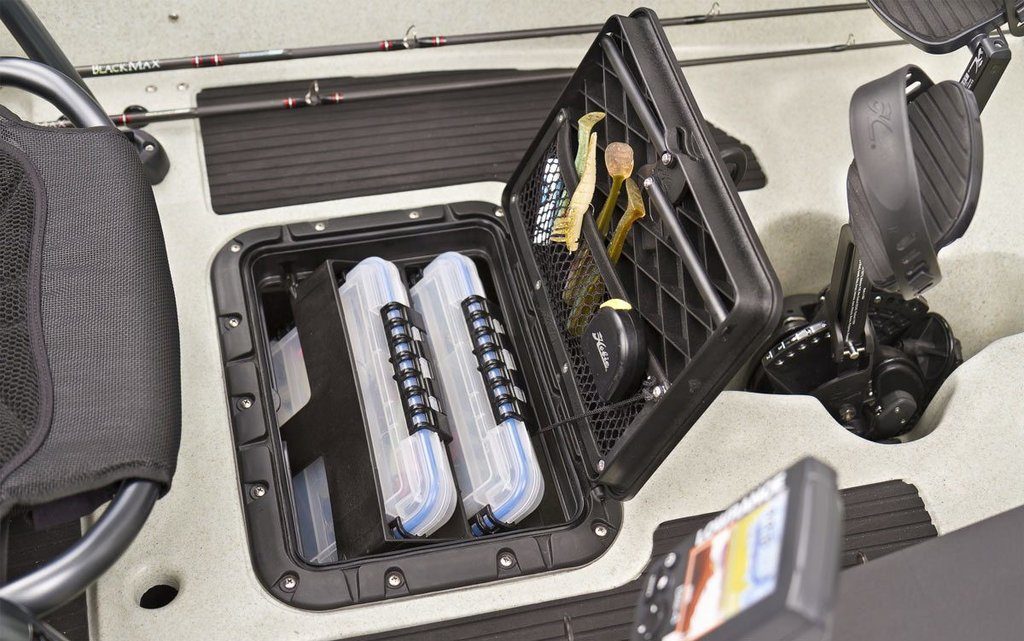 Perfect For All Fishing Environments
The Hobie Pro Angler 14 is the perfect fishing boat for all environments. From lakes to rivers to the open ocean, this boat knows no boundaries. You can stand and fish with incredible stability, securely store six rods horizontally and two vertically, and access your tackle with ease.
Rudder Tension Adjustment System
This allows for simple fine tuning of the rudder lines with the twist of a knob. There is a larger rudder available as an extra option, which provides tighter turning and improved tracking.
Comfort
As if the MirageDrive and H-Rail didn't already make this kayak a top winner, the seating really takes the Hobie Pro Angler 14 to the next level. The Vantage seat has a fully adjustable seat back with lumbar support, and the whole thing collapses, making more room to do stand-up kayaking. This seat is more comfortable and more adjustable than your office and beach chairs. Maybe it's time to move the office onto the lake!
Hand Free Propulsion
This model features the MirageDrive, a hands-free propulsion system that enables the use of your legs when propelling so that your hands are free to complete other tasks.
Pedaling, rather than paddling, makes sense because leg muscles are naturally larger than arm muscles, so they won't be as tired when you're boating over long distances. If you are normally happy using a paddle for propelling, then feel free to do that, but this system will make it a whole lot easier.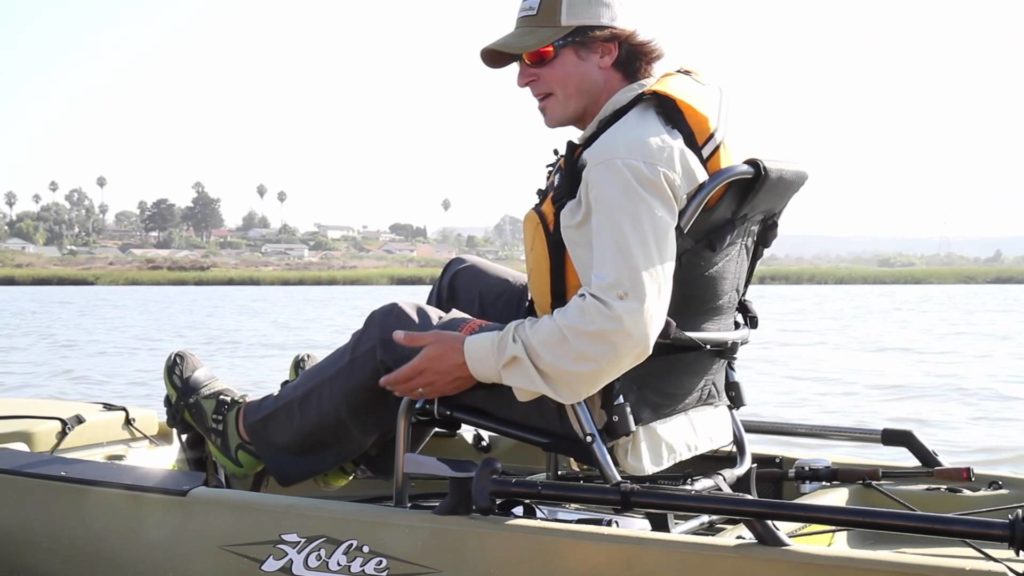 The pedals are connected to turbo fins, which means you can move fairly quickly and easily, even over choppy water. Primary and secondary steering handles allow the boat to be steered from either the port or starboard sides of the boat.
Utilities
The deck area incorporates every feature you will ever need on your fishing trip, like retractable rudder controls, storage spaces, a work area and drink holders, which are all at your fingertips.
Well Organized Cockpit
There is plenty of standing room in front of the seat with no annoying protrusions to get in the way. The rectangular hatch, tackle management system, H-Rail mounting system, replaceable mounting boards, and horizontal rod holder all serve to keep your cockpit well organized.
Hobie H-Rail
The Hobie H-Rail system has an all new aluminum dodecagon rail that offers a strong, corrosion resistant mounting platform to mount more gear in more places.
Storage
You do not need to carry anything like a crate or cooler with you, because there is ample storage space for everything that you need while fishing or simply kayaking in the Hobie Pro Angler 14. For dry storage, there is a huge bow hatch for storing bulky items and an 8 inch round hatch located in the stern tank well. It's perfect for carrying a cooler or a live bait well.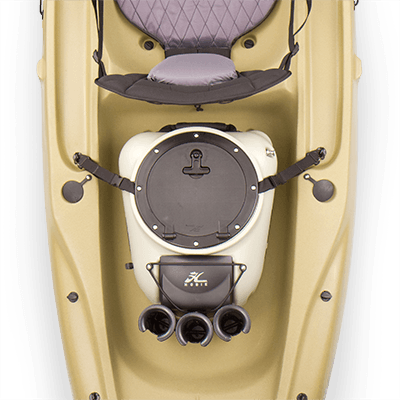 Pros
The Hobie Pro Angler 14 kayak is extremely stable and almost hands free
Many built in features
The MirageDrive is fast, compared to paddling
Hobie Pro Angler 14 has 2 hidden flip-up Plano tackle boxes built in
The rudder steering can be done with your left or right hand
Cons
Its sheer size can be problematic for people trying to move around in small, cluttered bodies of water. Make sure that the massive Hobie Pro Angler 14 kayak will fit in your fishing spot before purchasing it.
Check out the Hobie Pro 14 Fishing Kayak here!
Hobie Pro Angler 14 Review Final Verdict
The Hobie Pro Angler 14 is the ultimate fishing kayak in the Hobie range of boats. In this Hobie Pro Angler 14 review, we have covered a lot of details.
Many of their kayaks have features for fishing, but the Mirage Pro Angler 14 is the only one designed with the angler exclusively in mind. Looking for an affordable, durable, lightweight, ultra-stable, built-for-anglers personal watercraft? The Hobie Pro Angler 14 is top of the line.
Enjoy the ride!