Are you in search of a versatile kayak and paddleboard hybrid? If so, look no further. Kayak paddleboard hybrids make getting on the water easy and convenient.
I've been paddleboarding and kayaking for over 8 years and own a few different SUPs, kayaks, as well as kayak paddleboard hybrids and I'm stoked to bring you this article!
What is a Kayak Paddleboard Hybrid?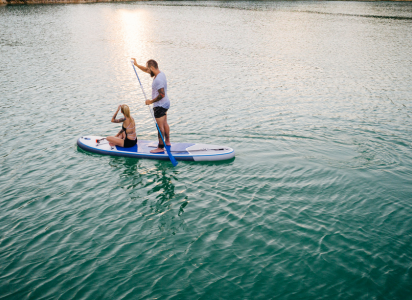 A kayak paddleboard hybrid is a multi-purpose watercraft that can be used as both a kayak and a paddleboard. It is designed for people who want to have the flexibility of switching between two different activities without buying two separate watercrafts.
Benefits of a Kayak Paddleboard Hybrid
One of the main benefits of a kayak paddleboard hybrid is the versatility it provides. You can use it both as a kayak and a paddleboard based on your preference and activity.
Another significant advantage is that it is easy to transport and carry. You can easily put it on a car roof rack, and it fits inside many types of vehicles. This is the best part: I can carry one main item and get two big uses out of it!
Lastly, kayaking paddleboard hybrids are wider than regular kayaks which makes them more stable and easier to balance on. This feature makes them easier for beginners to learn and it provides a smoother ride for all experience levels.
Types of Kayak Paddleboard Hybrids
There are three main types of kayaking paddleboard hybrids: the sit-on-top, sit-in, and inflatable hybrids.
The sit-on-top is more common, and it is the easiest to get in and out of. The sit-in provides a more traditional kayaking experience, and it offers more protection from cold water.
The inflatable is the most convenient and portable featuring its lighter weight and compact storage size (and is easiest to carry!)
Kayak Paddleboard Hybrid Features to Consider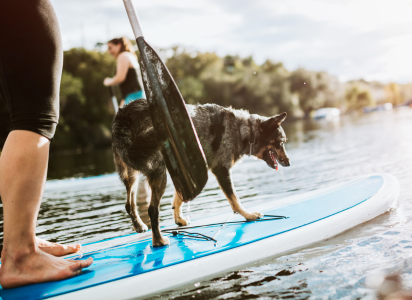 When choosing the best kayak paddleboard hybrid to meet your needs, you should consider features, such as length, width, weight limit capacity, and storage options.
You should consider the materials. Fiberglass and polyethylene are common materials used in the construction of paddleboard kayaks because they are lightweight.
Are Hybrid Paddle Boards Any Good?
Yes, hybrid paddle boards are pretty awesome!
Hybrid paddleboards offer the best of both worlds: the stability of a kayak and the flexibility of a paddleboard. They are easy to transport, making them ideal for people who want to enjoy different activities without investing in multiple water crafts.
Not only that but they also provide a smoother ride than traditional kayaks because of their wider design, allowing for more stability.
Plus, they come in different types so you can find one that suits your needs. All these features make a hybrid paddle board a great choice for any water activity enthusiast.
What Are the Best Kayak Paddleboard Hybrids?
Here are the top 3 recommended kayak paddleboard hybrid options:
#1. Bluefin Cruise 10'6″
This hybrid paddle board is an excellent all-around option, featuring a fiberglass construction and a weight capacity of up to 400 pounds. It has adjustable footrests and two handles for easy carrying.
#2. Perception Hi Life 11'
This hybrid paddle board is designed for stability and maneuverability, providing a comfortable ride in any water condition. It features an inflatable design with a weight capacity of up to 275 pounds.
#3. Wavestorm 9'6″
This hybrid paddle board is great for beginners and recreational paddlers. It has a foam core construction and a weight capacity of up to 200 pounds.
What is the Best SUP to Convert to a Kayak?
The best SUP to convert into a kayak is the Advanced Elements Strait Edge Angler Kayak. If for some reason you don't like the above three I have recommended, then this is a fourth one that is an great choice.
It provides a great conversion experience with its comfortable seating and adjustable foot braces, plus it has gear straps and fishing rod holders for mounting accessories.
This hybrid also comes with an optional rudder system that helps you maneuver in any water environment. It's made of durable material that won't fade or deteriorate in the sun, and it comes with a lifetime warranty. For those looking for a versatile SUP-kayak hybrid, this is an excellent choice.
Is a Kayak Seat Worth It On a Paddle Board?
Yes, a kayak seat is worth it on a paddle board if you plan to use it as a hybrid. It provides additional support and comfort when paddling in the sitting position, so it can help make your experience more enjoyable.
Some kayaking seats are designed with backrests that provide extra lumbar support for those who need it.
Laslty, a kayak seat can help make your hybrid paddle board even more versatile as it will allow you to switch between sitting and standing positions while paddling.
Can You Convert Any SUP into a Kayak?
No, not every SUP can be converted into a kayak.
To ensure that you are getting the best hybrid experience possible, you should look for an inflatable or foam-core SUP that has been specifically designed to convert into a kayak.
These boards have adjustable foot braces and other features that make it easier to transition between paddle boarding and kayaking.
Make sure to check the specifications of your board before you make a purchase as not all SUPs are suitable for conversion. I'd hate for you to waste your money.
Do I Need a Leash On My Hybrid Kayak Paddleboard?
Yes, it is recommended that you use a leash when using your hybrid kayak paddleboard. A leash helps ensure that your board does not drift away from you if you fall off, and it can reduce the risk of injuries or accidents.
Most hybrid kayak paddleboards come with leashes included but if yours does not, you should consider purchasing one separately. It is important to understand how to use your leash properly and safely for the best experience on the water.
What is the Difference Between a Kayak Paddle and a SUP Paddle?
The main difference between kayak paddles and SUP paddles is the length.
Kayak paddles are longer than SUP paddles, which makes them better suited for long-distance strokes while SUP paddles are shorter, making them more suitable for small or short strokes.
Also, the blade of a kayak paddle is typically wider than that of a SUP paddle, allowing for more power when paddling. Kayak paddles also have a bent shaft, while SUP paddles usually have a straight shaft.
Both types of paddles can be used on hybrid kayak paddleboards. I personally prefer the kayak paddles.
Conclusion
I hope this article provided you with valuable insight into the world of kayak paddleboard hybrids.
With their convenience, versatility, and stability, they are an excellent choice for people looking for a multi-purpose watercraft.
I love both water activities and often head out to La Jolla with my hybrid board!