For people with bad backs and back pain, it can be a challenge to find a comfortable kayak and actually enjoy kayaking for a few hours. A poorly designed kayak can worsen your condition and make your kayaking experience unbearable.
Good news for you, though – I have researched the 8 most comfortable kayaks for bad backs because I've had two serious accidents as a child that have left me with a bad back; basically, I can't sit without proper support for more than 5-10 minutes or the pain starts.
In this article, I am giving you my top 8 kayaks I have either owned or rented and tested multiple times (tested for over 20 hours!) and feel comfortable recommending them to other folks who have bad backs.
Let's get started.
8 Most Comfortable Kayaks for Bad Backs
Here are my 8 most recommended kayaks for people with back issues:
Vibe Kayaks Sea Ghost 110
This kayak is perfect for anglers who love long kayaking trips. It's fitted with an adjustable hero seat that provides excellent lower lumbar support. It also has footrests that support your posture and help you avoid back pain.
Perception Kayaks Pescador Pro 12
This kayak boasts a comfortable and adjustable seat that's designed to reduce back pain. The seat cushion uses breathable mesh fabric that keeps you cool as you paddle through the waters.
Perception Kayaks Tribute 12.0
This kayak is perfect for beginners and intermediates who want a comfortable kayaking experience. It features a padded seat that ensures maximum comfort, and adjustable footrests that cater to different leg lengths.
Wilderness Systems Tarpon 105
This kayak is fitted with an adjustable phase 3 air pro seat that's well-padded and designed to reduce pressure points. It also has adjustable footrests that ensure a perfect fit for every paddler.
Perception Joyride 10
This kayak features an adjustable comfort flex seat that provides maximum cushioning and support. It also has side rails that help you stay in the boat as you paddle.
Brooklyn Kayak Company UH-TK181
This tandem kayak features adjustable padded seats that provide excellent support and comfort to your back. Its adjustable footrests ensure that every paddler is positioned comfortably and correctly.
Ocean Kayak Malibu Two XL
This tandem kayak boasts a comfortable adjustable seat that's designed to reduce pressure on your back. It also has two pairs of footrests, one for each paddler.
Advanced Elements AdvancedFrame Convertible

This inflatable kayak is fitted with adjustable seats and footrests that provide comfort to both paddlers. Its inflatable construction provides extra cushioning and support for your back.
5 Tips to Prevent Back Pain When Going for Kayaking
Having chronic back pain or back issues is no joke. It can be really hard to enjoy fun activities like kayaking for more than 30 minutes but here are a few tips to help you do better not just kayaking, but also in daily life:
1. Make Sure You Have the Right Gear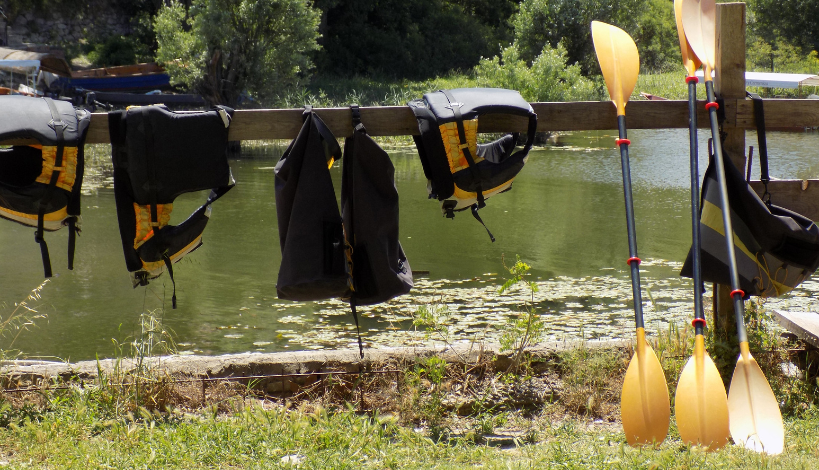 Poorly fitted gears can cause back pain and discomfort. Ensure that your kayak has adjustable footrests and seats so you can adjust them according to your body type and length. You may need to buy an extra cushion or back support to reduce pressure on your lower back.
2. Use a Good Paddle Technique
You should use proper paddling techniques in order to avoid excessive strain on your muscles and joints.
When I started kayaking, I didn't understand form and as a result, I almost gave up kayaking. But the slower you go and the more you keep your form in mind, the less strain you will put on your back muscles.
3. Take Breaks and Stretch
Don't forget to take short breaks in between your kayaking session to stretch and relax your muscles.
I can't emphasize this enough: When I take kayaking trips that are over two hours long, I make sure to take a few minutes to stretch my legs and feet out as well as my arms, back, and neck. If it's possible to pull up to shore and do so, then take a 10 minute stretching break!
4. Use Lumbar Support Cushions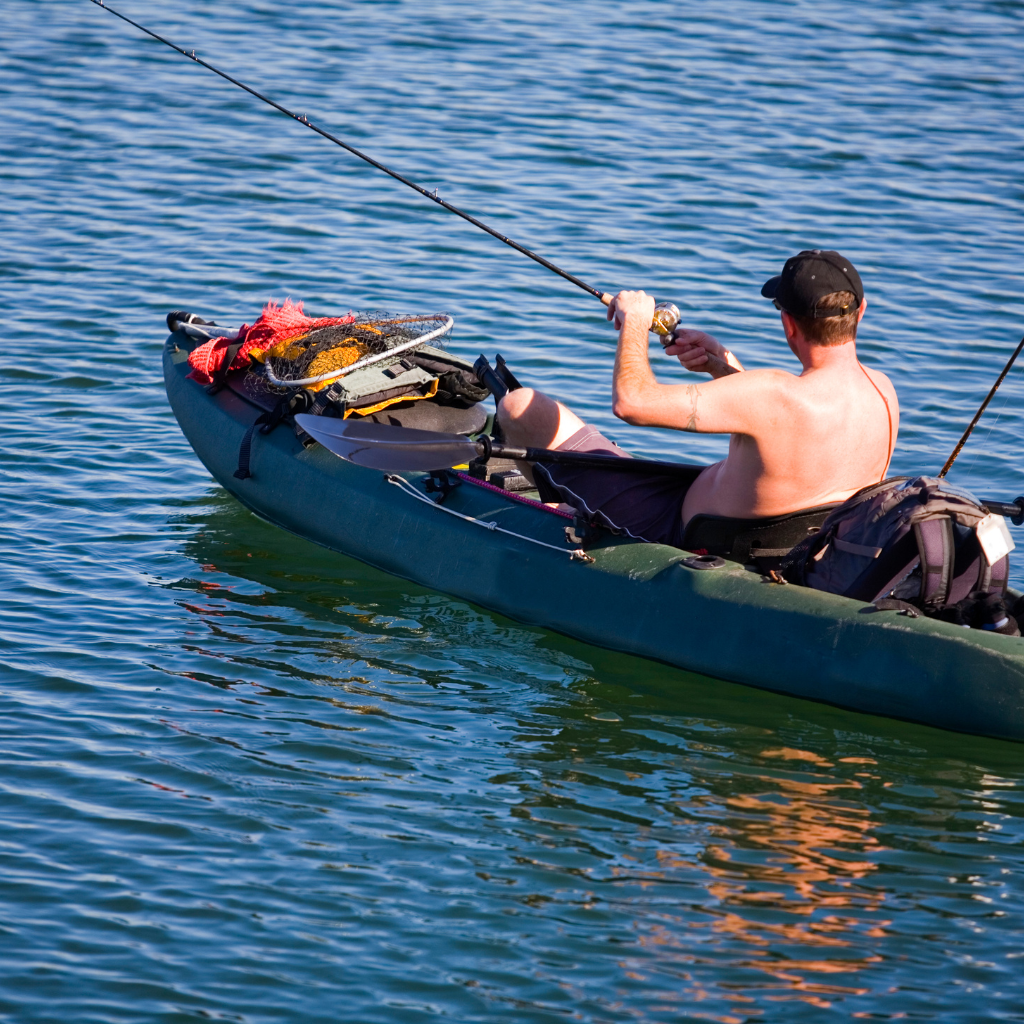 If you have a bad back, it's important to use lumbar support cushions so you can remain comfortable and prevent any pain or discomfort.
Lumbar support cushions help because they keep your back in a neutral position and prevent it from hunching over, which can cause strain on the muscles.
5. Stay Hydrated
It's important to stay hydrated during your kayaking session so you can avoid back pain and fatigue. If you're dehydrated, it's more likely that you'll suffer from muscle cramps and strain. I always make sure to carry extra water!
What is the best posture for kayaking?
When kayaking, it's important to maintain a good posture. You should sit upright with your hips slightly forward and make sure that the seat is properly adjusted so you can remain comfortable for long periods of time.
Your feet should be resting against the footrests with your ankles flexed in order to provide extra support to your lower back.
Is Kayaking Good for Your Lower Back?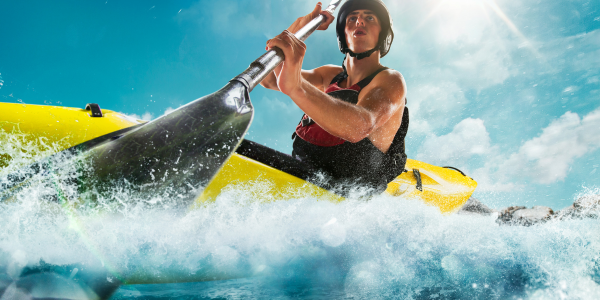 Yes, kayaking is great for your lower back. It provides an excellent workout to strengthen the core muscles and improve your posture.
Kayaking also helps reduce stress on the spine because it keeps your body in a neutral position and uses low impact movements. This makes it ideal for people with bad backs.
What Are the Most Common Injuries in Kayaking?
The most common injuries in kayaking include low back pain, shoulder pain, wrist and elbow pain, neck pain, and tendonitis.
These conditions can arise due to improper posture or incorrect technique while paddling. It's important to stay aware of your body and take breaks if needed. Proper warm-up exercises before the trip can also help reduce the chances of injury.
Summary
My goal in this guide is to help you choose a kayak that helps you enjoy kayaking instead of hurting your back.
The kayaks mentioned above provide excellent support and comfort thanks to their ergonomic design features.
Do not let your back pain hinder you from exploring nature's beauty – get a comfortable kayak and sail away.