[table id=MYCANOE-Origami-Folding-Kayak /]
For the outdoor enthusiasts that enjoy kayaking, a foldable kayak is a remarkable feature that allows for easy storage and transportation. The MYCANOE Origami Kayak is not only very easy to carry, but also to assemble. In fact, you can transform it about 10 minutes into a fully operational Canadian canoe.
Welcome to our MyCanoe review!
Check out the MyCanoe kayak on Amazon by clicking here!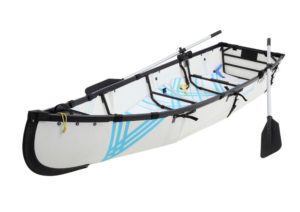 The Basics of the MYCANOE Origami Kayak
Because the MYCANOE Origami kayak is foldable, the design of this 14.5 feet kayak surpasses all other canoes and kayaks. In fact, this is a patented, award wining product. A lot of thought was put into the innovative carrying case that adds structural support by becoming the kayak's floor.
The MYCANOE Origami kayak features an Origami inspired design that has been verified and highly tested by a number of water sport institutions and professionals. They have all provided positive feedback.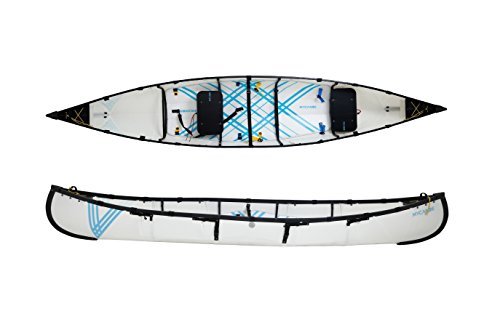 After three years of prototypes, sketches and tests by early adopters and several improvements implemented to the original design, the MYCANOE Origami kayak makes the best choice for your next outdoor water adventure with family or friends.
This TUV certified kayak can easily be stored in your closet, under your bed, or just about anywhere! You can take the lightweight MYCANOE Origami on all of your adventures because it is so easy to carry.
MYCANOE Origami Kayak Construction & Frame
This kayak features two seats and measures 14.5 feet and is easy to take everywhere you go, at only 52 lbs. For easy carrying, the optional paddles come in a two-piece construction. They even float, so you don't need to worry if you drop one in the water. The floor of the kayak uses the two piece carrying covers, so you won't leave anything behind.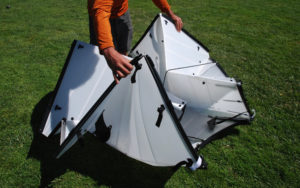 For easy assembly, the MYCANOE Origami Kayak also comes with a mallet. All the materials used for the construction of this product are high-quality. The body of the foldable kayak is made from a marine-grade custom polypropylene and is UV treated to withstand as many as 20,000 folds!
What Makes This Folding Kayak Special?
This is indeed a very special Origami inspired kayak that is TUV certified, award winning, and when compared to competitor products, performs better. It provides limitless possibilities to enjoy your trip, coming with two seats and specifically built for top performance. It can even take small rapids and a few bumps on rocks, but is probably not a good idea for the long run.
Users can fold it up for easy transport. It also offers some additional options, including an oar lock kit and stabilizers for added enjoyment in outdoor activities such as fishing. The stabilizer attachments provide extra steadiness for more weight. MYCANOE Origami kayak is able can hold up to 440 lbs without the stabilizers, and up to 500 lbs with stabilizer attachments installed.
Having an overall structure that is stable and one of a kind, this folding kayak received many favorable reviews and is highly rated. People who purchased the MYCANOE Origami kayak have appreciated the resilient structure of the boat with a fully folding feature and a smooth float on the water. It's one of the most purchased kayaks out there.
How Is The Storage Space In the MYCANOE Origami Kayak?
Since it is completely collapsible, the MYCANOE origami kayak is very easily stored in small spaces. When folded, the carrying case measures only 37 x 8 x 25 inch. It's perfect for apartment residents who love outdoor sports and activities.

Pros
The MYCANOE Origami kayak reacts very well on water
The kayak is patented, TUV certified and award winning
It can be conveniently assembled into a full sized kayak in only 10 minutes and folded back into its case after use
When compared to the standard kayaks from other brands, the MyCANOE Origami lacks nothing except storage compartments
Structure of the MYCANOE Origami is made from a custom polypropylene material that can handle as much as 20,000 folds and comes with a 15 year UV treatment
The MYCANOE kayak can fit and be stored practically anywhere
Cons
The MYCANOE Origami kayak does not feature any storage compartments and does not initially come with paddles
MYCANOE Origami Kayak Review Summary
As far as folding kayaks (also known as Origami kayaks go), there are not that many options on the market.  The only other worthy, notable kayak in this department is the Oru Bay kayak but to be honest, MyCanoe Origami Kayak definitely holds its own a deserves a serious consideration.  Hopefully, our MYCANOE Origami kayak review will convince you one way or another!