[table id=Malibu-Pro-2 /]
Kayaking is so much fun because you can explore the wild outdoors by simply paddling along, navigating whitewater or even fishing. There are special kayaks for each of these activities. One of these is the Malibu Kayaks Pro 2 Tandem sit on top kayak, and below you can find out more about it.
Basics of the Malibu Pro 2 Tandem Kayak
The Malibu Kayaks Pro 2 Tandem is designed for fishing, allowing you to navigate lakes, slow streams, ponds and even rivers that have fast moving water. Its hull is designed to slice right through the water, weeds and low waves.
Therefore, you can easily navigate these bodies of water in search of fish. It is a sit on top style kayak, making it easy for beginners, professional kayak anglers, the elderly and people with physical issues to ride upon it.
Basics of the Malibu Pro 2 Tandem Kayak Construction and Frame
This Malibu Pro 2 has low sides, making it possible to get back onto it without tipping it over, in case you decide to go for a swim. It is made of polyethylene molded into a single form, so it does not have any seams that could weaken it. Due to its construction, this kayak is ideal for recreational paddling for people of various ages and ability. You can also use it with one paddle or two.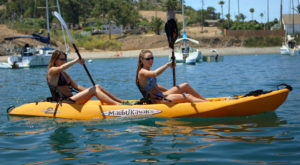 The kayak has some eyelets, a drain plug, some hooks made of nylon, and handles on its bow and stern. For safety purposes, it has a bungee tank cord and special hooks as well. Some of its characteristics are specially designed for recreational purposes. Examples of these are its 6 point hatch located in the center, front hatch, and bucket.
The Malibu Pro 2 tandem kayak also has features that are specially made for fishing. Examples of these are an 8 inch rear hatch that is round in shape, and a total of 6 rod holders.
What Makes This Kayak Special?
This Malibu tandem kayak has a number of characteristics that make it special. Firstly, it can accomodate a single paddler, or two in tandem. It is comfortable, stable and does not tip. It is also easily maneuverable and flexible. To ensure full control over the craft as you fish, it has dry seating.
Moreover, its foot wells are molded into its center. The Malibu Pro 2 kayak has long lasting quality build. This is because it is made with stainless steel hardware guaranteed by a lifetime warranty from Malibu Kayaks. It also has an amazing weight to capacity ratio, weighing only 60 pounds, but being able to support up to 550 pounds.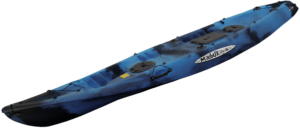 The kayak is designed in such a way that it has some features to maximize your comfort and help you have fun as you fish. It has foot stops located in the well at the front of each seat, helping you to have more leverage as you paddle. In addition to that, it has beverage holders that secure your favorite drink.
Malibu Pro 2 is also designed to have some flat surfaces in between the seating, ideal for activities such as cutting up bait or making sandwiches to enjoy with your fishing partner. The dry seating is also quite spacious and capable of holding a seat accessory.
Storage Space In the Malibu Pro 2 Kayak
The Malibu Kayaks Pro 2 Tandem is designed to be stacked with other kayaks. Moreover, it has an insert molded into its body that is designed for a motor mount. The kayak is 13 feet long, so it is advisable to haul it on a trailer or carrier when traveling, instead of putting it in the trunk or boot space of your car.

Pros
It has dry seating
Does not tip over
Has dive wells for the front and rear of the hull
It has a motor mount that is ideal for trolling
It has durable construction due to a stainless steel frame
Can be stacked
Con
Sometimes it arrives with 4 rod holders instead of 6, as indicated in its advertisement
Check out the Malibu Pro Tandem on Amazon by clicking here!
Malibu Pro 2 Review Summary
If you are searching for a two person kayak that is stable and long lasting, the Malibu Kayaks Pro 2 Tandem is the one to pick. It is durable, has an excellent weight to capacity ratio and has features designed to help you fish more successfully. It is an affordable kayak that will give a lifetime of quality service.