The Necky Manitou 14 kayak is a picture of stability and comfort. In comparison to its other shorter siblings, it is the ideal kayak for a beginner, as it is meant to take a paddler's skills to the next level. However, it is not restricted to beginners alone. Its high-end performance satisfies even hardcore paddling enthusiasts. The kayak's features will always meet your paddling needs. This is the kind of boat that you can never outgrow.
Editor's Note: The Manitou 14 has been discontinued but worry not: we have a replacement touring kayak that is amazing below:
Alternative Pick!

The Necky Manitou 14 kayak's touring hull certainly makes it one of a kind. If you are looking for a steady and comfortable kayak for recreational purposes or one that you can just take around for a weekend surf, this kayak is the perfect fit. Its tracking, speed, and ease of handling are exceptional. The Manitou 14 kayak also boasts a sturdy design and a solid, overall feel.
In our Necky Manitou 14 kayak review, we discuss everything about it in detail. Please read on!
If you would like to check out our best kayaks of the year, click on this link!
Does the Sleek Frame of the Necky Manitou 14 Kayak Come Through?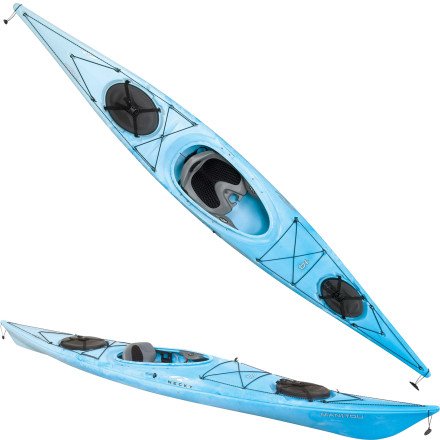 As a modern classic, the Necky Manitou 14 kayak is one of the most versatile kayaks. With an all-plastic polyethylene construction, the kayak retains its position at the top of the charts because of its versatility.
The material is long lasting and resists wear and tear quite well. No matter how many times the Necky Manitou 14 kayak is used, it will always maintain its good condition. Even the molded graphics do not peel off or fade easily. The unique frame is sophisticated to handle the demands of all weather and water conditions.
With a sleek touring profile and state of the art outfitting system, this water companion does not disappoint. It finds its home in calm waters and slow rivers. At 14'4" in length, the kayak is built with a wave-piercing dolphin bow that makes it stand out from the crowd. The boat is 24″ wide, weighs 52 pounds, and can hold up to 325 pounds.
What Features Make the Necky Manitou 14 Kayak Special?
Alternative Pick!

Built with the stability of a race boat, the Necky Manitou 14 kayak is perfect for paddlers who love spending a lot of time in the water. Apart from its superior performance and high-end material technology, it also has a superior design that allows for advanced maneuvers and lean turns.
Providing excellent primary and secondary stability, the kayak promotes a smooth transition between the two. This kind of stability makes the Necky Manitou 14 perfect for pursuits like photography and bird watching. It is also ergonomically designed to ensure that it can be paddled through the water effortlessly.
With a two-way adjustable backrest, aft positioning and a six-position height adjustment, paddlers can be certain that they will get the most out of this kayak. Their movements will not be limited and they can enjoy the comfort that comes with the Necky Manitou 14 kayak.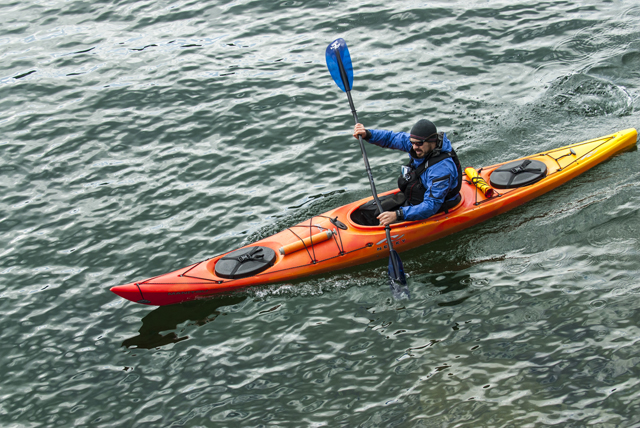 While other previous Manitou models may have been shorter, this one capitalizes on its slightly longer body to cruise more smoothly and efficiently. The extra comfortable seat with two-way adjustable backrests will make any paddler's expedition in the water cozy. You will not get tired or experience any back pain that results from long hours of discomfort when kayaking. The seats adjust in three dimensions in order to give you all-day comfort. The back seat has progressive, soft cushion padding that gives that extra support when the kayak is extensively used.
When it comes to rough waters, the Dolphin bow negotiates extremely well. The generously-sized cockpit (35.5″ x 16.5″) allows for easy entry and exit and paddlers do not have to struggle to get in or out of the kayak. No matter how tall you are, the adjustable foot pedals will accommodate you.
The Necky Manitou 14 kayak's retraceable skeg enhances tracking and prevents the kayak from crocking in strong winds. In addition to this, the Manitou also has recessed deck fittings to increase its durability. In order to carry the kayak easily, the toggle carry handles always come in handy. The Manitou 14 is more touring oriented, rather than sporty.
This is the kind of kayak that you can take on various expeditions. The Necky Manitou 14 kayak is jam-packed with the best features to ensure that you thrive on the waters.
Is There Enough Storage in the Necky Manitou 14 Kayak?
As far as storage is concerned, the Necky Manitou 14 kayak has a deck rigging with two storage hatches that makes it easy for a paddler to carry any gear and equipment that they intend to bring on their sea touring expedition. The hatches are spacious enough to ensure that nothing is left out. With enough storage space for an overnight trip, you will not find a more accommodating kayak than this one. T
o be precise, it has a storage space of 113.6L (or about 30 gallons). The kayak also comes in bold colors that are highly appealing to the eyes.
Pros
Stable kayak, even when it's paddled in rocky waters
Generously padded seats with a comfortable backrest
Retraceable skeg with kink-free Necky wire
High speed that will make sea touring a great expedition
Sufficient storage space that allows for the carrying of sufficient equipment or clothes and food for an overnight trip
Easy tracking as the kayak maneuvers through the waters
Reflective safety parameter line
Support Track foot brace system
Cross buckle system that ensures the storage area remains dry and secure
Cons
The Necky Manitou 14 is a heavy kayak in comparison to its predecessors
Its weight makes it a bit challenging to move from one place to another. However, this does not affect the overall functioning of the kayak
The skeg may be difficult to use as it can be dragged easily by strong winds or waves
Necky Manitou 14 Kayak Review Summary!
Alternative Pick!

Necky is a company that designs and manufactures top-of-the-line kayaks, so you can expect an excellent kayak in the Necky Manitou 14 kayak!
Necky Manitou 14 kayak is up for any task that you put it to. Considered an advanced kayak for beginners, it is also a perfect choice for intermediate and expert kayakers. If you place a high degree of value on superior performance and aesthetics, then this kayak is a great choice for all your touring adventures. Beginners can grow with their paddling skills and experts can find out what they have been missing from other ordinary kayaks.
If you are hoping for an excellent kayak that tracks well, is fast, has sufficient storage space and is stable enough, look no further!
Not sure about the Necky Manitou 14 for your kayak selection?  Here is a list of other comparable kayak options that may fit your needs: