It seems like in one swift move, origami kayaks (also known as folding kayaks) took over the kayaking world like a trend… only this trend has never left.
The revolutionary idea began with the Oru Bay kayak in 2012 when Oru Kayaks company started as a 3 person company looking for funding, thanks to a Kickstarter campaign.  Soon after, the Oru Bay kayak made an appearance on the Shark Tank.  But before we get into all of that… let's delve into:
What Is An Origami Kayak?
Think about what an origami is: it is the Japanese art of folding paper into art or decorative pieces.  How neat do those designs look?
Well, take that and apply that concept to a kayak.  As unbelievable as it might sound, an origami folding kayak is a kayak that can be folded or unfolded as needed and within minutes.
In case you have it in your mind that these could possibly not be durable, I would encourage you to check out this video as a starter reference:
Types of Foldable Kayaks On The Market
#1. Oru Bay Kayak
The Oru Bay Kayak, the original origami kayak, is at the leading forefront of this category.  We did an in-depth article on it which you can read by clicking on the link above; included are pictures and videos so you get a great idea of what the Oru Bay is all about and how it's designed to last a long time.
#2. MYCANOE Kayak
The MYCANOE Folding Kayak located in Knoxville, TX, is a patented, award winning canoe that takes 15 minutes to assemble.  How cool is that? Obviously not a lot of contenders in this category, but these origami kayaks are super sturdy and durable.  
#3. Onak Folding Kayak
Onak, the latest entry into the origami folding kayak category, reached this goal of raising money on Kick Starter.  For updates, check out their Kickstart Page here: Onak Origami Kayak Kickstarter.
I did a detailed comparison between the Oru and the MyCanoe which you may find interesting as well.
The History & Innovation Behind Foldable Origami Kayaks
Human beings have a deep need to connect with nature, and it is even strong in those who live in cities and away from the great outdoors. As a result of this need, we have invented various types of crafts to help us experience mother nature. One of these is the kayak. It is a narrow, light, easily maneuverable boat that can carry one, two or even more people. With a paddle, you can navigate along rivers, on lakes and through rapids.
For centuries, people have used kayaks to get around the water bodies of our world. While many types exist, the most versatile is the folding kayak. You can easily carry it around with you anywhere you desire, and not just because you can fold it, but because it's super lightweight. Here is a history of the folding kayak and what it looks like today.
Early, Early History…
The idea of origami kayaks goes back many centuries to the dark ages. In 500 BC, Middle Eastern merchants used collapsible kayaks to float their goods down the Euphrates river in Babylon. A donkey was also included onboard the early kayaks, and once they arrived, the donkey was used to haul the collapsible kayak upstream once again.
In the early 20th century, a more efficient, effective and safer folding kayak was invented. Alfred Heurich, an architecture student, invented the world's first safe and working folding kayak in 1905. He took to the waters of the Isar River near Munich, Germany to test and prove his creation.
After success, he registered a patent for it under the name "Delphin". His folding kayak consisted of a bamboo frame with sailcloth stretched over it. After folding, Alfred's kayak could fit in three bags, each weighing less than 10 pounds.

While Heurich invented the folding kayak, another man made them a commercial success. His name was Johannes Klepper and he was a Bavarian tailor.
In his factory at Rosenheim, Germany, Klepper took Alfred's design and began to manufacture the folding kayaks on a massive scale. He made the frame from wood and the hull from canvas. He marketed them as being compact and easy to transport. In 1906, Klepper released a folding kayak brand known as Faltboot and it preceded many other kayak technologies available today.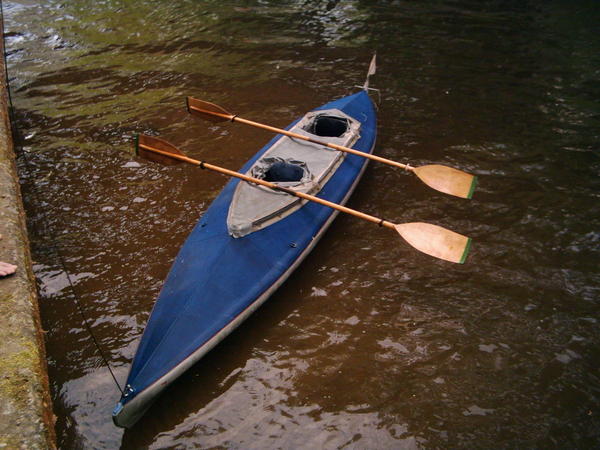 Some notable adventurous milestones were performed in early foldable kayaks. For example, in the 1930s, explorer Oskar Speck traveled from Germany to Australia in a folding kayak. The journey took him 7 years from 1932 to 1939 and covered a total of 31,068 miles.
Service In The World Wars
A decade later, folding kayaks were once again at the front lines, literally. During the second World War, the navies of all participating nations saw the importance of the origami kayak. The crafts were light, easy to maneuver and highly seaworthy.
However, the most important reason why the armies were enthusiastic about folding kayaks is because of the materials used in their construction. Due to the wooden frame and canvas skin, they could not be detected on radar. Hence, they provided a much-valued tactical ability.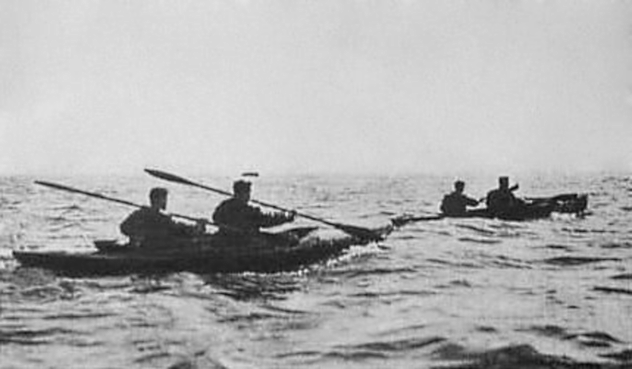 The British, Australian and French navies all manufactured their own folding origami kayaks. The Germans used them to fight the Russians on Finnish lakes. Moreover, the British and Australians used folding kayaks in an ingenious way to destroy enemy ships. Navy special forces would use them to sneak up on enemy ships, plant magnetic bombs and detonate them after the soldiers were safely back at shore.
Interestingly, the Americans were not as enthusiastic as the either nations in adopting the folding kayak for military purposes. However, they joined in after seeing how these crafts were effectively used by the British for reconnaissance in the Falklands War of 1982.
Civilians also used folding kayaks extensively. Between the two World Wars, people would carry these handy crafts with them on railroads and buses. After alighting, they would use the folding kayaks to navigate the lakes and canals in and around cities. Unfortunately, the wide acceptance of the automobile reduced the popularity of the folding kayak. It was only to emerge once again in the 1980s when sea-kayaking became a popular sport in the Pacific Northwest.
Interesting Facts About Origami Kayaks
In 1928, the longest folding kayak ever was made. Measuring 16 meters in length, it could seat 8 paddlers. In the same year, Captain Romer made the first Atlantic crossing in a folding kayak. The journey started at Lisbon and ended at St.Thomas in the Caribbean. Lasting 90 days, his voyage covered 4,473 miles.
Due to technological advancement, frames made of aluminum have since replaced the original wooden ones. Moreover, hulls are no longer made of canvas or skin. They are constructed from a material known as ballistic nylon. Today, one of the foremost manufacturers of folding kayaks is Oru Kayak. Below is more information about the company.
In Conclusion
Few experiences are as peaceful yet exhilarating as kayaking. Today, you can easily carry a kayak with you on your expeditions. Thanks to decades of development, you can get one that folds up and stores conveniently. This empowers you to easily explore the waters of the world. Modern folding kayaks are safe, effective and designed for various types of water bodies. Therefore, they are an ideal way to explore the great outdoors.