Are you planning to buy a Pelican Argo but confused about the different models available? Worry not, I've got you covered.
Pelican Argo 100X vs 100XR: Sibling Kayaks!
In this article, I'm going to compare two of the most popular models – Pelican Argo 100x and 100xr. So, whether you're an experienced kayaker or a beginner, read on to find out the differences between the two models, and which one suits your needs better.
Editor's Pick!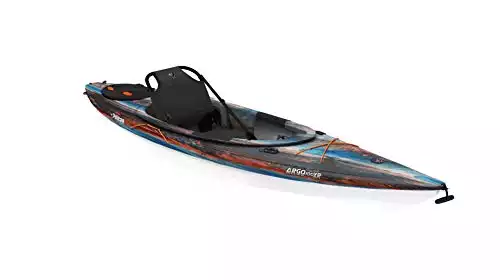 As you make your through the article, you'll notice the small differences between the Argo 100X and the 100XR and yes, the difference are pretty small. The 100XR is like an older sibling of the 100X where you get a little bit more. Let's discuss in detail.
#1. Design Differences
When it comes to design, both the Argo 100x and 100xr are pretty similar but the 100xr has a more angular shape which makes it more streamlined and offers greater speed.
The Pelican Argo 100x, on the other hand, has a rounder shape which makes it more stable on the water, especially for beginners.
#2. Weight Difference
Both models are lightweight but the 100xr is slightly heavier than the 100x.
The Argo 100x weighs 36 pounds, while the 100xr weighs around 43 pounds. So, if you're planning to carry your kayak long distances, the 100x might be a better option.
#3. Storage Comparison
Both models offer a lot of storage space with a rear storage hatch and a tank well with bungee cords at the back.
However, the 100xr has a little more space than the 100x. So, if you plan to take a lot of gear with you, the 100xr might be a better option.
#4. Build Quality Comparison
Both models have Polyethylene bodies which make them durable and sturdy.
However, the 100xr has a triple-layer construction that makes it stronger and more capable of handling rough waters and rocky shores. The 100x has a double-layer construction which makes it durable, but not as much as the 100xr.
#5. Price Comparison
The Pelican Argo 100x is more affordable than the 100xr, which makes it an ideal option if you're looking for a budget-friendly kayak. The 100xr is a bit more expensive, but that's because of the extra features it offers.
Which One of the Two Models Has the Most Comfortable Seat?
Editor's Pick!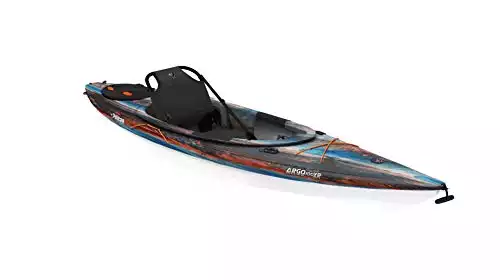 Both models come with an adjustable backrest padded seat which provides great comfort. The 100xr, however, has a larger and more comfortable seat than the 100x called the ERGOCOAST which is probably the most comfortable kayak seat I've ever sat on.
If comfort is of the utmost importance to you, then the Pelican Argo 100XR is the way to go thanks to the ERGOCOAST seat!
Does Either Model Come With Footrests?
Yes, both models come with adjustable footrests and thigh braces that lets you sit in a comfortable position while paddling. The 100XR also has an extra padding for more comfort when using the footrests. This is another bonus when it comes to comfortability for the Argo 100XR.
Can Either Model Be Used For Kayak Fishing?
Yes, both models can be used for kayak fishing. The 100xr is slightly better in this regard as it has more storage capacity and a stronger build quality which makes it perfect for fishing trips.
As for rod holders, both models come with rod holders, but the Argo 100XR comes with two flush mount rod holders which makes it ideal for fishing and for that reason, is a favorite among anglers!
Which One of These Models Is Easier to Carry and Transport?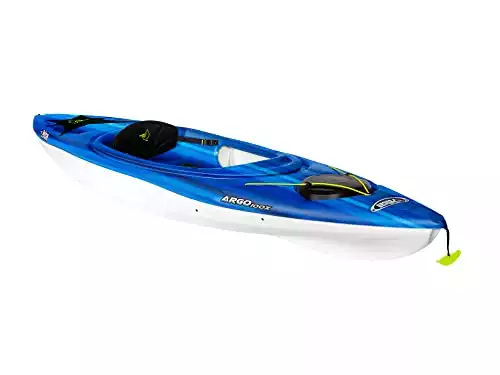 The 100x is slightly easier to carry and transport due to its lighter weight. It also has integrated carrying handles that makes it more convenient. If having a lighter kayak is essential for you for portaging it, then you may want to consider the Argo 100X.
Summary
In summary, both the Pelican Argo 100x and 100xr are great kayaks that offer a lot of features for their price. However, they are designed with different goals in mind which means they cater to different kinds of kayakers.
I have spent a few hours kayaking in the Argo 100X as well as the Argo 100XR and here's what I recommend: if you're looking for a kayak that's stable, easy to use, and affordable, then the Pelican Argo 100x is a great choice.
On the other hand, if you're looking for a more performance-oriented kayak that's faster and more durable, then the 100xr might be a better option.
I personally prefer the Pelican 100XR as it gives me a bit more room and the tracking and performance I prefer!