When it comes to choosing a kayak that suits your needs, it can be a challenging task, especially if you're new to the activity. The Pelican Argo and Maxim are two awesome kayaks that a lot of kayakers love. I have used these kayaks on a few different trips and know them inside out.
In this article, I'll give you an in-depth comparison between the two models and help you choose the one that's right for you. Let's get started.
Pelican Argo vs Maxim: Which Kayak Deserves You?
Now, Pelican is known to produce some of the best and most affordable kayaks out there but which one is better? The Argo or the Maxim? Let's find out.
#1. Design Comparison
Editor's Pick!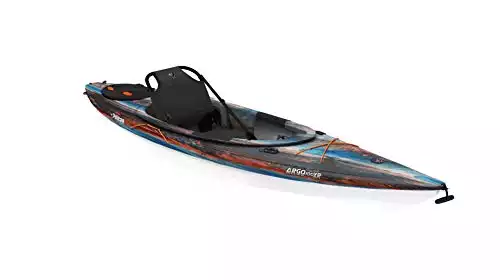 The Pelican Argo is a sit-inside kayak that has an ergonomic design that's perfect for long paddling sessions. The cockpit has adjustable footrests and an adjustable padded seat for extra comfort.
In comparison, the Pelican Maxim is a sit-on-top kayak that allows for more freedom of movement while paddling. It has an open cockpit design that's suitable for warm weather conditions.
#2. Storage Comparison
Both kayaks offer storage compartments but the sizes differ.
Pelican Argo offers dry storage, perfect for keeping your belongings safe, while the Pelican Maxim's storage distance doesn't offer the same dryness unless you are carrying a dry bag.
If you're planning on spending long hours kayaking, Pelican Argo may be your best bet.
#3. Weight and Size Comparison
The Pelican Maxim is 10 feet long and weighs 47 pounds, making it a lightweight and easy-to-transport kayak. It's a great kayak for beginners or those looking for a kayak to take on lakes and calm rivers.
On the other hand, the Pelican Argo is 12 feet long and weighs 53 pounds, so it requires more effort to transport.
However, the added length and weight can be beneficial for more experienced kayakers who want to tackle rougher waters.
If you have any conditions where you can't carry a lot of weight or don't want to, then you may want to consider the Maxim as it's a good 6 pounds lighter!
#4. Price Comparison
Second Pick!

The Pelican Maxim is priced lower than the Pelican Argo and is an attractive option for those on a budget.
That being said, the Pelican Argo may be a better investment for experienced kayakers who want a kayak that can handle more challenging conditions.
This will entirely come down to your budget!
#5. Purpose
When considering purchasing either the Pelican Argo or the Pelican Maxim, thinking about what you want to do with your kayak is essential.
The Pelican Argo is perfect for long trips and paddlers who want to use it for both fishing and touring.
The Pelican Maxim is ideal for beginners looking for a kayak to use on calm, shallow waters.
Can You Go Fishing On Both of These Models?
Yes, you can go fishing with both models.
The Pelican Argo is designed for more experienced kayakers and includes features that make it a great choice for fishing. It has adjustable footrests and plenty of storage space to store your gear.
The open cockpit design on the Pelican Maxim also makes it suitable for some types of fishing but its shorter length and lighter weight may not be suitable for more adventurous outings.
Does Either Model Come With Fishing Rods?
No, neither model comes with fishing rods. However, both models have features and accessories that make them suitable for fishing.
If you're serious about kayak fishing, then I would go ahead and invest in some decent fishing rods and and rod holders.
Where are Pelican Kayaks Made?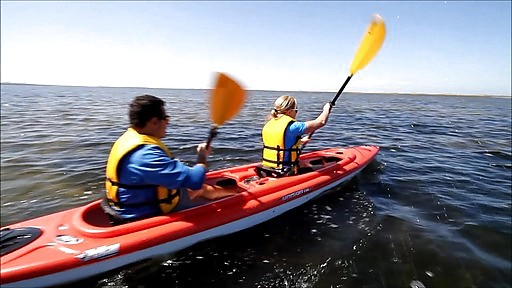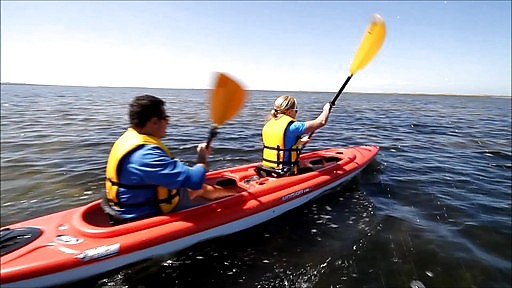 Pelican kayaks are manufactured in Canada with production facilities spread across the country.
Quality control procedures are observed to ensure that all products meet high standards and each kayak is tested before it's shipped out to customers. Pelican also stands behind its products and offers a limited lifetime warranty on all of their kayaks.
Is the Argo or the Maxim More Tippier?
The Pelican Argo is slightly tippier than the Pelican Maxim due to its longer length and wider beam.
It's important to note that neither kayak is prone to tipping over, but if you're just starting out in kayaking, the Pelican Maxim may offer a more stable experience for you.
Which Kayak is Harder to Carry?
The Pelican Argo is larger and heavier than the Pelican Maxim, making it more difficult to carry.
The added weight can be beneficial for experienced paddlers who want a stable kayak that can handle more challenging conditions.
However, if you're looking for something light and easy to transport, then the Pelican Maxim is definitely your best bet.
Argo vs Maxim: Which One Wins?
Editor's Pick!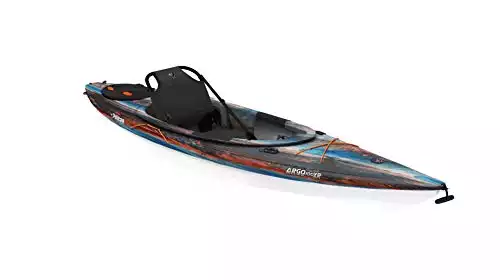 Personally, it's hard to decide which model I love more and here's why: I love the Maxim for the easy tracking and the lighter weight. However, I love the Argo in fussier waters but it's also about two feet bigger and while experienced kayaks love it, it's a bit harder for me to handle due to arthritis.
With that said, I recommend the Maxim for kayaking in easy waters and the Argo in rough waters.