Choosing the right kayak can be a daunting task, especially for newcomers to the sport. Two popular options in the market are the Pelican Argo 100X and the Pelican Mustang and boy, let me tell you: Pelican has some really cool offerings on the market and it can often be hard to decide between the two.
But you're in luck: I have taken both on extensive trips and I'm going to talk about the best and worst of both kayaks and help you decide which one is the one for you.
Pelican Argo 100X vs Mustang: Which One is the Better Kayak?
While both kayaks have their unique features and strengths, I firmly believe that the Argo is a better choice. I've kayaked in both and stand behind this decision. In this article, I'll explore the reasons why kayakers should opt for the Argo 100X over its counterpart in greater detail.
#1. Built for Comfort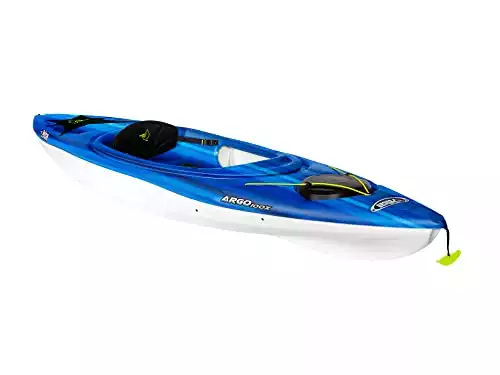 One of the key factors to consider while kayaking is comfort and nothing beats the Pelican Argo 100X in this regard. It comes with an adjustable padded backrest, padded seat cushion, and footrests that can be adjusted to fit your leg length. Trust me, one hour into paddling, you want your butt to be embraced by comfort!
Additionally, it has an ergonomic cockpit design that provides ample space to move around, making it more comfortable than the Mustang.
The Mustang, in comparison, doesn't offer as much comfort – it has a low backrest and no adjustable footrests at all, making it less comfortable for long rides. For an hour or two long trips, it's okay. But since I have a bad back, I try to paddle on kayaks that are more comfortable so the Argo wins here.
#2. Stable Design
The Argo 100X is designed with stability in mind. The wide 24″ beam gives the kayak great balance and reduces your chances of flipping over – which can be dangerous. The kayak also has twin tracking channels that help with stability as well, making it a safe option for those who are just starting out on their kayaking journey.
The Mustang, on the other hand, isn't quite as stable or forgiving for beginners; it's more suitable for advanced paddlers. Its design offers less stability than the Argo 100X which makes it easier to flip over if you don't have the appropriate skill level or feel a bit of challenge in the water.
#3. Lightweight and Maneuverable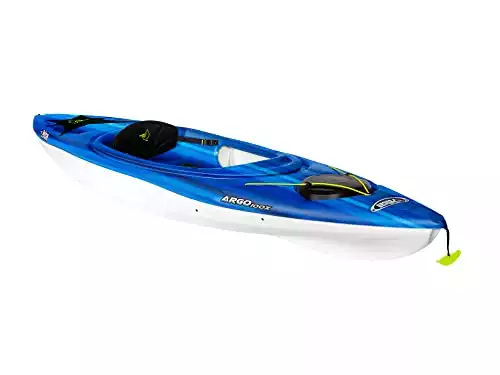 The Pelican Argo 100X is 37lbs which makes it one of the lightest kayaks in the market. This lightweight feature makes it much more manageable on land, especially when loading and unloading.
Additionally, the Argo's compact size makes it easy to maneuver and navigate through tight spots.
Compared to the Mustang, which is much more cumbersome and weighs almost 10 lbs more, it comes in at 47 lbs! It's definitely heavier to carry and the Argo is definitely the better option if you need a kayak that's light and easy to manage.
The lighter the kayak, the better for me so I definitely love the Argo for being on the lighter end.
#4. Durable and High-Quality Material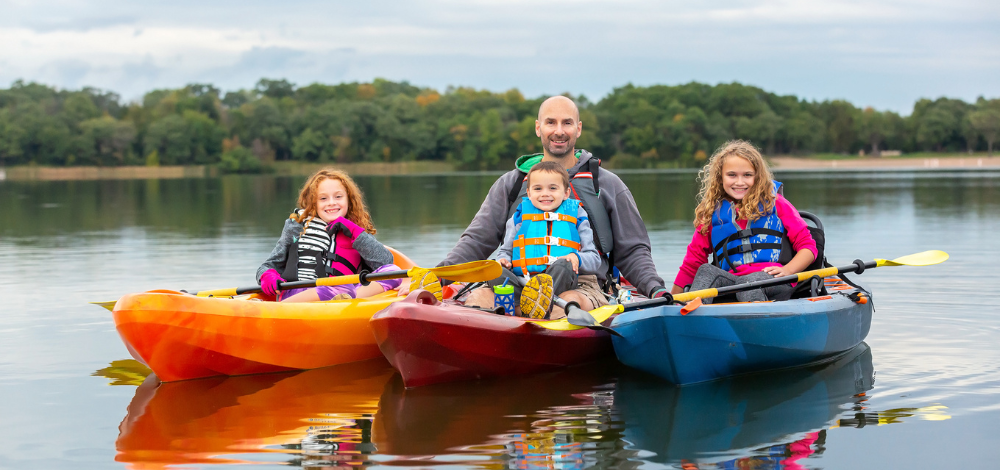 A kayak is an investment and understandably you want it to last for many years. Some of my kayaks, including the Argo have lasted me over 8 years now.
The Pelican Argo 100X is made from the highest quality materials including their patented Ram-X polyethylene material, which makes it ultraviolet, impact-resistant, and abrasion-resistant. This combination ensures that the kayak is long-lasting and durable, making it an excellent investment for both seasoned and novice kayakers.
When it comes to the Mustang, while it's also made from high-quality materials, it lacks the multi-layered construction and ultraviolet inhibitors in the Argo, making it slightly less durable in harsh conditions.
#5. Affordability
Price is always a factor when choosing a kayak and the Pelican Argo 100X is a winner when it comes to affordability. It's one of the cheapest hardshell kayak options in the market, making it an excellent choice for novice kayakers who don't wish to spend a fortune.
The Mustang, on the other hand, comes with a higher price tag, making it less appealing if you're shopping on a budget. The Argo gives you value for your money without compromising on quality.
Can I Use Either Model For Fishing?
Yes, both models are definitely suitable for fishing. The Mustang offers more stability in choppy conditions and is also a better option for long-distance trips due to its longer length. The Argo is ideal for smaller bodies of water and is easier to maneuver than the Mustang.
Both kayaks come equipped with rod holders, making them great options for fishermen. However, the Argo has adjustable rod holders that make it an ideal choice for anglers.
I fish in calm waters and so I prefer the Argo 100X to relax and fish from!
Which Model Can I Use for Whitewater Kayaking?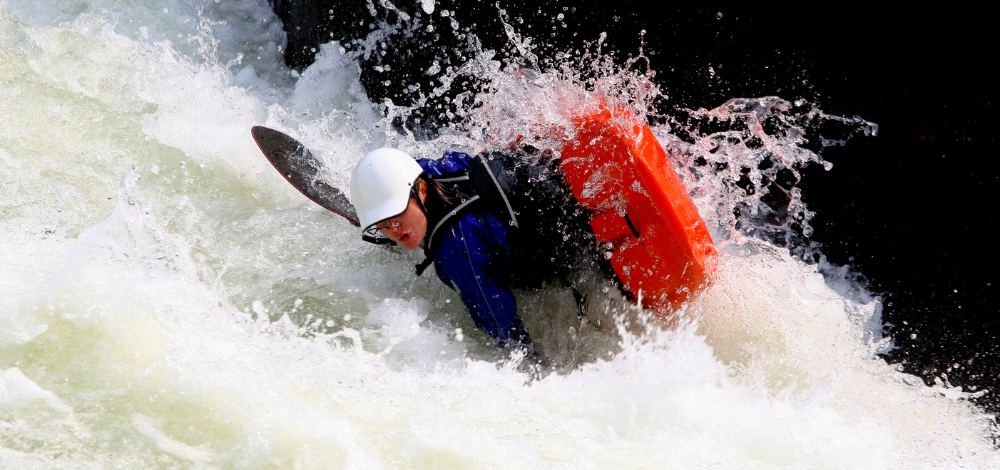 I would not recommend either model for whitewater kayaking. The Argo is designed with stability in mind, which isn't ideal if you're looking to tackle rapids and the like. You'll need a sturdier, more robust model that is designed for super rough and wavy whitewater conditions if you want to go whitewater kayaking.
What is the Cockpit Size of Both of these Kayaks?
The Pelican Argo 100X has a cockpit size of 89″ x 27″, while the Mustang has a slightly larger cockpit at 90″ x 28″. The Argo's shorter length makes it easier to store and transport, making it the better choice if you're tight on space.
Which one will feel better to sit in, that is subjective. If you're under six feet tall, you might be happy in the Argo.
Which One Has Better Seating?
The Pelican Argo 100X has better seating in my opinion. It comes with an adjustable padded backrest, a padded seat cushion, and adjustable footrests that provide great comfort for long hours of paddling. It has a special seating called the ErgoForm seat which is designed to reduce fatigue and improve posture.
It's definitely one of the best seats I've sat on in an inexpensive kayak!
Which Kayak is More Suitable for a Tall Person?
The Mustang is the better option for taller people due to its larger cockpit size and slightly longer length. The Argo 100X would be too small for a tall person, making them uncomfortable during long paddling trips.
Which One Should You Choose: the Pelican Argo 100X or the Mustang?
While both the Pelican Argo 100X and the Mustang are great kayaks, for my needs and its great tracking ability, the Argo has proven to be the better choice. It's built for comfort, lightweight and maneuverable, made from high-quality materials, and affordable.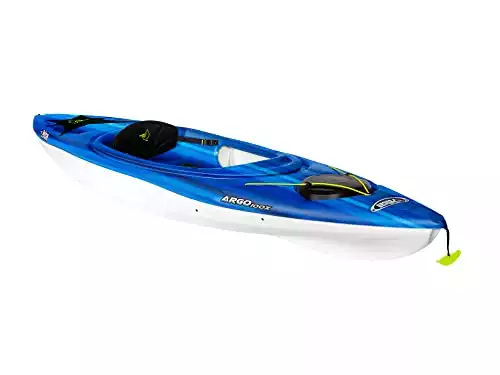 What works for me may not work as well for you but the Pelican Argo 100X is a fantastic kayak that should serve you really well. All these features make it ideal for novice and seasoned kayakers alike.