The Point 65 Mercury GTX Kayak (by Point 65N) is a modular kayak that has dominated the paddle-sphere space. The transitional touring kayak breaks apart into three manageable pieces that make it easy to transport and store.
This yet again proves that Point 65N modular kayaks are the best on the market. Its high level of performance and stability makes Point 65 Mercury GTX Kayak the perfect exploration companion that you can also take home in the trunk of your car.
The Point 65 Mercury GTX Kayak offers a convenience that cannot be overemphasized. When taken apart, each of its sections can be carried to the water's edge for easy assembling, which opens up the possibility of kayaking for people who would not ordinarily be able to handle a heavy kayak.
This Point 65N kayak is a classic that soars above the rest. Needless to say, it is every kayaker's dream come true. The Point 65 Mercury GTX Kayak is perfect for use in open waters, rivers, and lakes. To learn more in-depth information, scroll down for our Point 65 Mercury GTX review.
[Note: Check out our arsenal of best kayaks reviews on KK]
Point 65 Mercury GTX Kayak Frame

The Point 65 Mercury GTX has an enviable design and sturdy frame that is made of rotomolded polyethylene. This gives it the durability and edge that it needs in comparison to more fragile kayaks.
Based on its overall appearance, it seems like the manufacturer's put a lot of thought into the overall frame and construction of this modular kayak. The rotomolded polyethylene equally makes the frame strong and impact resistant. Even if it's used on a consistent basis, its outer frame will ensure that it does not succumb to any wear and tear.
Features of the Point 65 Mercury GTX
When it comes to features, the Point 65 Mercury GTX Kayak will surprise you in incredible ways. In addition to its high performance, the kayak also has a large cockpit that will accommodate all types of paddlers. As previously noted, the kayak breaks apart into three manageable parts, each weighing slightly more than 24 pounds.
This allows for the movement of one section at a time. The Mercury GTX boasts of a top-snap technology that enables it to be put together in only a matter of minutes. This is certainly a huge advantage over traditional kayaks that usually take half an hour or more to assemble.
When it comes apart, the 39" nose section fits into the cockpit, making for easy stowage. Its additional midpiece transforms the 65N Mercury solo into a tandem kayak. The combination of different parts gives you the end result that you need, from solo to tandem to triple. The Point 65 Mercury GTX Kayak eliminates any need to purchase two kayaks.
Never before has a kayak been so brilliantly designed!

The ideal length of 17' 10" (bow 42", front cockpit 64", stem 62", rear cockpit 62") makes it possible for the kayak to hold a weight capacity of 530 pounds. In regards to the seating comfort, the Point 65N Mercury Tandem is fully equipped with comfortable AIR seats. It has a pneumatically adjustable backrest that will give the paddler extreme comfort. In case you want to change positions during your exploration, you can do this with the adjustable seats!
The seats of the Point 65 Mercury GTX are also perfect for longer paddling hours. They also come with seat covers that are made of highly durable and comfortable honey-comb patterned material. This is also combined with a mesh hike fabric that allows for the right amount of ventilation. The fabric of the Point 65 Mercury GTX Kayak is also laminated with molded over EVA foam. They go hand in hand with the padded foot braces that equally offer the right leg support and allows for a comfortable paddling position.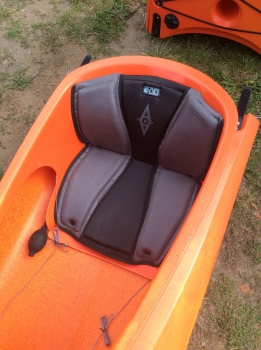 All great kayakers know that the true test of a kayak lies in its cockpit. Fortunately, the Point 65 Mercury GTX Tandem Kayak does not disappoint. With a large and comfortably padded cockpit, the kayak allows for the easy entry and exit of any paddler. In addition to this is an efficient keel rudder system that allows for dropping of the rudder with easy maneuverability. This is not common on many kayaks. The system also has a brilliant direction and control capability, ensuring that you are well guided no matter where you paddle to!
The Point 65 Mercury GTX Kayak's hull speed matches that of comparable light touring kayaks. This ensures that the Point 65 Mercury GTX Tandem does not slouch in rough waters. The edge turn feels sporty and responsive, making the kayak one of a kind. The combination of strength and impact resistance makes it possible for the kayak to easily integrate with its features. Because of its features, the Point 65N Mercury Tandem offers a kayaking experience that other similar kayaks cannot match.
But How Does the Point 65 Mercury GTX Kayak Fare When It Comes To Storage?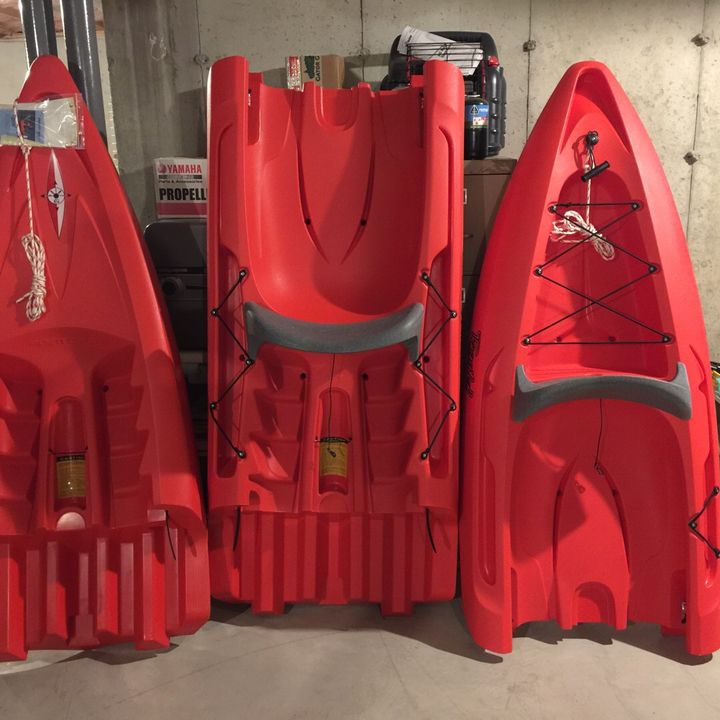 The Point 65 Mercury GTX tandem modular kayak has a large aft oval and a round forward hatch that gives it the ultimate storage compartment. You do not have to worry about how you will get your equipment and important gear from one point to another because the kayak guarantees you will have sufficient storage space.
Now, the compartments of the Point 65 Mercury GTX Kayak are watertight, fore and aft. If you wish to take the kayak out onto the water for a day or two, the sufficient storage space will ensure that there are no limitations as to what you may carry.
Pros
Safe, stable, well-padded seat for ultimate comfort
AIR seats with pneumatically adjustable backrests for a better ride
Easy to transport, but also easy to assemble and take apart
Snap-tap technology that allows the kayak to go from solo to tandem just by adding an extra midsection
The Point 65 Mercury GTX Kayak is easy to handle in and out of the water
Extra-large cockpit area for easy maneuverability
Great tracking and performance
Cons
When out of the water, it's clear that there is a 1" gap between the parts. However, this is not visible when the kayak is in water and does not affect its overall functioning
Some of the Point 65 Mercury GTX Kayak's parts seem fragile and easily breakable when mishandled. Worry not! Better replacement parts can always be gotten for any faulty or broken parts.
Point 65 Mercury GTX Review Summary
The higher-end construction and capability of the Point 65N Mercury GTX Tandem makes it easy to split into manageable sections and reassemble in seconds. Whether you want to try out the solo or tandem version is entirely up to you.
Equipped with the best variety of features, the Point 65 Mercury GTX Kayak sits at the top of the charts with the best modular kayaks. It is by far the fastest option for those who want the ease of a well-constructed boat and the storage parts of a portable kayak.
In this Point 65 Mercury GTX review, If you're thinking about purchasing a kayak that delivers on all fronts and lasts a long time (plus can be easily stored!), the Point 65 Mercury GTX is a great option! If you're looking for a cheaper option, then the Sun Dolphin Bali should suffice.