With the right equipment, such as the Old Town Predator PDL, kayaking becomes the most thrilling fun activity in the world of water sports. Designed with perfectly engineered ergonomics and aesthetics, this kayak is the ultimate choice for anyone seeking the best experience when traversing waterways. The Old Town Predator PDL kayak is specifically designed to cater to the needs of avid sportsmen, and with this comes durability, strength and optimal stability.
The Old Town Predator PDL Kayak's features ensure that you will never be disappointed when kayaking, water rafting, fishing or taking part in other related water sports. As a matter of fact, its ability to seamlessly traverse both calm and choppy waters is incredible, a property that makes it a valuable asset for water sport lovers.
Note: Check out our best kayak reviews right here on KK!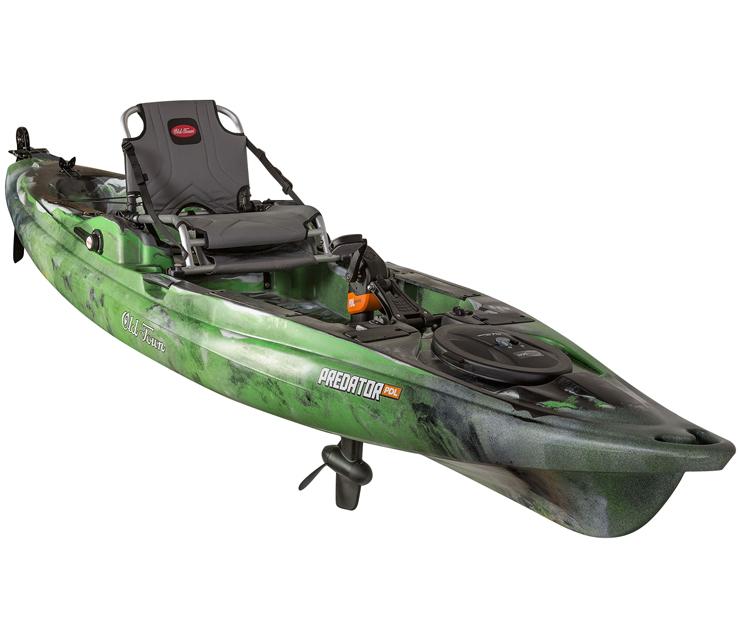 Frame of the Old Town Predator PDL Kayak
The Old Town Predator PDL Kayak is designed by sportsmen for sportsmen, which translates to its tough exterior. Its chassis is composed of LT900 polyethylene for maximum strength, sturdiness and durability. For the sake of maximum stability, this kayak's frame features a Tri-hull design. It also makes use of its slip-resistant exo-ridge deck to ensure perfect traction, thus preventing slippage, as well as better water resistance.

The Predator offers easier customizability as it comes with 6 mounting plates that are removable, thus removing the need to drill through the boat's hull and damaging it.
With these rods, you can easily customize your kayak using fish finders and rod holders, among others, depending on your specific needs. With dimensions of 13 ft x 3 ft x 1.25 ft x 4 ft in length, width, seat height and leg length respectively, the Old Town Predator PDL Kayak offers more than enough space for accommodation of its user, as well as storage of the user's equipment and supplies.
Features of the Old Town Predator PDL Kayak
#1. Forward and Reverse Pedal-Powered
The Predator PDL kayak is equipped with the most advanced features meant to ensure the best kayaking and fishing experience. First, it features the most reliable pedal-powered design for superb hands-free operation. Without having to struggle with paddling, the Old Town Predator PDL kayak gets you to your desired location faster and more safely.
Even better is the fact that its pedal-powered design offers both forward and reverse maneuverability, which ensures ease of control. The Old Town Predator PDL Kayak's pedals are also padded for a better grip and comfort even when the user is barefoot.
[Read about Oru Kayak's latest Kickstarter news!]
#2. Lightweight Design

The Old Town Predator PDL Kayak has a weight of only 117 pounds, which is light enough for easier portability. Its light weight is just a disguise for its great strength, as its frame has a weight capacity of up to 550 pounds. Its angler paddle is also lightweight for easier portability and operation, and it also comes with a carry handle that is really handy during transportation.
#3. 8 Scupper Holes
Safety is a matter of great importance when kayaking. For this reason, the Old Town Predator PDL kayak has 8 scupper holes that drain any water that will enter it. The scupper holes have a one-way valve that only allows water to flow out of the kayak, and never into it. This ensures that you stay dry throughout your kayaking or fishing experience, and that you do not face the risk of capsizing.
On its side, the Old Town Predator PDL Kayak has an especially molded-in transducer scupper hole, which is a perfect fit for deployment of Hummingbird transducers.
#4. Element Angler Seat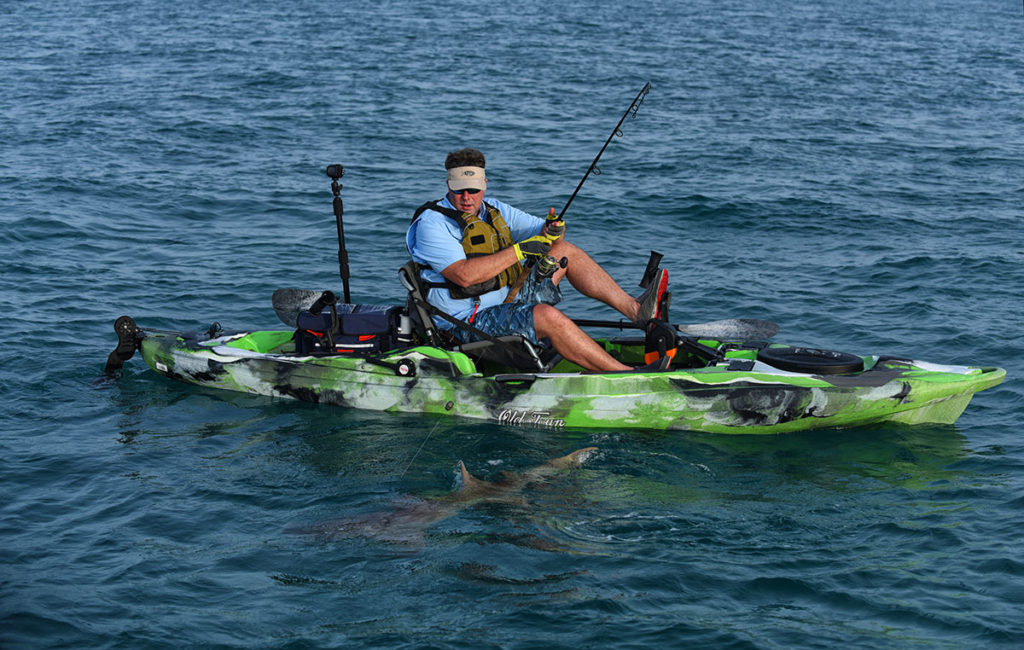 Measuring 21 inches in width and 15 inches in height, this element seat is designed specifically for the angler, as its inclination can be adjusted over a wide range with ease. Given its size, it can accommodate users weighing up to 550 pounds. Old Town Predator PDL Kayak features a side-lock system that easily adjusts the leg length to the most comfortable pedal stroke. This seat is padded for comfort and cushioning, even as you sail through rough waters.
#5. Quick Access Rudder Control Knob
Strategically positioned on its side is this kayak's rudder control knob that allows for easier and faster access. This accounts for the greatly impressive steering control that is achieved by this Predator PDL kayak. When combined with its PDL drive, you can achieve up to 5.5 MPH speeds with the Old Town Predator PDL Kayak.
#6. Predator PDL Kayak Comes With 4 Color Options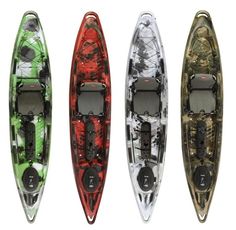 The Old Town PDL Predator kayak offers 4 color options for buyers to choose from. These include the Urban Camo, Black Cherry, Camo and Lime Camo. Not only are these color schemes modern, but they are also attractive to the eye.
Old Town Predator PDL Kayak Storage!!!
The Old Predator pedal kayak offers optimum storage options, with the most secure being its Exo-Ridge tank. This tank well is large enough to securely and safely store your gear and equipment, while offering easier accessibility.
If you are into kayak fishing, then the Old Town Predator PDL Kayak is the perfect place to keep your cooler or storage boxes.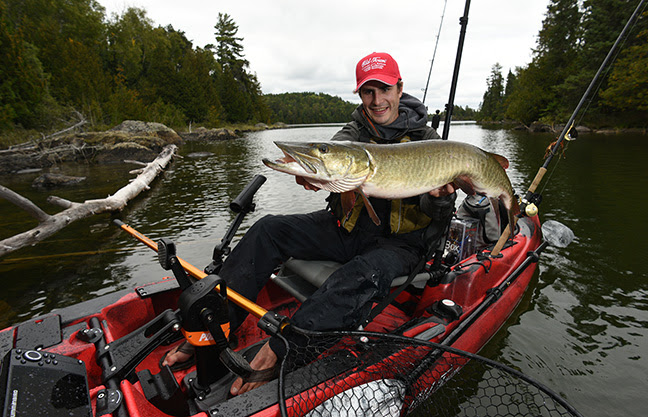 On both of the Old Town Predator PDL Kayak sides, there are holders that offer convenient recessed storage that keeps all your gear dry while keeping them accessible. In addition to these side holders, this PDL kayak's drive console also offers dry storage for your gear.
For quick storage and placement of the paddle, the Old Town Predator PDL Kayak has a molded paddle rest that helps to free up the user's hands, especially if they want to enjoy the pedaling experience.
Pros
Ease of customization without drilling of the hull
Forward and reverse maneuverability, which ensures ease of control
Better and optimal storage options
Old Town Predator PDL Kayak is compact and lightweight design for easier storage and portability
Best hands-free pedaling experience
Easier maneuverability, thanks to its quick access rudder control system
Cons
Old Town Predator PDL Kayak is a bit costly
Doesn't come with a motor, but can be purchased separately
Old Town Predator PDL Review Conclusion
The Old Town Predator PDL Kayak is equipped with each and every essential equipment and technology you need to get to the next level of kayaking or fishing. It has a stand bar designed to offer additional steadiness and support when you get out of the seat. It also features Scotty triggers for optimum stability and buoyancy.
This pedaling Old Town Predator PDL Kayak not only brings the thrill to kayaking and fishing, but also gives users a personal connection to nature. Reliability, convenience, safety and durability are just a few of the benefits you will enjoy from investing in the Old Town Predator PDL kayak.