As almost everyone knows, some kayaks come with paddles and some do not, so you have to purchase them separately. That's when you have to do your research into a paddle that will be suitable for the type of kayaking you will be doing.
There are many paddles to look at, with different price variations, depending on ease of use, material, weight, and more, but which one is the best kayak paddle? We will keep expanding on this guide, but for now, take a look at these best kayak paddle options to see if they would be a nice fit for your particular activity.
Best Kayak Paddles On The Market:
1. Carlisle Magic Plus – Polypro Blades/Fiberglass Shaft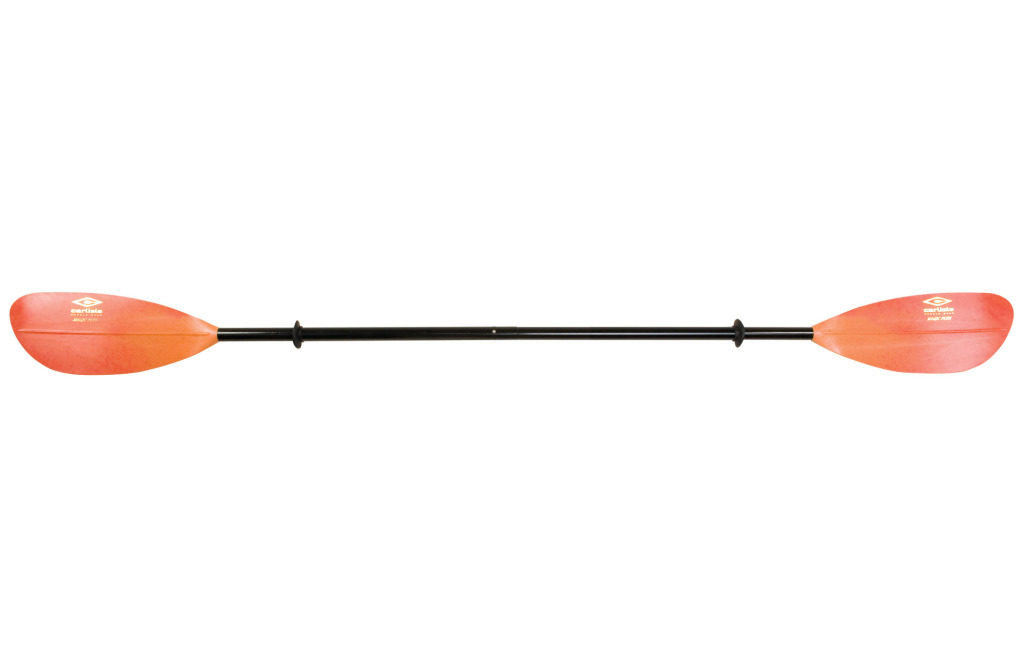 If you are looking for a paddle that is light and durable at the same time, you cannot go wrong here. Made from glass-filled polypropylene, you can expect a high impact paddle that will have an impressively long lifespan. The Carlisle Magic Plus has a weight of 35.6 oz, is 220 centimeters (a little more than 7 feet) long, and comes in 3 colors, Cloud, Sunrise, and Dark Cherry.
It is also available in lengths of 230 centimeters and 240 centimeters. The paddle is designed to perform powerful and smooth strokes, all thanks to its symmetrical shape and the slightly spooned shape of its blade.
The shaft is made from flexible fiberglass, which provides the holder with a sturdy paddle stroke, along with a slight flex that is necessary to significantly reduce stress along the joints. The blades are filled with fiberglass too, which means that it is not only durable, but it is significantly lightweight too. If you are looking for a paddle that is designed to take a beating, this one certainly takes the cake.
Some people might find it a little bit of an inconvenience that there are only very small movements that are allowed between the two pieces, due to its stiffness. However, adjusting the configurations of the paddle is quite easy to do. It is convenient that it can be broken down during transport too.
At the price that it is offered, it is certainly one reliable paddle. No wonder this one made it as our #1 best kayak paddle selection.
Check out the Carlisle Magic Plus on Amazon!
2. SeaSense X-1 Kayak Paddle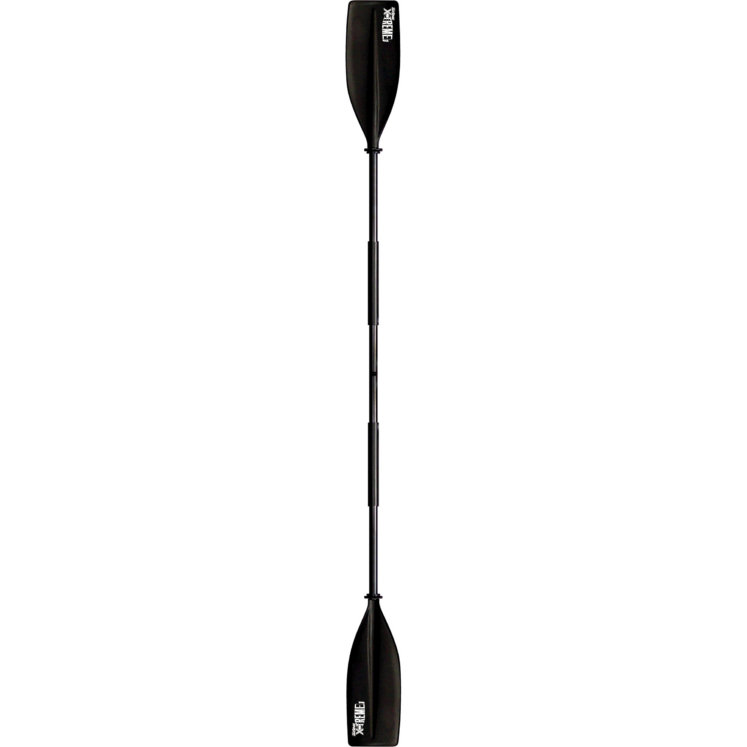 Probably one of the best-priced paddles on the market today, the SeaSense X-1's lightweight blades will be a huge plus for users that don't want to end up straining their arms too much when using this paddle. The paddle is made up of two pieces of blades that are made from black molded plastics. The shaft is a two-piece construction fashioned from aluminum.
For buyers that are looking for both comfort and value, this is one good purchase that will certainly deliver. While there are users that may find the overall length of the paddle, at 84 inches, to be a tad bit short, this makes for a really excellent spare.
The SeaSense X-1 is designed to float in the water, and it is equipped with paddles that have adaptable angles. The blades can be turned to three different positions, depending on your preference. While the paddle does feel lightweight, it does not feel flimsy at all, which ensures that it can carry out some really vigorous strokes when in use. The cushioned grips attached on the shaft makes for some comfortable paddling.
Check out the SeaSense X-1 kayak paddle on Amazon!
3. Aqua-Bound Sting Ray Posi-Lok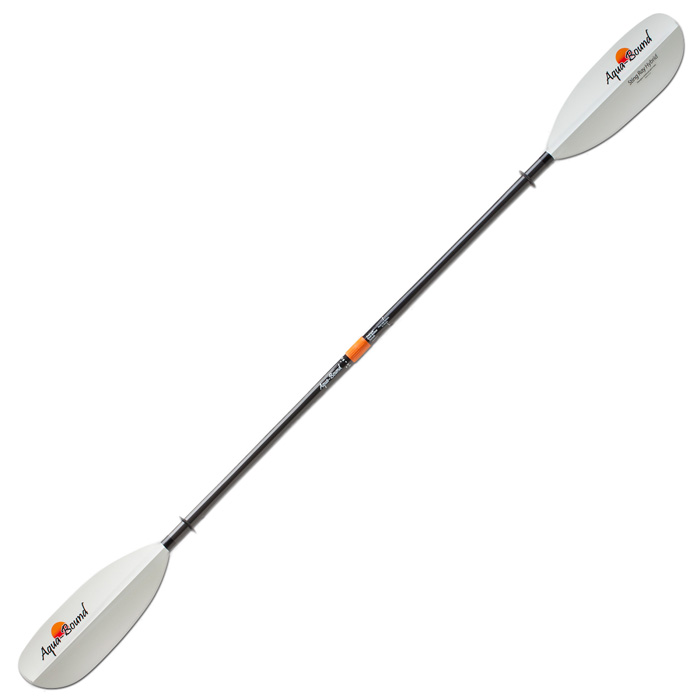 For people who are looking for a well-constructed paddle that is lightweight and sturdy, this is one excellent buy. Considering the price, the high standards in which this product is created is certainly notable. The light weight of the blade means that it is able to easily slice through the water in a smooth fashion.
The strong build of this Aqua-Bound paddle allows it to be used to improve one's overall performance. The quality carbon used to construct the shaft lends a larger circumference to the handle, but it is also responsible for giving it a sturdier feel. The paddle is designed to be detached and adjusted, and there is a two-button release on the shaft to perform this feature.
The excellent material with which the product is made ensures that it is able to resist corrosion. There is a slight flex on the shaft, along with a low weight on the swing, as a result of the carbon construction of the shaft. The strength and stiffness of this best kayak paddle option are further enhanced by its carbon fiber blades. Overall, this is one sturdy paddle.
Check out the Aqua Bound Stingray Kayak Paddles on Amazon!
4. Werner Camano 2 Pc Straight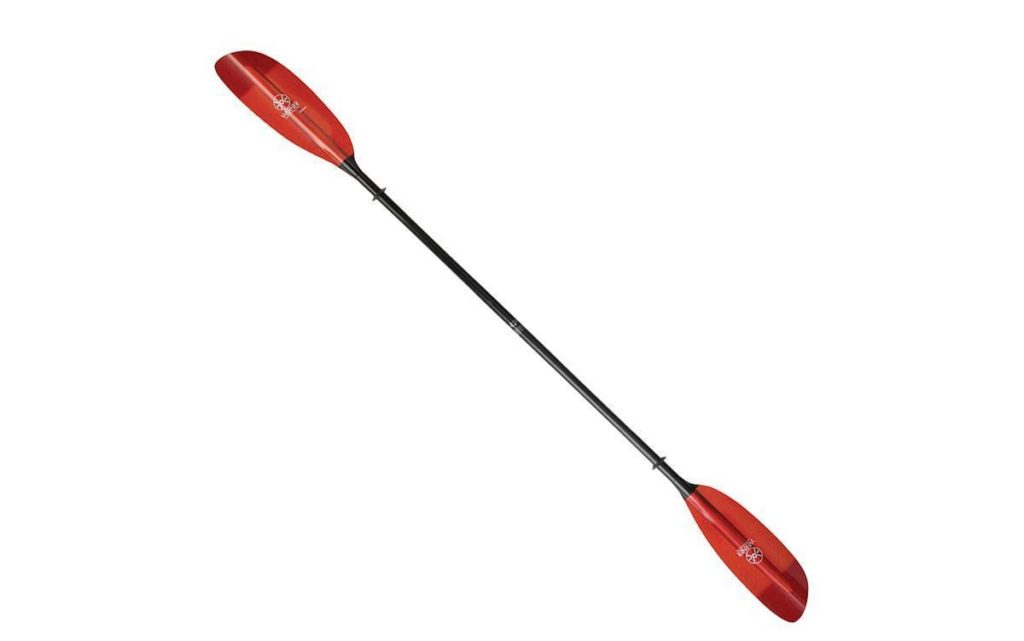 This Werner Camano paddle boasts of the ideal balance between durability and weight, thanks to its careful handcrafting using pressure molding. It is sturdy and lightweight, thanks to its carbon and top-quality fiberglass blend design. For the kayak users that really value a well-balanced paddle, this one will certainly live up to expectations.
The paddle's 2-piece design means that it can easily be broken down. This ensures easier transport, as well as storage when not in use. The paddle also features an adjustable Ferrule System, which ensures that the feather can be easily adjusted to different angles.
When on the water, it can be noticed how the kayak paddle creates minimal flutter, which makes it possible to create forward strokes that are exceptionally flawless and smooth. Drag is also reduced thanks to the asymmetrical shape of the blades. This selection for our best kayak paddle list is able to easily and smoothly pull through the water. It does not require a tight grip, so it greatly reduces stress on the wrist and arms.
These blades are beautifully crafted. Since they are designed to glow while in the water, it helps lend more visibility as you paddle. These mid-sized blades are also designed to keep the user's lap dry, thanks to its drip rings. It's meant to be used with a touring kayak.
Check out the Werner Camano 2 on Amazon!
5. Bending Branches Angler Classic Kayak Paddle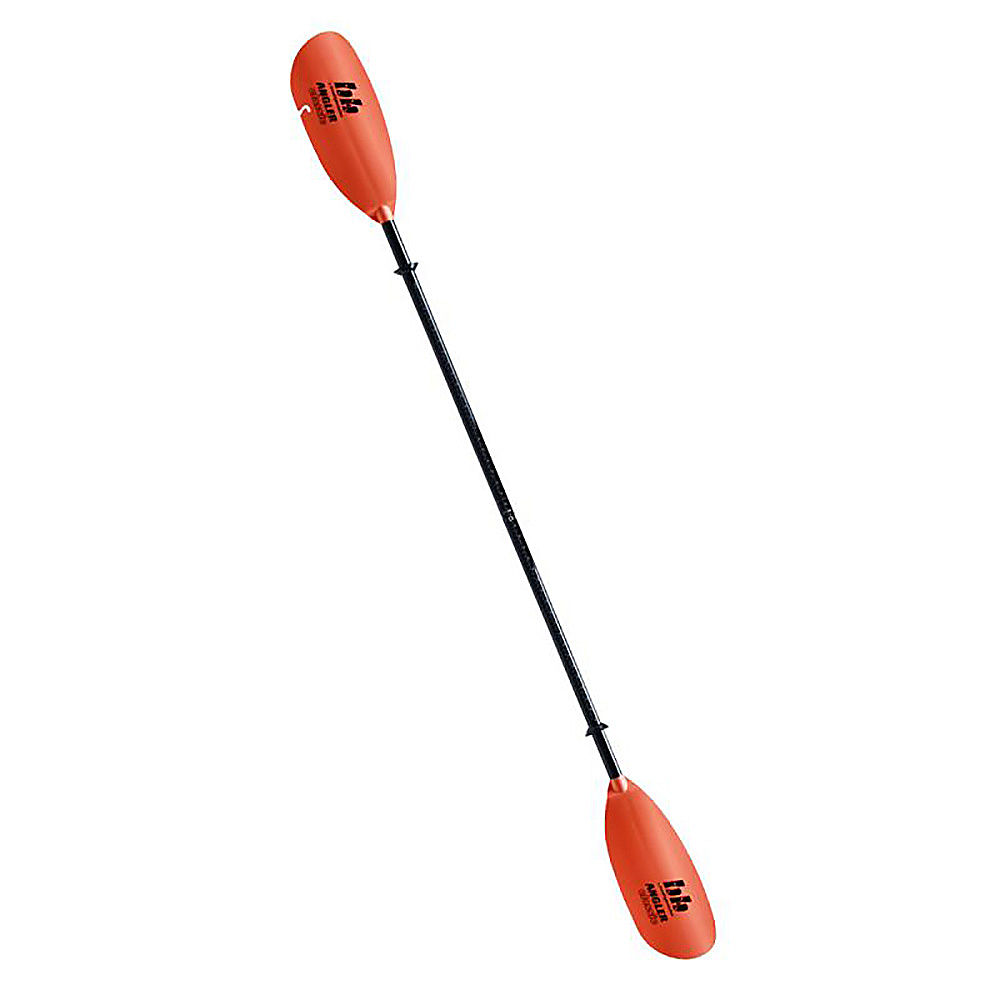 If you are looking for a kayak paddle with features that are angler-friendly, then this classic offering from Bending Branches would be ideal for you. This is certainly the paddle of choice for those that love fishing excursions. It is designed with a built-in retriever for hooks, which is quite useful if you need to rescue lures, free snags on the lines, as well as on those occasions where you need to land a rather massive fish.
Its Angler Classic's fiberglass shaft lends a lot to its overall durability. It is also fashioned with a measurement system, which makes it easier for the avid fishing enthusiast to get a good recording of the measurements of his catch, both in centimeters and inches.
The length of the paddle allows the user to have it raised high up in the air, which lends to a more minimized splashing the moment that it touches back down in the water. This helps if you are using it to fish, so as not to scare a potential catch away. It is designed to have a lower angle for paddling, which results in less water that drips toward the boat.
The paddle is impressively sturdy, and for people that are looking for quality at a good price, this one is a clear winner. The fact that it offers some really interesting features, on top of being your usual kayak paddle, makes this a really fun piece to have around.
Check out the Bending Branches kayak paddles on Amazon!
This best kayak paddle option also comes with a snap button ferrule, which ensures easier storage and transport. If you love some extra features on your paddle, this would be quite an interesting purchase.