More often than not, you can tell a lot about a product by looking at its name alone. While this may not always be the case for some of the kayaks out there, you will find that the Dagger Katana 9.7 kayak is one craft that truly lives up to its name. That's because it is quick and sleek, slicing through the water like a hot knife slices through butter. It's quite an impressive watercraft.
As a crossover boat, the Dagger Katana 9.7 can be used in numerous water conditions. Stable and sturdy, it is a choice that many beginners and intermediate paddlers would actually appreciate. Providing a smooth and balanced gait when on the water, it is easy to see how its design and build truly excels.
Many paddlers have noted that it easily inspires confidence, even for those that may not have a well of paddling experience under their belts. This Dagger Katana 9.7 review will reveal these attributes and more below.
Check out the Dagger Katana 9.7 Kayak on Amazon!
Dagger Katana 9.7 Frame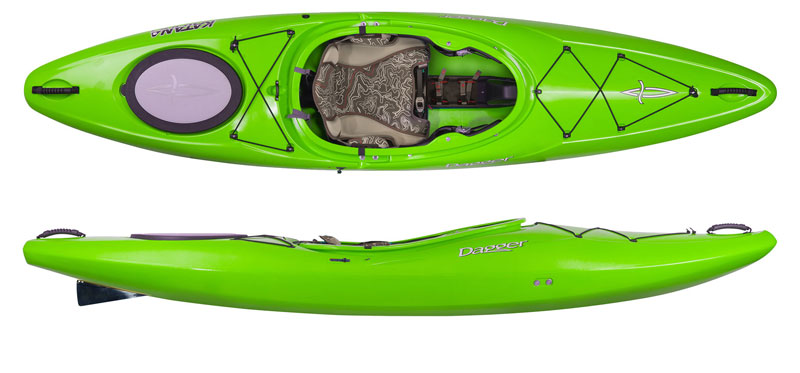 One of the very first things about the Dagger Katana 9.7 kayak to take note of is the fact that it is quite ergonomic in build and style. It is designed to showcase a balanced profile, which ensures that the craft keeps its speed when used on flat water. This also allows it to successfully retain its maneuverability when used on rapids.
Check out our Dagger Axis 12 review and our Dagger Mamba Creeker review!
Primary stability for the Dagger Katana 9.7 is reinforced by its precise hull design. It is constructed with flared and beveled sidewalls, all of which are aimed toward providing it with some necessary secondary stability. Paddlers will also appreciate the rounded shape of the stern deck. This allows for easy water shedding.
This is indeed one very forgiving craft when used in moving water. Precision is very evident in how the whole craft is designed. The makers have clearly envisioned the Dagger Katana 9.7 kayak as one that will do excellent in flat-water, but will also live up to the more challenging rides in rapids.
Nimble, light and stable, paddlers will love how the Katana offers a good amount of space for movement in the cockpit. While it looks a little small and short at first glance, it is quite surprising to find that it has a considerable amount of legroom inside.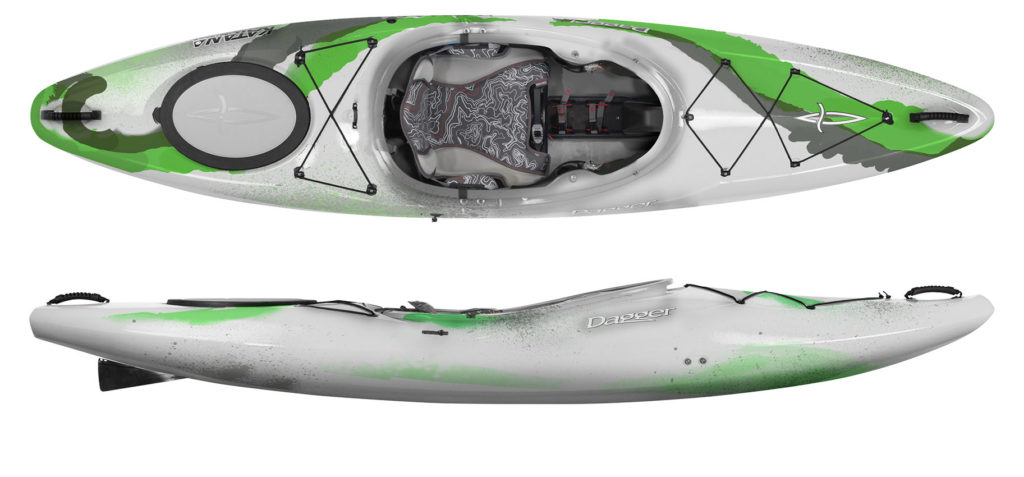 Paddlers will also appreciate the ergo seating system implemented in the cockpit area. This is equipped with a leg lifter, padding on the seats and back, as well as pads for the hips.
If there was anything that the makers of the Dagger Katana 9.7 may have had in mind when they were drafting out its design, it was probably comfort. This is certainly not what many kayaks out there can say for themselves, as there are many brands that are way too focused on style instead of comfort.
The craft's frame is made from polyethylene, lending considerable sturdiness and overall strength to the kayak. The material does not require constant care and maintenance, which further reinforces the idea that this would be the go-to craft for busy paddlers who may not always have time to spare.
Features of the Dagger Katana 9.7
The cross-over boat design allows paddlers who want to experience both flat water and whitewater to have a reliable craft they can use. The Dagger Katana 9.7 is the perfect match for adventurers who want to enjoy water trips that are multi-expedition in nature. Paddlers that don't want to have to limit their paddling adventures to just whitewater alone will really love the hybrid nature of this kayak.
Check out the Dagger Katana 9.7 Kayak on Amazon!
The ConTour Ergo seats are also worth noting. With paddlers who love longer and multiple trips, the manufacturers have made it a point to implement a seat system that is appropriate for longer trips. The seats are also outfitted with thigh and knee pads to ensure optimum comfort, as well as safety, when sitting in the cockpit for an extended length of time.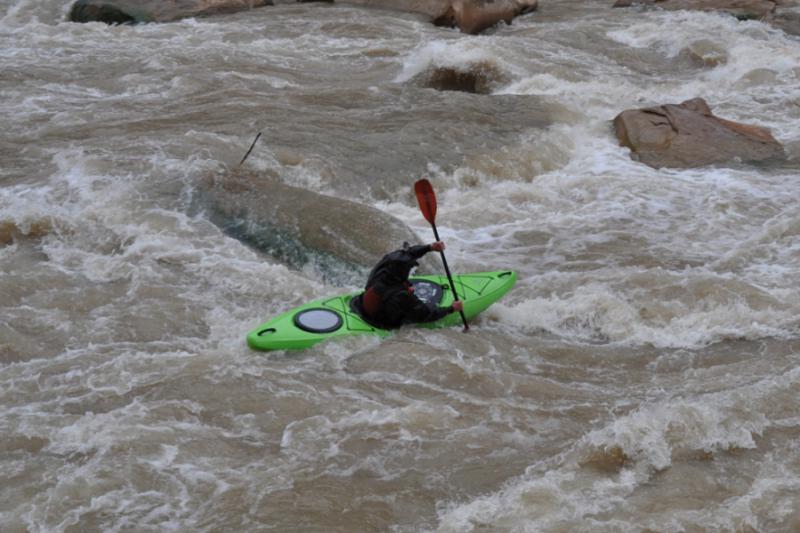 The Dagger Katana 9.7's balanced rocker profile provides great stability, which is really huge when it comes to the design of this craft. It ensures that this is one kayak that will stay steady in most conditions when on the water.
For the inexperienced paddler, this is a huge plus, as this ensures that they will not have a hard time keeping their balance while trying to learn the basics of maneuvering the craft. There is also the TruTrak skeg system, which can be adjusted to keep you in line during windy weather or rough water conditions.
Check out the Dagger Katana 9.7 Kayak on Amazon!
The Dagger Katana 9.7 is also fitted with carrying handles, which are located along the stern and the bow. Comfortable and easy to hold, this ensures that it will be easy enough to transport the craft and carry it around.
The spacious cockpit is great for people who prefer a lot of legroom. Some paddlers have had the misfortune of getting stuck in rather narrow and cramped cockpits, which is obviously very uncomfortable. This cockpit has a 20 inch width and is 35.5 inches long, which is pretty roomy.
Storage
The Dagger Katana 9.7 is designed to offer considerable storage for the paddler. It is equipped with reinforced hatches, along with removable bulkheads. As a result, what the paddler gets is not just excellent legroom in the cockpit, but some spacious storage areas for gear and other items that might be needed for extended trips. There is also bungee cords on the deck for additional storage.
Pros
Versatile hybrid craft for flat water and whitewater use
ConTour Ergo seats are perfect for extended trips
Spacious cockpit for ease of movement while paddling
Balanced profile ensures maneuverability and speed, regardless of water conditions
Plenty of storage space for gear and other supplies
TruTrak adjustable skeg for additional control in extreme conditions
Cons
The Dagger Katana 9.7's cockpit may be too small for those with longer legs
Entire length may be too short for those who need more storage and room
Only has a 210 pound weight capacity, not yet mentioned in this Dagger Katana 9.7 review
Dagger Katana 9.7 Review Conclusion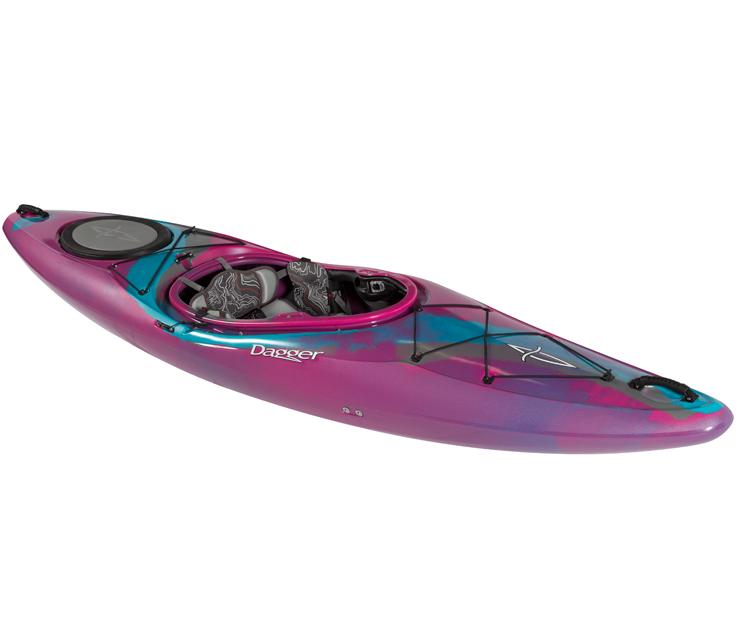 Overall, buyers will find that the Dagger Katana 9.7 kayak is a very good choice for a hybrid kayak. For those of you who want to have a craft that you can use for both flat and white waters, this is definitely the kayak for you.
Check out the Dagger Katana 9.7 Kayak on Amazon!
While there are many instances of products ending up being less impressive than their monikers that inspired them, the Dagger Katana 9.7 does not. If anything, it is one kayak that truly lives up to the reputation of the sword that it is named after.
Versatile, balanced, fast, maneuverable, and definitely comfortable, it is not a surprise how there are so many paddlers out there that have opted for the Dagger Katana 9.7 as their kayak of choice.