Florida is a kayaker's paradise, with a diverse ecosystem and crystal clear waters. Every nature lover can appreciate the abundance of wildlife and breathtaking landscape, as they flow through river trails and the open ocean. Before we get started, we love to give our reads some reviews to read just in case they are researching any SUPs, kayaks, or canoes: check out the Hula 11 and our Oru kayak review here.
Moving on…
If you are a kayaking enthusiast, and planning on visiting the sunshine state, we have great news for you. We are about to highlight the best places to go kayaking in Florida.
#1. Rainbow River
This is Florida's fourth largest spring, and kayak lovers are excited about the adventurous surroundings that this diverse ecosystem contains.
You will flow through cypress trees, and embrace the view of the luxurious aquatic vegetation. Plus, there are kayak rentals that are available at the park, as well as restrooms, hiking trails, picnic areas, and a place to stretch your legs.
#2. Weeki Wachee Springs
Weeki Wachee State Park has crystal clear water, and is a wonderful place to explore and kayak. The most exciting part about the river in the park is that you might see manatees or otters.
#3. Juniper Run, Oscala National Forest
This is an excellent place to explore a diverse wildlife, with luscious landscapes and clear water. It's 7 miles long, and the difficulty is moderate to difficult, because of the maneuvering you may have to do with tree that are in the way.
#4. Wekiwa Springs
Wekiwa Springs State Park is 20 minutes north of Orlando, and has a laid-back vibe with stunning, century-old trees in a field of lillypads, which will give you the feeling that you are in a Monet painting.
#5. Santa Fe River
This is an amazing chance to witness a diverse and abundant wildlife. Plus, you might get to join the once-a-month full moon paddle at night, to witness the beautiful starlights.
#6. Silver Springs State Park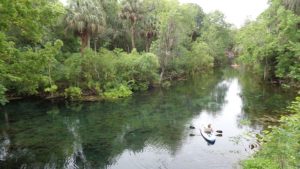 In this central Florida destination, you could see a variety of alligators, turtles, tropical birds, dear, otter, and monkeys. It is an artesian spring, one of the largest ones ever discovered.
The park rents kayaks (and even clear bottom kayaks!), tandem kayaks, paddle boards, and there is a small fee to launch your own boat.
#7. Cedar Key
This is a top-notch secluded place to go paddling and kayaking. The stunning landscape and wildlife experience will definitely take your breath away.
You can paddle your way through the historic trail to get to an ancient island called Atsena Otie Key, which is a great place to find Native American artifacts, such as pottery and arrowheads.
#8. John Pennekamp Coral Reef State Park
As you paddle through this stunning area, you will be able to see colorful fish and turtles, and embrace the surroundings of mother nature. There are kayaks, paddle boards, and canoes to rent here.
#9. Ischetucknee Springs State Park
This is a wonderful place to kayak and paddle. Through the river trails, you can explore wetland plants, a cypress forest, and rock formations.
During the off-season, you can see river otters, blue herons, and turtles playing around the river. In 1972, this place was designated as the clearest water in the world.
#10. Manatee River
This wonderful place is located in west central Florida, with a landscape that is covered with moss, pine, and shrub. The upper river paddling trail is approximately 9 miles long, and is perfect for beginners.
On weekdays, the river is usually empty. This is a great opportunity to bird watch and find alligators, manatees, and other wildlife relaxing near the river.
Conclusion
Florida contains a variety of wildlife and rivers for kayak enthusiasts to enjoy. The awesome part is that there are rentals, rest stops, restrooms, camping areas, and picnic areas for people to enjoy.
The diverse wildlife ecosystem, combined with clear waters and old cypress trees, makes Florida a great place to explore and appreciate mother nature.