The Hula 11 Inflatable SUP is a stand up paddle board made by Advanced Elements that lets you enjoy paddling after a quick set up. It's so light, you can carry it anywhere in a duffel bag. You won't find it a hassle anymore to store those large boards because you can now easily inflate it and stow it away just as easily.
This is perfect for those who want to choose between paddleboarding or kayaking during the spring or summer. If you're going for a more serene experience, take the Hula 11 Inflatable SUP to a river and do some quiet cruising.
The Hula 11 SUP is convenient and easy to use. You're also assured of a durable and stable board, even if it's just an inflatable. People think inflatables are not sturdy enough, but after purchasing one, you might change your mind. Not only are they strong enough, they are also extremely portable since they can be deflated.
If you want to know more about this product, read this Hula 11 SUP review for a more comprehensive breakdown of what this product is about, as well as its pros and cons.
Check out our best kayaks list by clicking here!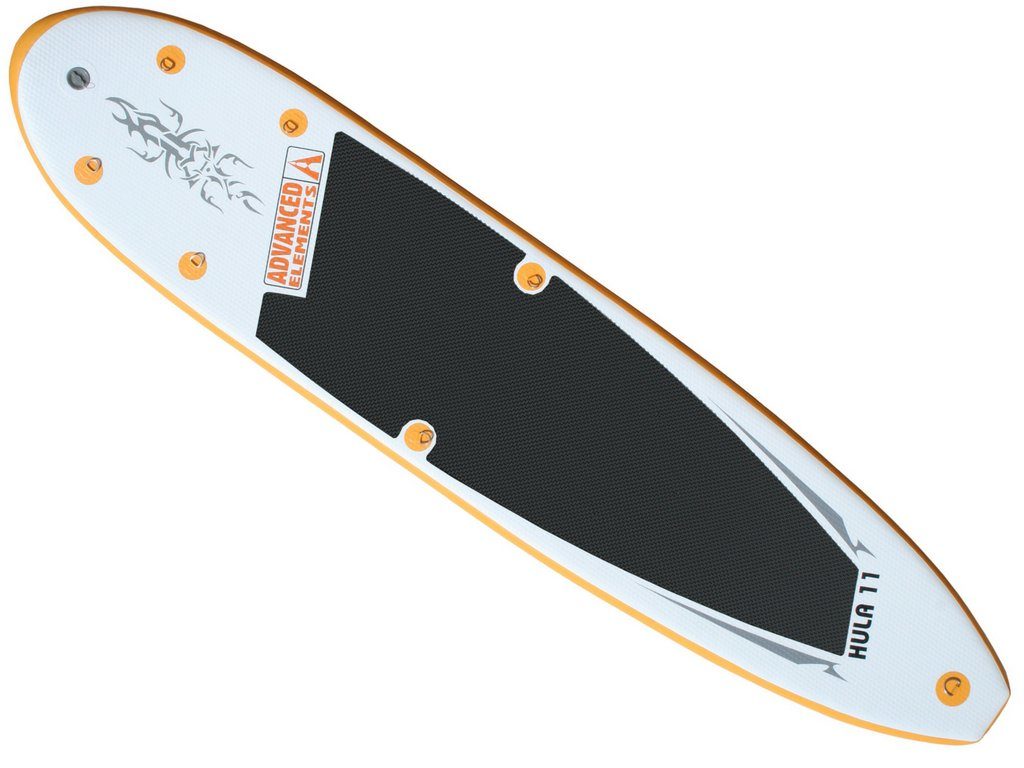 Construction of the Hula 11 Inflatable SUP
The frame of a kayak and paddle/surfing board needs to be sturdy enough to be worth the money you pay for it. The Hula 11 Inflatable SUP is made of a high-pressure drop-stitch material. It's also made with a two layers of heavy duty PVC tarpaulin that makes sure its surface stays slick but durable. The board is cushioned with foam to maintain comfort, and there are 7 stainless steel d-rings to tie down any gear you might want to take along.
For an inflatable, it's surprising that the Hula 11 SUP still stays true to its form. It maintains its shape even if you have repeatedly inflated it many times already. Paddleboards need to retain their shape because you're going to be standing and balancing yourself on the water.
Thankfully, the Hula 11 Inflatable SUP has a durable and sturdy frame to stand the test of time. It can handle beginner and expert paddlers pretty well, and you can be assured that it doesn't go soft or deflate once it's on the water.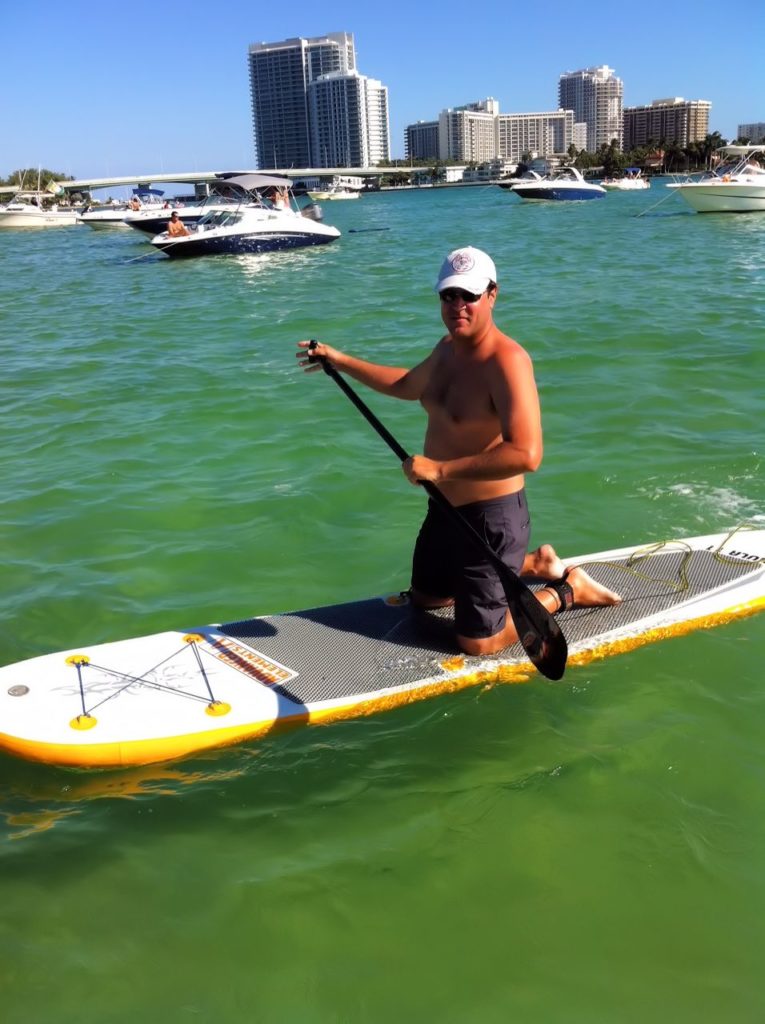 There are times when instability issues can be experienced with the Hula 11 Inflatable SUP, like with swiftly moving rivers, for example. Choppy waters might cause the board to bend a bit in the middle. While this should not unseat you from the board, it can cause a little concern while using it. It's most likely to perform better on calmer waters and seas. It is not recommended to use the Hula 11 Inflatable SUP in extreme conditions.
Some may experience difficulty in handling the board when they pull it out to the water. If you have a smaller frame, it may be difficult to pull the Hula 11 Inflatable SUP out, since it does not come with handles that you can hold.
Check out the Hula 11 SUP on Amazon!
Also, some paddlers might have a problem with the board bending a little if they are heavier, while standing on it. When used as a kayak, it might be a much better option. Despite this potential problem, the Hula 11 Inflatable SUP is still pretty strong for most people.
Hula 11 SUP Features!
The Hula 11 Inflatable SUP can handle weight extremely well. Its drop-stitch construction is made to endure up to 230 pounds. It also has a raised tip, which factors in its aerodynamic feature to increase its performance. The large traction form area also makes sure that you can grip your board comfortably when going out into the sea.
The pump that comes along with the Hula 11 Inflatable SUP makes it easy to inflate. It has a pressure gauge that you can check if you have the correct PSI reading for your board. This at least makes sure that you've got the correct stiffness for your board when you bring it out into the water.
The outer skin of the Hula 11 Inflatable SUP is made of PVC tarpaulin, making the board durable, especially with repeated inflations. It can easily be stored and ported with the duffel bag that is packaged along with it. With a weight of 23 pounds, it's pretty lightweight for an inflatable vessel.
Just inflate, float somewhere nice, deflate and return to the bag. The board can also be used in saltwater or freshwater, so whether you're going to use this on the open ocean or on a calm lake, you're good to go.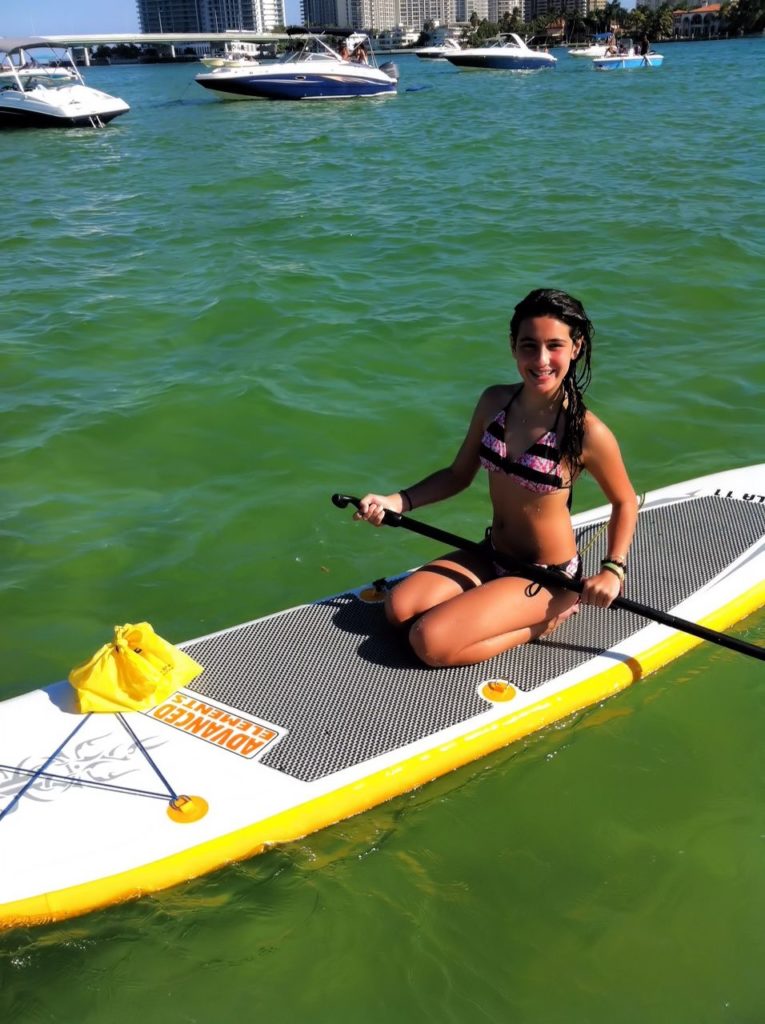 Installing the Hula 11 Inflatable SUP fins are pretty easy, which seems better than the other competitor products out on the market. The tie-down rings are also really helpful for those who want to carry their gear for a day trip. If you take off from the shore, you can take all of your belongings with you instead of leaving them on the beach. You can purchase a seat for the Hula 11 Inflatable SUP, which installs easily to start kayaking instead of standing.
How to Store Away the Hula 11 Inflatable SUP
The Hula 11 Inflatable SUP can easily be stored and carried in the duffel bag that comes with it. You can carry the board and its pump wherever you want to try some boarding or kayaking.
Putting it back into the bag is easy also, and it stores flat so it's not at all bulky when you carry it around. Be careful of other materials that may stick to the board after deflating it, as they may damage the board once it's placed inside the bag.
Pros
The Hula 11 Inflatable SUP is extremely portable, with a very light carry load
Stable, made of high quality materials
Easy to inflate with included pump
7 stainless steel d-rings to keep gear tied down
A seat can be installed to turn the board into a flat kayak
Cons
Inconsistent stability, especially extreme whitewater conditions
No handles to lift the board out of the water or carry it around easily while inflated
The Hula 11 Inflatable SUP may pose a problem as a paddleboard, for those who are heavier
Hula 11 SUP review Conclusion
Overall, the Hula 11 Inflatable SUP is one of the best inflatable boards on the market today. Its portability and durability trumps others in its category because you have a board that doesn't get scratched easily. As you've also read in this Hula 11 SUP review, it's easy to carry wherever you go, or you can keep it in your car.
You can go for a hike and then inflate your Hula for a relaxing break on the water. This is good for those who just want to go out on the sea and catch a tan, or maybe do some river cruising to relax on a sunny afternoon. Or you can attach a seat and ride some waves for even more fun!