The Necky Chatham 18 Kayak is one of the most recommended kayaks on the market today, impressively able to navigate almost any body of water. Being one of the newer models, this kayak has been positively embraced by skilled and experienced kayakers. It is well constructed with an attractive finish, and is less expensive and lighter when compared to other versions of the kayak:
The Necky 18 Chatham much more slender, but is coupled with amazing stability.  Please read this Necky 18 Chatham review as we will be discussing its frame, build, & much more.
The cockpit is adjustable, making it very comfortable and providing easier paddling through most bodies of water. Its tracking is a little stiff due to its length, but is nevertheless one of the most sought after kayaks. The Necky Chatham 18 is recommended for beginner and intermediate kayakers. You can use it to gain skills and experience, and at the same time ensure that you don't endanger your life.

The Chatham 18 is one of the few touring kayaks that offers the luxury of speed and stability. It is also known for its special design that eliminates the occurrence of back and leg pain. This means that this kayak can be used to paddle a longer distance for more hours.
Build & Frame of the Necky Chatham 18 Kayak
The Necky Chatham 18 comes in two options: the fiberglass model and the carbon model. A fiberglass model weighs about 53 pounds, while the carbon model weighs around 48 pounds. The Chatham 18 has a slender frame with a width of 20 inches, enabling you to navigate the waters at higher speeds. It is also longer, with a length of 18 inches, which sometimes affects its navigation but also provides more space for storage. Its cockpit is adjustable, providing a great relationship between the paddler and kayak.
The Necky comes in a variety of color combinations such as the red and black, red and white, and yellow and white.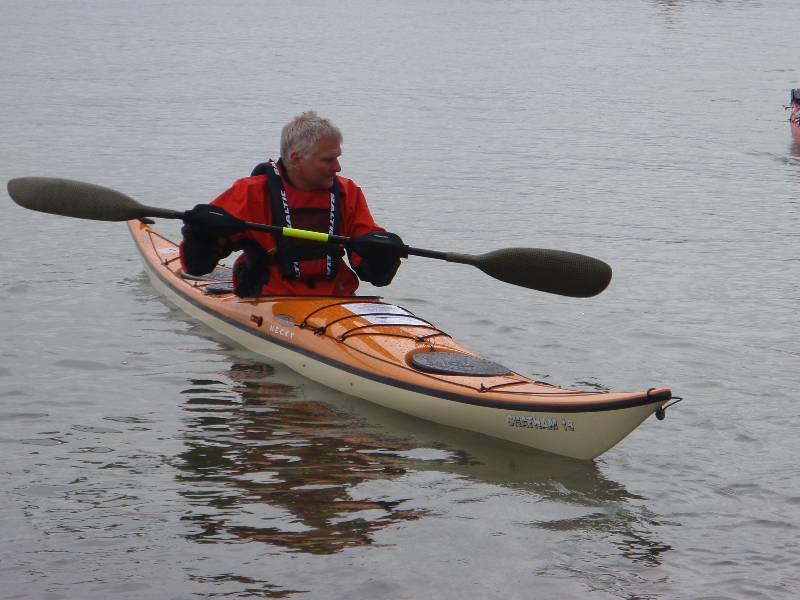 Features of the Necky Chatham 18
The Necky Chatham 18 has a specially designed touring seat from Necky, already equipped with a back band. It's designed to ensure comfort by making sure it does not retain water and keeps pressure off of your sciatic nerve. This ensures that your legs won't fall asleep during long distance paddling.
A supportive back band is also put in place to ensure proper arm and back movements: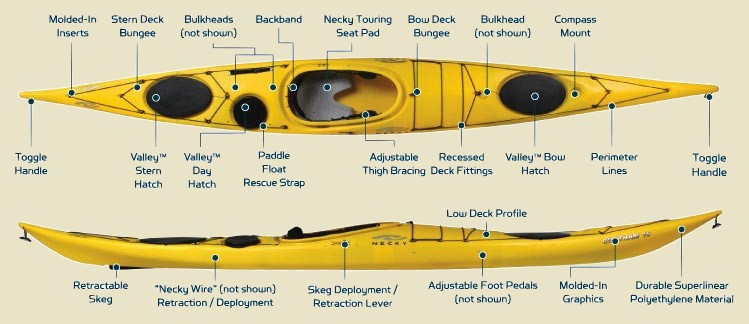 There are also stern, bow, and day hatches manufactured by Valley, each equipped with bulkheads and are water proof and tough. Valley hatches are practically the best on the market, manufactured for ease of access. The Necky Chatham 18 kayak is also fitted with an adjustable thigh brace and a Necky wire retractable skeg. This allows you to make adjustments to the kayak's trim, especially in windy waters.
The Necky wire is specifically designed to prevent destruction by salty water, ensuring its efficiency after many uses in salty waters. The Chatham 18 is also easy to transport, as it has a tether attached to the seat, ensuring stability when hauling it on top of your car.
Storage Space In The Necky Chatham 18 Touring Kayak
Let's get to the bottom here: The Chatham 18 has a storage capacity of about 163 liters and the kayak has a maximum capacity of 350 lbs.
Compared to other kayaks, it has a smaller amount of storage space. It does not allow you the luxury of carrying plenty of items with you during your exploration. This feature, however, allows it to retain better speeds and stability.
Check out the Necky Chatham 18 on Amazon by clicking here!
Necky Chatham 18 Review Summary!
Is the Necky Chatham 18 kayak for you?  We have discussed all the details here with you in our Necky Chatham 18 review. However, we realize that sometimes it is better to look at a quick pros and cons list.  Only you can decide if this kayak is worth your money:
Pros
The Necky Chatham 18 kayak comes in two models making it easy you to choose the better option for you, depending on the cost and weight
Relatively affordable. The fiberglass model is cheaper than the carbon model
Higher speeds due to its slender size and light weight
Comfortable touring seat, designed to avoid numb legs and back pain
High stability levels enabled by a retractable skeg
Adjustable outfitting that provides for a comfortable interface
Tough, waterproof hatches
Easy to transport, can be hooked on the car top carrier using its specially designed tether
Cons
The Necky Chatham 18 has a smaller load carrying capacity compared to other model
Longer kayaks, like this one, have stiffer tracking and are a little harder to maneuver, especially in wild waters.