[table id=Aire-Lynx-2-Overview /]
The Aire Lynx 2 inflatable kayak is a high quality inflatable kayak designed and manufactured by rafting experts, Aire. Made in the U.S., it is a popular inflatable whitewater kayak for both beginners and experts.
The Aire Lynx 2 kayak is the tandem model of the Aire Lynx I and it is a sleek two-person vessel, perfect for day outings, self-supported trips, and small extended excursions on rivers, creeks, and the ocean.

Constructed with performance in mind, the Aire Lynx 2 Inflatable Kayak is sleek, durable, well-constructed, and easy to maneuver on the water. It comes in several colors including blue, orange, dark green, yellow and purple. It is rugged, stable, compact, and comes with a range of new features guaranteed to improve the overall experience.
How Does The Frame of the Aire Lynx 2 Differ?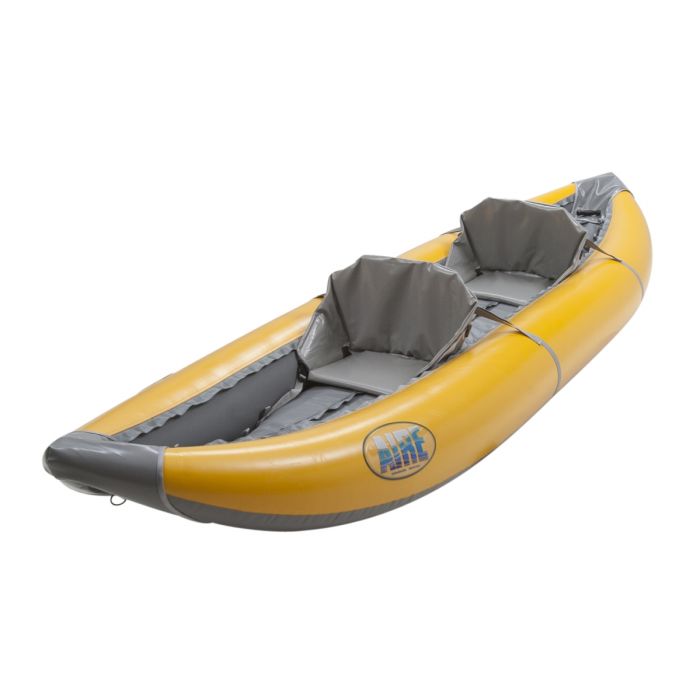 The Aire Lynx II inflatable tandem kayak is constructed with 1300 Denier and 22 oz PVC coated polyester. The vessel is held together by strong welded seams and an outer PVC shell.
Leading the way in innovation and technology, the Aire Lynx 2 is created using Ferrari's patented Precontraint PVC fabric and urethane AIREcell bladders that are attached to the outer PVC exterior. This construction feature ensures reliable abrasion protection.
Additionally, the Aire Lynx 2 kayak is designed so that the front part of the kayak rises about four inches from the rear and the frame's waterline is decreased, as compared to the Aire Lynx I. This model is also four inches wider than the first model, making it more stable on the water and allowing for a bit more storage space in the interior section. However, this is what slows the kayak down, so paddlers looking for speed might not get what they are looking for.
Learn how to install the seat on an Aire Lynx 2 kayak:
Features of the Aire Lynx II Tandem Inflatable Kayak!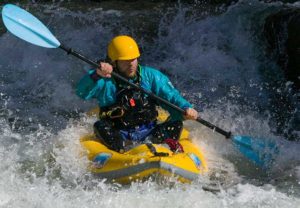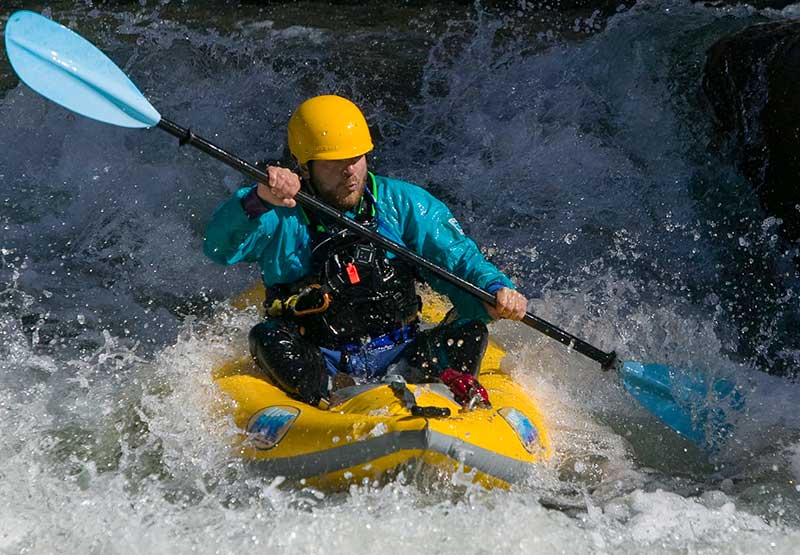 The Aire Lynx II has a range of innovative features that make it one of the most popular selling inflatable whitewater kayaks on the market. It contains two adjustable, high-backed PVC seats with thigh straps. Although the Aire Lynx 2 is designed for two paddlers, it is versatile enough to be used for a solo expedition, as the extra seat can be removed and the other one can be placed in the center of the kayak. The self-bailing floor has three sets of drain holes and three air chambers.
Leafield B7 valves ensure that inflation and deflation are trouble free. Another great feature of the Aire Lynx 2 kayak is that it can crash through waves much more easily than a boat exclusively designed for one paddler.
In addition, the Aire Lynx 2 kayak has seventeen cargo loops shared between the back and front of the vessel for attaching gear. This model also features an incredible 10-year warranty, a handy repair kit, and an owner's manual.
Aire Lynx 2 Storage Space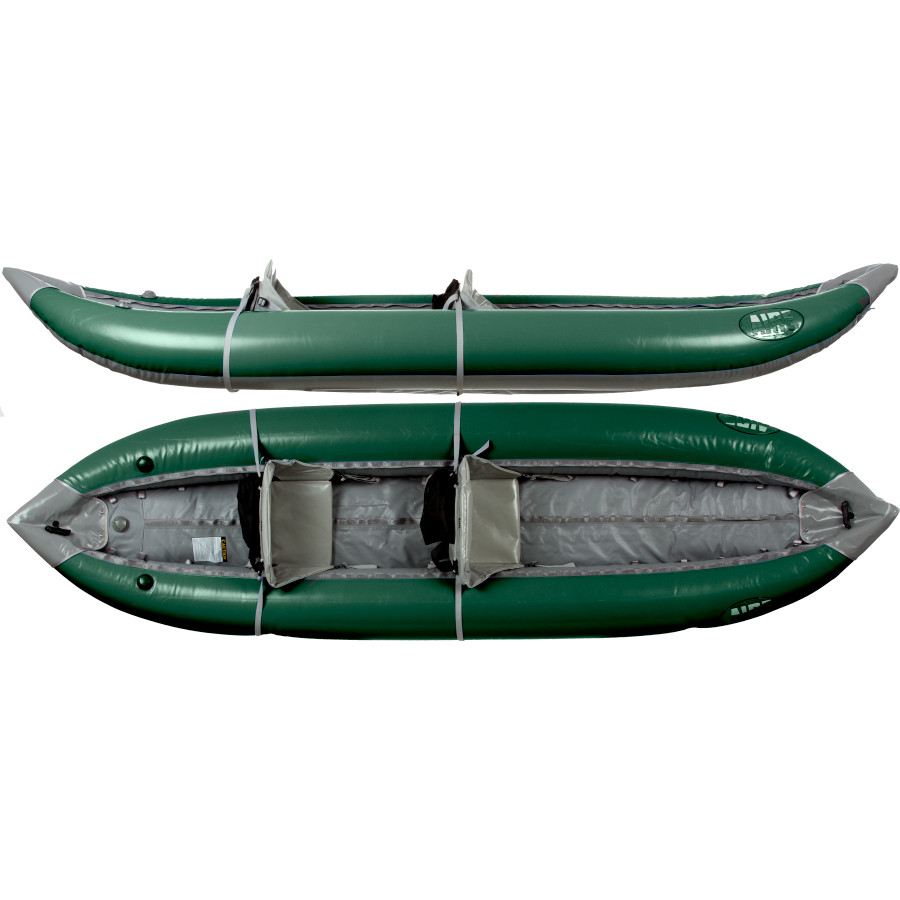 The Aire Lynx 2 kayak measures 39 inches in width, which is four inches wider than the Aire Lynx I, so it has a little more storage space. When it is empty, it weighs just 39 pounds, but the Aire Lynx 2 can actually hold up to 475 pounds and function efficiently.
For additional storage, the seats come with zippered pockets on the backs for your water, sunglasses, cell phone, or whatever else you need to be close by.  Furthermore, due to the adjustable seats, the Aire Lynx 2 inflatable kayak can accommodate extra cargo if you are taking a solo trip, as one seat can be removed.
Pros
Versatile – both beginners and experts in water sports can operate the Aire Lynx 2 kayak efficiently
Can function in all bodies of water
Incredibly stable with a comfortable interior
Compact design makes for easy entering and exiting
10 year warranty
Cons
Color choices are limited to 5 colors
The Aire Lynx 2 is meant for rapids no higher than class III
Wide interior can be disadvantageous for slimmer paddlers trying to lock in their hips
Speed is decreased because of the wide design
Slightly more expensive than other tandem whitewater inflatable kayaks
Check out the Aire Lynx 2 on Amazon by clicking here!
Aire Lynx 2 Review Summary
The Aire Lynx 2 kayak may be an inflatable kayak but it comes with a 10 year warranty and that ALONE makes it an attractive choice for purchase consideration.