As one of Necky's newest releases, the Necky Eliza kayak has been designed (by women, by the way!) with a higher volume of hull configuration to suit paddlers with different preferences. With a rudder system, it is specifically made for women who have a love for adventure.
The Necky Eliza Kayak is named after the leader of an expedition in 1791 that resulted in the discovery of San Juan Island, which is part of Washington State. It boasts of a balance of maneuverability and a reduced drag that will help women keep up with the guys or simply just leave them behind. Due to the fact that women are, on average, smaller than men, the kayak is also smaller, lighter, shorter and faster.
The Eliza's design disputes the fact that longer kayaks are more efficient. Although the Necky Eliza kayak is smaller in size, it is easy to squeeze more miles out of it than a 16-foot expedition boat. It has an incredible performance that allows for paddling with minimal effort. Its small size also makes the kayak easy to control, even when paddling in the wind. According to testers, the Necky Eliza is one of the most comfortable kayaks that exists. It has an all-pink appearance that also makes it easy on the eyes.
To learn more about this special kayak, keep reading out Necky Eliza review!
Frame of the Necky Eliza Kayak

The Necky Eliza kayak has a tough, roto-molded plastic frame made from a polyethylene material. Even when paddling through rock gardens, the kayak's body surface does not easily get scratched. In comparison to Necky kayaks made out of carbon hulls, this one is lighter (49 pounds) and easier to handle and carry around.
Although the Necky Eliza kayak has minimal weight, this does not compromise its stiffness. It is sturdy on the water and despite its lightweight nature, cannot be swayed back and forth without the paddler's control.
The general construction makes the Necky Eliza kayak glide well. It comes with improved hatch covers, and the hatches themselves are surprisingly reliable as they hold a nice amount of gear. The kayak also a lock buckle system that secures the hatch cover and keeps it in place. No matter how often the Eliza is used, dragged on the sand or grass, it has a durable frame that will ensure the kayak remains in great condition.
The Necky Eliza kayak is solid and does not feel tippy when paddling through the water. Its frame and design allow for quick lean turns and confident edging, and the Necky Eliza's best use is with sea kayaking.
Any Worthwhile Features In The Necky Eliza?
The Necky Eliza kayak has a rudder system that is located in the cockpit area. The system's long, sleek hull makes it efficient on the water and it can be operated independently without paddling. This reduces slips and drags, and makes maneuvers easy.
The rudder is 100% aluminum and can either be raised up or dropped down from the cockpit area. This means that paddlers do not need to exit the kayak in order to ensure the system works appropriately. It also ensures that paddlers are comfortable at all times when enjoy the Necky Eliza kayak.
On the other hand, the Necky Eliza kayak also has a drop down rudder that gives the paddler maximum control during longer paddling. In order to ensure that the paddler enjoys their water expedition, Eliza comes with a padded, waterproof seat and backband that provides comfort and support. In comparison to other similar kayaks, the Necky Eliza kayak's seats with back support really stand out.
In addition, the kayak also has Comfort Fit adjustable thigh braces which are suitable for diverse paddlers.
If you prefer to use your bare feet to paddle, the Necky Eliza kayak's cockpit foot-brace system is perfect for you. No matter how tall you are, both pedals could be adjusted to accommodate a variety of leg lengths.
The kayak also has neoprene hatch seals under hatch covers that keep it dry and protected. The fact that the cockpit is shorter makes it easy for women to attach or detach a spray skirt, making them more comfortable in the water or as they paddle.
Because of the Eliza's incredible rocker and playful hull design, the kayak performs well and would even mesh with a drop step configuration. Overall, the Necky Eliza kayak comprises of features that make it an impressive touring kayak. It would make a great companion during a day or weekend trip or just playing around in the surf.
How Does the Necky Eliza Kayak Fare With Storage Space?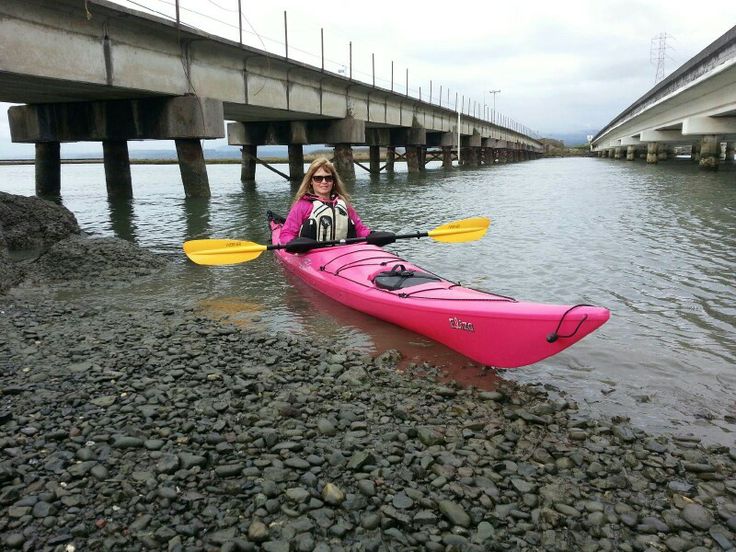 The Necky Eliza kayak has a decent storage space (124.9 L) that allows the paddler to carry an efficient amount of goods and equipment. The aft storage area has a seal hatch cover with a unique gasket. This offers a tight seal and ensures the storage space remains dry. In comparison to other Necky kayaks and their storage areas, the Necky Eliza's storage is more detail-oriented and was designed with a high level of expertise. This makes it highly unique.
Pros
Rudder system that is very easy to control using foot pedals
Made using tough roto-molded plastic which makes the kayak one of the strongest
Hardcovers for hatches
Adjustable foot pegs which increases flexibility
Stable enough for a variety of recreation purposes
Deck rigging that secures extra gear on decks for easy accessibility
Lightweight in nature
Cons
The Necky Eliza kayak's rudder cord appears difficult to pull to get the rudder down
Although the 15'4" kayak is considered fast, bigger and longer kayaks are faster and more efficient
If speed is your main consideration when purchasing a kayak, you should opt for a bigger kayak
Necky Eliza kayak is an all-female kayak, which limits men from experiencing its features and what it has to offer during an expedition
Necky Eliza Review Conclusion
Since we've gone into great depth with this Necky Eliza review, let's review a couple things quickly.
At first glance, the Necky Eliza kayak is a nicely outfitted kayak with reflective parameter deck lines and a highly comfortable touring-style cockpit. Its single-layer polyethylene frame material gives the kayak the incredible stability that it needs. Responsive and stable, the Eliza comes highly recommended.
Paddlers can always get into the cockpit easily, fit their first comfortably under the front deck and move the foot pegs to suit them. The kayak is jam-packed with features that make it one of a kind.
The Necky Eliza Kayak with Rudder is especially perfect for a female kayaker who does not intend to settle for less.
Not sure if the Necky Eliza kayak is the perfect fit for you?  Check out our recent review of comparable kayaks: