The Tahe Marine Reval HV Composite HD Kayak is a sea touring kayak, which is built in the British style, designed for paddlers who are bigger in size. It is easy to navigate because the kayak can break waves and strong winds as well. The Reval was released in 2014, targeting adrenaline seekers.
Interestingly, the HV in this kayak's name stands for high volume, which is one of it's outstanding characteristics.

This kayak has a roomy cockpit that can comfortably accommodate most people. The Tahe Marine Reval HV Composite HD Kayak is perfect for long expeditions or kayaking trips. In addition to more capacity for storage, this kayak is designed to navigate and survive challenging seas. Long and properly equipped, this sea touring kayak is a great option for water sport enthusiasts.
If you're interested in this kayak, keep reading our in-depth Tahe Marine Reval review! If you want to scope out other options, check out all the kayak reviews Killer Kayaks as in store for you.
Frame of the Tahe Marine Reval Kayak!

To ensure effective performance as you use this kayak, its frame has some unique construction characteristics. First, it is made using the TGC Lite construction method, where a combination of fiberglass and composite material are used. This high density core frame results in a lower overall weight. As a result, you can experience a weight reduction of between 10% to 15% as you use the kayak. Fortunately, this contributes to easier navigation and maneuverabilty of the kayak.
The Tahe Marine Reval HV Composite HD Kayak has a frame that is 17.6 feet long, 22 inches wide and 13.5 inches thick. It weighs a total of only 57 pounds. Not only does this make the Tahe Marine Reval more nimble, the light weight and strong hull makes it easy to haul this kayak on your car's carrier or on a trailer. Overall, its frame was designed for high performance on the sea and it delivers every single time.
Tahe Marine Reval Kayak Features
Before we go any further into this Tahe Marine review, we must discuss the features of this kayak! The most obvious feature of the Tahe Marine Reval is the British-style hull. This feature helps you to navigate rough seas with maximized maneuverability and stability. To ensure this, the hull on this kayak has a rocker, an upswept bow and a stern. These features work together to ensure top performance on the roughest seas.
The navigation in the Tahe Marine Reval is also made easier by a rudder and skeg system that is fully retractable. By using this steering system, you can direct the Tahe Marine Reval kayak successfully through the roughest waters.
To ensure more storage space and comfort, the Reval HV Composite HD Kayak has a roomier cockpit. Larger kayakers can fit in it quite comfortably. Moreover, it has a round, an oval and a day-hatch, which work to divide the body into compartments. You can store safety equipment, kayaking accessories and anything else in these locations.
The Tahe Marine Reval is designed for long trips. Hence, the extra carrying capacity comes in very handy for long expeditions or trips on the high seas.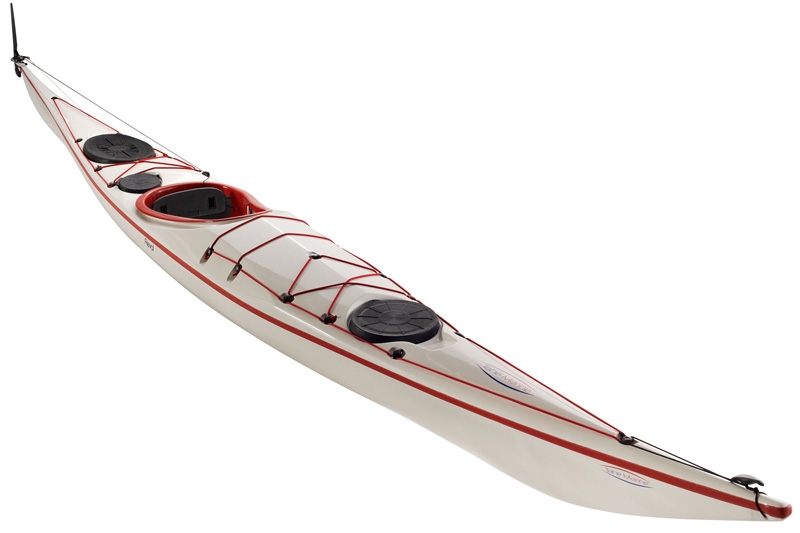 The Tahe Marine Reval is available in 3 different weight classes, which are the TGC-lite, the TCA-lite and the TCI-lite. These range in weight from 42 to 57 lbs or 19 to 26 kilograms. In providing you with variety, the Marine Reval kayak allows you to experience freedom of choice as you shop for a sea kayak. Moreover, there are some accessories that make the kayaking experience on this unit easier.
Specially designed for the Tahe Marine Reval kayak, the accessories include thigh pads and a compass. To further provide customization, you can get a heavy duty, reinforced keel-strip. Personal taste is catered for in the design of this kayak. As such, you can get the Tahe Marine Reval in various colors such as red, orange, yellow, blue, black, charcoal gray and lime.
Storage Space in the Tahe Marine Reval
Seeing as this seafaring kayak is a high volume unit, it has a lot of storage available for you. This is distributed along the kayak in features such as the cockpit and a collection of hatches. One of these is a round hatch in the front which measures 24 centimeters (10 inches) in size and a day hatch measuring 15 centimeter (6 inches) in size.
The kayak also has an oval hatch in the rear that measures 44 by 26 centimeters in size. The Tahe Marine Reval HV Composite HD Kayak can haul a total weight of 155 kilograms (about 340 pounds).
We have covered a lot in this Tahe Marine review, so here is a summary of the pros and cons:
Pros
Constructed using a British style hull to ensure comfortable capacity for bigger paddlers
High Volume storage capacity, facilitated by a total of 3 hatches distributed along it's length
The T

ahe Marine Reval

 kayak has an upswept bow and stern that help you navigate challenging seas much more easily
Thanks to a fiberglass and composite material construction, the kayak is light yet strong
High Density core frame which keeps you safe and ensures rigidity as you navigate
There are three weight classes to choose from when buying the T

ahe Marine Reval

kayak, so you can enjoy variety
You can find a collection of accessories for this kayak for example thigh pads, reinforced steel keel strip and a compass
Its length ensures that tall paddlers are comfortable and it provides extra weight hauling capability
Cons
The T

ahe Marine Reval

is quite an expensive kayak when compared with other sea models from competitor manufacturers
Due to a low volume, the bow tends to plunge deep and affect the maneuverability of the kayak
As a result of its length, it is less stable than shorter models, requiring more skillful manipulation
Tahe Marine Reval Review Conclusion
The Tahe Marine Reval Composite Kayak is one of the top models for sea kayaking. It is designed such that you can handle both smooth and rough seas comfortably. Its frame is strong yet light. In addition to that, the kayak has maximum storage capacity. As a result, you can take along some safety equipment and kayaking accessories with you on the expedition.
Check out the Tahe Marine Reval at Amazon!
Professional kayakers, as well as enthusiasts, can enjoy using this unit. It is versatile, durable and ideal for hobby or sport. Its features maximize capacity and maneuverability. If you want a versatile, high volume, capable kayak, the Tahe Marine Reval Kayak is the one to get. Hopefully our Tahe Marine review has given you a lot to mull over!
Other options to consider: