Anyone who has been kayaking for a while isn't new to the thrill that the sport brings along. You probably have sampled a few kayaks and already know that new models come with new and improved features to heighten your experience. The NRS Pike Fishing Kayak is conveniently light in weight and the ultimate choice for people looking to go on fishing expeditions in their kayaks.
Editor's Note: This product is temporary unavailable but we have carefully selected another kayak that is an awesome choice.
Best Pick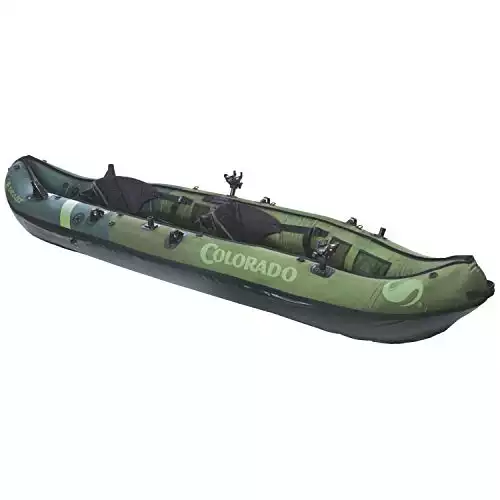 With its structure, you will be able to maneuver the waters with ease, even through some low class rapids. The NRS Pike Fishing Kayak has a combination of features that make it a great choice for anyone.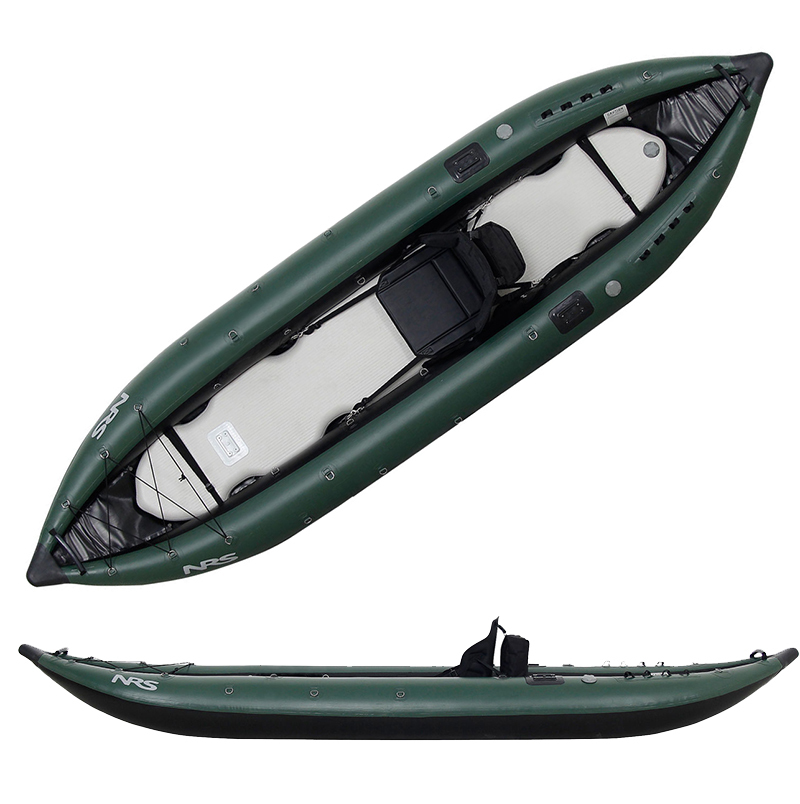 In order to serve its function well, the NRS Pike Fishing Kayak bares a unique shape that facilitates decent speed and stability while on the water. It is wider than the faster kayaks that are usually popular for sporting activities, so it will be slower. But with its ample room, you can fish and kayak solo or with an extra person.
It features a removable/collapsible seat which creates additional room for your fishing gear, overnight packs, and/or snacks and water. You can also incorporate a sail kit if you want to use the kayak for sailing instead of fishing.  If you are looking for a starter kayak, then the Sun Dolphin Bali 10 is an economic choice. You can always take a look at our array of kayak and canoe reviews!
With that said, welcome to our NRS Pike Fishing Kayak review!
Frame & Structure of the NRS Pike Fishing Inflatable Kayak

The NRS Pike Angler is a fishing kayak designed with a 4 inch thick high pressure insert that rests on its floor, creating a flat surface to sit on and paddle. One does not have to worry about losing balance or tipping over uneven surfaces on the kayak's floor.
You can easily stand on the NRS Pike Fishing Kayak and fish as you would on a solid surface such as a boat. You can use the flat surface to place and easily locate your fishing gear without worrying about losing them in the bends and folds of what would be on a normal inflatable kayak. If spending the night on it, the flat surface will definitely come in handy where comfort is concerned.
Best Pick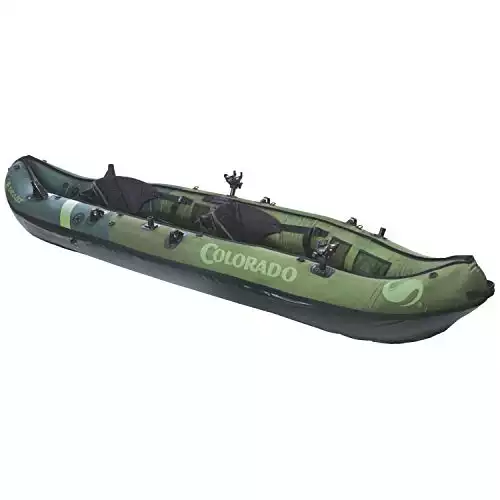 One of the best features of the NRS Pike Angler is its durability, which is brought about by its hard construction material. It is made using a rugged PVC material that makes it tough and tear-proof. It is able to withstand harsh environments which rules out frustration and frequent repairs.
The NRS Pike Fishing Kayak will hold its strength, even when running over rocks and sticks repeatedly. The tough construction also guarantees extended service, giving more value to your money. The kayak is 12.8 feet in length, has a width of 39 inches, and has 3 air chambers. The carrying capacity is not fully known, but it can easily carry one adult and their equipment.
The Meat of the NRS Pike Fishing Kayak: Special Features!
Inside this kayak is a versatile seat that can easily be removed and collapsed when not in use. This creates more space to work with if you are alone. The versatility comes in handy when displaying your fishing gear in preparation for the trip ahead. This also transforms the appeal of the NRS Pike Fishing Kayak and allows it to be used in other ways. Or you can leave the seat in and chat with a fishing buddy while you both have your lines cast out.
It's usually more fun to have company with any activity, and also for safety.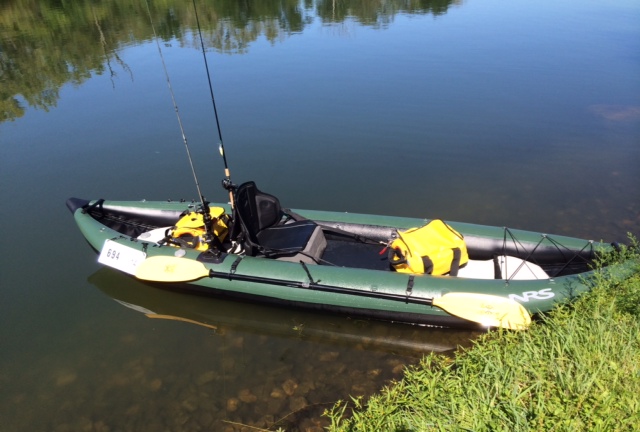 The NRS Pike Angler has ample storage compartments to contain items such as fishing equipment, a small tackle box, or snacks. This promotes further organization, preventing the loss of your items in case you hit unstable waters. In addition to this, the NRS Pike Fishing Kayak contains three accessory mounts that allow room for your fishing rods, camera booms, and fish finders.
This kayak is efficiently designed with two carry handles that come in handy when carrying it from one place to another, especially when wet. One can use this to locate the position of the NRS Pike Fishing Kayak when deflated.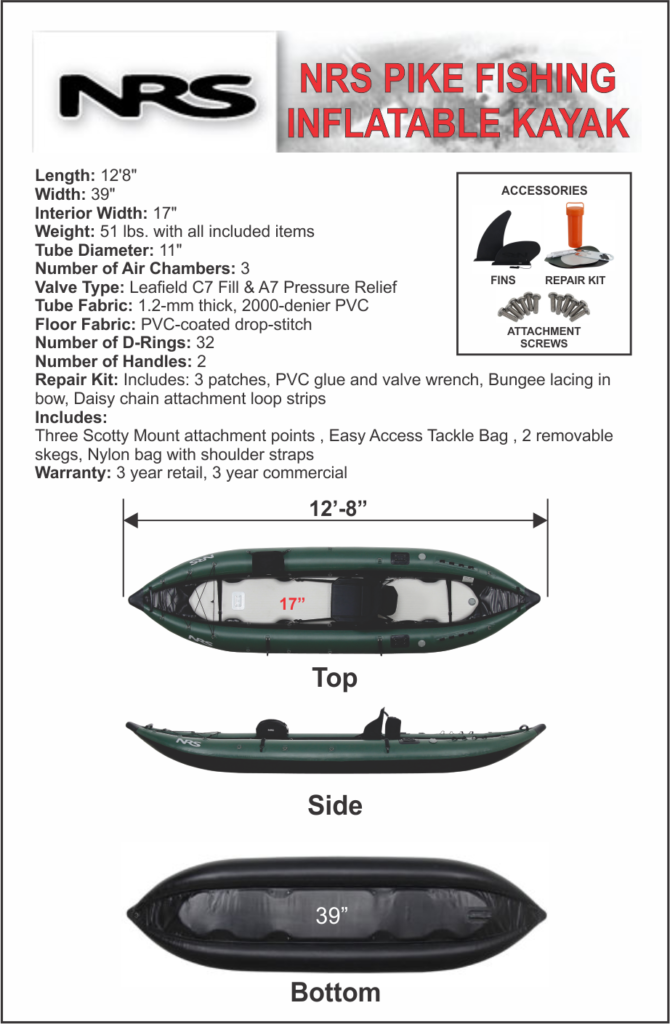 Storage Space in the NRS Pike Fishing Kayak
The NRS Pike Fishing Kayak comes with a manual pump and pressure gauge, facilitating easy and fast inflating of the kayak when you're ready to use it. When deflated, the kayak is easy to pack in the trunk of your car, and later, in the closet.
It is advisable that you wipe dirt and scum off of the bottom of the kayak before folding and putting it in storage. It is best that you pay special attention to the areas on the bottom with the double stitch. Use a high pressured hand pump to completely suck out the air from your NRS Pike Fishing Kayak before storage.
Pros
High quality and thick PVC material, assuring that the NRS Pike Fishing Kayak will serve you well for a long period of time
With the available tie downs, you can tie the kayak on a rock for easy photography, camping, and fishing during your expedition
There are 2 fins on this NRS Pike Fishing Kayak, good for easy mounting, especially for inexperienced individuals or when there are strong winds
Designed to cut through waves and unstable waters for speed and stability
The NRS Pike Angler kayak is noted to dry off rather fast when compared to other kayaks, allowing you to pack it up and get home faster
Cons
The NRS Pike Fishing Kayak is noticeably heavy, even when deflated, because of the strong double sided materials used in its construction
This is a slower kayak, mainly attributed to its wide surface area, but it's suitable for its primary function, which is fishing
NRS Pike Fishing Kayak Review Conclusion
Best Pick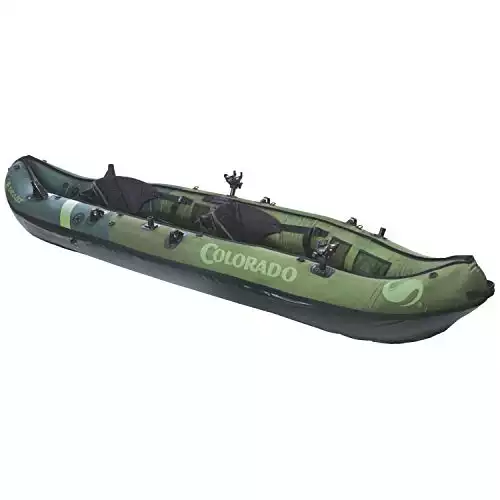 The NRS Pike Fishing Kayak is a worthy purchase if you are looking to mainly fish and camp. If you do not have enough strength, you may need additional help to fold, store and take it out of the water. The weight is an advantage though, as it is attributed to the heavy materials used in its construction.
The strong PVC material rules out the need for constant repairs which further damages the kayak and shortens its life. Additionally, the NRS Pike comes with its own repair kit for convenience and easy maintenance. The fact that it has ample room to accommodate your gear, equipment, and another person only adds on to its advantages.
NRS Pike Fishing Kayak is a bit pricier than other kayaks, but it is definitely worth it, since the extra features surpass other fishing kayaks.