Yep! You read that right!  Yesterday, through Oru Kayak's Facebook Page, we learned that Oru Kayak has brought its Bay ST model back and will be joining 1% For The Planet.  Officially, this campaign is being called Bay ST Is Back For Good.
For this campaign, Oru Kayak is offering an updated, sleeker version of their Bay ST model with… get this… a really cool print of a tree on the hull along: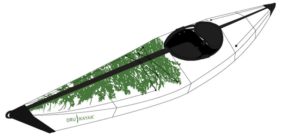 Levels of Contribution
Let's get to the various levels of contribution here.
Level 1: Pledge Less Than $15
By doing so, you contribute towards the new Bay ST model with the tree print.  No bonus, but hey, how awesome is it to be able to do this?!
Level 2: Pledge Less Than $15 Or More
Pledge $15 towards this origami kayak version and you will receive an Oru Dry Bag: 10L Dry Bag. This dry bag is versatile, durable, and will protect your goods from getting wet. Expect top notch Oru quality here.
These are going fast. As of today, 34 out of 50 are left.
Consider, it's been maybe a full day since this Kickstarter launched!
Level 3: Pledge Less Than $40 Or More
Remember how we mentioned the really pretty tree print on this new Bay ST model? Well, pledge $40 at least and you can get your hands on an Oru Shirt with the tree print!
Get to it! Only 46 out of 50 left!
Level 4: Pledge Less Than $75 Or More
Pledge at least $75 and receive a set of four lights! But hold on a minute, these aren't just any lights. These solar powered lanterns by Luci will make your Oru Bay ST kayak glow especially if you're a fan of night time kayaking! These lights are easily inflatable and deflatable.
48/50 left.
Level 5: Pledge Less Than $400 Or More
You will receive a custom designed Oru pack along with a four piece paddle, float bags, and a custom spray skirt.
How neat is that? 30/30 left.
Level 6: Pledge Less Than $1500 Or More
Bay ST Back For Good >> You will receive this custom printed Bay ST kayak that we are talking about right now. Sweet!
46/50 left.
Level 7: Pledge Less Than $1900 Or More
So, at this level, you will receive the Bay ST Back For Good Model (the custom printed Bay ST we showed you the image of above) PLUS Package.
10/20 left. Ruuunnnn!
Sold Out – Pledge Less Than $1300 Or More
Sorry, Kids! This is done for already. The Early Bird reward is sold out a day after this Kickstarter campaign was started.
All we have to say is wow…
Click here to check out our MyCanoe Origami review, another origami kayak!
Bay ST Is Back For Good KickStarter Campaign Summary
If you love what the Oru Kayak company is offering, pledge away.  You may as well contribute to something as cool as a technologically advanced origami kayak and this company is an innovator.
We will be updating the Pledge numbers on the daily!
The Kickstarter campaign can be found here: https://www.kickstarter.com/projects/1975288517/oru-kayak-is-back-for-good