If you are into a Greenland style of paddling, then the Zegul Greenland kayak is the kayak to try out!
The Zegul Marine Greenland is breathtakingly beautiful and is one of the most recognized kayaks you will see today. In addition, it's quickly becoming a favorite among paddlers. Its classic lines and low volume gives many paddlers the joy and interest of trying something new.
Since this kind of kayak has a tight fit to your body, it will give you a feeling of control while paddling.

At the same time, you will be very close to the water, as the Zegul Greenland is a sit-in kayak. This type of kayak comes in different colors, but our focus will be on the black model.
Below is our comprehensive review of the Zegul Greenland Kayak! Keep in mind that Killer Kayaks discusses inflatable kayak reviews as well as regular kayaks [including everything in between like the Oru Kayak!]
How Does the Frame of the Zegul Greenland Kayak Hold Up?
The Zegul Marine Greenland has a long, narrow, sleek form that measures 17.6 feet by 20 inches by 10.75 inches, with an average weight of 46 pounds and a capacity of about 220 pounds. Its cockpit measures around 23.75 inches by 15.75 inches.
The Zegul Greenland kayak is a low volume and tight fit sea kayak, equipped with a skeg system and two hatches. It is designed with a low back deck to help you with easy laid back rolls. Greenland style kayaks, and this one in particular, are designed with classic lines and a hard chine all the way along the V-bottomed hull.
You may be aware of how much maneuvering is needed while using a kayak. The rocker in the hull of the Zegul Greenland is designed specifically to ease your maneuvers in the water.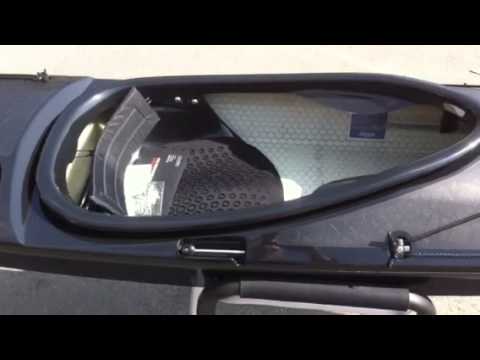 This uniquely designed kayak deck enables you to achieve forward rolls with relative ease. You want to own a kayak that will endure for a long time. That is why the Zegul Marine's frame has undergone A-core construction, which is material lay-up using vacuum technology for greater stiffness and durability, absorbing even less energy during paddling and withstanding the most challenging environments.
Special Features in the Zegul Greenland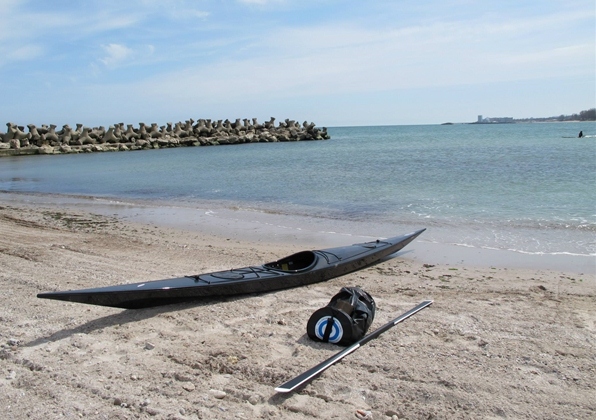 The Zegul Greenland kayak has some standard features, which include adjustable thigh braces, an aramide seam, A-core construction, lightweight click-on hatches, retractable skeg, rubber deck beads and thigh pads. These features are designed to make your paddling experience more practical, comfortable and safe.
Other additional features, which are optional, are 3D C-core, full carbon, rock solid, aramide reinforced keel strip and a compass, all of which are for improving and enhancing your kayaking experience on the water.
Million Dollar Question: Storage Space?!
The Zegul Marine Greenland kayak has a smart design, meant for paddlers who want the classic Greenland style kayak, yet still needing more comfort, stability and storage space for longer outings. This kayak is equipped with 3 hatches, providing you with adequate space to keep all of your gear with you when paddling. This ensures that you won't be forced to leave anything behind.
The Zegul Greenland kayak also features a shallow V-shaped hull that ensures faster acceleration, speed, and a nice balance between tracking and maneuverability.
Having acquired this little treasure at an affordable price, you want to take good care of it to optimize its performance each time. First, ensure that you store it off the ground while covered, especially the cockpit. This is to keep any rodents, insect, dirt, dust, and leaves off the cockpit, especially when the Zegul Greenland is being stored outside.
Preferably, it should be stored inside, as opposed to outside, but this depends on whether or not you have that 'inside' space! This space may be available in a garage, basement, or right in the living room behind the couch.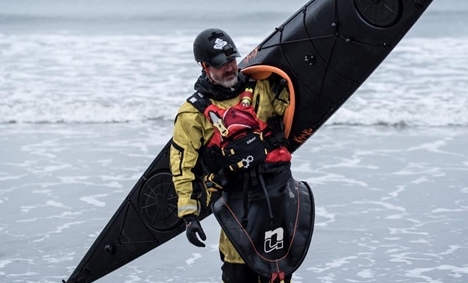 Most owners of kayaks hold these treasures at a very high value, even if they are not expensive. Storing it inside helps in minimizing its destruction by extreme weather elements like snow, sun and rain. If house or garage storage is not possible, you may consider finding a shaded spot for the kayak outside.
A simple shed is perfect for storing a kayak, just outside the house. If a shed is not available, then you would need to find a weather-resistant tarp that will cover the entire hull.
While being stored, the Zegul Greenland kayak should face upside down, with its hull up or on its side. In addition, it is important to note that if you are paddling in salty water, you need to thoroughly rinse your kayak with fresh water before storage. This is because salty water degrades hull materials and corrodes metal parts.
Pros
The tight fit to your body gives you full control of what you are doing while paddling
Low back deck of the Zegul Marine Greenland kayak gives you easy laid back rolls
Low volume at the front is made to help you on the forward rolls
The vessel is easy to maneuver through water
lts low center of gravity makes it easy to paddle, and brings you closer to the water
Being a sit-in kayak, it provides drier storage to protect your belongings
Enclosed cockpit protects you from water sprays, thus keeping the entire compartment dry
Its weight makes it fairly easy to move about on the water, unless of course, the kayak is laden with your heavier personal belongings
Its long, narrow, sleek body enables it to slice through water effortlessly, increasing the thrill of kayak enthusiasts who love lightning fast speeds
It is strong and made of quality materials, creating a built-to-last kayak
Cons
Difficultly moving around in small bodies of water, due to the Zegul Greenland's length
lt is difficult to enter and exit, unlike other kayaks
The Zegul Greenland kayak allows for little access to items placed on the back deck, and no access to items in the dry storage while paddling
If it topples over, recovery poses a dilemma as the kayak fills up with water
In difficult weather, the Zegul Greenland can be suffocating when using a spray skirt
Zegul Greenland Review Conclusion
This model of sit-in kayaks is a great investment if you need a heightened experience in water sporting and fun. Since its pros far much outweigh its cons, you are set to enjoy paddling in almost any type of water.
The Zegul Greenland is easy to maneuver, easy to paddle, keeps you and your gear extra dry, and is very fast and strong!