Fishing kayaks and anglers can be hard to find, so we took the Old Town Vapor 10 Angler Kayak and ripped it apart. Is the Vapor 10 kayak a good angler?
Recreational kayaks are designed to be used specifically in slow moving waters. While they are not the perfect fishing kayaks, they're just what you would need, a perfect balance of comfort and performance. Even though recreational kayaks are all created with a similar purpose in mind, some are obviously better than others.
The Old Town Vapor 10 Fishing Kayak is undoubtedly the best angler kayak in its class, and after reading our Old Town Vapor 10 Angler Kayak review, you might find it perfectly suitable for not just recreation but also as a fishing kayak (aka angler).
Overview
A compact kayak with great versatility and lots of volume would be the best description of the Old Town Vapor 10 Angler. The Old Town Vapor 10 Kayak offers an efficient and stable ride with a large cockpit opening that was intended for comfort and storage. The stern day well is great for holding on to extra gear or filling up with some cold brews for a day of fun in the sun.
The Old Town Vapor 10 is a lightweight 10 foot kayak weighs just 47 pounds, and has carrying handles molded right to the front and back of the linear polyethylene body. The weight of the Old Town Vapor 10 Angler Kayak and the built-in carry handles make it super easy to transport, even if you have to do it all by yourself. With superb control and tracking for its size, this one-person recreational kayak will allow you to maneuver easily across mellow ponds and flat lakes, whether you are a novice or expert.
Its other special features include flush-mounted rod holders at the seat, an anchor with a trolley system, and deck storage. Additional features are the adjustable padded ComfortFlex seat, adjustable foot braces, thigh pads and molded paddle holder.
Construction – Is it Well Built?
The Old Town Vapor 10 is made of single-layer polyethylene and is non-foldable. It has a carrying handle at either end and the hull is thick enough to withstand almost anything. The shape of the hull is fantastic and cuts through the water like a hot knife through butter. It also sits nicely on the water, retaining its balance quite well and its short length makes it very maneuverable. It comes in different colors including blue, red, orange and lime green. It does not come with a hatch cover.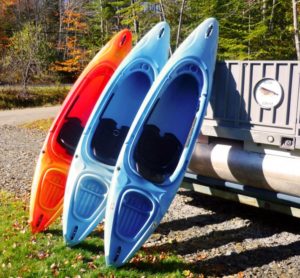 What Makes This Angling Kayak Special?
Comfortable Seat
With this kayak, you just have to sit back and relax as you catch your targeted fish or even just some rays of sun. The Old Town Vapor 10 Angler has a very comfortable seat so you will find long distance paddling very easy. This seat has materials that mold themselves to your body shape to provide maximum comfort.
Tracks Nicely
Old Town Vapor 10 Angler Kayak's most impressive feature is that it tracks incredibly well. If a decent amount of speed is applied, it moves at an amazing pace as if it has a motor. The kayak is easily maneuverable and is perfect for slow moving rivers, ponds and lakes. Its effortless paddling also makes this kayak extremely efficient.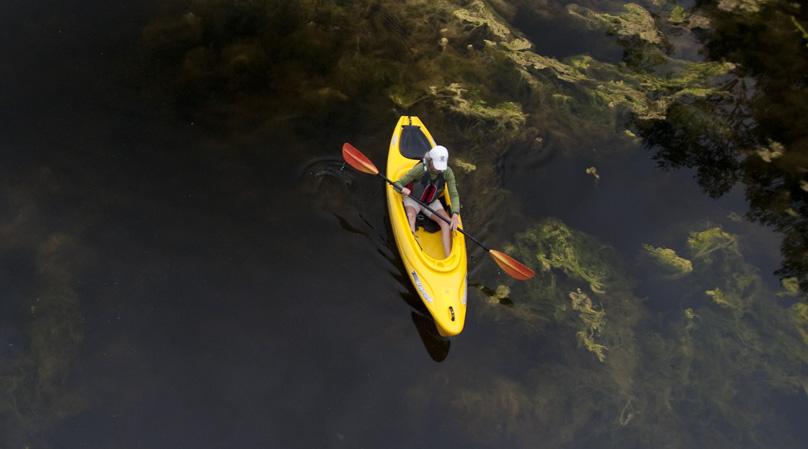 Stability
The Old Town Vapor 10's stable platform and large volume offer tons of stability and load-bearing capability without making it handle like a steamship. The extra large cockpit offers room to move about and makes getting in or out a breeze. It's a good all-purpose boat for lake and river day trips. The bull design of the kayak handles smaller waves and chops well. Larger close waves, however, will break over its bow and get into the cockpit. The construction is strong, so even if you had a few rough landings on rocky shores, the hull would have almost no scratches.
Thermoformed Polyethylene
The Old Town Vapor 10 Angler kayak is made from one plastic sheet of high density polyethylene. The thermoformed plastic material in the hull is durable and provides better abrasion and impact resistance than more expensive fiberglass hulls.
Storage Space – Is it Sufficient?
The Old Town Vapor 10 Angler Kayak provides a lot of room for your gear, including a dry hatch with a lockable top, a flexible cooler, duffle bag, and room for more stuff on the side. There's room behind the seat for a sleeping bag, and more gear between your feet.
Pros
With a maximum load range of between 275 to 325 pounds, the Old Town Vapor 10 suits heavier kayakers
It has a paddle rest molded onto the kayak so that you can rest the paddle when chowing down, fishing or taking some photos
Made with durable polyethylene
Adjustable ComfortFlex padded seat offers all day paddling comfort
Comfortable knee/thigh pads for great fit and control
Skid plate on the bottom protects the kayak from wear and tear
Relatively short hull eases transport to the water, turns readily and takes up minimal storage space
Very stable, great for beginners
Good tracking
Cons
The drain plug location is terrible for actually finding the perfect position to get the water out. You strain like crazy trying to find the right spot, tilting the kayak from side to side to get the water to run out of that hole.
About Old Town Canoes & Kayaks
Old Town Canoes & Kayaks is a well respected company that makes the best in recreational kayaks by focusing on comfort, storage space and ease of use. They also keep to traditional hull shapes and designs, so if you have been kayaking for a while, you will feel right at home in an Old Town kayak.
Review & Verdict
The Old Town Vapor 10 Recreational Kayak is a superb choice for fun lovers, beginners, photographers, and anglers. You can rig and mount fishing gear to use it for fishing purposes. You get excellent stability, good tracking, and a handful of features at a decent price.
Check out the Old Town Vapor 10 on Amazon!
While its drain plug is in a relatively poor place in regards to where the kayak sits in the water, the overall design makes the Vapor 10 Angler a silent, comfortable ride. This model allows you to save money by foregoing the far more expensive brands in favor of something more affordable and of better quality.