I am super excited to write this article as I have loved my Oru since I bought it around 8 years ago! However, I also own two Sea Eagle kayaks and have used both for years myself and both with my family.
However, there are so many big differences between the Oru options vs the Sea Eagle options. With so many models out there, figuring out which one to pick can be daunting. In this article, I'm comparing two popular brands – the Oru Kayak and Sea Eagle – to help you decide which one suits your needs best. Here we go!
Oru Kayak vs Sea Eagle: 6 Factors to Consider
There are 6 main factors for you to consider before you buy one of these kayaks. I'm super familiar with both brands since I've bought multiple models from each and have used them over the years.
With that said, I'll only be recommending kayak models by both brands that I consider high quality and awesome options for you:
#1. Construction and Durability
The Oru Kayak is made with a specialized material called polypropylene while Sea Eagle kayaks are made of PVC and nylon.
The Oru Kayak's material is durable and lightweight making it super easy to carry around. On the other hand, Sea Eagle's PVC and nylon material is a bit heavier than the Oru Kayak but is preferred for its excellent puncture resistance.
Both kayaks have a solid construction that stands up to wear and tear. However, if you plan to use your kayak in water with sharp rocks or objects, Sea Eagle kayaks are highly recommended.
#2. Portability
One of the main selling points of the Oru Kayak is its portability. The kayak can be folded up like a piece of paper, like origami!, to fit into a backpack, car trunk, or airplane overhead compartment. It's an excellent option for those who lack storage space, live in apartments, or want a kayak that can travel with them. Those are the main reasons I ended up buying one a long time ago.
While Sea Eagle kayaks aren't foldable, they are just as portable.
It's a win-win for both brands when it comes to portability.
#3. Performance
Now this is a fun point to consider.
The Oru Kayak is designed for maximum stability making it a great choice for beginners. Its size and shape also make it easy to maneuver, allowing you to take on even the most challenging rapids with ease. These babies also perform well on flat water, allowing you to take in sights while paddling along. The tracking is superb here.
On the other hand, Sea Eagle kayaks are best suited for experienced paddlers. The tracking feels more difficult in an inflatable than a folding kayak for me personally but depending on how patient you are, you can learn to navigate and use an Sea Eagle well.
I would say that Orus are more beginner-friendly than Sea Eagle kayaks which is by nature in the design and construction of these kayaks. But the Sea Eagle isn't too far behind and performs pretty well.
#4. Assembly and Disassembly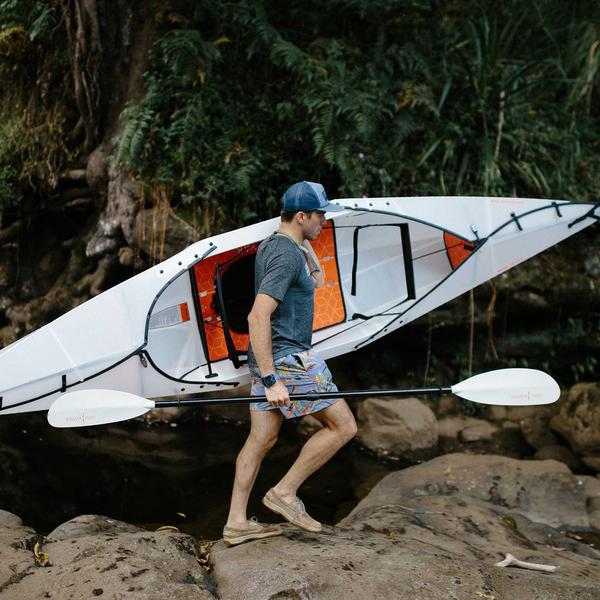 Setting up the Oru Kayak is a breeze!
It takes me around 2-3 minutes to unfold, snap into place and get ready for the water. Disassembly is just as easy, making it a great choice for those who want to be on the move. Once you get familiar with the process, it should take no more than five minutes (and that's if you take time).
Assembling a Sea Eagle kayak takes more time and effort. You need to inflate the tubes, attach the floor panel and make sure everything is snug and secure before hitting the water. However, disassembling the Sea Eagle kayak is much easier and faster. It should take you 10-20 minutes depending on the model you choose.
#5. Weight Capacity and Comfort
The weight capacity range between Oru and Sea Eagle kayaks for one person is similar ranging between 200-250lbs but Sea Eagle has some 2-person kayaks that can handle more weight.
When it comes to comfort, the Oru Kayak seat is contoured and padded to provide back support. However, the seat doesn't offer much cushion which may be uncomfortable for some.
Sea Eagle kayaks come with inflatable seats that usually have better padding options which means they're great for longer treks.
#6. Price
On average, Oru Kayaks are more expensive than Sea Eagle kayaks but this is partly due to the cutting-edge technology they use to fold into compact packages. Keep in mind this kayak literally folds and can be carried almost like a handbag!
Sea Eagle kayaks boast better value for those who want a quality kayak at an affordable price point. Having said that, there are a variety of Sea Eagle models to suit your budget and kayaking needs.
Are Sea Eagle Kayaks Durable?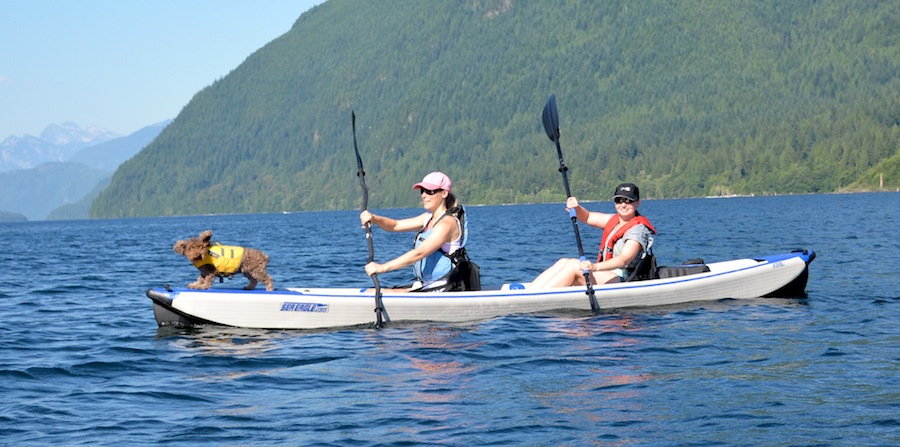 Sea Eagle kayaks are made of PVC and nylon which makes them more puncture-resistant than Oru Kayak's polypropylene material.
They are also built to last making them a solid choice for those who want to get years of use out of their kayak.
Are Oru Kayaks Durable?
Super! It's their thing. Because these kayaks have to be folded and unfolded after each use, these kayaks had to be designed in a particular way.
The Oru Kayak is constructed with a specialized material called polypropylene which makes it lightweight but also very durable.
This robust construction stands up to wear and tear over time, allowing you to keep your kayak in great condition for many years to come.
What's the Verdict?
The Oru Kayak and Sea Eagle kayaks both have their own unique advantages. The Oru Kayak is lightweight, portable, and easy to assemble, making it a great choice for those who are short on storage space or need something that can travel with them.
On the other hand, Sea Eagle kayaks are more durable and better suited for rougher waters, so if you plan to tackle tougher rapids or take on long-distance treks they are a great option.
If budget isn't an issue, I'd opt for one of the Oru kayaks because of the convenience of assembling, disassembling, and being able to travel with it.
If budget is definitely an issue, rest assured that Sea Eagle has some awesome kayak options that have been recommended throughout this article.
Summary
Whether you're looking to take your kayak with you on a trip, have limited storage space, or want something that's easy to set up, Oru Kayak and Sea Eagle kayaks both have excellent models to choose from!
Both brands are known for being around for a long time and creating quality products so purchase a model that really speaks to you!