The Point 65 Martini Kayak, also referred to as the Martini GTX, is a detachable, high precision kayak. It's also high quality and looks great as well, which makes you want to ride in it even more. This sit-in modular kayak features a roomy cockpit and a great seating system, serving functions of both a solo and a tandem kayak.
Commendably, the Point 65 Martini Kayak allows for the use of all paddle sizes. You can comfortably use both single blade and double blade paddles. The kayak is made for normal use, but it has great tracking capabilities due to its relatively high speeds. In this Point 65 Martini review, we'll examine all of these features, so you can decide if this is the right kayak for you.
Our Pick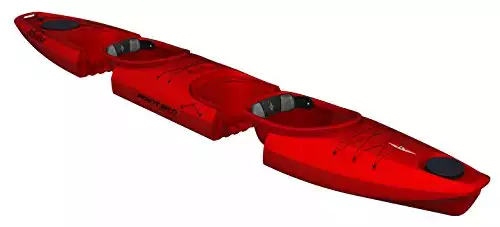 We earn a commission if you make a purchase, at no additional cost to you.
The Point 65 Martini Kayak Frame
Primarily a solo kayak, the Point 65 Martini Kayak can be separated and a midsection added to make it a tandem kayak. In solo form, the kayak measures 10'5″, with the aft section measuring 5'9″ and the stern section measuring 4'8″. At full tandem length, the vessel measures 13'8″ with the addition of a midsection that measures 5'4″.
The sections are form fitted to snap together, and it's just as easy to unsnap them after use. Additionally this aids in transportation, because instead of carrying around a full length kayak, you and your friends/family can carry sections of the boat to the water.
The kayak's mid width of 27.6″ is responsible for its bullet shape that aids in giving the Point 65 Martini Kayak a significant level of speed. Made of UV-resistant polyethylene, this boat is capable of withstanding sunny days for long periods. The vessel comes with a drop down rudder that can be attached to its back, and it can be controlled using pedals found in the front cockpit section.
The Point 65 Martini Kayak's body also contains a paddle park compartment, and to create more fun, you can add a second midsection to allow sitting space for a small child or a pet.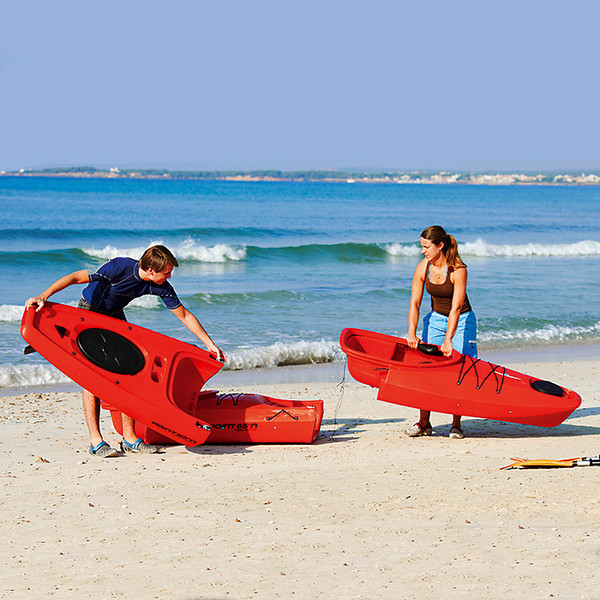 The sit-in cockpits are roomy and comfortable, measuring 33″ x 18″. Inside each cockpit is a comfortable air seat whose backrest can be regulated into position through pneumatic means. As a tandem, the Point 65 Martini Kayak is able to hold up to 530 lbs., which is sufficient enough for two average weight adults.
The sides of the kayak have molded handles which allows for easy transportation. Additionally, at 77 pounds, the Point 65 N Martini Kayak is light enough for heave-and-go purposes.
[Note: Check out our other Point 65 reviews here: Point 65 Whisky kayak, Point 65 N Mercury GTX kayak!]
Point 65 Martini Kayak Features
The Point 65 Martini Kayak is rigged for both speed and convenience. The speed is achieved through its smooth arrowhead shape. In solo form, the kayak is quite easy to maneuver and control. In tandem form, a level of difficulty is added where maneuvering is concerned. However, the kayak is much faster in tandem form, with two people paddling, of course.
The patented Snap-Tap feature, only available with Point 65 kayaks, makes the kayak not only convenient for both tandem and solo use, but also easy to transport. Furthermore, the boat allows for the use of small, medium or large sized paddles. The Point 65 Martini Kayak is light enough to be used by all kayakers, whether they're new to kayaking, have some experience, or are very experienced.
Our Pick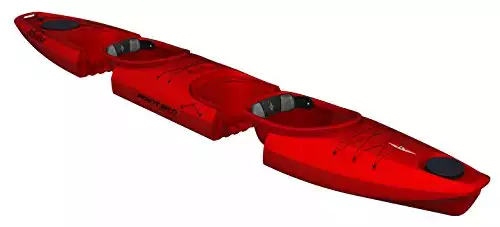 We earn a commission if you make a purchase, at no additional cost to you.
The recyclable PE frame of the Point 65 Martini Kayak makes it one of the few environmentally friendly kayaks you can buy. The fact that the material is UV-resistant, as mentioned earlier in this Point 65 Martini review, allows for long lasting use without fearing the cracking effect UV rays have on polyethylene materials. This model also comes fitted with a fish-o-meter, which helps the kayaker to measure their catch.
With a spacious cockpit and a comfortable air seat, you can rest and turn easily within the cockpit of the Point 65 Martini Kayak. The ability to adjust the seat ensures that if you get tired of sitting in one position, you can easily change your position to regain composure. The addition of a rudder and an accompanying rudder pedal lets you have more control while navigating the kayak, for a more enjoyable boating adventure.
How To Store Your Point 65 N Martini?
The Point 65 Martini Kayak has a decent storage capacity. It comes equipped with two hatches. The front hatch measures 7.9″ by 7.9″ and is situated almost towards the end of the bow, sufficient for putting items that one does not need right away. Here you can put in some dry suits, angling knives, and other items.
The aft hatch is a little bigger, measuring 17″ by 10″, making it suitable to store more items, including a mini cooler to store your caught fish in. It is also appropriately situated close to the back of the last cockpit. This makes it easy to access so you can grab your most needed items or gear.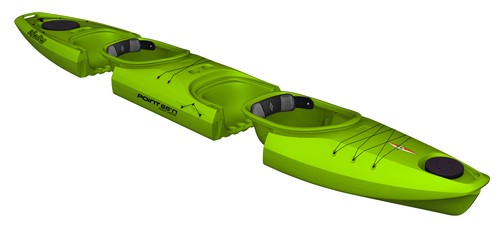 Just in front of the stern hatch, the Point 65 Martini Kayak has two cup holder slots. If you add a midsection, then two more cup holder slots are added to the kayak. With four cup holder slots, you will have plenty of room for your drinks or anything else you decide to use them for.
Pros
Easy to transport, due to its detachable and lightweight form
Capable of gaining substantial speed to get from Point A to Point B
The Point 65 Martini Kayak has spacious cockpits
Comfortable with easy maneuverability
The Point 65 Martini Kayak comes with a comfortable air seat and adjustable backrest
The presence of a rudder enhances navigation of the boat
Can use various sizes of paddles
Suitable for various experience levels and ages of kayakers
The front and back sections are water tight, enough to avoid water leakage
Sufficient storage space on the Point 65 Martini Kayak
The kayak allows for more than one midsection
Cons
The Point 65 Martini Kayak does not come with its own paddle
Not suitable for open water surfing
One may need to use a spray skirt to prevent water from splashing into the cockpit
Point 65 Martini Review Conclusion
Our Pick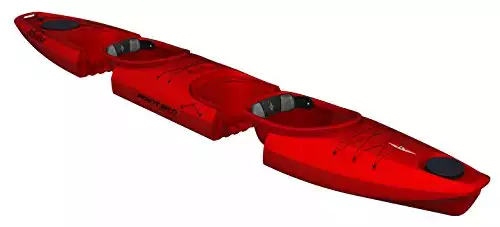 We earn a commission if you make a purchase, at no additional cost to you.
The Point 65 Martini Kayak is one extremely versatile kayak. For fun loving, recreational water lovers, this is a great choice for a kayak. It is also family friendly and can be used to train your children how to kayak like pros, while allowing them the space to enjoy themselves.
Although the Martini GTX is touted as a fishing kayak, it is not suitable for long haul fishing. However, if you want to do some nice recreational, afternoon fishing, this kayak will serve that purpose.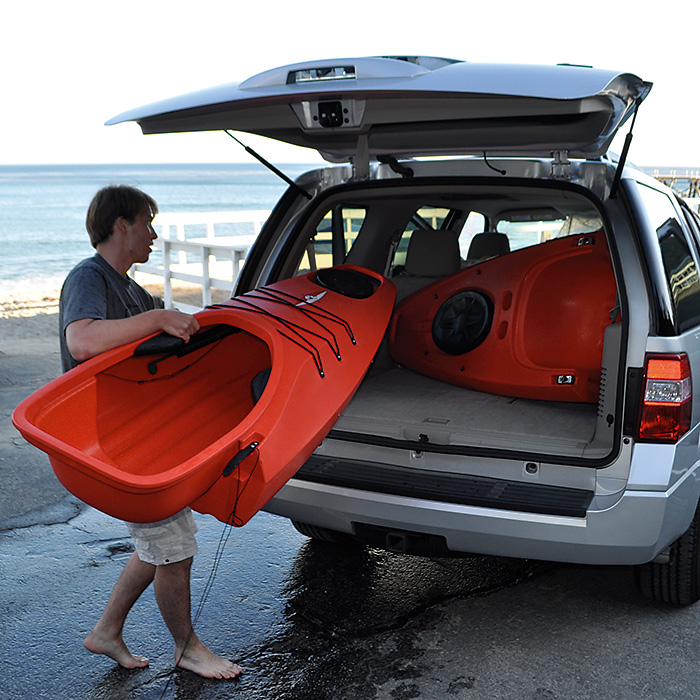 One thing we didn't mention in this Point 65 Martini review is that this model comes in 9 different colors! Versatile, Sturdy, Spacious, AND you get your choice of a nice variety of colors. It is not easy to find a kayak that incorporates speed, fun, convenience, and ease. The Point 65 Martini Kayak fits all of the above.
Check out the Point 65 N Martini Kayak on Amazon!
That does not mean that it is perfect, but then again, which kayak does not have even one flaw?