[table id=Advanced-Elements-StraitEdge2 /]
Advanced Elements StraitEdge Two-Person Inflatable Kayak Overview
The Advanced Elements StraitEdge2 is an inflatable tandem addition to the Advanced Elements line of kayaks. This versatile kayak takes less than 10 minutes to be fully inflated and lasts an entire day. It holds 3 people at most but is designed for solo rides with simple adjustments. It hold a maximum of 227 kilograms which is relatively heavy.
When inflated the StraitEdge is 35 inches by 13 feet and is available in two colours; yellow or green.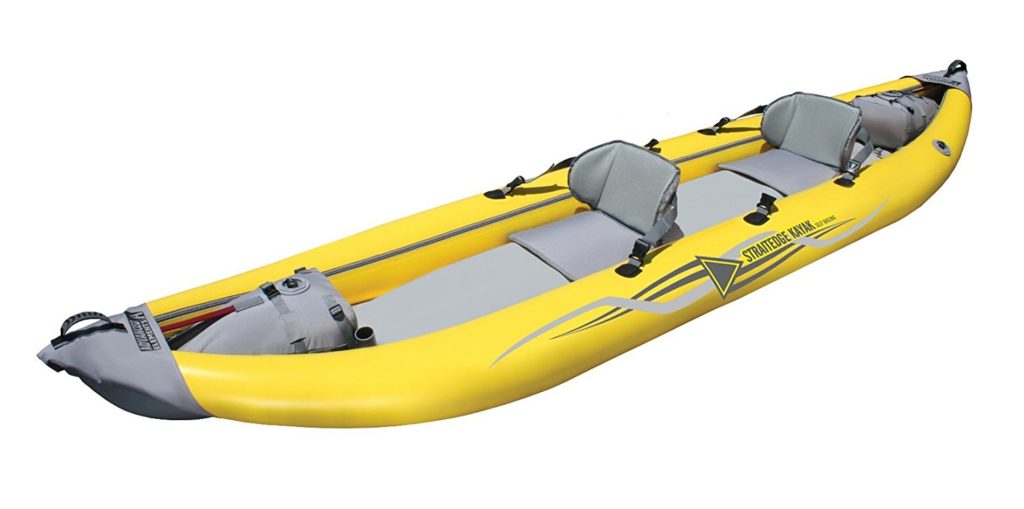 Features of the Advanced Elements StraitEdge2 Tandem Inflatable Kayak
Is the Advanced Elements StraitEdge2 Kayak Designed Well?
The AE StraitEdge Two-Person Inflatable Kayak has been built with an aluminum bow and stern frame which serves to improve tracking in open water. It has an inbuilt valve which allows it to shed water in high seas and open waves. The valve can also be closed in calm water for a more quiet sail.
The kayak can either be used as a tandem or a solo sit-on convertible kayak.
This is made possible by the adjustable seats which can be moved to the center for more solo comfort.
The Advanced Element StraitEdge Kayak is made of two layers heavy duty PVC tarpaulin which is strong and puncture resistant. The advantage of this is that it allows you to drag your kayak along the beach without the fear of damage. Its strength also means that even if you bump on rocks during kayaking, there is no risk of water flooding the kayak.
The PVC build makes the kayak very durable. You can be assured of service that will be no less than 4 years. Check out this video:
Is the AE StraitEdge2 Kayak Comfortable?
The kayak is made of breathable foam mesh which is very comfortable. The seats are made with padded mesh to allow for a full day kayaking activity without spinal strain.
What's Any Kayak Without Stability & Maneuverability?!
This kayak is fairly stable and may be used on level 3 whitewaters. This makes it an attractive kayak for professional kayaks and for individuals engaging in kayaking as a social sport.
The kayak also has thigh straps to ensure you are able to sail in a straight line.
It is stable enough to allow a wine glass to settle on it without toppling over. This stability feature is especially attractive for amateurs who might be afraid of the experience. It helps to build confidence.
How Would You Store the StraitEdge2 Person Kayak?
The kayak comes with a waterproof duffel bag addition. This allows you to deflate it and comfortably store it in your trunk or garage. This also allows you to be able to carry it along for camping trips in the wild. It can also be checked in as luggage when flying.
Summary of Unique Features!
The kayak has rod holders on the side. This means you can double up your outdoor water experience with fishing.it also reduces the weight that would come with adding an additional rod crate.
It comes with a one year manufacturer's warranty.
The additional items that come with this kayak include:
Folding seats
A repair kit
Manufacturers own manual
Pros
Easy to set up and comes pre-assembled in the factory.
Its stability is a selling point
It takes only ten minutes to fully deflate it.
Safety is enhanced by the open water tracking system.
Easily portable
Cons
When first used, it tends to steer off in the opposite direction. This will need a while to get used to.
Relatively slower compared to other kayaks of the same weight and length.
How Much Does the Advanced Edge StraitEdge2 Inflatable Kayak Cost?
There are many different offers for this kayak and it depends on where you buy it. For a very sturdy two person kayak (also known as a tandem kayak), it falls in the typical range.  However, Advanced Elements is not new to the game and makes some of the best inflatable kayaks available on the market!
Do People Like the StraitEdge2?
Most customers that have bought the StraitEdge tandem kayak have voiced their appreciation of its stability and versatile nature. The durability of the kayak makes it a once in a lifetime decision that you will definitely not regret.
Is the Advanced Elements StraitEdge2 Worth It?
With all, that's been said above it's quite clear that the Advanced Elements StraitEdge2 is a versatile and handy kayak for anyone who loves kayaking and canoeing. Its convertible nature coupled with the stability are a pull factor for family kayaking and group adventures.
Advanced Elements is a sturdy name in the inflatable kayak industry, making the AE StraitEdge 2 another hit.
Need More Information?
Well, buying a kayak can be challenging if it's your first time. Sometimes pictures and videos help, so check out the following video to see how easy it is to set up the Advanced Elements StraitEdge2:
Even better, the next video goes into details about the parts of the Advanced Elements StraightEdge 2 and its build, plus more: