Looking for a 2 person kayak but not sure which one to purchase? Well, lucky for you that you landed on our first ever, buyers guide created to help you determine which ones are the best of the best.
However, before you purchase your tandem kayak, make sure you consider the following before making up your mind regarding which kayak to purchase: you and your regular kayaking partner's height, how much room you both need, how much storage you need (is this for fishing or cruising gently), if it has a storage hatch, is your new kayak for performance or just a good time? Better yet, is it durable?
Lastly, keep in mind that you'll be keeping your kayak around for a long time… long enough that you may as well give it a name.  Anyways, please keep in mind that a lot of research and testing went into the recommendations we are presenting here.  If you click on one of the Amazon links, we may earn a small commission which helps us maintain the site.
Let's get started with the top 15 tandem kayak list:
1. Sun Dolphin Bali 13.5 Tandem
Coming in #1 choice for many reasons as our 2 person kayak, you can NOT go wrong with the Sun Dolphin Bali 13.5 two person kayak!
As you might have guessed already, the 13.5 in the Sun Dolphin Bali 13.5 Tandem kayak denotes the length in feet. With that length, it is okay for any prospective owner to expect more than a handsome looking cockpit. Measuring 34 inches in width, the boat has enough wiggle space, comfortably accommodating up to three people.
The kayak's hull is well shaped to cut through the water with acuity. At a hull depth of 17″, the Sun Dolphin Bali 13.5 tandem overhang is commendably done and leads to an upraised bow area. As such, when paddling in rough waters, the kayak's bow area sheer lines are still retained way higher than the waterline. This negates the need to get skirting to prevent front water splashes.
Additionally, the Sun Dolphin Bali 13.5 Tandem's angular stance while in water gives it a self-bailing capability, which enables the ejection of water from the cockpit.

The kayak is only able to accommodate up to a maximum of 500 pounds, which translates into three average weight adults without fishing gear and other items. As such, it is safe to assume that the third seat could accommodate a child, dog, or extra gear. Fully rigged, the Sun Dolphin Bali 13.5 Tandem weighs only 70 lbs.
Pros
Easily accommodates tandem and solo usage
Offers a fast means of rigging, with very little additional effort
Sufficient storage space for a light fishing expedition
This kayak is comfortable & easy to use and maneuver
Cons
Not an optimal fishing kayak, lacks devices like transducing spots, fish rod holders, etc
Prepare yourself for water splashes, common for sit-on-top kayaks
Check out the Sun Dolphin Bali 13.5 on Amazon!
2. Sea Eagle Razorlite 473rl
For starters, the Sea Eagle Razorlite 473rl is space-centric, like most of the best kayaks on the market. Measuring at a length of 15'6″, the Sea Eagle Razorlite 473 rl inflatable kayak is long enough for tactile functioning.  You will see why this makes for a great 2 person kayak in a moment.
One good thing about inflatable kayaks is their lightweight attribute. The 1000 denier material (quite tough) does not betray the boat's lightweight nature. The drop stitch technology also makes the Sea Eagle Razorlite 473rl very tensile. The 3 chambered body is composed of the starboard, floor, and the side hull.
Gauging 10″ high and 4″ thick, you are well covered. To provide further protection from the water, the Sea Eagle Razorlite 473rl also comes with bow and stern spray skirts. Sea Eagle does not boast about it, but the Razorlite 473rl's straight hull build provides it with almost the same build reflex found in rigid non-inflatables.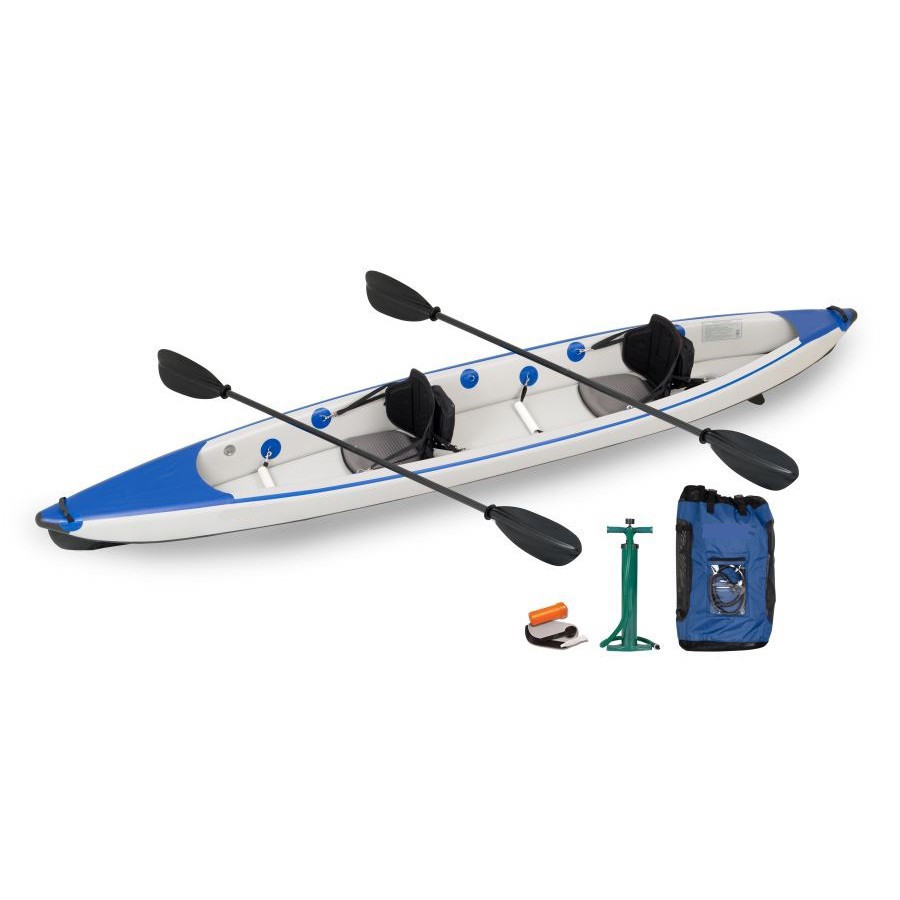 For enhanced comfort during paddling, the Sea Eagle Razorlite 473rl comes equipped with two parts of removable footrests. The footrests are also adjustable to allow for all leg lengths and comfy positioning.
This 2 person kayak also comes with a backpack carry bag and a repair kit. The all purpose carry bag not only accommodates the deflated 30″ x 19″ x 9″ hull, but also carries any extra pieces of the boat within it. The repair kit, on the other hand, is composed of a strong adhesive, prick needle and PVC patches and is only meant for minor repairs.
Pros
NMMA certified, which is proof of its adherence to safety standards
Swept Back Rear Skeg, which can be removed
Backpack carry bag
10 psi inflation pressure
Has a 750 pound load capacity
Cons
Lacks sufficient storage to make it an angling or long trip vessel
Check out the Sea Eagle Razorlite 473rl at Amazon!
3. Ancheer Inflatable Dinghy
Next on our list for a two person kayak is this boat… not quite a kayak, but an amazing option!
The Ancheer's four-chambered PVC hull is as good as any dependable boat should be. The 0.9 mm material on the triple layered hull is not only tough, but is also UV, puncture, stain and oil resistant. There are a good number of two and three-chambered rafts but the Ancheer inflatable dinghy has four chambers that accommodate a pressure of 3.6 PSI.
Measuring 7.55′ x 4.13″, the Ancheer Inflatable Boat shores up enough space to support 2 people, but the 10.8′ model can hold 4-5 adults or a weight of up to 880 pounds. However, for a smooth ride in this sized model, it is recommended that you restrict the number to three grown ups.
For additional stability, the Ancheer Inflatable Boat provides a 360 degree crash barrier to protect you in the case that you have an accident. The barrier is nicely done, fitting well with the rest of the hull without reducing its function.
Fully rigged, the Ancheer Inflatable Boat has a load capacity of anywhere from 616-880 pounds, depending on the size of the boat. That weight includes the motor, passengers, and luggage. If you want to bring your family out, then the 10.8′ dinghy would be a better choice than the 7.55′.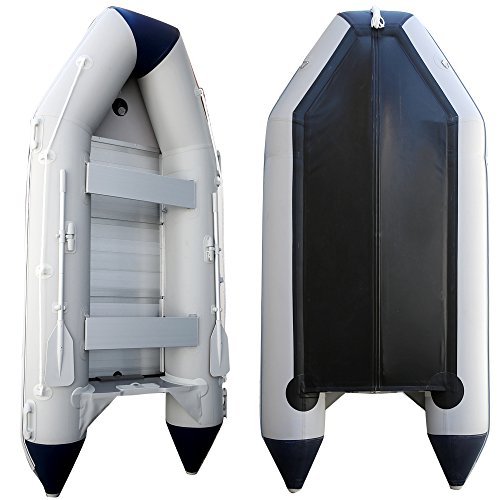 In terms of storage, Ancheer Inflatable raft has very little to write home about, with no hatches or rod holders. This is rather understandable, because the boat is not inherently built as a fishing or long trip vessel.
Pros
Not just a 2 person kayak but a multiple-capacity boat!
Can be used on both fresh and salt water
Easy to assemble with an easy to understand manual
Stress-free maneuverability
Cons
Seating benches not the most comfortable
Lack of storage space with more passengers
Check out the Ancheer Inflatable Boat on Amazon!
4. Hobie Tandem Island Sail
Every time we mention this 'kayak', we are super excited! Why? Because this two-person kayak is more than just a kayak; it can easily become a sailing kayak. Read on:
As a part of the redesign, the Hobie Tandem Island Sail features a sturdy frame made with rotomolded polyethylene, which ensures a strong, fully adjustable, and customizable frame. It has a length of 18'6″ and a width of 30″, while the hull weighs 130 pounds with basics and 240 pounds when fully loaded with accessories. This kayak has the perfect makings and in a moment, you will see why.
Thanks to its quality constructed frame, the Hobie Tandem Island Sail will not only accommodate up to 600 pounds, but it will also ensure great stability while sailing in tough conditions, such as strong water currents or winds.
This 2 person kayak features 2-piece carbon-composite masts, whose main function is to reduce weight while maximizing performance. The kayak also boasts of a Lowrance Ready system that features a built-in Transducer Mount that will also greatly enhance your fishing experience.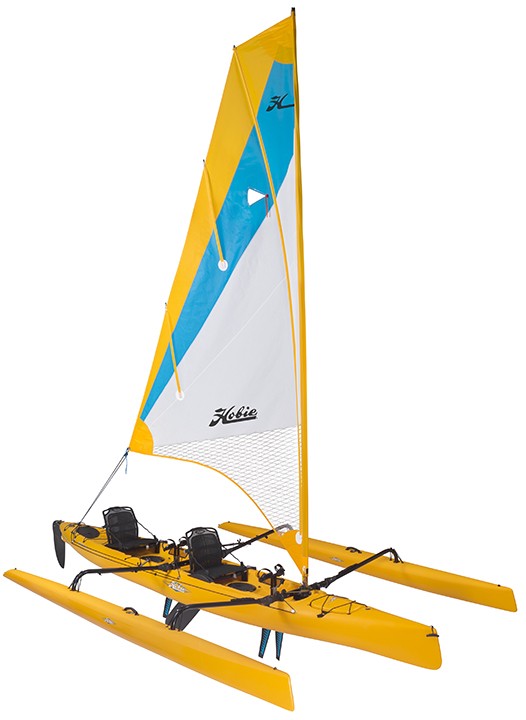 It features two MirageDrives, one in the front and one in the back, which allows for increased speed and ease of use. The Hobie Tandem Island Sail is an incredibly designed kayak that allows you to paddle, sail, fish, and pedal with great ease and with maximum speed.
Pros
Two MirageDrives and rudder controls in the front and rear for dual steering
Hobie Tandem Island Sail is sturdy, durable frame construction for long lasting use
Excellent performance, versatility, and stability, which is made apparent in this Hobie Tandem Island review
Hobie Tandem Island kayak is faster than most 2 person kayaks, easily maneuverable
Vantage CT seats with lumbar support that are easily adjustable
Optional 8-gallon live-bait tank for fishing and trampolines for extra storage space
Cons
Too heavy for people to use if they are heading out alone
Check out the Hobie Tandem Island Sail on Amazon!
5. Sea Eagle Sport 370 2 Person Kayak
Let's get to our #5 pick: the Sea Eagle Sport 370!
It has a maximum weight capacity of 650 pounds (and has been tested with around 450 lbs and faired great!) and comes in around 150L x 34W x 13H inches. The 370 has room to seat two people and most people have found that to be pretty roomy (even tall folks) so room size isn't a concern.  If you are on the heavier side, then the 370 has the room advantage over the 330.
A lot of folks have tested the Sea Eagle 370 in decent wind conditions around islands and small lakes and have found it to be extremely sturdy.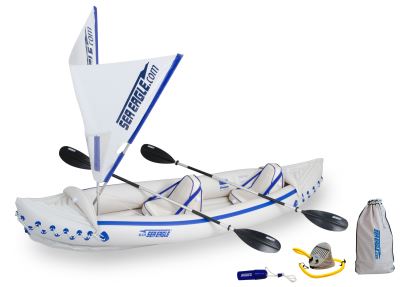 The Sea Eagle 370 is also NMMA certified  which means this particular inflatable kayak meets the minimum manufacturing regulations set forth by the US Coast Guard. The 2 person kayak comes in around 32 pounds.  An added bonus is that it's a perfect fit for small cars and any other type of tight transportation.
Check out the Sea Eagle 370 on Amazon!
6. Sea Eagle Stealth Stalker STS10
This Sea Eagle Stealth Stalker STS10 2 person kayak is a lightweight, two-seater, sit-on-top vessel that comes ready for a fast water launch.
The Sea Eagle Stealth Stalker STS10 measures about 10 feet in length, which is long enough to allow for sufficient cockpit space after calculating the boat's hull space allowance. At a beam width of 5 feet, the boat is stable enough to run on most water bodies.
Upon deflation, the hull is reduced to just about 31" x 40" x 9". Thus, the Sea Eagle Stealth Stalker fishing boat is readily transportable, both when fully inflated and deflated. When fully inflated, the hull's diameter measures about 16 inches.
The Sea Eagle Stealth Stalker STS10 can be adjusted into a one-seater with the removal of one seat. With the ability to seat 2 people, the Sea Eagle Stealth Stalker STS10 is capable of accommodating up to a maximum weight of 1200 pounds.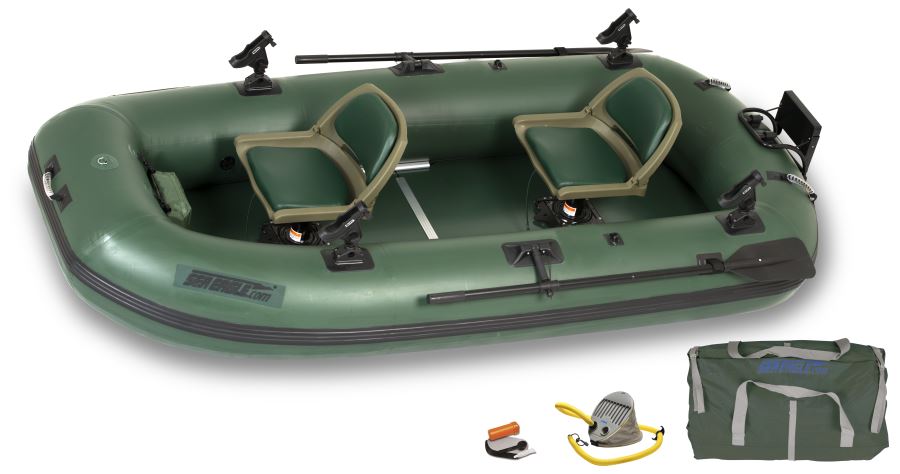 The Sea Eagle Stealth Stalker STS10 comes ready for motor mounting. It is recommended that you use a motor that weighs up to a maximum of 45 pounds. Weight notwithstanding, you can affix 4-horsepower motors with minimum shafts of 20 inches. The use of motors boosts the boat's speed up to a maximum of 6 mph. The speed is dependable on the type of motor used. You can go 5-6 mph with a gas motor and 4-5 mph with an electric one.
Pros
Easy handling, even for an inexperienced angler
Ability to add motors makes the Sea Eagle Stealth Stalker STS10 a good choice for anglers
Stable enough for use in various water conditions
Light enough to carry
Swivel seats that can rotate 360 degrees
Brackets to install a canopy for hot, sunny days
Easy to assemble, with an easy to read instruction manual
Universal Scotty Mounts to use any equipment you want
Cons
The Sea Eagle Stealth Stalker STS 10 lacks adequate storage
Wooden floor boards are quite heavy and stiff, which could lead to transportation issues
Check out the Sea Eagle Stealth Stalker STS10 on Amazon!
7. Hobie Pro Angler 17T Tandem Kayak
The Hobie Pro Angler 17 T 2 person kayak is one of the best angling boats you can use to enrich your family's fishing experience. Measuring 17′, the kayak's length creates enough space for an expansive cockpit, as well as sufficient storage spaces. The Hobie Pro Angler 17T has a width of 43.5" provides it with enough buoyancy to withstand the windy conditions you are likely to encounter during a fishing expedition.
A standard, fully fitted hull will have the Hobie Pro Angler 17T weighing 206.5 lbs. Adding a few features, such as the seats, will increase its weight to 244 lbs. The boat is able to comfortably accommodate a maximum weight of 900 lbs. This weight capacity makes it easy to carry two above-average weight adults, as well as whatever gear you will be taking.
The Pro Angler 17T two person kayak comes equipped with Hobie's signature MirageDrive 180 pedals, that are not only easy to use, but also efficient in providing speed control. Should you get tired of pedaling, you can choose the traditional method of paddling to get around. The Hobie Pro Angler 17 is equipped with two vertical paddles and a T-handle that can be affixed to the paddle for easy handling.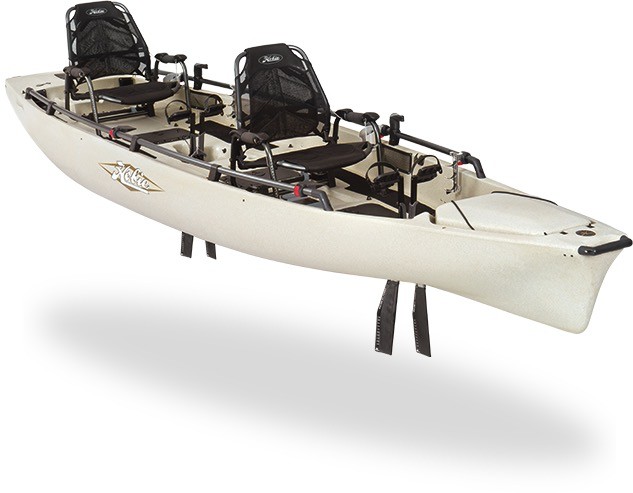 The Hobie Pro Angler 17T comes equipped with a rudder to assist in maneuver control. Both kayakers have rudder controllers on their left-hand side (in-line seating arrangement). The rudder control levers are easy to use and have a rubber grip to enhance grasp. This model of kayaks introduces the H-rails, which are meant to be used for various purposes, including attaching your fishing rod holders.
Angler 17T  has lots of storage space, maybe even more than enough for your fishing expeditions. As a precursor, this vessel is fitted with 10 horizontal fishing rod holders and 2 molded-in vertical holders. The H Rails also have 2 racks meant for rod storage.
Pros
This 2 person kayak contains comfortable three mode seating capability
Good pairing vessel for teaching new kayakers and anglers
Efficient control system, in the form of pedaling/paddling capability and rudder control
Very light, which allows for respectable speed levels
Able to add a small trolling motor, ideal for tracking
Lots of storage space
Cons
Pricing for the Hobie Pro Angler 17 is a little bit on the higher end
Open cockpit may be prone to cockpit splashes in unsettled waters
Controlling the Hobie Pro Angler 17 can be a challenge, especially in solo mode, due to the multiple controls
Vantage XT seat can get quite stiff when one sits down for long period of time
.Check out the Hobie Pro Angler 17T tandem on Amazon!
8. Outcast OSG Striker Raft
It's as small and as sharp as you would expect a striker vessel (militarily speaking) to look. Then again, it is not just the looks that speak for this raft, but also its efficiency as a vessel meant for angling. Even with its handsome look, this raft packs a punch by being able to accommodate up to two people without reducing its ability to deliver on performance hence why it made it on our list.
Its capability to withstand the rugged nature of rapids also makes it an excellent choice for adventurous anglers, which makes it the perfect 2 person fishing kayak!
The Outcast OSG Striker Raft's main frame, the inflatable hull, is made of urethane. At full inflation, the hull measures a diameter of 16". Urethane is a tough synthetic material that is able to withstand damage from rock and gravel grazing, as would be expected of shallow waters. Additionally, the seams of the AIRcell (the hull) are welded together.
Fully inflated, Outcast OSG Striker only weighs 102 lbs, but that does not stop this 2 person kayak from performing with a huge weight capacity of up to 800 lbs. With a fabric density of 1100 PVC, the craft is undoubtedly one of the toughest inflatable rafts on the market. Moreover, at a material weight of 24/27 ounces, the raft remains just about the right size/weight ratio for your maneuverability needs.
For speed freaks, the Outcast OSG Striker boat comes ready for a motor to be installed. For your storage needs, the craft has an attachable cargo pocket bag, which does not look like much from afar, until you start opening up those pockets. The cargo of the Outcast OSG Striker Raft has two zipped pockets which, though not very large, are enough to hold quite a nice amount of medium sized items such as a pump, your angling knife, bags and other stuff.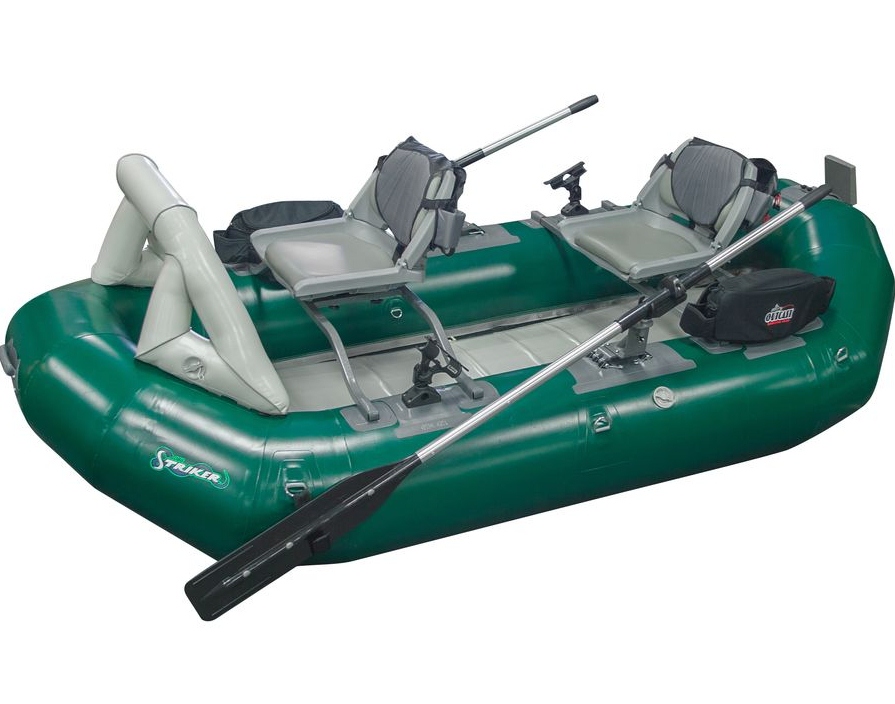 If you're out all day fishing, it's a certainty that you will get thirsty, so the two cup holders that are included will come in handy.
Pros
This 2 person kayak & boat is very light, inflatable and detachable, hence easy to transport
Easy to repair, making it cost efficient, as mentioned earlier in this Outcast OSG Striker review
Comes with an easy to understand assembly manual
2 sets of oars included
The IGS makes it easy to add and remove items
Self bailing floor
The Outcast OSG Striker Raft can be used for both solo and dual angling
Cons
The Outcast OSG Striker Raft requires careful storage in order to last longer
Material may be susceptible to UV, so it is advised that you use UV-resistant boat cleaner
Check out the Outcast OSG Striker Raft on Amazon!
9. Point 65 Apollo
The Point 65 Apollo is our #9 choice for for all the right reasons. Let's get started:
With the Point 65 Apollo, you get a modular frame that is comprised of up to three connectable pieces. When fully assembled, this 2 person kayak has variable lengths, depending on how many parts of the 55-inch sections are attached. The length of the vessel can vary widely to become either a single person, a tandem, or even a triple person kayak.
When all parts are used, the Point 65 Apollo kayak is 12'9″ long, and has a width of 24.2″.
Being an open sit-on-top watercraft, the Point 65 Apollo kayak's seat and storage compartments are the only visible aberrations to the streamlined design of the watercraft. The Point 65 Apollo kayak features a hull that is shallow-shaped at the bottom to increase its stability in the water. It weighs 67 pounds and can hold up to 485 pounds.
This kayak contains very comfortable foam seats. These seats are quite comfortable, as they have a strong backrest that is also foldable. The vessel also comes with contoured foot braces for increased comfort while paddling.
The removable midsection, for instance, comes with an additional seat that enables the vessel to transform to a two person kayak. The midsections can also be added to make the vessel longer and longer as necessary. The Point 65 Apollo kayak comes with a tank well that allows the users to store their paraphernalia in a safe, secure and dry storage space.

For a kayak that can handle a considerable loading capacity, the Point 65 Apollo is a decent machine for carrying a good load of fish. You can load the modules into your car, so there's no need to get a roof rack. You can also store the pieces in your house or apartment, instead of trying to think of how you will fit a full sized kayak in your home.
Pros
Lightweight, easy to carry around and store
Very versatile watercraft that can be transformed to suit many purposes
Thermoplastic material makes the Point 65 Apollo tandem strong and durable
Sufficiently comfortable and stable for safe use in the water
High performance from high maneuverability
Sufficient storage space for extra gear
Cons
Water tends to get inside, as the modular hull leaves some open spaces on the bottom
Tracking can be a challenge, especially for beginners
Carrying all the modules at once is not an easy task
The Point 65 N Apollo kayak does not come with a rudder or skeg
Check out the Point65 Apollo on Amazon!
10. Aire Lynx
Constructed with performance in mind, the Aire Lynx 2 preson kayak is sleek, durable, well-constructed, and easy to maneuver on the water. It comes in several colors including blue, orange, dark green, yellow and purple. It is rugged, stable, compact, and comes with a range of new features guaranteed to improve the overall experience.
The Aire Lynx II inflatable tandem kayak is constructed with 1300 Denier and 22 oz PVC coated polyester. The vessel is held together by strong welded seams and an outer PVC shell.
Leading the way in innovation and technology, the Aire Lynx 2 person kayak is created using Ferrari's patented Precontraint PVC fabric and urethane AIREcell bladders that are attached to the outer PVC exterior. This construction feature ensures reliable abrasion protection.
Although the Aire Lynx 2 is designed for two paddlers, it is versatile enough to be used for a solo expedition, as the extra seat can be removed and the other one can be placed in the center of the kayak.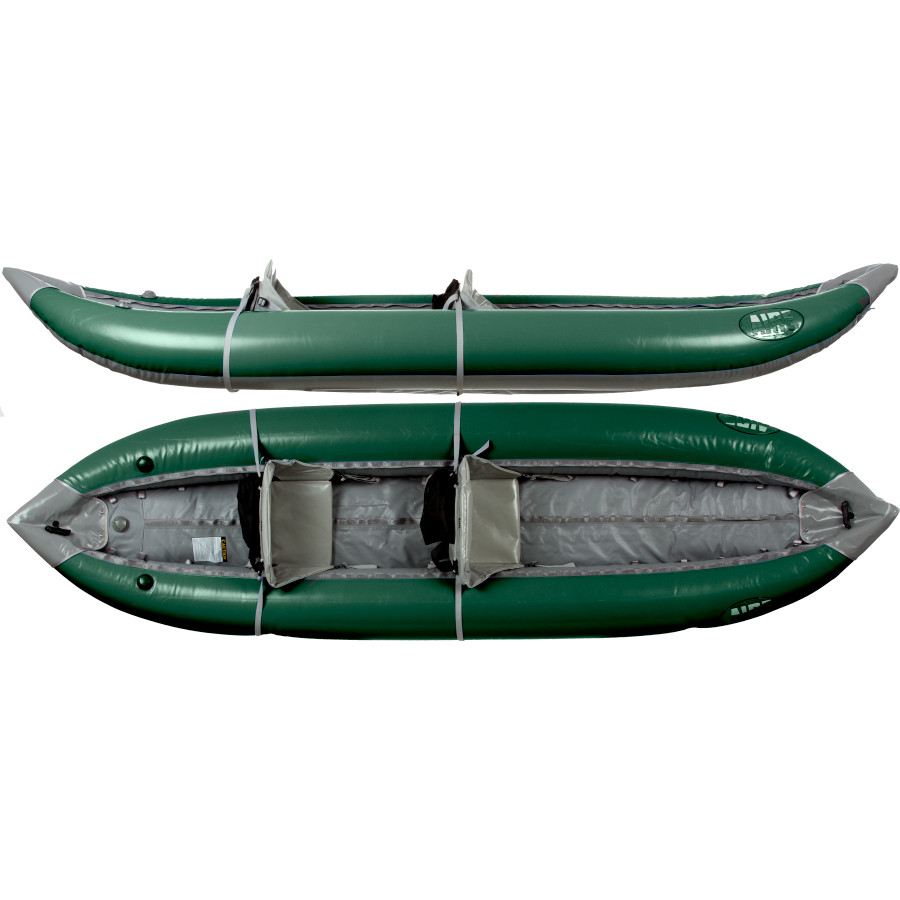 The Aire Lynx 2 person kayak measures 39 inches in width, which is four inches wider than the Aire Lynx I, so it has a little more storage space. When it is empty, it weighs just 39 pounds, but the Aire Lynx can actually hold up to 475 pounds and function efficiently.
For additional storage, the seats come with zippered pockets on the backs for your water, sunglasses, cell phone, or whatever else you need to be close by.
Pros
Versatile – both beginners and experts in water sports can operate the Aire Lynx 2 kayak efficiently
Incredibly stable with a comfortable interior
Compact design makes for easy entering and exiting
Cons
The Aire Lynx 2 is meant for rapids no higher than class III
Wide interior can be disadvantageous for slimmer paddlers trying to lock in their hips
11. Point 65 Martini
This sit-in modular 2 person kayak features a roomy cockpit and a great seating system, serving functions of both a solo and a tandem kayak.
Primarily a solo kayak, the Point 65 Martini Kayak can be separated and a midsection added to make it a tandem kayak. In solo form, the kayak measures 10'5″, with the aft section measuring 5'9″ and the stern section measuring 4'8″. At full tandem length, the vessel measures 13'8″ with the addition of a midsection that measures 5'4″.
The Point65 Martini 2 person kayak has a mid width of 27.6″ is responsible for its bullet shape that aids in giving the Point 65 Martini Kayak a significant level of speed. Made of UV-resistant polyethylene, this boat is capable of withstanding sunny days for long periods. The vessel comes with a drop down rudder that can be attached to its back, and it can be controlled using pedals found in the front cockpit section.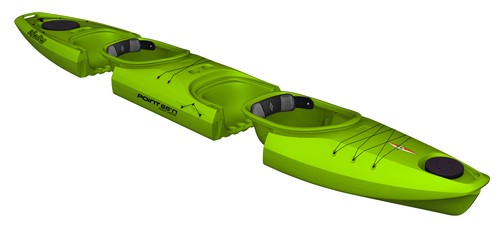 The sit-in cockpits are roomy and comfortable, measuring 33″ x 18″. Inside each cockpit is a comfortable air seat whose backrest can be regulated into position through pneumatic means. As a tandem kayak, the Point 65 Martini Kayak is able to hold up to 530 lbs., which is sufficient enough for two average weight adults.
The patented Snap-Tap feature, only available with Point 65 kayaks, makes this 2 person kayak not only convenient for both tandem and solo use, but also easy to transport.
The recyclable PE frame of the Point 65 Martini Kayak makes it one of the few environmentally friendly kayaks you can buy. The Point 65 Martini Kayak has a decent storage capacity. It comes equipped with two hatches. The front hatch measures 7.9″ by 7.9″ and is situated almost towards the end of the bow, sufficient for putting items that one does not need right away.
The aft hatch is a little bigger, measuring 17″ by 10″, making it suitable to store more items, including a mini cooler to store your caught fish in. It is also appropriately situated close to the back of the last cockpit.
Pros
Easy to transport, due to its detachable and lightweight form
Capable of gaining substantial speed to get from Point A to Point B
The Point 65 Martini tandem Kayak comes with a comfortable air seat and adjustable backrest
The presence of a rudder enhances navigation of the boat
The front and back sections are water tight, enough to avoid water leakage
Sufficient storage space on the Point 65 Martini
Cons
One may need to use a spray skirt to prevent water from splashing into the cockpit
Check out the Point 65 N Martini Kayak on Amazon!
12. Advanced Elements StraitEdge Tandem
The Advanced Elements StraitEdge2 is an inflatable tandem addition to the Advanced Elements line of kayaks. It holds 3 people at most but is designed for solo rides with simple adjustments. It hold a maximum of 227 kilograms which is relatively heavy.
The Advanced Element StraitEdge Kayak is made of two layers heavy duty PVC tarpaulin which is strong and puncture resistant. The advantage of this is that it allows you to drag your kayak along the beach without the fear of damage. Its strength also means that even if you bump on rocks during kayaking, there is no risk of water flooding the kayak.
The AE StraitEdge tandem is fairly stable and may be used on level 3 whitewaters. This makes it an attractive kayak for professional kayaks and for individuals engaging in kayaking as a social sport.
Pros
It is easy to set up and comes pre-assembled in the factory.
Its stability is a selling point
It takes only ten minutes to fully deflate it.
Safety is enhanced by the open water tracking system.
Easily portable
Cons
When first used, it tends to steer off in the opposite direction. This will need a while to get used to
Relatively slower compared to other tandem kayaks of the same weight and length
13. Malibu Pro
The Malibu Kayaks Pro 2-person kayak is a sit-on-top kayak designed for fishing, allowing you to navigate lakes, slow streams, ponds and even rivers that have fast moving water. Its hull is designed to slice right through the water, weeds and low waves.
Due to its construction, the Malibu Pro 2 is ideal for recreational paddling for people of various ages and ability. You can also use it with one paddle or two.
Firstly, this two person kayak can accommodate a single paddler, or two in tandem mode. It is comfortable, stable and does not tip. It is also easily maneuverable and flexible. To ensure full control over the craft as you fish, it has dry seating.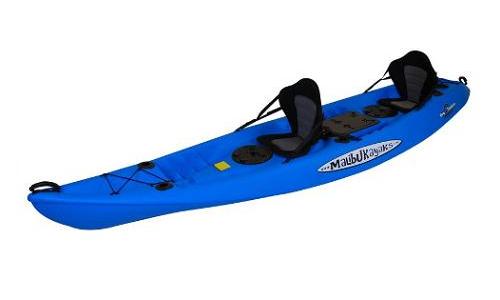 Moreover, it has foot wells that  are molded into its center. The Malibu Pro 2 kayak has long lasting quality build. This is because it is made with stainless steel hardware guaranteed by a lifetime warranty from Malibu Kayaks. It also has an amazing weight to capacity ratio, weighing only 60 pounds, but being able to support up to 550 pounds.
The Malibu Kayaks Pro tandem is designed to be stacked with other kayaks. Moreover, it has an insert molded into its body that is designed for a motor mount. The kayak is 13 feet long, so it is advisable to haul it on a trailer or carrier when traveling, instead of putting it in the trunk or boot space of your car.
Pros
Does not tip over
Has dive wells for the front and rear of the hull
Has a motor mount that is ideal for trolling
It has durable construction due to a stainless steel frame
Con
Sometimes it arrives with 4 rod holders instead of 6, as indicated in its advertisement
14. AIRHEAD AHTK Montana Performance
Yes, the Airhead AHTK-2 Montana is a two person inflatable kayak and comes in around 12 feet long. It is constructed of durable material making it ideal for kayaking in the lakes and moderate white river rafting. The floor is designed as tubular I-beam floor (typical) and weighs around 36.3 lbs. It can support upto 500 pounds!
15. Outcast Fish Cat 13
If you are looking for a catamaran that is light, versatile and tough, this little beauty will not disappoint. Not only that, but the Outcast Fish Cat 13 Pontoon boat is very stable, so if you like to fish on rivers that are rough, like rapids, this just might be the boat for you.
Whether you're planning on fishing Arkansas' White River, the Colorado, the Pacific Northwest or any other quick flowing streams, you won't go wrong with the Fish Cat 13..
This construction method gives the Outcast Fish Cat 13 Pontoon a load capacity of 750 pounds, while only weighing in at a reasonable 170 pounds. The 11-piece frame is quick to set up and break down, making sure you don't spend more of your day putting the boat together (and packing it up again) than you do out on the river, fishing. You can completely remove the front seat module to transform the boat into a fantastic craft for one.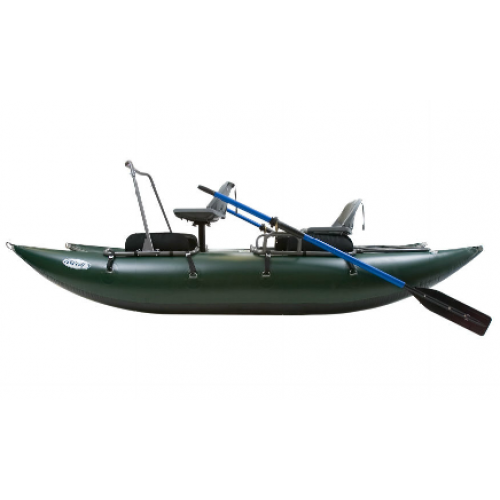 Built to fit a mount for an outboard motor (mount, motor and pump sold separately), as well as two 8-foot oars as standard, Outcast Sporting Gear have thought of everything you need to get started. See why this pontoon made it as #15 on our list?
you can also get yourself rod holders, and a casting platform for more versatility in casting options. For added comfort, you can get swivel bases and folding and padded seats.
Pros
The Outcast Fish Cat 13 Pontoon is stable, with a sturdy and dependable construction
Lightweight for easier transportation
Versatile: can be used to fish, go camping, or leisurely paddle or motor around
The Outcast Fish Cat 13 Pontoon is well priced, for a large, multi-use inflatable boat
Good range of optional extras on the Outcast Fish Cat 13 Pontoon
Lots of storage, as previously mentioned in this Outcast Fish Cat 13 review
Cons
Restricted standard inclusions
Due to being light, the Outcast Fish Cat 13 Pontoon doesn't track as well as heavier boats
Check out the Outcast Pontoon Fish Cat 13 Pontoon on Amazon!
Honorable Mentions:
innova helios II
BIC YAKKAir HP2 Fishing Inflatable Kayak
Sea Eagle Fast Track Inflatable
point 65 mercury gtx
Elkton Outdoors Tandem
Summary
Annnnnd, there you have it, ladies and gentlement! These are Killer Kayak's Top 20 tandem kayaks that made our list.
Truthfully, any of these tandem kayaks should deliver you and your kayak partner lot of awesome experiences, but the decision is yours to make!