The Riot Kayaks Astro 58 is a play boat kayak, which means it's meant to be fast and perform tricks in whitewater rapids and on ocean waves. The innovative and ingenious design provides it with an adequate buoyant force that lets you fly along the surface of the water like you're floating on air.
The edges of the Riot Kayaks Astro 58 are designed for precision to help you make even the most difficult of cuts and turns in the water, giving you perfect control over your kayak and a chance to show off some of those wild skills. Needless to say, it's meant for advanced paddlers who have a lot of experience with whitewater kayaking. And you can see why in our Riot Kayaks Astro 58 review below.

Frame
The Riot Kayaks Astro 58's frame is made with polyethylene and weighs almost 40 pounds, which is quite efficient for its shape and size. The Unity seating system is made with foam, with a floating backrest, which makes for a very comfortable ride, and also keeps you in control with thigh braces as well.
Check out our in-depth articles on the Riot Kayaks Polarity 16.5 Tandem and the Riot Escape 12 Angler
The vessel itself is 6.3 feet long, 26 inches wide, and comes only in red. There is no real room for storage, which could be a problem to some, but not for those who want a quick ride on the rapids.
Riot Kayaks Astro 58 Features
The Riot Kayaks Astro 58 consists of a single seating system, fit for only one person. A proper backrest is present on the immediate end of the seat so your back does not feel uncomfortable against the hard interior. Also, there's less risk of an injury during hard jumps and lags while paddling your way through water.
Precise suregrip thigh braces are present that fit nicely to knee length for secure and proper protection of your legs and thighs while you are kayaking.
Two rubber grab loops and two rubber handles are fitted for easy access and transport of the Riot Kayaks Astro 58, making it easy to pick up and handle. An aluminum security bar is also installed on the kayak. They are strong and sturdy, used for pulling and grabbing in case of rescue situations.
Water can easily get inside your kayak, so it is very crucial for you to let it out. For that purpose, a strongly bolted drain plug is present, which shifts the water from inside the boat to the outside. Before jumping in, make sure the drain plug is tightly corked in first.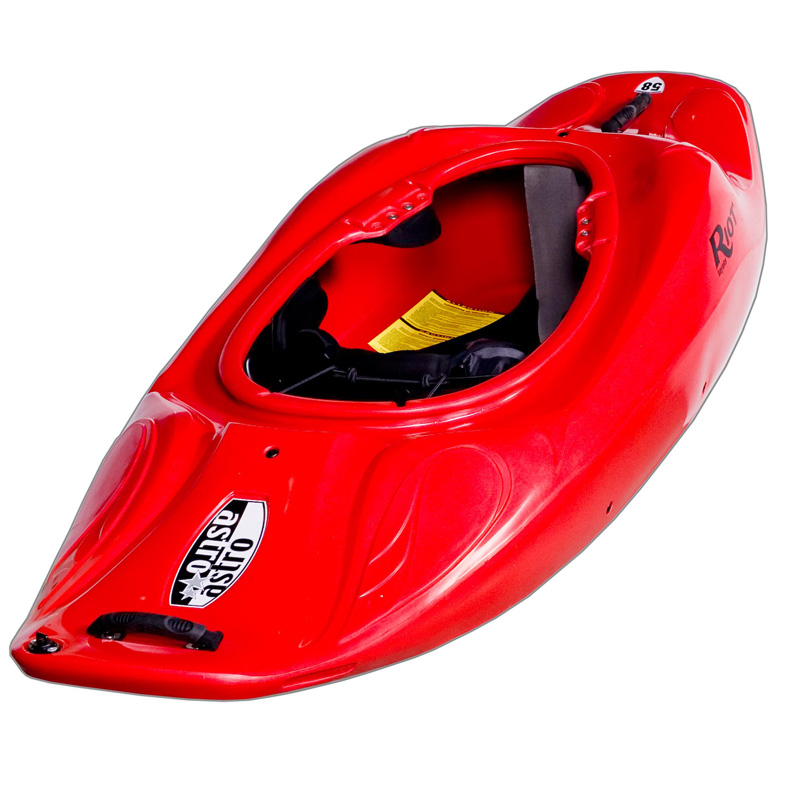 Riot Kayaks Astro 58 Storage
The Riot Kayaks Astro 58 is stable enough to be stored on a universal storage stand made of aluminum. You can even store it inside your garage with a tilted wall mount so it can hang freely and can be easy to take off and hang back on. It is efficient as it helps to save space.
There is hardly no room for storage while in the water, as this play boat is meant for doing tricks and having a short, but fun time. This way, nothing falls out when you need to flip the kayak, it's just you and your speedy vessel.
Check out our articles on best inflatable kayaks, best 2 person kayaks, and best fishing kayaks here.
Pros
Great for tricks, fast spins and jumping
Security bar, thigh pads for extra control and comfort
Powerseat compatible
Extra handles for ease of transport
Small size makes it easy to store
Cons
A little expensive for its size, but it performs quite well
Only has space for one person
Lack of storage
Riot Kayaks Astro 58 Review Conclusion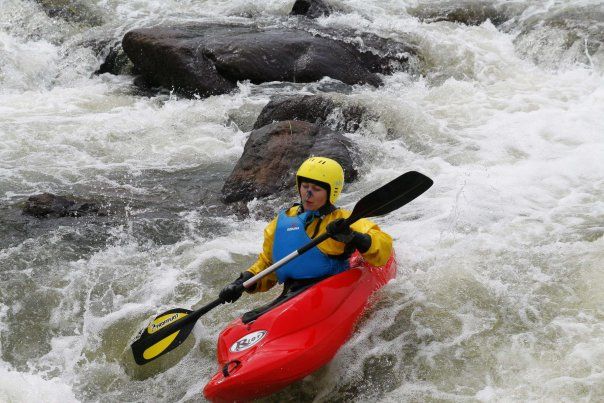 As you've read in this Riot Kayaks Astro 58 review, this kayak is safe and amazingly fun to use for a hobby or a special sporting event. The advanced features like the security bar, safety belts and handles make it a perfect watercraft for you to practice on and show your skills to the world.
Check out the Riot Kayaks Astro 58 on Amazon!
This is a very fun little kayak to get your hands on if you're just looking for a quick thrilling ride and you don't need storage on board.