The Hobie Tandem Island Sail is a unique kayak designed and manufactured by Hobie, a renowned kayak brand that offers you exemplary kayaks. The Tandem incorporates an exceptional design, new technology, and premium features that make it perfect for kayakers, sailing enthusiasts, and fishing fanatics.
The new design transforms this sailing kayak into a high performance, unique sailing machine that does not disappoint, regardless of any situation. You can exercise by pedaling or paddling, go fishing, or raise the sail and let the wind do all the work while you sit back and enjoy nature. Let's have a look in this Hobie Tandem Island review at the features and performance of this incredible piece of work.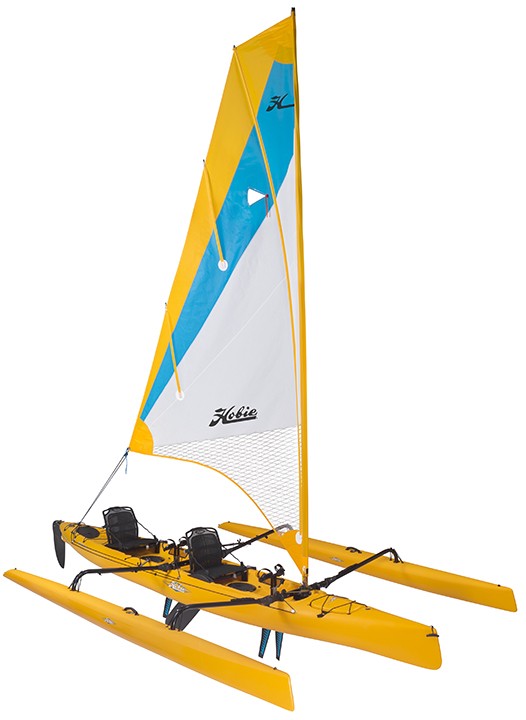 Check out the Hobie Tandem Island Sail on Amazon!
[Check out our other Hobie articles: Hobie Adventure Island Sailing Kayak, Hobie Pro Angler 12 Kayak, Hobie Pro Angler 14 Kayak!]
How Does the Build of the Hobie Tandem Island Sail Hold?
As a part of the redesign, this kayak features a sturdy frame made with rotomolded polyethylene, which ensures a strong, fully adjustable, and customizable frame. It has a length of 18'6″ and a width of 30″, while the hull weighs 130 pounds with basics and 240 pounds when fully loaded with accessories. This kayak not exactly lightweight, so you might need a hand carrying it to the water and bringing it ashore.
Thanks to its quality constructed frame, the Hobie Tandem Island Sail will not only accommodate up to 600 pounds, but it will also ensure great stability while sailing in tough conditions, such as strong water currents or winds. The amas are large enough to offer great stability and can tuck in against the hull for easy and hassle-free docking, or they can be removed completely. The sails can be detached and stored in a carrying bag.
The cockpit can be easily transformed into a peddling platform when the weather conditions are not favorable for sailing.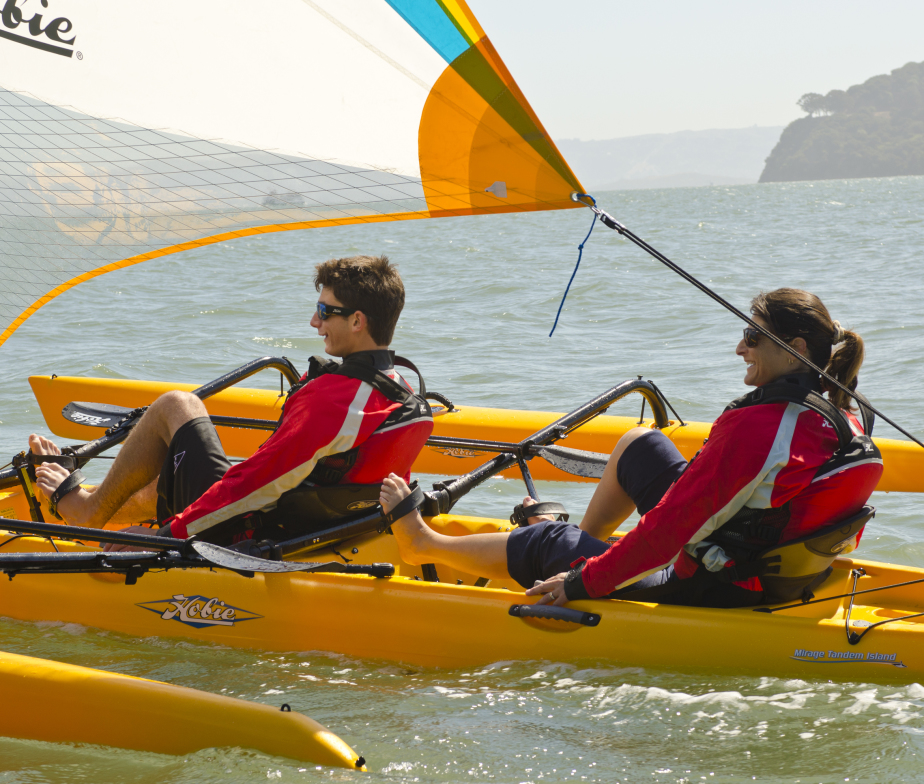 This kayak features 2-piece carbon-composite masts, whose main function is to reduce weight while maximizing performance. The sail's larger masts and sail area help provide smoother and faster rides, making your trip more fun and hassle-free. The kayak also boasts of a Lowrance Ready system that features a built-in Transducer Mount that will also greatly enhance your fishing experience.
Check out the Hobie Tandem Island Sail on Amazon!
It comes with Vantage CT seats that feature a 3-level height adjustment and can be reclined to a preferred angle for all day comfort. The kayak seating features lumbar support that provides superior comfort and support regardless of your sailing angle. That means you can stay out all day and remain comfortable all throughout. These seats are also quick-drying and can be substituted as beach chairs.
Features of the Hobie Tandem Island
This so-called kayak comes with a ton of premium features that offer great convenience and versatility. You will absolutely have a whole lot of fun on your water adventure because of this sailing kayak. It features two MirageDrives, one in the front and one in the back, which allows for increased speed and ease of use.
The Mirage Drive technology gives you the option of pedaling the Hobie Tandem Island Sail kayak when the sail is up and furled, once again enhancing your kayaking experience.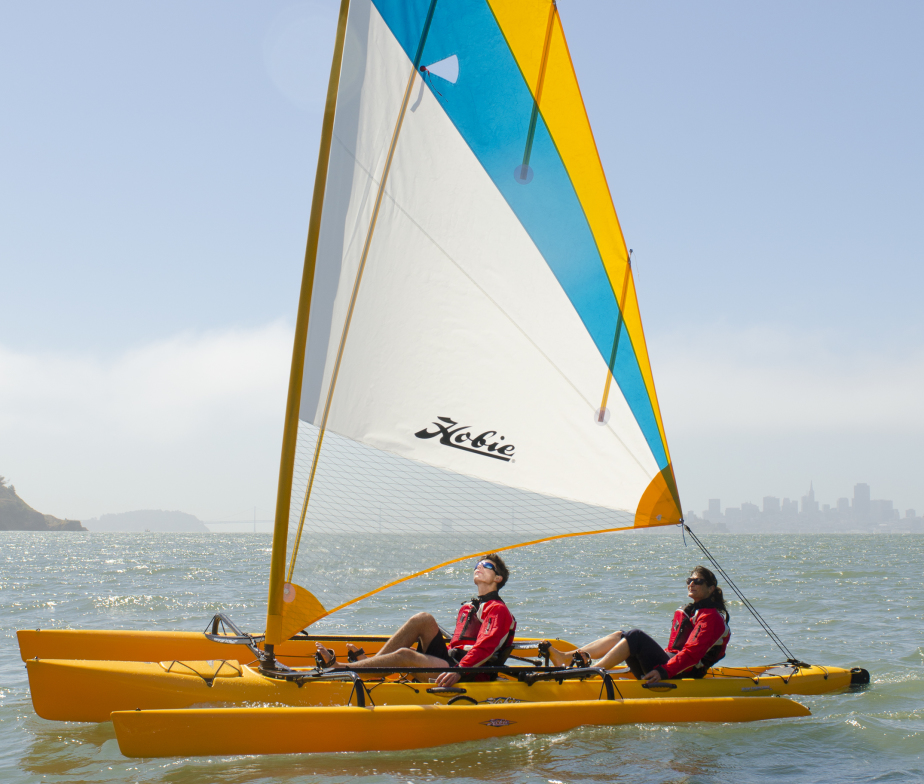 That's not the complete package; it also comes with two sets of paddles for quick steering situations, which can be stored on the akas when they're not being used. You also have the option of using the rudder steering controls in the front and rear cockpits.
The Hobie Tandem Island Sail is an incredibly designed kayak that allows you to paddle, sail, fish, and pedal with great ease and with maximum speed. Its pedal power makes it much faster when compared to most tandem kayaks on the market. With its 3 superior forms of propulsion, you don't have to panic when the wind stops blowing.
Also offering exceptional performance are the roller-furling systems and vertical battens, which provide a boomless surface sail and better lift. The retractable centerboards are expertly designed to reduce lateral slip, also ensuring a smooth ride. These centerboards basically fold up against the side of the Hobie Tandem Island Sail to ensure easy docking and transport, as well as maneuverability.
Storage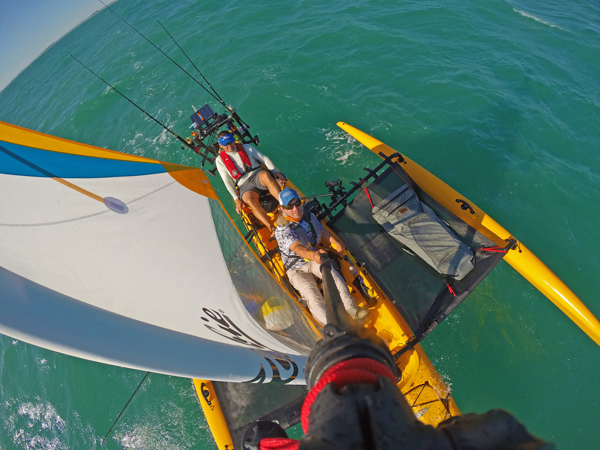 The Hobie Tandem Island comes with sufficient storage hatches, including four mesh-covered storage pockets, two molded-in rod holders, and 4 cup holders. There are bungee cords in the rear for extra storage that needs to be secured in place. One of the seats can also be removed, thus creating more room if you are going solo.
There are three twist and seal hatches, all three measuring 8″, as well as a very roomy bow hatch. You can purchase trampolines for the Hobie Tandem Island Sail for extra storage, and they can also be used to lay on, prevent water from spraying into the cockpits, or to invite kids or dogs along! They are made of a strong vinyl mesh that can be firmly tied to the kayak for reliable security.
Truly, this sailing kayak lives up to its name: a kayak that you can sail in & even use a trampoline!
Pros
Two MirageDrives and rudder controls in the front and rear for dual steering
Multiple storage options with the option to add more
It is sturdy, durable frame construction for long lasting use
Excellent performance, versatility, and stability, which is made apparent in this Hobie Tandem Island review
Hobie Tandem Island kayak is faster than most kayaks, easily maneuverable
Vantage CT seats with lumbar support that are easily adjustable
Optional 8-gallon live-bait tank for fishing and trampolines for extra storage space
Available in 3 different colors
Check out the Hobie Tandem Island Sail on Amazon!
Cons
It will be too expensive for many people
Too heavy for people to use if they are heading out alone
Check out the Hobie Tandem Island Sail on Amazon!
Hobie Tandem Island Review Conclusion
The Hobie Tandem Island Sail is, without a doubt, a great sailing machine that will transform the way you paddle, fish, or cruise on the water in luxury. It is sturdy, durable, comfortable, easy to use, and very versatile. Its premium features, whether they are already included or added later, can make this the greatest kayak you will ever buy.
You can fish with a live-bait tank, pedal and paddle when you want exercise, or sail when you want to just relax out on the water.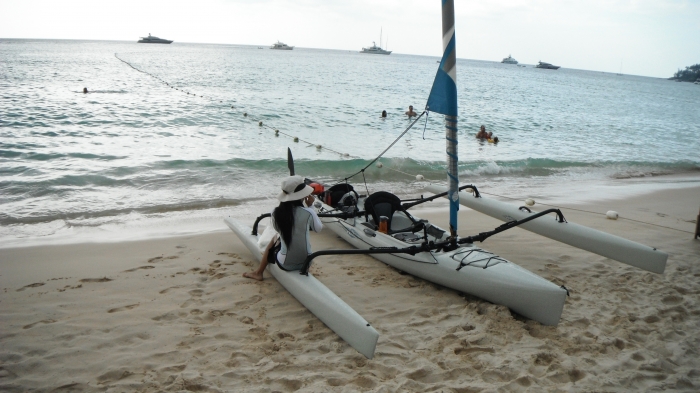 If you are a beginner, there is nothing to worry about, as the Hobie Tandem Island Sail is perfectly designed for beginners as well as professionals. If you have never sailed before, this is the perfect way to practice the techniques that make sailing much easier and more enjoyable.
So if you are a fishing or water sports fanatic, you will certainly want to try this state-of-the art piece of work, expertly designed just for you.
PS. Again, tons of information in this Hobie Tandem Island review. For that reason, we have included a video down below so you can see it in motion! Here is a neat video showing it off: