At an altitude of almost 7,000 feet, in the San Bernardino Mountains, lies Big Bear Lake, a beautiful vacation spot for tourists and locals alike. The city of Big Bear is located on the south shore of the lake and it's all surrounded by the San Bernardino National Forest. The Big Bear Valley includes Big Bear lake, the city of Big Bear, and other lakes and towns. The area sees over 100,000 visitors during popular vacation times and holidays.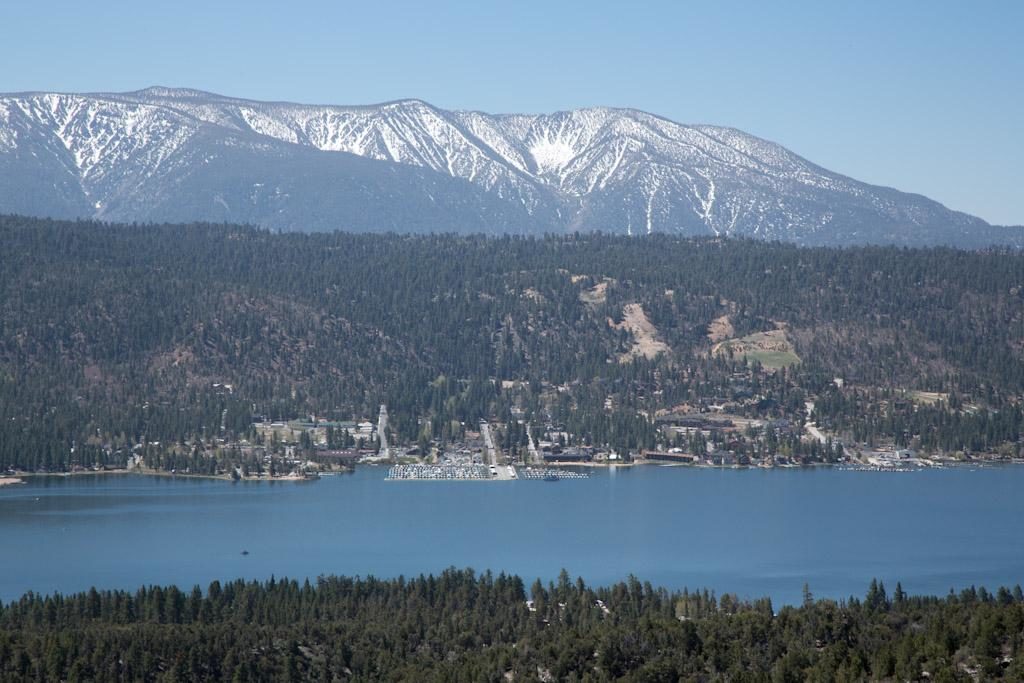 More About Big Bear
The temperatures for the summer usually stay around 80 degrees (although a high of 94 was recorded in 1998), and winters can get quite cold (around 25 degrees at the lowest). Snow falls every month except for June, July, and August, which means it's one of the only places where southern California locals will get to see an accumluation of snow!
Big Bear Lake is 7 miles long and it's a mile across at its widest section. Many activities are enjoyed at this popular vacation spot, including fishing, hiking, boating, snowboarding, and skiing. The area provides fun things to do all throughout the year, whether it's fishing or boating in the summer/spring, or skiing at the Bear Mountain or Snow Summit resorts in the winter.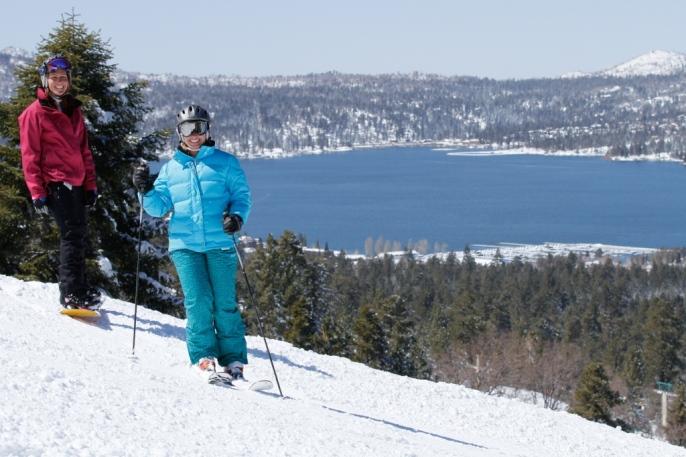 There is also plenty of lodging options, from hotels to cabins to resorts and cottages. There are restaurants that will please all tastes, bars, and coffee cafes (and yes, there's a Starbucks too…where ISN'T there one??). Let's find out a little more about the area and some of the things to do, in detail. If you're looking for kayak reviews to purchase one for your trip, please check out our site.
First, A Little History About Big Bear
The Serrano Indians lived on the land for thousands of years, along with grizzly bears (which is how the area got its name). However, in the midst of the Gold Rush, when explorers and their parties arrived, the bears disappeared (not surprising) and in 1933, black bears were introduced to the area. The Indians never killed the grizzly bears, nor wore their fur, since they thought of them of ancestors.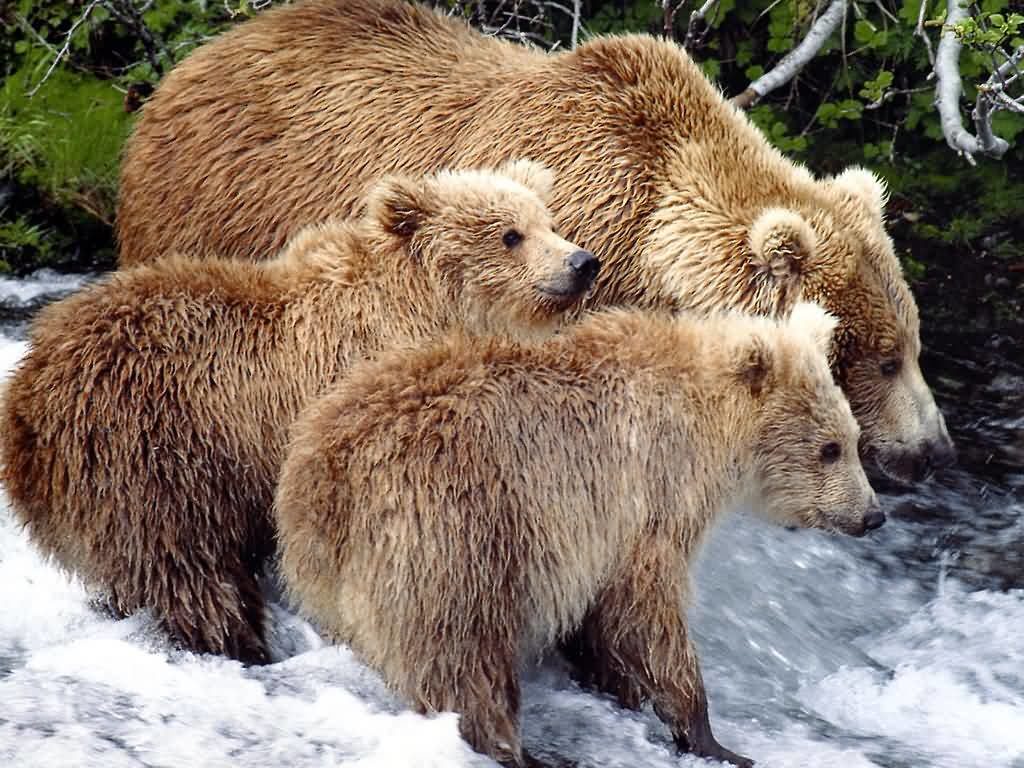 You can still see them in the area, but instead of seeing them in their natural habitat, they're at the Big Bear Alpine Zoo. Common, smaller animals like squirrels, coyotes, and raccoons are seen often in the area, but larger ones like the black bears, mountain lions, and deer are rare sights.
A local man, Kirk Phillips, visited New York City and saw how their bus line worked (the world's first) and decided to create one that ran from San Bernardino to Big Bear Valley. This, in turn, allowed for further and faster development of the whole Big Bear area.
The first resort built was the Pan Hot Springs Hotel in 1921, named after the land it was erected on which contained a natural hot spring. After that, more resorts were built, some high class enough to attract celebrities of that era. By 1924, there were 44 resorts, but there were fires that damaged many of them in 1933.
Big Bear Lake Cabins & Lodge Options!
If you're wondering where to stay in Big Bear, worry not!
In Big Bear, you will find a wide selection of lodging establishments such as private homes or cabins, hotels, resorts and lodges, Beds and Breakfasts, group facilities, condos and much more. This provides various options for people who need to choose their lodgings according to how much they want to pay or what kind of service they want.
Below are some great places to stay in the area:
1. Fireside Lodge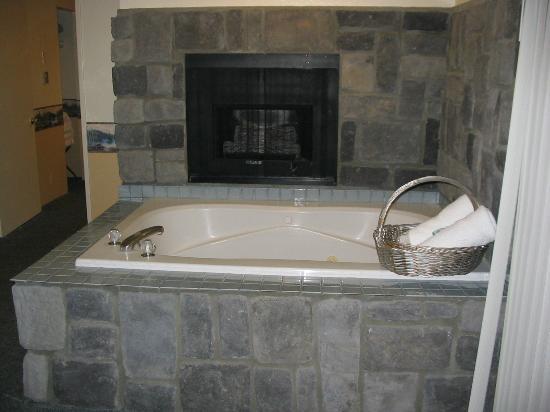 Fireside Lodge is located within walking distance (almost right across the street!) of Big Bear Lake, which makes it pretty convenient if the lake will be your main focus. There are rooms with kitchenettes, jacuzzis (with a fireplace right next to it), fireplaces in other rooms, family units, and romantic spaces for couples with lake views. They offer special events, are more than happy to help you with whatever you need and they offer complimentary concierge service. It's very nice and in a great location for those with a limited budget.
2. Vacasa
Vacasa provides cabins and chalets either on the side of the lake or very close to the ski resorts. They are for big groups of up to 10 people and can get quite costly at certain times of the year, but everyone can pay their share to make it more affordable. There are cabins for all preferences and they have everything you need during your stay, including kitchens, cookware, fireplaces, nice couches and chairs, washer/dryer, and many other amenities. They also have free WiFi and flatscreen tvs in case you somehow get bored.
3. Castle Wood Cottages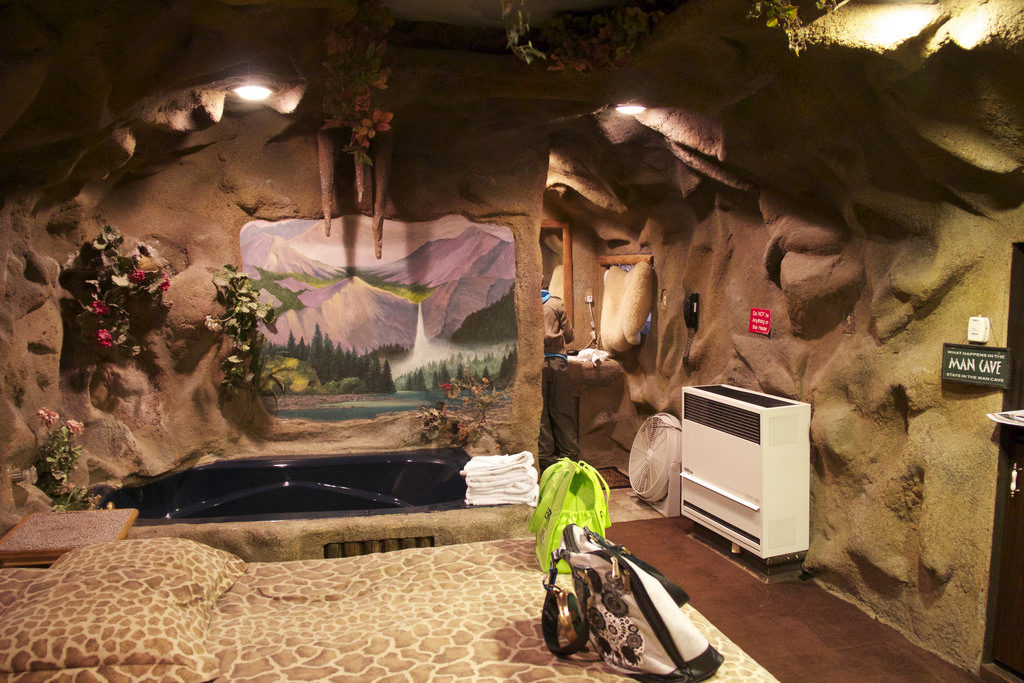 Known for providing a perfect romantic experience, Castle Wood Cottages is comprised of rooms that are all themed, according to what is attractive to you and your partner. There are themes like Antony and Cleopatra, Crystal Cave, Enchanted Forest, Gone With The Wind, and others. It is just minutes from the lake and ski slopes, with fireplaces and jacuzzis, and added romantic packages for an extra cost. They also offer discounts for bike and kayak rentals, as part of your stay. It's very unique and is the perfect romantic getaway.
4. Eagle Nest Bed And Breakfast
The Eagle Nest Bed and Breakfast is located on Big Bear Blvd, just like the Fireside Lodge, and has five guest rooms, all western themed. They also have five cottage suites (apart from the B&B), and one cabin, which is not on the same property.
The B&B rooms come with fireplaces (some gas, some electric), A/C, queen beds, and free breakfast. No pets are allowed in these rooms, but they are allowed in some of the cottage rooms for an extra cost. Breakfast is also not included with the cottage rooms, but can be purchased daily. There are fireplaces that burn wood, spa tubs, and other amenities.
These are just but a few lodging options for visitors to Big Bear Lake. There are many other hotels, cabins, and cottages to choose from. But enough about places to stay…let's check out water activities!
What Water Activities Can I Do In Big Bear?
Located at the center of the city, Big Bear Lake is the highest-earning attraction at the resort, most frequented during the summer months. On those weekends, there is usually a wide range of water vessels on the lake, like canoes, jet skis, kayaks, speed boats, fishing boats, and more. The lake is often visited by anglers who are looking to catch rainbow trout, largemouth bass, and catfish, among others.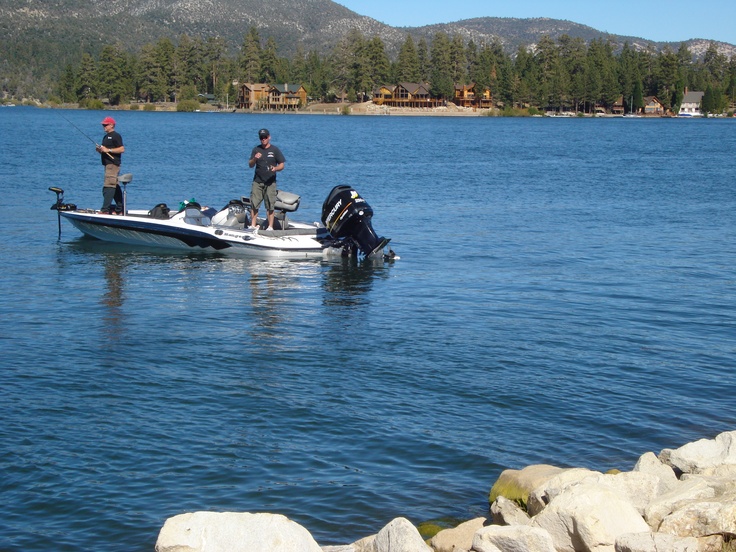 Smaller boats are the best way to get acquainted with all that Big Bear Lake has to offer. Not only does kayaking and canoeing provide a nice workout, but paddling is also a known stress reliever. Using these boats, one can explore places on the lake that cannot be accessed when using bigger boats. They provide a view of the lake from a point that is unlike any other.
Before launching the boats, they are inspected by workers at the resort and are launched from ramps or marinas on the lake. They can also be rented at the marinas at either hourly or daily rates.
A selection of the most used and trendy water vessels includes pontoons, bass boats and aluminum fishing boats. A large number of these boats may have flags, which are usually found hanging close to the stern of the boat. These flags are simply a warning to other boaters in the surrounding area that they are looking for rainbow trout and they are trailing a line.
Another awesome approach to enjoy Big Bear Lake is to use a speed boat or waverunner, which many people like the thrill of riding. Some of these high powered speed boats are used for other water activities such as wakeboarding and water skiing, which are both allowed on the lake. But there's more to do besides fishing and boating. For instance, inner tubes are also one of the devices used on this lake for fun.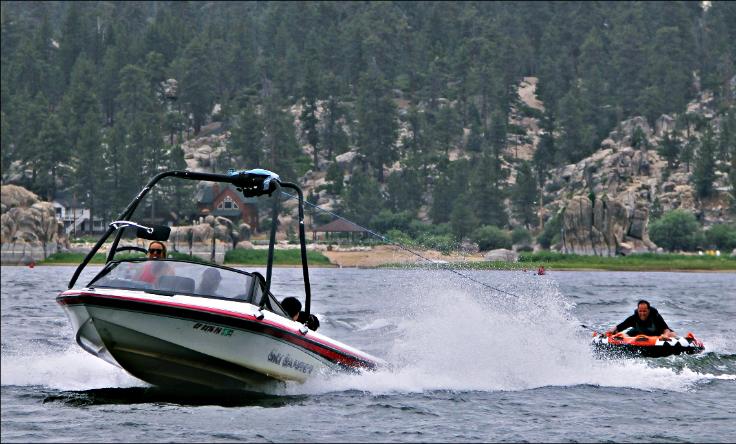 It's common to see some boat types waving an orange flag. This primarily indicates that someone is close to the boat like a swimmer, wakeboarder or skier. There are various activities to enjoy from the back of a boat, and Big Bear Lake is the place to go for that kind of thrill and excitement. The lake also offers a cable for wakeboarding or wakeskating for starters who want to learn the sport.
Jet ski riders love the power of these thrust powered crafts as they hit the throttle to zoom across the lake. This is arguably the most thrilling experience Big Bear Lake has to offer. A jet ski can have you exploring much of the lake in a quick fashion. There are several variants of jet skis such as the classic Kawasaki, Sea Doos and the Yamaha Wave Runners.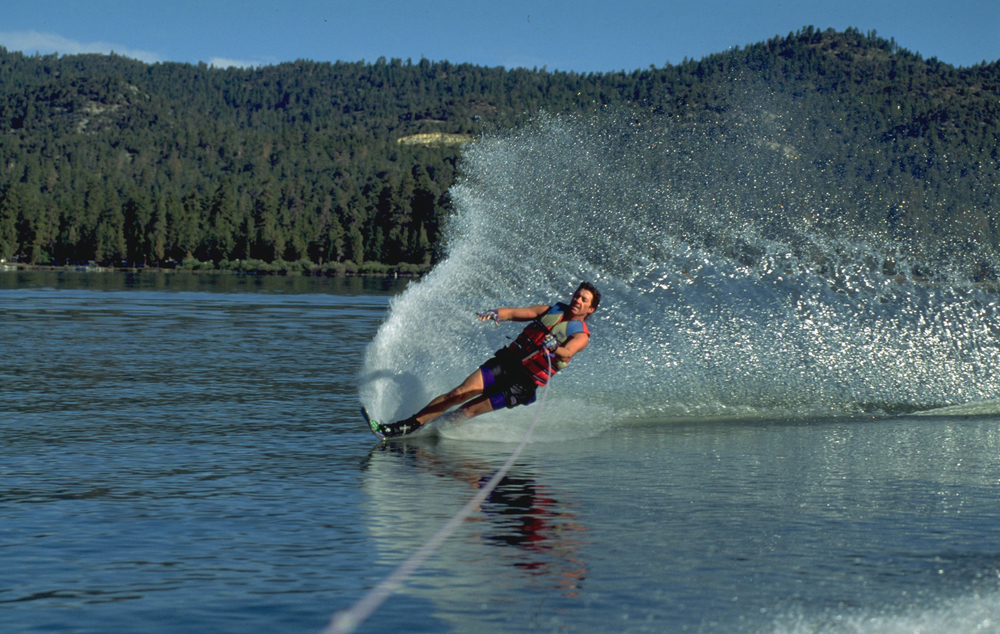 Consistent winds from the mountain provide enough power on the lake for vessels like sailboats, windsurfers, and Hobie Cats. These are for people who prefer a more relaxed speed.
Another exciting activity to consider is taking a parasail high above the lake. You can rent parasailing charters that will take you over 500 feet into the air, providing you with a spectacular view of the lake and the San Bernardino National Forest. To go above the water, Big Bear Lake also offers another activity known as flyboarding, where you are propelled into the air by pressurized water under the board that your feet are strapped onto.
Get Your Grub On, Big Bear Style!
No worries! Big bear restaurants bring all the savoury and delicious cuisine right to you. After a whole day of activities, you can select any of these restaurants and be in for a night full of great cuisine:
1. Evergreen Restaurant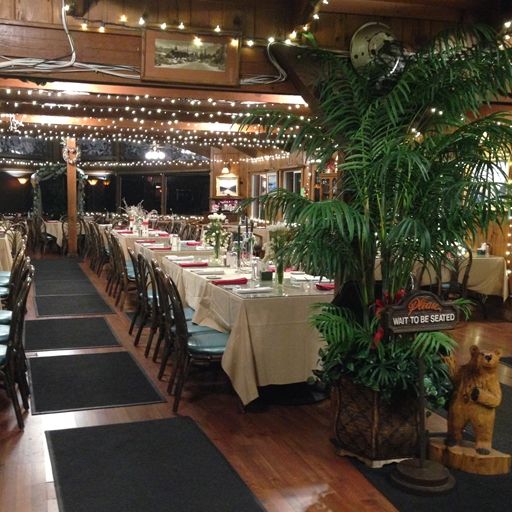 This is the place to go to enjoy the beautiful scenery of the Big Bear lake while you eat a delicious meal. This establishment is known for its steak and seafood, providing breathtaking views and well-prepared meals, together with a wide and unique wine list. They also host weddings, up to 150 guests, and they take care of everything for you.
2. Nottingham's Restaurant
This restaurant provides a formal environment that includes a dining room with a fireplace, a pub for those who want to have a few drinks, and a patio for outdoor dining (which is pet friendly). It's perfect for romantic dining, with cuisine such as steaks, pasta, seafood and much more to enjoy. It has wines from Napa Valley and Sonoma to compliment these dishes. They also host social events that can accommodate 100 guests.
3. Knickerbocker Mansion & Bistro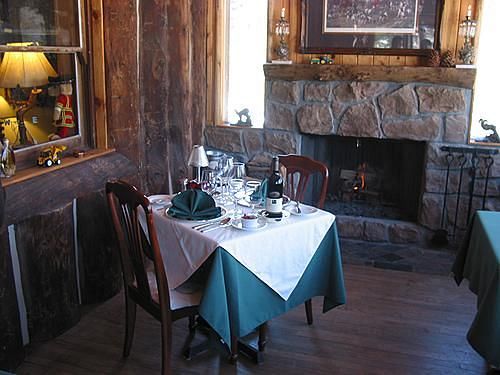 Step into this Bistro (where you can also stay in the mansion and carriage house) to be pleasantly surprised with a New Orleans style Creole menu; New Orleans in Big Bear? Heck yeah!
They serve breakfast, lunch and brunch, can host private parties and corporate meetings, and the guests of the mansion get a special discount with their stay. They also host weddings that can accomodate 40 guests inside and 75 outside. Their menu changes depending on the season.
4. Himalayan Restaurant
Who loves Indian food? If that's you, then this is your place, a mix of Nepalese and Indian cuisines. They have dishes like chicken dishes like chicken tikka masala, lamb dishes, vegetarian options, seafood, and desserts. Indian ice cream, called Kulfi, is a very creamy ice cream that puts all other to shame. Do yourself a favor and give it a try, if you haven't already.
Other restaurants providing cuisines from other cultures are the Sweet Basil Bistro, which is known for Italian food, and Dynasty Restaurant with its Chinese dishes.
5. Noble Romans Pizza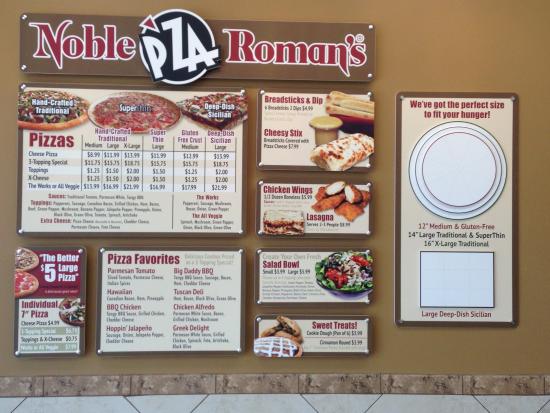 If a fancy meal is not wanted, pizza always hits the spot! This restaurant uses all natural, local ingredients, with no fillers. The pizzas are made with a mix of mozzarella and muenster cheeses and the crust is made with a high protein flour. They have specialty pizzas or you can create your own, wings, pasta, biscuits and gravy, a breakfast burrito, and more.
For sandwiches, there's Grizzly's Bear Belly Deli or Amangela's, which also provides free WiFi to customers. If you prefer to eat in privacy at your cabin, you can hire a Gourmet Personal Chef who will come with the necessary ingredients to make you a delicious dish.
Big Bear Guide Summary!
There are so many fun, exciting things to do, and eat in Big Bear, and these are just a few of them. If you love water activities, you can head out to the Big Bear lake for the day. If you want to go skiing, snowboarding, or sledding, you can head up to the snow resorts.
If you want to just get away from it all and breathe in some nice woodsy air, you can rent a cabin and relax on the patio with a beautiful view. There is something for everyone in Big Bear which makes it the perfect vacation destination!