The Point 65 Apollo kayak is a modular sit-on-top vessel that promises increased stability and maneuverability in the water. This watercraft is a nice piece of work that is not only good-looking, in terms of aesthetics, but also has a functional design. It promises many improvements on traditional sit-on-top vessels.
The Point 65 N Apollo kayak has been around for a number of years, and in terms of its success on the market, it has had a mixed reception since then. This development is not unusual, as most people are accustomed to normal hard-shell or inflatable models. Nevertheless, it has garnered enough positive reception to enable it last for years.
When it comes to its availability, the Point 65 Apollo kayak can be found in many vendor stores online, as well as in physical stores. Due to its unfamiliar design, this vessel is not exactly the most obvious pick for most buyers. This is not to say that it is an inferior product, however. In fact, due to its unique features, the boat might just be the right pick for a particular niche of buyers.
Is this watercraft revolutionary enough to be a possible choice for you? Let us find out in the following Point 65 Apollo review, where we will look at its frame, storage options and core features, among other things.
Check out the Point 65 N Apollo Kayak on Amazon!


Point 65 Apollo Kayak Frame
The frame of a boat is arguably the most important aspect of a watercraft. With the Point 65 Apollo kayak, you get a modular frame that is comprised of up to three connectable pieces. When fully assembled, the kayak has variable lengths, depending on how many parts of the 55-inch sections are attached. The length of the vessel can vary widely to become either a single person, a tandem, or even a triple person kayak.
When all parts are used, the Point 65 Apollo kayak is 12'9″ long, and has a width of 24.2″.
Despite its detachable modules, it is not really heavy, as it is made from a lightweight thermoplastic material. The Point 65 Apollo kayak can be described as tough and stable when fully assembled. It also does not have too much clutter, as its accessories are stripped to the bare minimum. The bow and stern of the kayak have a similar design, separately, and only become distinguishable when the vessel is assembled.

Being an open sit-on-top watercraft, the Point 65 Apollo kayak's seat and storage compartments are the only visible aberrations to the streamlined design of the watercraft. Otherwise, there is not much else in terms of accessories for this high-performance model.
The shape and design of the boat are some of its main strengths. The Point 65 Apollo kayak features a hull that is shallow-shaped at the bottom to increase its stability in the water. It weighs 67 pounds and can hold up to 485 pounds.
Check out the Point 65 N Apollo Kayak on Amazon!
Features of the Point 65 Apollo Kayak
The Point 65 N Apollo kayak features well-designed foam seats that are attached to the frame of the boat. These seats are quite comfortable, as they have a strong backrest that is also foldable. The vessel also comes with contoured foot braces for increased comfort while paddling.
The front section of the Point 65 Apollo kayak has a narrow construction for quick maneuverability. It also has the patented Snap-Tap mechanism for adjusting the modules. This makes the assembly and disassembly of the modules a simple and quick task to perform in a matter of seconds.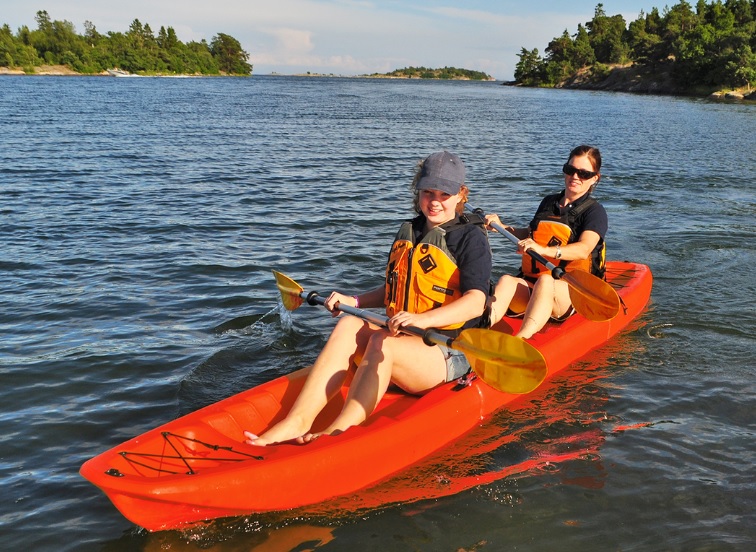 The Point 65 Apollo kayak has a strikingly uncommon design with a non-traditional bow, stern and midsection construction. The removable midsection, for instance, comes with an additional seat that enables the vessel to transform to a 2-person carrier. The midsections can also be added to make the vessel longer and longer as necessary.
This is without a doubt the best feature of the kayak, as the Point 65 Apollo kayak is able to do the work of multiple machines with just a few simple adjustments.
Overall, the construction can be described as minimal in terms of design, as there is not a lot of accessories included in the frame. The vessel is lightweight and quite durable. And currently, it is only available in red.
Check out the Point 65 N Apollo Kayak on Amazon!
Storage Space in the Point 65 Apollo Kayak
The Point 65 Apollo kayak comes with a tank well that allows the users to store their paraphernalia in a safe, secure and dry storage space. It does not come with multiple compartments, but there is always the option of including an extra module in case you want to add some extra space.
Being a versatile boat, it is safe to say that you can create as much space as you want by adding extra modules to the frame.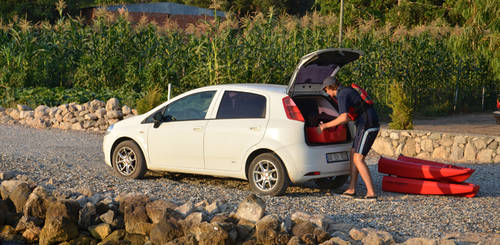 For single person use, however, the main storage at the back is just enough for carrying sufficient gear. For a kayak that can handle a considerable loading capacity, the Point 65 Apollo kayak is a decent machine for carrying a good load of fish. You can load the modules into your car, so there's no need to get a roof rack. You can also store the pieces in your house or apartment, instead of trying to think of how you will fit a full sized kayak in your home.
Pros
Lightweight, easy to carry around and store
Very versatile watercraft that can be transformed to suit many purposes
Thermoplastic material makes the Point 65 Apollo kayak strong and durable
Sufficiently comfortable and stable for safe use in the water
High performance from high maneuverability
Sufficient storage space for extra gear
Cons
Water tends to get inside, as the modular hull leaves some open spaces on the bottom
Tracking can be a challenge, especially for beginners
Carrying all the modules at once is not an easy task
The Point 65 N Apollo kayak does not come with a rudder or skeg
Check out the Point65 Apollo Kayak on Amazon!
Point 65 Apollo Review Conclusion
The Point 65 Apollo kayak is a revolutionary kayak model that promises a lot of things and manages to deliver on most of them. The vessel's main feature is its removable modules, which are able to transform it into a multi-use watercraft. The basic construction of the boat makes it a great tool for versatile use.
The blow-molded thermoplastic material hull of the entire build makes the Point 65 Apollo kayak a maverick in the water. It is lightweight, easy to use and also manageable outside the water. It is suitable for general recreation, exercise, high-performance activities and even fishing.