In all of my time in Southern California, hiking the trails of Torrey Pines Reserve has become one of my most favourite activities.  While this space is all about kayaking, I have been wanting to write a few in-depth articles about my hiking activities.
Let me start this with sharing this.  About 3 years ago, I decided I was tired of my own excuses.  I became angry with myself.  I had gained 40+ lbs during my university years and 10 years after that, my weight still haunted me.  Don't get me wrong: if you're happy with how you look, more power to you.  But if you're not, by all means, take the steps to do whatever it takes to achieve your happiness.
In my anger, I decided that I would no longer stand for my own excuses.  That no matter what it took, I'd keep going until I achieve my weight goal.  So, I decided to hike.
At the time, I wasn't big into hiking but I knew of Torrey Pines Reserve.  I decided I would start there and hike 3-5x a week, for 2 hours every time…
… and 3 years later, I have lost 44 lbs.
It's funny how things come back around.  So, today, I bring to you my own personal knowledge that I've gained on these trails I now call home.
The first thing you should know about Torrey Pines State Reserve is that if you park outside by the beach (not once past the fee booth), you can park for free.  If you park out there, it's a mere 10 minute walk to the base of the hill.  Plus, if your purpose is to sweat a bit, parking by the beach towers isn't a big deal.
If you're going on a holiday or at peak rush times, expect to wait anywhere from 5-15 minutes on average for a parking spot to open up.  90% of the time, you'll find something within 2-10 minutes.  Last time I checked, parking costs were $10 so if you want to do this a few times a week, it's better to try that free parking 🙂
Two Tips So Far:  Avoid rush hour and opt for free parking.
While we're at it, let's get you up-to-date on what I consider…
IMPORTANT INFORMATION

No dogs allowed anywhere
NO food on the trails, the beach is okay. Water is permitted on the trails
No smoking is allowed
Whatever you pack, you take it with you. There are no trash/recycling bins in Upper Reserve
Unless you park in the beach lot, parking is around $10
Bring a few waters!
If you want to walk the beach, make sure to check out when high tide is. A couple of times, I've had to walk through the water 🙂
This is just a caution: remember to stay away from edges
The cliffs ARE unstable. Do NOT walk under them. In the last few years, I have seen parts collapse. Read the signs and follow the rules and you'll be fine
Why Torrey Pines State Reserve?
Before you judge me, just know that these pictures were taken over two years ago when I didn't own an iPhone.  I owned an ancient Verizon phone which I thought took stellar pictures.  I will be updating these pictures in the next few weeks…
Torrey Pines must be where heaven and earth meet…
The first thing to note about Torrey Pines is that… it's like a moving painting.  The views are ridiculously picturesque, like a moving painting, so freakin' scenic!  I mean, have a look for yourself: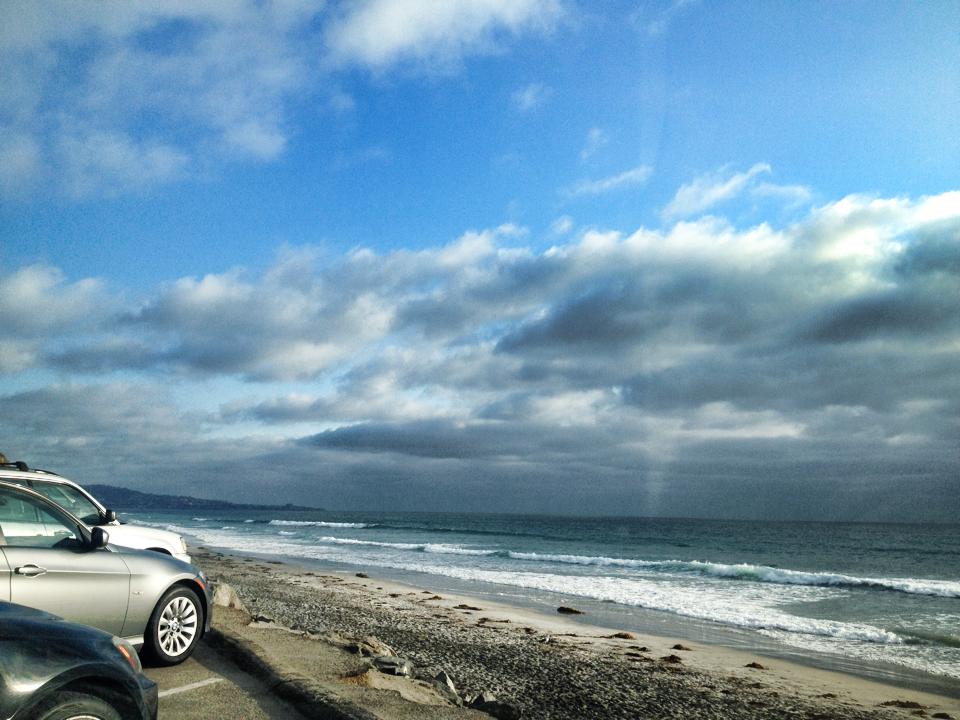 That's the view from the parking lot.
Another thing that I adore about this hiking spot in San Diego is that there are many hiking trails to choose from. In fact, if you find the Beach Trail too easy, you can combine it with other trails such as the short and sweet Guy Fleming trial or the Broken Hill trails.
Basic Torrey Pines Trails Information
There are several trails to choose from. Once you park, you will see that little hill. Now, you can choose to go up that hill and then select one of these following trails or come down the Beach trail and walk the beach back to your car (that's my favourite route). From the beach, you can also walk to Black's Beach, which is a clothing optional/nude beach.
Anyways, here is some basic information regarding the trails… quick notes, with details following (hey, I don't want to bore you to tears!):
Guy Fleming Trail – 0.7 miles; easy and flat. You can do this within 15 minutes or some amazing views.
Parry Grove Trail – 0.5 miles; looks intimidating due to the steep steps, but that's the most difficult part 😉
Razor Point Trail – 0.7 miles; easy to moderate with amazing views.
Broken Hill Trail North Fork – 1.2 miles; one of the longer trails. A bit secluded but a great workout.
Broken Hill South Fork – 1.3 miles; similar to the North Fork. Great workout but can be challenging.
Beach Trail – 0.75 miles to the Beach; most popular trail and one of my favourites. I'm never bored and I get to walk the beach.
WildLife To Expect At Torrey
In the times that I have been on these trails, a few of the things I've seen have been a whale I sighted while on the Beach Trail, dolphins, rabbits, cacti and seals. Other wildlife that I have not spotted but does exist:
Bobcats
Foxes
Skunks
Raccoons
Coyotes
Coastal Chaparral
Torrey pine (What the reserve is named after… extremely rare!)
People love going to Torrey Pines State Reserve for various reasons including hiking on the different trails, recreational reasons, kayaking, wildlife, and more. If you're thinking about heading on a kayak and are looking into investing one, research the Oru Bay kayak.